Sights and Events
Housed in a former library overlooking the Umatilla River, the Pendleton Center for the Arts offers live music, free classes, and galleries brimming with regional art and crafts. On the third Thursday of every month, featured writers read their work, followed by open mike sessions. This March and April, visitors can catch a traveling exhibit of selected prints from the Jordan Schnitzer Family Foundation Collection.
Although its namesake events don't take place until September, the Pendleton Round-Up and Happy Canyon Hall of Fame welcomes rodeo fans all year round with two floors of memorabilia including ornate saddles, regalia, and riders' leathers. While you're in the neighborhood, buy advance tickets for the fall.
Originally built as a hideaway for the city's red-light district (as well as for immigrants trying to avoid hostile townsfolk), the extensive tunnels below Pendleton's streets are now open for exploration with Pendleton Underground Tours. One of the erstwhile bordellos and the old Empire Meat Company's butcher shop are highlights. Reservations are required. (Members of AAA can save 10 percent at the Tours gift shop.) 
Pendleton Woolen Mills provides free tours of its mill built in 1909. Today its looms are still turning giant spools of colorful yarn into Oregon's famous blankets. At the end of the tour, be sure to check out the artisanship on display in the factory's small museum. 
Housed in a low-slung contemporary facility on the outskirts of town, the Tama'stslikt Cultural Institute tells the story of the Oregon Trail from the viewpoints of the Walla Walla, Cayuse, and Umatilla people. Installations focus not just on the past, but on the present and future too. (AAA members get $1 off the price of admission.) 
Shops
Everyone from seasoned chute riders to greenhorns is welcome at Pendleton Hat Company. Owner Perk Perkins expertly refurbishes hats worn during the Round-Up and also handcrafts new ones out of felt made from beaver or rabbit fur.
A Piece of Pendleton sells all kinds of handmade regional goods and crafts. Among the many unique selections: heavy-duty denim clothing, such as jeans and jackets, from the Prison Blues clothing line, produced by inmates in an innovative work program at Eastern Oregon Correctional Institution.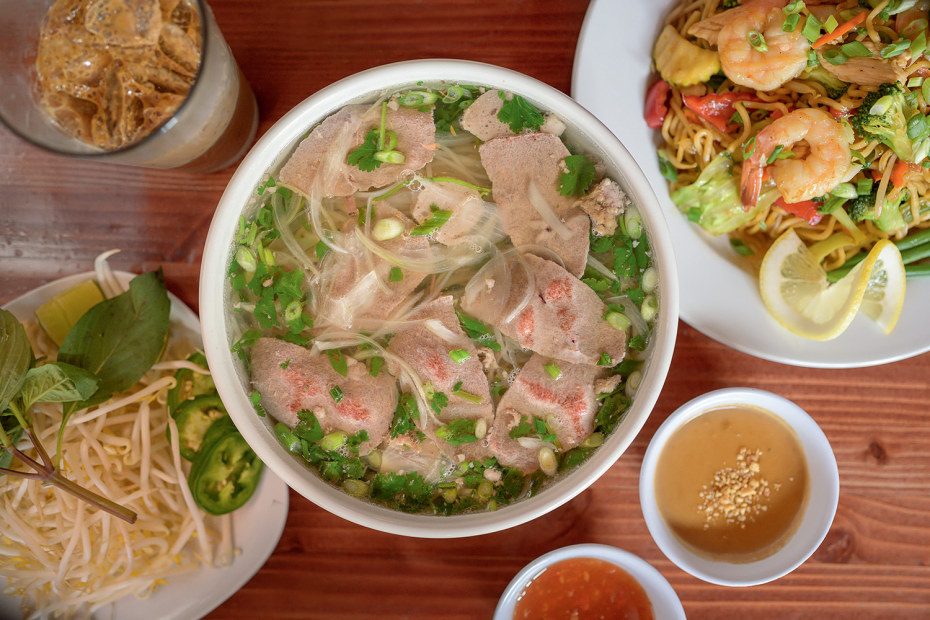 Eats
Noodle fans rejoiced when Moe Pho Noodles & Cafe opened in 2018, bringing casual Cambodian, Thai, and Vietnamese food to downtown Pendleton. Owner Moe Soeum's street noodles and lemongrass chicken bowls provide a glimpse into his Cambodian background. A bowl of beef pho goes down easy with a fruity boba smoothie.
With exposed brick walls and a casual vibe, Sister's Cafe is a local favorite for Friday prime rib dinners and Sunday brunch. The stars of the small, homey menu are the sweet and savory crepes, the latter made with a three-herb batter, stuffed with eggs, and topped with red peppers, spinach, feta, and more.