Whether you need a break on a long drive or you're looking for a place to go, refuel at these walk-up or drive-through eateries that are a delectable detour all on their own.
Mr. G's Drive-In, Yuma, Arizona
Family-owned Mr. G's Drive-In offers something few drive-in's do: a full-roster of authentic Mexican fare. You can't go wrong with the the machaca (air-dried meat) and egg breakfast, spicy queso dip, adobo chicken enchiladas, red chile beef tamales (available to take home by the dozen too), or the chocoflan that's like two desserts in one.
Pat's Drive-In, Tucson, Arizona
Loyal customers have pulled up to the nostalgic red-and-white striped Pat's Drive-In for more than 60 years to get their fill of chili cheese dogs, done spicy or mild. The thin hand-cut fries are nearly as famous, and you can get them smothered in hearty chili, too. Go big and go home by getting the chili to-go by the half or full gallon.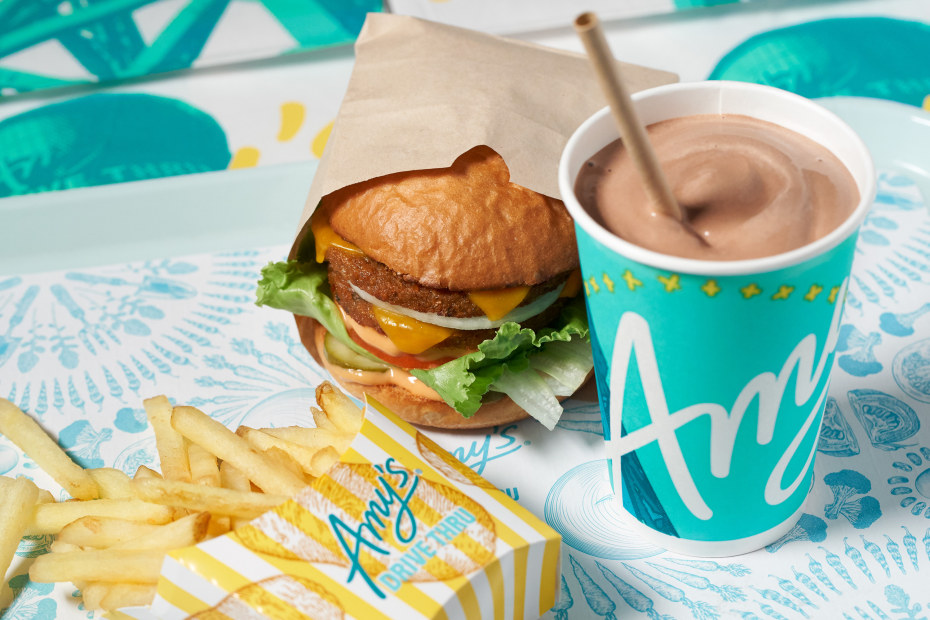 Amy's Drive Thru, Rohnert Park and Corte Madera, California
Organic vegetarian food, with plenty of vegan and gluten-free options, is the name of the game at Amy's Drive Thru. You wouldn't expect anything less from this offshoot of Petaluma-based Amy's Kitchen, the organic convenience food pioneer. Get ready for The Amy, a double veggie-patty burger with secret sauce; a sunflower seed-based vegan grilled cheese; salads brimming with seasonal lettuces and baked tofu; and even non-dairy shakes.
Falafel Drive-In, San Jose, California
In 1966, the Nijmeh family took over an old burger joint and transformed it into an oasis for Middle Eastern street food. Falafel Drive-In has been a hit ever since. People flock to it for pillowy pita stuffed to the gills with crunchy falafel balls (or seasoned gyros), lettuce, tomato, cucumber, tahini, and proprietary hot sauce. It's the epitome of messy but good. Don't skip the banana milk shake for the ultimate pairing.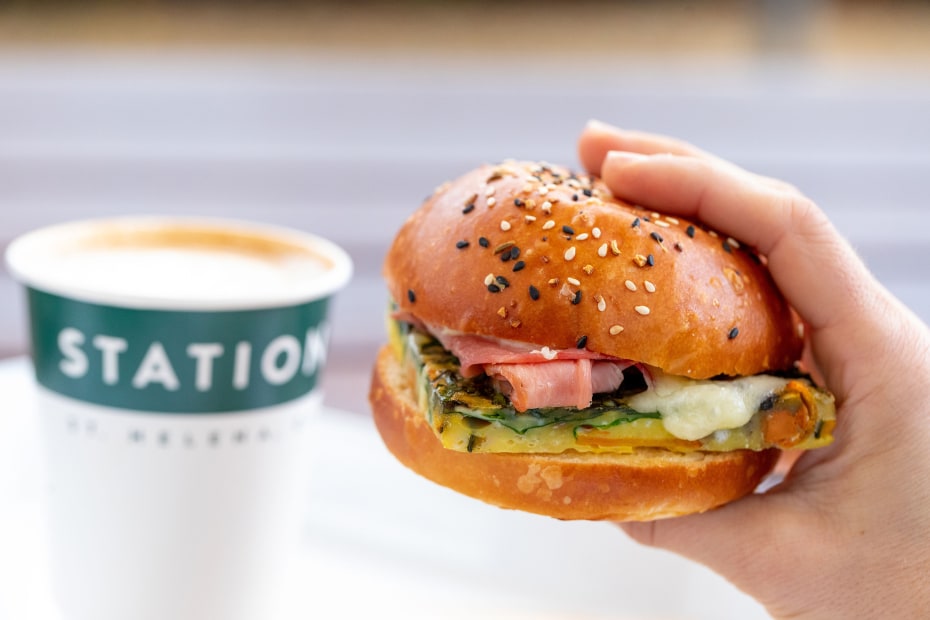 Station, St. Helena, California
Gas station convenience stores may conjure up visions of slim pickings such as beef sticks and corn nuts. But that's not the case at Station, located in the old Napa Valley Petroleum station in downtown St. Helena. Winemaker and restaurateur Joel Gott of famed Gott's Roadside reimagined the space into a bright, white-tiled restaurant that beckons you to walk up for cold brew and chai latte. The menu epitomizes California with avocado toast, grain bowls, crustless quiche, and almond flour SuperHero muffins studded with apple, carrot, zucchini, and dried cherries.
Snappy Burger, Las Vegas, Nevada
Snappy Burger is a throwback to the days when you could sink your teeth into a cheeseburger and take in a flick on a big screen—all in the comfort of your car. This unique family-owned joint offers a compact yet eclectic menu of burgers, fries, Snappy Ice slushies, buckets of buttered popcorn, and retro sodas in glass bottles. Pull up to the kiosk, done up in campy sci-fi and monster movie posters, to order. After the food arrives, drive into the parking lot, tune your radio to the designated station for the audio, and enjoy old-school TV shows, second-run films, or even an Elvis movie marathon while you dine.
Scoopers Drive-In, Sparks, Nevada
Locals have hightailed it to Scoopers Drive-In for 41 years for a true taste of nostalgia. It's destination dining for those hankering for a ¼-pound hot dog filled with cheese, wrapped in bacon, and deep-fried; a pastrami burger complete with gooey Swiss cheese; and the behemoth Al Burger, a ¾-pound patty with triple cheese, named after a regular who craved a particularly bountiful bite. Scooper's is especially beloved for its creamy, dense shakes in an array of flavors, including coconut crème, gingerbread, huckleberry, and bubble gum. Flavors can be mixed and customized, too, for endless variations.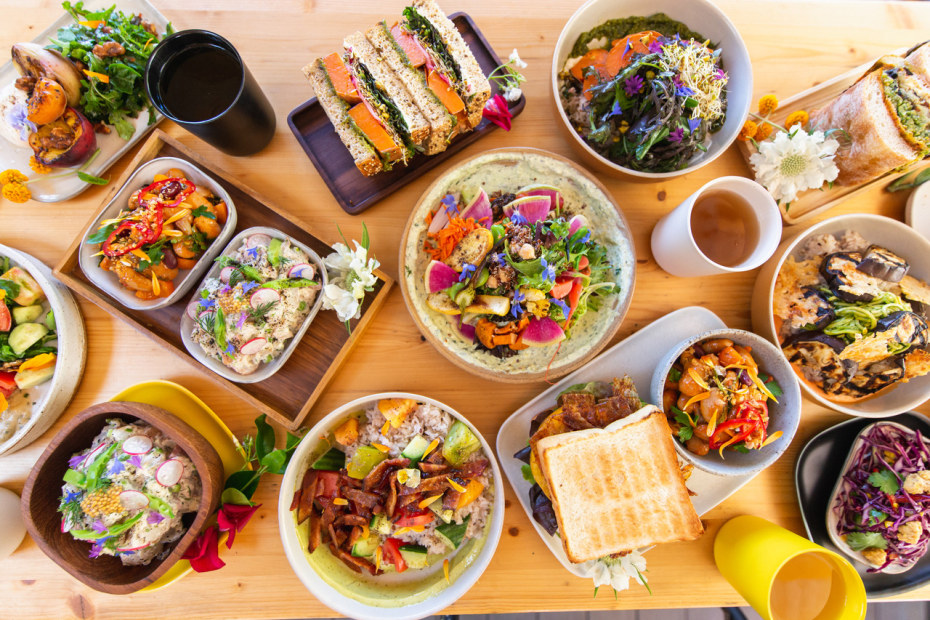 Sugarpine Drive-In, Troutdale, Oregon
Kick back with a waffled grilled cheese, a harissa roasted cauliflower steak, nettle pasta salad accented with rhubarb and feta, or an old-school vanilla soft serve while taking in the picturesque Sandy River from your car or a picnic table. You can do just that at the adorable Sugarpine Drive-In, located at the start of the Historic Columbia River Highway. If the offerings sound surprisingly gourmet, it's because this drive-in is run by Emily Cafazzo, formerly of Beast in Portland, and Ryan Domingo, a veteran of Pok Pok in Portland.
Big Jim's Drive-In, The Dalles, Oregon
Since 1966, Big Jim's Drive-In has taken pride in never cutting corners by making its own tartar and burger sauces, as well as chili from scratch. Fifteen burgers are available, including a gut-busting T-Rex Burger that sports not only two half-pound beef patties, but four slices of ham and two different cheeses. For a change of pace, go for the fish and chips or the breaded halibut sandwich. You just might head straight for dessert, though, when you realize Big Jim's serves Oregon's prized Umpqua ice cream, made by a local dairy founded in 1931, in flavors that include Espresso Madness and Huckleberry Cheesecake.
Sonic Drive-In, Nationwide
For the full experience at a Sonic Drive-In, forgo the drive-through and pull your car into a stall instead, where an electronic menu board awaits your order. Press the red button to confirm your cheeseburger, popcorn chicken, chili cheese tater tots, or strawberry cheesecake shake. For something even more indulgent, go for the Strawberry Cheesecake Blast, a mix of ice cream swirled with cheesecake and garnished with cheesecake chunks; it's so thick a spoon is required. A carhop, on skates or on foot, delivers the goods straight to your vehicle.