San Francisco is gripped by ramen mania, and vegetarians and vegans are in luck. Some of the top ramen shops, with direct links to Japan, serve creative bowls that rival even the most traditional ones. These picks are well worth the wait in line.
Mensho, near Union Square
Mensho is the latest outpost from ramen innovator Tomoharu Shono of Tokyo. His epic vegan tantanmen is made from a kombu and mushroom broth enriched with premium Japanese soy cream and sesame. It's thick as gravy and just as rich with chewy, curly noodles. It's topped with a satisfying crumble of mushrooms that resembles ground meat along with cilantro, chili oil, and scallions.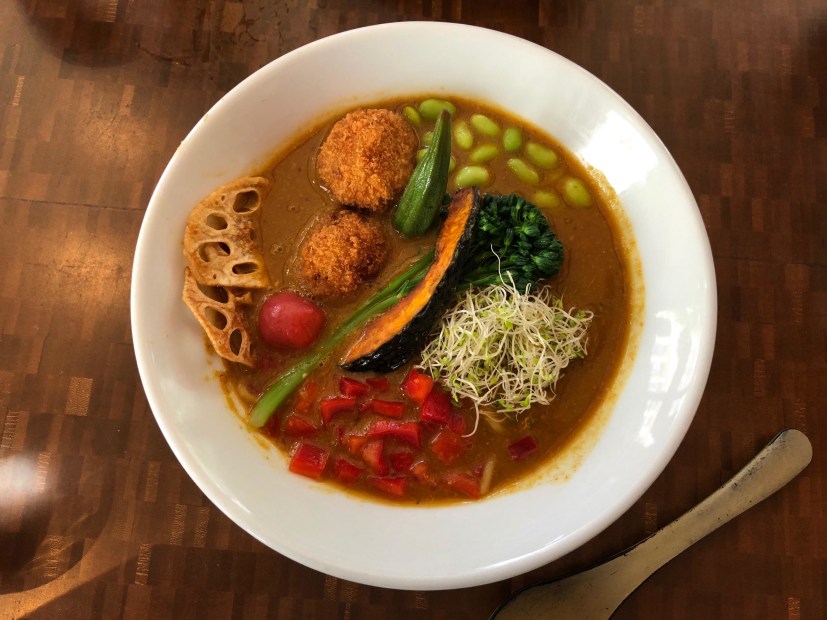 Nojo Ramen Tavern, Hayes Valley
Headquartered in Tokyo, Nojo Ramen Tavern brings a modern twist on traditional Japanese food to their US flagship location. The veggie miso ramen plays with flavors and textures with a meaty, seasoned ground soybean, fresh corn, Japanese greens, scallion, and a slick of garlic oil and butter (request no butter for vegan option). Don't hesitate if you happen to see a seasonal special on the menu like the hearty vegan curry ramen which comes topped with plenty of vegetables including crisp lotus root, pumpkin, red peppers, edamame, broccolini, and vegan soy croquettes.
Marufuku Ramen, Japantown
Marufuku Ramen offers a popular vegetarian ramen to diners in the know. It's made from a creamy vegetable broth, but it has a balance of sweet and savory notes that replicate the complexity of long-simmered bone broth. The hearty bowl comes with an egg and a topping of kaiware sprout, slivers of red onion, sweet bell peppers, and scallions. The spinach noodles are firm and toothsome.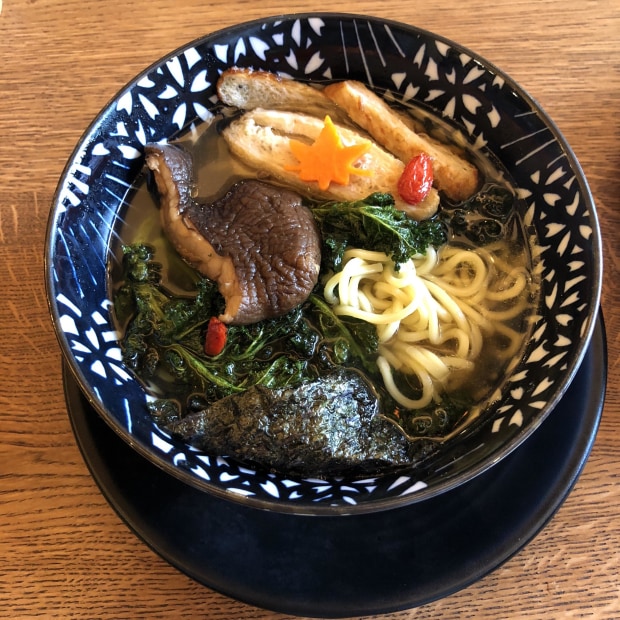 Hinodeya Ramen, Japantown
Originally from Saitama Prefecture, Tokyo's northern neighbor, Hinodeya Ramen offers two vegan ramen options. The zen ramen, inspired by traditional Japanese Shoujin temple cuisine, starts with a clear kombu and shiitake dashi broth, and has inari (sweet fried tofu) draped over the top. The other toppings include shiitake mushroom, crispy kale, and goji berries. It's light and bright, but a real umami bomb. There is also a vegan ramen available only at dinner: spinach noodles bathe in a luscious and slightly sweet sesame and soy broth. The bowl is topped with inari, crisp fried kale, acorn squash, shiitake mushrooms, dried seaweed, sesame seeds, scallions, and red pepper.