Since the coronavirus pandemic led Yosemite National Park to close its gates in March, visitors have been clamoring to return, lured in by its soaring granite cliffs and the re-emergence of wildlife along its crowded paths. Good news for us all: Yosemite has begun its phased reopening—with a few changes.
Can I visit the park?
During this initial phase of reopening, the National Park Service plans to limit Yosemite's vehicle capacity to about half of what is typically allowed in June. For the foreseeable future, visitors will be required to have either an overnight or a day-use reservation to enter the park with a vehicle. Reservations must be made in advance—if you arrive without a reservation, you will not be granted entry. The park will issue 1,700 day passes and an additional 1,900 overnight passes for people with prior reservations at campsites or hotels in the park each day.
Reservations for the rest of June and July are available now at Recreation.gov. Reservations for future months will go on sale on the first of the prior month (for example, August reservations will go on sale on July 1 at 7 a.m.). This applies to 80 percent of the available permits. The other 20 percent for any individual day will be made available three days prior.
Day-use reservations are included in Yosemite's $35 entrance fee, but also include a $2 non-refundable reservation fee. Existing National Park passholders only need to pay the $2 reservation fee. Note that passholders also need a reservation to enter the park.
Day-use hours are 5 a.m. to 11 p.m.
Guests must check into the park on the date indicated on their reservation, and are allowed entrance for seven days following check-in.
One reservation equals one vehicle. There is no limit to the number of people allowed entrance to the park. Consider carpooling with members of your household or biking into the park (if social distancing allows).
Can I stay overnight?
Many of Yosemite's lodging facilities and campgrounds will remain closed for now to better maintain social distancing and reduce the load on a limited staff. Those with an overnight reservation will not need an additional day-use permit to enter the park. Below are the overnight options available to visitors this summer:
Upper Pines Campground is open at 50 percent capacity, and only to those with reservations.
Wawona Horse Camp is open to those with horses. Campers without stock will have their reservations cancelled upon arrival.
Yosemite Valley Lodge, Curry Village (at 50 percent capacity), and The Ahwahnee are open as of June 13.
Private rentals are available in Wawona, Foresta, and Yosemite Village.
Wilderness camping and Half Dome permits remain valid throughout this summer.
It is strictly prohibited to sleep in your car without a campground reservation. Don't do it.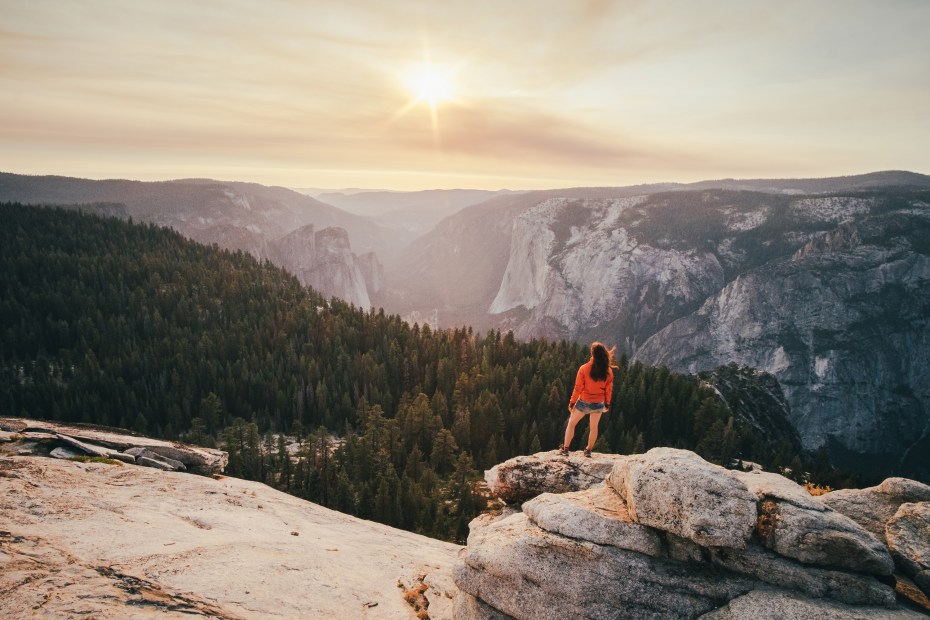 Where can I go?
Most popular areas of the park are open for hiking, picnicking, or other day-use recreation, including Yosemite Valley, Mariposa Grove, Glacier Point, and Tuolumne Meadows. For information about specific destinations, visit the park's Covid-19 FAQ page.
What visitor facilities are open?
Trails, roads, and viewpoints are open, with minor exceptions.
Restrooms are open and are being regularly cleaned.
Grocery and gift shops are open through the valley, Wawona, and Glacier Point.
Food service is available in Yosemite Valley and Glacier Point only.
What visitor facilities are closed?
Visitor centers and museums will remain closed. Park rangers will be stationed outside these facilities to answer visitors' questions.
Shuttle service will remain closed for the rest of the year. Limited public transportation through YARTS may be available.
What comes next?
For now, the National Park Service anticipates operating the day-use reservation system through October 2020. Park officials will continue to update these guidelines and work toward a full reopening as things change throughout the summer and fall. Until that time, it is up to all of us to recreate responsibly so that, come 2021, everyone can enjoy the park again.