After 17 months of detours and GPS-fueled frustrations, travelers can now drive the entirety of the Big Sur coastline uninterrupted, from Carmel to Cambria. A newly constructed segment of Highway 1 in southern Big Sur traverses the epic Mud Creek Slide, one of many landslides and road closures that saddled the region after heavy winter rains. With its reopening, visitors can once again zip along the longest stretch of undeveloped coastline in the contiguous United States, making stops to plunk Adirondack chairs in the Big Sur River, scurry down to pristine beaches, and pitch a tent in a redwood forest.
Digging Out From a Wet Year
After the region received a whopping 190 percent of normal rainfall, the Mud Creek Slide to the south and the Pfeiffer Canyon Bridge failure to the north cut off access to Big Sur village and miles of its famously scenic coastline. Locals began referring to their isolated home as the "Island." Nepenthe restaurant threw an island fever luau to boost locals' spirits, and ultra-luxe Post Ranch Inn resorted to flying in guests via helicopter. Rain woes proved the one-two punch after 2016's Soberanes Fire scorched more than 130,000 acres of the Ventana Wilderness and Los Padres National Forest, forcing many local parks shut.
While numerous trails remain inaccessible, all parks and—as of the July 18, 2018 opening of the new road at Mud Creek—all highway access points are open. The Mud Creek Slide project was no small feat. Roughly 10 miles north of the San Luis Obispo County border, the massive landslide buried a quarter-mile stretch of Highway 1 in six million cubic yards of rock and debris. It added 2,400 feet of new shoreline—and hours to the trip from Hearst Castle to Big Sur village. Rather than clear the virtual mountain of slide material, CalTrans stabilized it with embankments, rocks, culverts, and netting, and paved a new road on top. The $54 million project clears the last remaining closure for Highway 1, and provides immediate access to southern Big Sur destinations including oceanfront yurts at Treebones Resort and a 100-foot waterfall and historic moss-shrouded kilns at Limekiln State Park.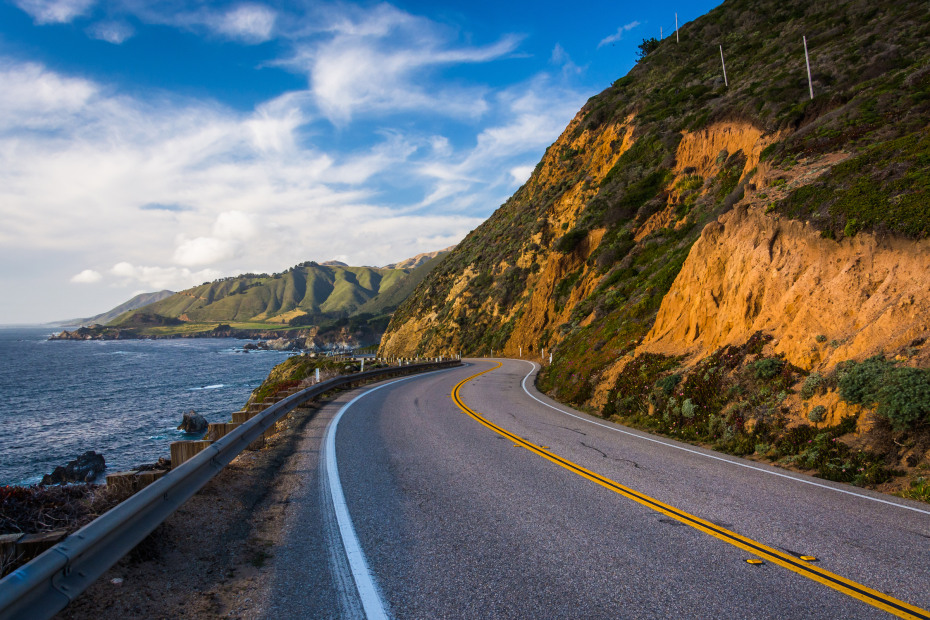 Where to Go Now in Big Sur
Prior to the Mud Creek Slide construction, the region's most anticipated reopening was Pfeiffer Canyon Bridge in October 2017. While not as iconic as famed Bixby Bridge, it proved just as critical to providing northern access to beloved Big Sur village stops including cozy, hearthside meals at Deetjen's Big Sur Inn, fresh pastries from Big Sur Bakery, and sunset drinks and evening bonfires at Nepenthe.
Visitors traveling from the north and south can once again catch a glimpse of iconic McWay Falls plunging onto a secluded beach lapped by crystalline waters. The partially-reopened trail to the famously photogenic falls within Julia Pfeiffer Burns State Park was closed when a retaining wall failed during a rainstorm. Yet, much of the erosion was the result of visitors attempting to illegally access the beach below. For safe shore access that doesn't skimp on scenery—or threaten to break laws or bones—visitors should consider nearby Partington Cove or the purple sands and famed Keyhole Arch at Pfeiffer Beach.
At Pfeiffer Big Sur State Park, campsites are open with family campfire programs held each weekend throughout the summer. And just in time for the warm weather, the park's gorge—a series of idyllic swimming holes along the Big Sur River—has reopened. Hikers can make the hoof up to Buzzard's Roost, yet numerous trails including the popular hike to Pfeiffer Falls remain closed.
Campers will have to wait a little longer to pitch a tent at Andrew Molera State Park, but visitors can traverse a seasonal footbridge over Big Sur River en route to the park's sandy, windswept beach via the mile-long Creamery Trail, and skirt coastal bluffs along the aptly named Panorama Trail.
Many trails and wilderness areas east of Highway 1—including the popular Ewoldsen Trail in Julia Pfeiffer Burns State Park and access to Sykes Hot Springs—remain closed due to fire damage. To get a peek at the landscape's recovery, visitors can trek the partially-reopened 1.25-mile Soberanes Canyon Trail at Garrapata State Park which skirts Soberanes Creek through a canyon of redwoods, bay laurel, and spring wildflowers. Just remember: Big Sur residents have weathered a tough few years, and they ask visitors to show respect for fragile natural surroundings and to tread lightly during their visits.