It's easy to find fireworks on Independence Day, but not all shows are created equal. We're here to help you separate the sedate sparklers from the super-charged blowouts with a list of dazzling pyrotechnic displays across the west. (All events are on July 4, unless otherwise noted.)
Fourth of July Fireworks, San Francisco
When the weather is clear, this 20- to 30-minute spectacle—backdropped by the majestic San Francisco Bay, Marin hills, and Golden Gate Bridge—is pure magic. Prime viewing areas at Pier 39 and Fisherman's Wharf are fun but packed, so consider staking out a spot atop one of S.F.'s many hills that offer unobstructed views of the display—in addition to smaller ones across the Bay in Oakland, Alameda, and Berkeley. Starts at 9:30 p.m.
Marin County Fair, San Rafael
Hedge your bets against the summer fog and head north to the Marin County Fair, which hosts nightly fireworks for the event's 5-day duration, including on the Fourth. Classic county fair fun—farm animals, carnival rides, fried food, live music—offers plenty of distraction leading up to the show over Lagoon Park. Fireworks start at 9:30 p.m.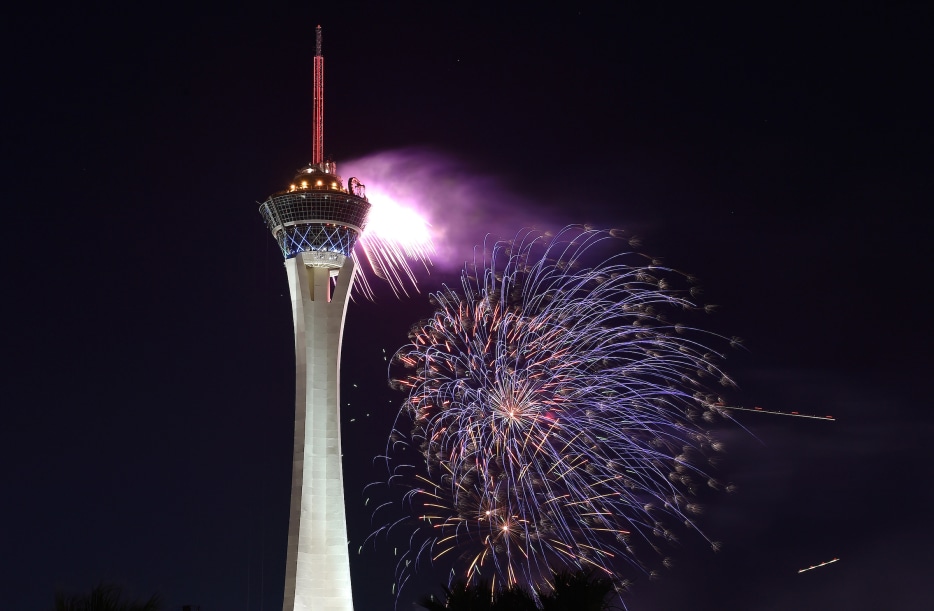 Fireworks on the Strip, Las Vegas
As if there weren't enough lights in Las Vegas, the Fourth of July offers several showstoppers that illuminate the desert night sky. The main event comes courtesy of Caesar's Palace, which launches a 15-minute show off its Julius Tower at 9:15 p.m. Mandalay Bay follows suit with a smaller display at 10:30 p.m. Both can be seen for free along the strip, where several hotels and restaurants also offer paid viewing packages.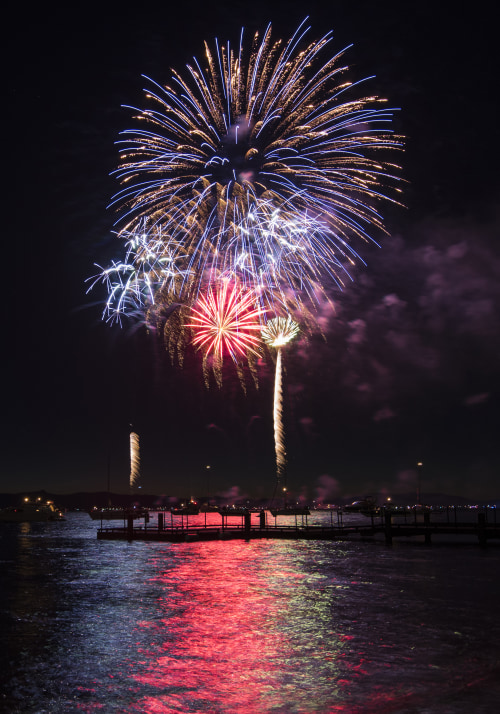 Lights on the Lake, South Lake Tahoe
See Lake Tahoe's famously clear-blue waters lit up in a rainbow of spectacular colors on the south shore during Lights on the Lake. The popular display lasts 25 minutes and can be paired with simulcast music on local radio stations KRTL–FM 93.9 and KOWL-AM 1490. While good viewing spots include Timber Cove Marina, Nevada Beach, the beach at Edgewood Golf Course, and Regan Beach, you can also get out on the water on a private boat or public viewing cruise. Wherever you choose to watch, bring warm jackets and blankets to stay cozy in the crisp mountain air that often envelops the show. Starts at 9:45 p.m.
Stadium of Fire, Provo, Utah
The aptly named Stadium of Fire is the highlight of the Freedom Festival, which encompasses dozens of unabashedly patriotic events in Provo. The no-holds-barred extravaganza held in Brigham Young University's LaVell Edwards stadium is kicked off by big acts—country icon Keith Urban and action movie star Chuck Norris will join dancers, trampoline acrobats, skydivers, and a military flyover this year—and ends with the largest stadium fireworks show in the U.S. You need tickets to see the stadium entertainment, but the pyrotechnics can be seen by all outside the arena and atop nearby Y Mountain. The event is also broadcast live across the world to U.S. troops and their families on American Forces TV. Starts at 10:20 p.m. MDT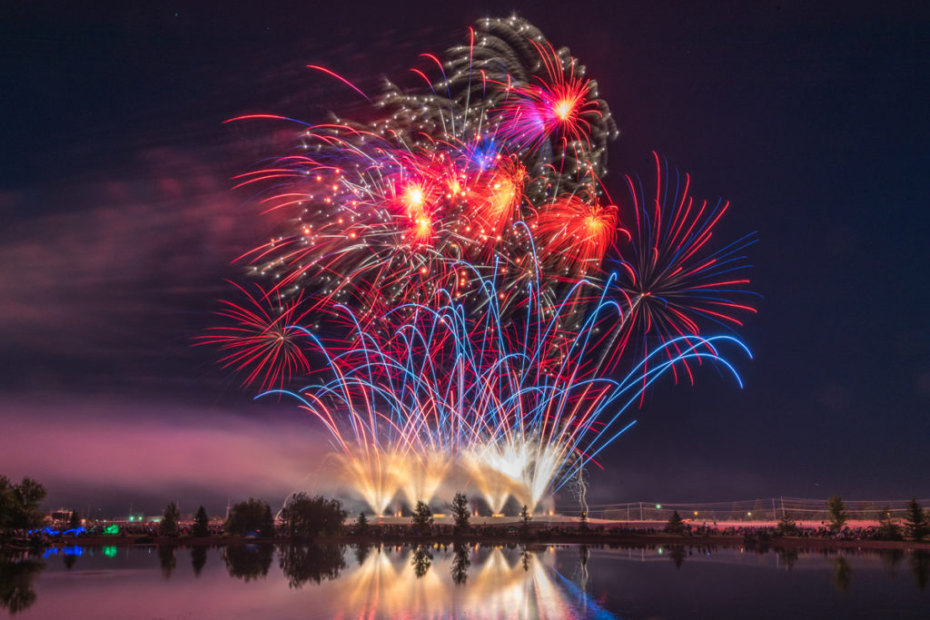 Melaleuca Freedom Celebration, Idaho Falls, Idaho
Lasting more than half-an-hour and witnessed by more than 200,000 people, the largest Fourth of July fireworks show west of the Mississippi doesn't take place in San Francisco, Phoenix, or Los Angeles. Rather, the Melaleuca Freedom Celebration—using state-of-the-art pyrotechnic equipment employed at past Olympics—takes place along the scenic Snake River in modest Idaho Falls. Spectators can spread out over the 450 acres of Snake River Landing, which also hosts a preceding RiverFest that delights with live music, arts and crafts, and food and drinks. RiverFest starts at noon; fireworks start at 10 p.m. MDT.
Eugene Pro Rodeo fireworks show, Eugene, Oregon
Why limit yourself to just one night of fireworks? The annual Eugene Pro Rodeo caps action-packed bull riding, barrel racing, and steer wrestling action with the largest display in Lane County every night for four straight days. The biggest and longest pyrotechnics are reserved for July 4, while post-show dancing takes place nightly. Non-rodeo attendees can also watch the show at $5 per vehicle with launch site parking for a close-up view. Starts at 9:55 p.m.
Tacoma Freedom Fair & Air Show, Tacoma, Washington
Pyrotechnics aren't the only objects shooting across the sky during the Tacoma Freedom Fair & Air Show. Washington State's largest Fourth of July celebration also hosts a popular air show that features aerodynamic daredevilry by U.S. Marines, Navy, and Air Force fighter jets this year. A classic car show, six stages of live music, a kids zone, and more than 200 arts, crafts, and food vendors provide plenty to do above the Tacoma Waterfront prior to the fiery 20-minute finale. Starts at 10:10 p.m.
Fourth of July Celebration at WestWorld, Scottsdale
"Red, white, and cool" is an appropriate motto for this Independence Day event where you can beat the desert heat inside the air conditioned 300,000-square-foot environs of the Tony Nelssen Equestrian Center at WestWorld. Festivities start at 4 p.m., and a ticket gets you food and plenty of family-friendly activities including a petting zoo, pony rides, and live DJ dance party (kids will also love this year's "Fortnight" theme and special superhero appearances by Captain Marvel and Captain America). View the on-site fireworks backdropped by the McDowell Mountains in a special viewing area just outside the center. Fireworks start at 9:30 p.m.MST