There's something special about winter festivals. Their relative scarcity (at least compared to their summer counterparts), the combination of cold weather and hot drinks, the holiday-fueled cheer: It all adds up to create a joyful atmosphere where people come together in celebration—and defiance—of the harsh elements.
Here are 10 not-to-be-missed winter festivals across the West that best embody that spirit.
Las Noches de las Luminarias, Desert Botanical Garden, Phoenix
Nov. 24 & 25, Dec. 1 & 2, 8 & 9, 15 & 16, 19-23, 26-30
There may be little chance of snow angels, but a cool evening stroll among the flora and fauna of the Desert Botanical Garden offers ample opportunity for convivial holiday reflection. Walk the trails lined by 8,000 flickering luminaria bags while also experiencing an immersive installation showcasing the uniquely sumptuous paintings, drawings, and sculptures of visionary Colombian artist, Fernando Botero. On-site dining and al fresco live entertainment—ranging from Christmas carols and handbell ensembles to Latin folk dancing and Native American storytelling—round out the festivities.
Christmas on the Comstock, Virginia City, Nevada
December 1-31
Pick your favorite holiday happening, and odds are they'll have it in Virginia City. The historic Gold Rush-era mining town celebrates for the entire month of December with activities like a Grinch Made Me Do It Saloon Crawl, authentic steam train rides on the V&T Candy Cane Express, and the annual Comstock Cowboys Christmas in the Sierra concert at Piper's Opera House. Other events include a festive parade of lights, a holiday craft fair, and gingerbread social.
Winter Karneval, Leavenworth, Washington
January 13-15
Washington's Bavarian-inspired village of Leavenworth keeps the holiday spirit alive through January. With a backdrop of a half-million twinkling lights strung across the postcard-cute downtown, festival goers can expect live ice carving demos in addition to activities like tubing, snow shoeing, and sleigh rides. The Karneval's main events occur over Martin Luther King Jr. weekend, culminating with a fireworks display that Sunday evening.
Napa Lighted Art Festival, Napa, California
January 20 to February 18
Downtown Napa transforms into a walkable, open-air art gallery that lights up the nights each winter. Expect everything from immersive video installations to a towering and illuminated "House of Cards," as well as a trio of artworks projected onto three iconic buildings during the festival's first nine evenings. Or create your own work of luminous art as part of the Lantern Parade, a family-friendly, half-mile procession that takes place after-dark on February 10. 
Bear Lake Monster Winterfest, Garden City, Utah
January 26-28
The beauty of this festival is its colorful origin story, unique to the area. The Cisco Disco was born in the '80s when a handful of fishermen, gathered early in the morning at Bear Lake in late January to catch native Bonneville Cisco, decided to fry up a few of the sardine-like fish instead of using them for bait. Community leaders built on this obscure event by adding a Friday kickoff party (with outdoor winter sports expos, samplings from local restaurants, and other family-friendly fun); village market with food trucks; chili cook-off; and a plunge into the freezing lake. Just watch out for the Loch Ness-like "monster" that local legend proclaims still swims in the lake.
Fire & Ice Winterfest, Lava Hot Springs, Idaho
First weekend in February
This southeast Idaho resort town celebrates its signature attraction—natural spring-fed hot pools—with the finale of its annual weekend festival. During the Running of the Bulls, participants brave the elements by running down Main Street from one hot spring pool to another in just a bathing suit and sandals. Other on-theme attractions for one of the region's quirkier festivals: fire performers and a torch light parade, a children's water carnival at the Lava Hot Springs Indoor Aquatic Center, and a costumed polar float down the icy Portneuf river.
Whitefish Winter Carnival, Whitefish, Montana
February 2-4
Each winter, this all-season resort town welcomes visitors from near and far to celebrate the lore of Ullr, the God of Snow. Whitefish Winter Carnival events include a torchlight parade at the ski resort, a Yeti snow skate, fireworks, and a penguin plunge (a hole is cut into Whitefish Lake and participants take a dip for charity). Staying longer? Watch the World Championships of skijoring, a competition in which skiers are pulled behind racing horses, on January 27 and 28, 2024.
Pinedale Winter Carnival, Pinedale, Wyoming
February 9-11 
Whether it's the thrill of watching high-speed skijoring on a specially designed course or joining in the Cardboard Classic, a sledding race in which participants design their own crafts out of cardboard, duct tape, glue, and paint, the Pinedale Winter Carnival captures the spirit of this frosty season, Wyoming-style. Peruse a display of vintage snowmobiles, vote for your favorite snow sculpture, and dance the night away at the Snow Ball, which includes the crowning of the year's snow king and queen.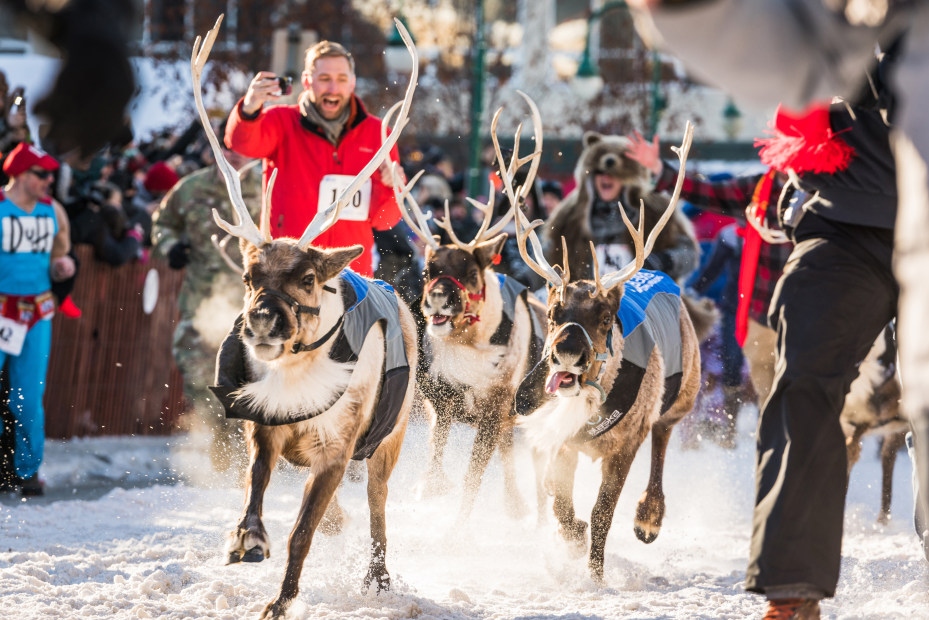 Fur Rendezvous, Anchorage, Alaska
February 22 to March 3
Since 1935, the Fur Rondy—as the locals call it—has been embracing Alaskans' pioneering spirit with dozens of wild and wacky activities citywide. At the 89th annual event you can join in (or just watch) outhouse races, a talent competition, a grand parade, and the running of the reindeer, in which the animals sprint side-by-side with festival-goers.
North Lake Tahoe SnowFest, California
February 29 to March 10
SnowFest hosts 100 events throughout the less developed north side of Tahoe, among them a mountain Mardi Gras-themed parade, pancake breakfasts, ski races, dog pull races, a clambake, a prom night, and a polar bear swim in the 50-55 degree lake. While it skews more family-friendly, there is something for everyone, including concerts, bar Olympics (teams compete at pool, shuffleboard, and darts at a local watering hole), and an annual snow sculpting contest to close out the festival.