There's something special about winter festivals. Their relative scarcity (at least compared to their summer counterparts), the combination of cold weather and hot drinks, the holiday-fueled cheer: It all adds up to create a joyful atmosphere where people come together in celebration—and defiance—of the harsh elements.
Here are 10 not-to-be-missed winter festivals across the West that best embody that spirit.
Las Noches de las Luminarias, Desert Botanical Garden, Phoenix
Nov. 29 & 30, Dec. 6-8, 13-15, 17-23, 26-31 
There may be little chance of snow angels, but a cool evening stroll among the flora and fauna of the Desert Botanical Garden offers ample opportunity for convivial holiday reflection. Walk the trails lined by 8,000 flickering luminaria bags and let yourself be entranced by the glowing animal sculptures made from colorful, recyclable plastic in Wild Rising by Cracking Art, the garden's latest outdoor art installation. On-site dining and al fresco live entertainment—ranging from Christmas carols and handbell ensembles to Latin folk dancing and Native American storytelling—round out the festivities.
Christmas on the Comstock, Virginia City, Nevada
December 1-31
Pick your favorite holiday happening, and odds are they'll have it in Virginia City. The historic Gold Rush-era mining town celebrates Old West-style for the entire month of December with activities like a Grinch Made Me Do It saloon crawl, authentic steam train rides on the V&T Candy Cane Express, and the annual Comstock Cowboys Christmas in the Sierra concert at Piper's Opera House. Other events include a festive parade of lights, holiday craft fairs, and gingerbread social.
Holiday Ale Festival, Portland
December 4-8 
This suds-crazy city has wholeheartedly embraced the annual Holiday Ale Festival for good reason: More than 50 breweries unveil eclectic, one-off releases—everything from IPAs and stouts to ciders and sours—especially for the festival. The fact that the five-day event is held under a heated clear top tent in Pioneer Courthouse Square, with views of the downtown lights and the region's largest decorated Christmas tree, just adds to the revelry.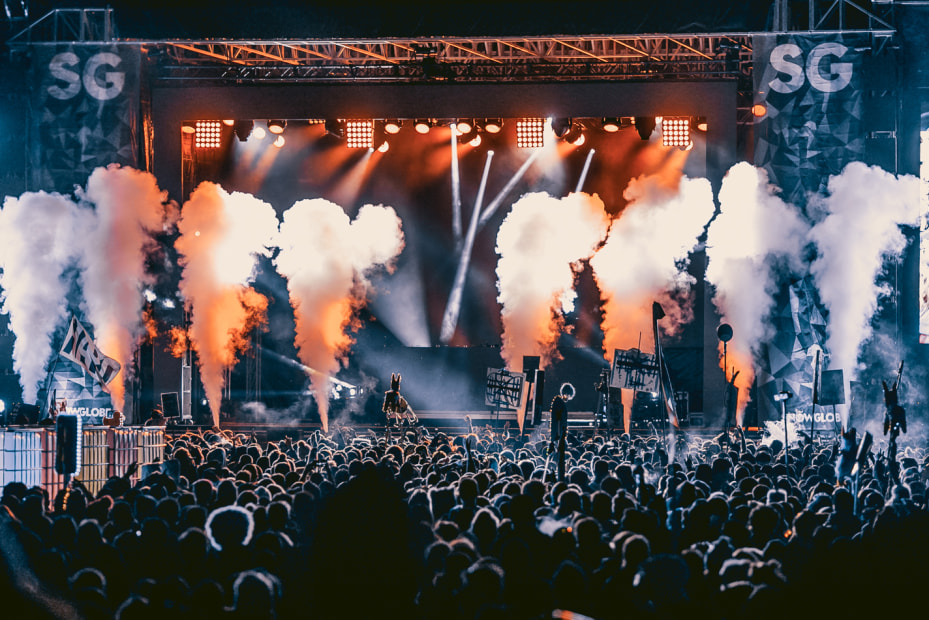 SnowGlobe Music Fest, South Lake Tahoe, California
December 29–31
This massive outdoor winter music festival, organized by MTV, is worth a drive to the Sierra, even if you aren't familiar with the headliner (ask the kids in your life about Skrillex). In addition to 40-plus musical acts, SnowGlobe hosts live big-air snowboarding and skiing demos adjacent to the main stage, interactive art installations, and a New Year's Eve fireworks display. And if you're worried about getting frostbite while waiting for the next set, don't: There are heaters scattered throughout and 20,000 square feet of enclosed space to warm up, including one of the primary music stages and several bars. Oh yeah, and there's world-class skiing and boarding minutes away.
Bavarian Icefest, Leavenworth, Washington
January 18–19
Washington's Bavarian-inspired village of Leavenworth keeps the holiday spirit alive into mid-January. With a backdrop of a half-million twinkling lights strung across the postcard-cute downtown, festival goers can take in snow sculptures, live ice carving, and a snowmobile sled pull in addition to joining in on ice fishing, snow shoeing, and a snowball toss. Don't forget about the fireworks finale at 6 p.m. on the 19th.
Bear Lake Monster Winterfest, Garden City, Utah
January 24–25
The beauty of this festival is its colorful origin story, unique to the area. The Cisco Disco was born in the '80s when a handful of fishermen, gathered early in the morning in late January to catch native Bonneville Cisco, decided to fry up a few of the sardine-like fish instead of using them for bait. Community leaders built on this obscure event by adding a night-before kickoff party (with karaoke, a kid's movie, a hot chocolate bar, and other family-friendly fun); indoor and outdoor winter sports expos; a post-Cisco chili cook-off; and a plunge into the freezing lake. Just watch out for the Loch Ness-like "monster" that local legend proclaims still swims in Bear Lake.
Fire & Ice Winterfest, Lava Hot Springs, Idaho
February 7–9 
This southeast Idaho resort town celebrates its signature attraction—natural spring-fed hot pools—with the finale of its annual 3-day festival. During the Running of the Bulls, participants brave the winter elements by running down Main Street from one hot spring pool to another in just a bathing suit and sandals. Other on-theme attractions for one of the region's quirkier festivals: fire performers and a torch light parade, an ice-catapult contest, and a costumed polar float down the icy Portneuf river.
Whitefish Winter Carnival, Whitefish, Montana
February 7-9
This sleepy ski town comes alive each winter to celebrate the lore of Ullr, the God of Snow. Whitefish Winter Carnival events include a torchlight parade at the ski resort, a Main Street parade, fireworks, a penguin plunge (a hole is cut into Whitefish Lake and participants take a dip for charity), and even the World Championships of skijoring, a competition in which skiers are pulled behind racing horses.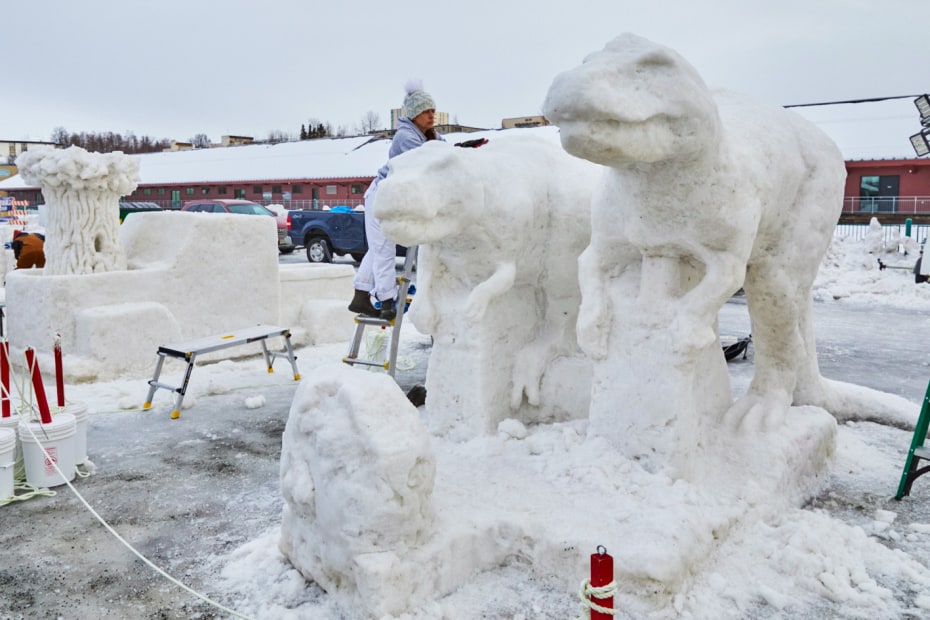 Fur Rendezvous, Anchorage, Alaska
February 28 to March 8
Since 1935, the Fur Rondy—as the locals call it—has been embracing Alaskan's pioneering spirit with dozens of wild and wacky activities citywide. At the 85th annual event you can join in (or just watch) outhouse races, a talent competition, and the running of the reindeer, in which caribou sprint side-by-side with festival-goers.
SnowFest, North Lake Tahoe, California
February 28 to March 10
Not into house and electro music? North Lake Tahoe offers a more traditional—and lower volume—alternative later in the winter when the snowpack is typically still thick. SnowFest hosts 100 events throughout the less developed north side of Tahoe, among them a torchlight parade, pancake breakfasts, ski races, dog pull races, ice carving, ice-cream eating contest, and a polar bear swim in the 50-55 degree lake. While it skews more family-friendly, there is something for everyone, including concerts, a Mardis Gras party, and a laser show and fireworks.