Few foods have a richer history than chowder, a hearty soup that we've been devouring for centuries. (The dish even made a cameo in Moby-Dick.) The creamy concoction, which traditionally includes clams, salt pork, potatoes, and other vegetables, allows for many variations. In the West, chefs play to local palates, infusing stews with Alaska salmon, green chiles, and other regional ingredients. Here are seven places to warm your heart this winter. 
Aaron Pool spent years perfecting his spicy potato and corn chowder, which tingles the tongue with roasted serrano peppers, at Gadzooks Enchiladas & Soup in Phoenix. He recommends customizing your bowl at the topping buffet, adding tender bison meat for a savory note, salsa verde for an extra kick, or corn bread for sweetness.
In a city that's serious about seafood, San Francisco's Hog Island Oyster Co. takes it to another level. The bayside eatery overlooking the water grows Manila clams at its own 160-acre aquatic farm, then harvests the bivalves to bedeck each bowl it serves. Dig into the clean, briny clam chowder, or do as the regulars do and ask for the off-menu Hog Island oyster stew. The soup, packed with shucked oysters, is made to order.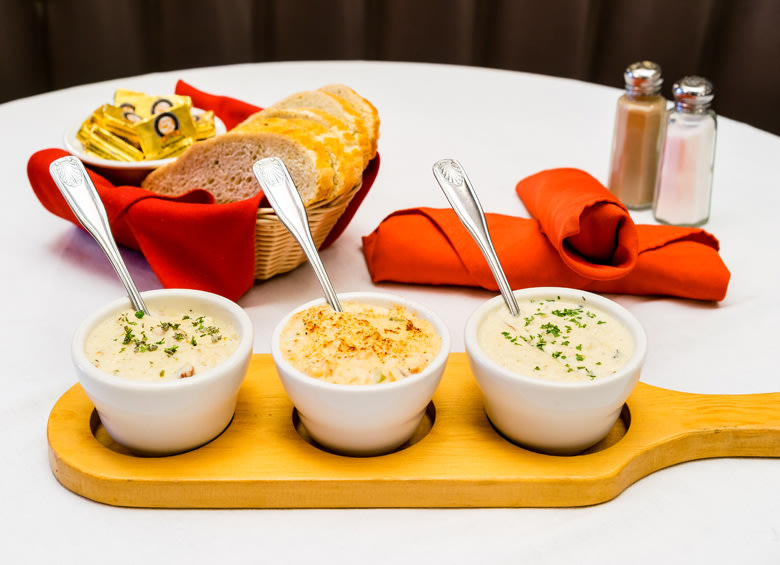 Annabelle's Famous Keg & Chowder House, a waterside eatery in Ketchikan, Alaska, started turning out clam chowder in 1927 and hasn't stopped since. Belly up to the carved wood and brass bar to order a bowl replete with thyme, bacon, and cream. If you're extra hungry, order a platter of king crab and the three-chowder sampler, which includes cups of the original, the smoked salmon, and the mixed seafood (brimming with halibut, salmon, scallops, and clams).
Filled with Idaho spuds, carrots, and corn, the corn chowder at Bittercreek Alehouse in Boise, Idaho, reflects the pub's sustainability ethos. The taters hail from M&M Heath Farms, a pioneering organic farm nearby. Complete your meal with a smoked trout salad and a pint from one of several Gem State breweries.
Julie Barker, founding chef of the now-shuttered Bread and Ocean in Manzanita, Oregon, noticed that patrons kept requesting two things: chowder and ice cream. Inspired, the chef found a great local dairy, and opened Buttercup, a chowder and ice cream parlor, in nearby Nehalem. The tiny shop has global notions: One seasonal chowder, Thai red curry, features mixed seafood, a coconut milk base, and Thai basil.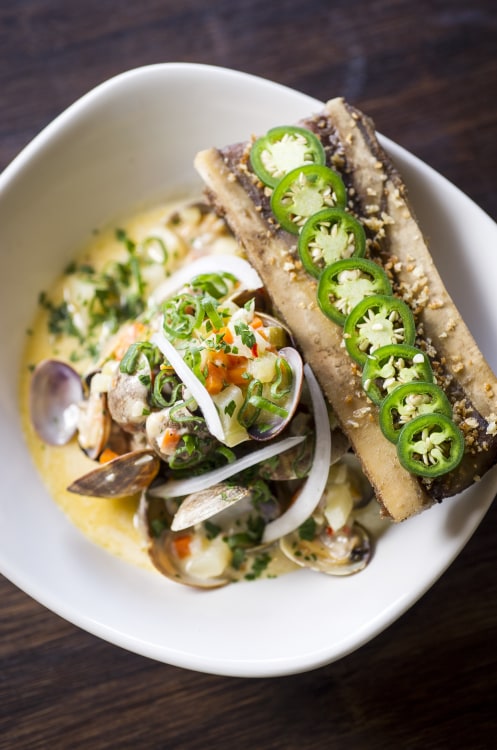 At Portland's Ox, James Beard Award–winning chefs Greg Denton and Gabrielle Quiñónez Denton pair unapologetically meaty fare (beef tongue, blood sausage) with exposed brick charm. Another surprising pairing? The jalapeño-laced clam chowder, which arrives accompanied by a generous portion of smoked bone marrow, scooped by diners right into the soup.
Every year, California's Splash Café dishes out 40,000 gallons of creamy clam chowder to eager patrons—in-person and via home delivery. The Pismo Beach–based eatery's secret to achieving cult status? "We use three types of clam to achieve the perfect flavor profiles and textures," says owner Joanne Currie. Ask for a fully loaded bowl with seafood topping, green onions, bacon, extra clams, and cheese, and don't forget their carrot-based hot sauce.
Step closer to the A-frame that's home to the Original Blue Adobe Grille and you'll notice stained glass windows and a multicolored chandelier. The fare at this Mesa, Arizona, eatery is equally unexpected, a fusion of flavors from around the country. For instance, the green chile corn chowder with chicken nods to both New England and New Mexico. The stew gets its smoky-sweet flavor from the pecan wood used to roast the Hatch chiles and grill the bird.