These days, a slew of eateries around the West are bringing refined techniques and meticulous sourcing to bear on fried chicken, corn bread, and shrimp and grits. One hint that the chef means business? The menu names the mill that ground those grits. Here are fiveof the West's finest Southern food establishments.
The motto at Portland's Screen Door—housed in a yellow building on East Burnside—is "Traditional Southern cooking with Northwest food values." No, you can't meet the chicken, but you can tuck into such dishes as braised pork shoulder (from nearby Lan-Roc Farms) served with baby limas, a slaw of fennel and Fresno chiles, and a mustard-based barbecue sauce that took chef Dan Grill a full year to develop. Look for praline bacon, made with a layer of ground pecans, at weekday breakfast.
Joe Darr originally came to Bozeman, Montana, from Tennessee for the fishing, but he stuck around to open Roost Fried Chicken. He had the bona fides: His family's restaurants back home were famous for their coconut pies and barbecue. Darr doesn't serve any newfangled reinventions, just what he calls "real-deal Southern"—which feels apt, since he perfected the fried chicken recipe in his garage. The focus here is on the bird, whether fried, rotisserie roasted, or tinged with Nashville hot spice paste.
Brenda's Meat & Three is a homey Southern diner that somehow teleported itself, horseshoe-shaped counter and all, to the middle of San Francisco. It's named after its chef, New Orleans transplant Brenda Buenviaje, and a standard southland order: a protein of the day plus a choice of three sides. Here, those mains might include barbecue brisket and meat loaf, but you could make a meal of the fixins', which range from maque choux (a vegetable mélange) to mac and cheese.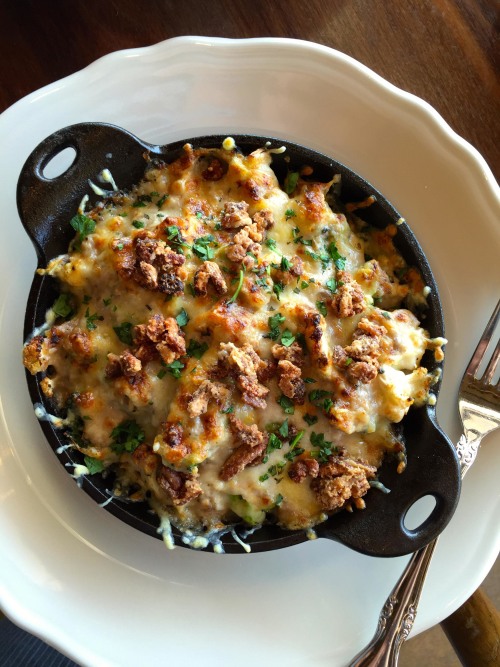 Justin Beckett, chef at Southern Rail in Phoenix, has a broader definition of the South than some. To him, the region stretches from Atlanta to Arizona. So beyond gumbo and fried chicken, he serves huevos rancheros and enchiladas packed with seasonal vegetables. In fact, the chef 's focus on produce is evident across the menu: Heirloom carrots fill the chicken and dumplings, and a casserole— yes, a casserole—stars rice, leeks, cauliflower, and broccoli, bound with a béchamel based on smoked onion. "When people taste that smoke," Beckett says, "they think they're getting away with something."
Like Reba McEntire singing at Caesars, Yardbird brings some down-home flavor to the glitzy Las Vegas Strip. The kitchen belts out the hits: deviled eggs, mac and cheese, and shrimp and grits. But the showstopper is the Chicken 'n' Watermelon 'n' Waffles—the bird brined for 27 hours, the waffle made savory with cheddar cheese, the watermelon seasoned, and the whole entrée topped with honey hot sauce and boozy maple syrup.