Light mist blankets the masts of sailboats bobbing on the water near Granville Island, an artsy peninsula reached from downtown Vancouver, British Columbia, by way of a busy eight-lane bridge. In the distance, lanky, shimmering towers stretch skyward while the snowcapped North Shore Mountains loom behind them. The Vancouver metro area's 2.4 million residents live in a typical West Coast marine climate with mild, wet winters and mostly stunning summers. It's a perfect setting for a vibrant food culture: ripe produce, abundant seafood, and meat from animals reared in nearby pastures.
You can bask in Vancouver's bounty at the Granville Island Public Market, a teeming indoor food bazaar. Jars of beady caviar rest near mounds of Dungeness crab and cold-smoked wild salmon. Fresh figs and globe grapes pile next to purple mangosteens and plump raspberries. The riotous colors at Bon Macaron Patisserie hint at flavors such as basil–olive oil and spicy mango chutney. Kettles of lobster and lamb broth bubble away at the Stock Market, while pasta makers at Zara's Italian Deli snip tendrils of dough. Customers crowd around Oyama Sausage Co. clamoring for cured meat and hunks of creamy pâté. It's a fantastic place to grab a snack—if you can find a seat.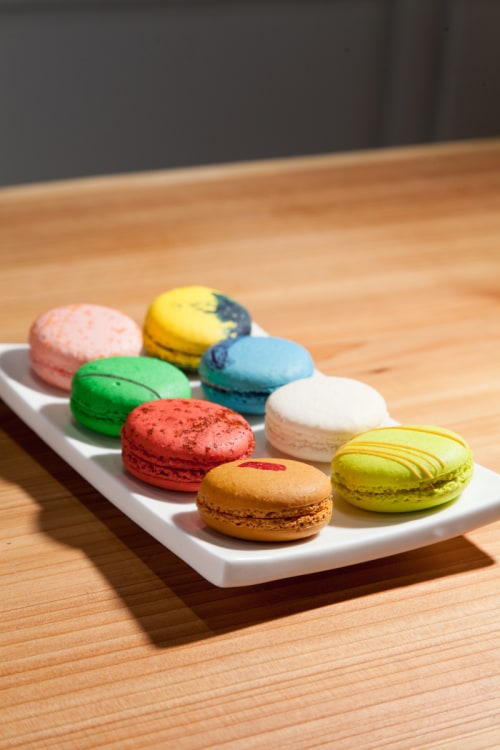 To sample the city's farm-fresh fare in a less bustling environment, stroll to Farmer's Apprentice in Kitsilano, a neighborhood known for its yoga studios and trendy beach. The brunch menu at the wood-adorned restaurant departs from typical eggs Benedict territory, favoring adventurous offerings such as steamed and roasted red kuri squash with curried lentils, pumpkin seeds, and yogurt.
As in other West Coast food capitals, sustainability and ethical sourcing are pillars of the Vancouver food scene. On many menus you'll find that the meat is humanely raised and the veggies hail from a nearby farm.
To get a sense of Vancouver's natural beauty, take a walk through the towering Douglas firs and stately hemlocks in Stanley Park, a lush 1,000-acre urban oasis filled with meandering trails and darting black squirrels. In the heart of the park you'll find the Vancouver Aquarium—Canada's largest—with more than 50,000 critters, including bulbous jellyfish, playful sea otters, and tiny sea horses. Divided into habitats, including the Tropic Zone and the Amazon Gallery, the aquarium also features a Treasures of the BC Coast display with feathery orange sea pens, skittering spot prawns, and endangered northern abalone.
Next to the aquarium you'll find Stanley's Bar and Grill, set inside a vine-draped house with a large, shaded patio. Though the place caters to visitors, it boasts a respectable selection of regional wines and craft beers, along with local fare including grilled salmon with pea shoots and toasted cashews.
After stopping for a bite, stroll along the Stanley Park Seawall, part of the 17-mile Seaside Greenway, the world's longest uninterrupted waterfront path. From this popular walkway, you can see indigo clamshells scattered on strips of sandy beach and the mermaidesque bronze statue Girl in Wetsuit sunning on a harbor rock.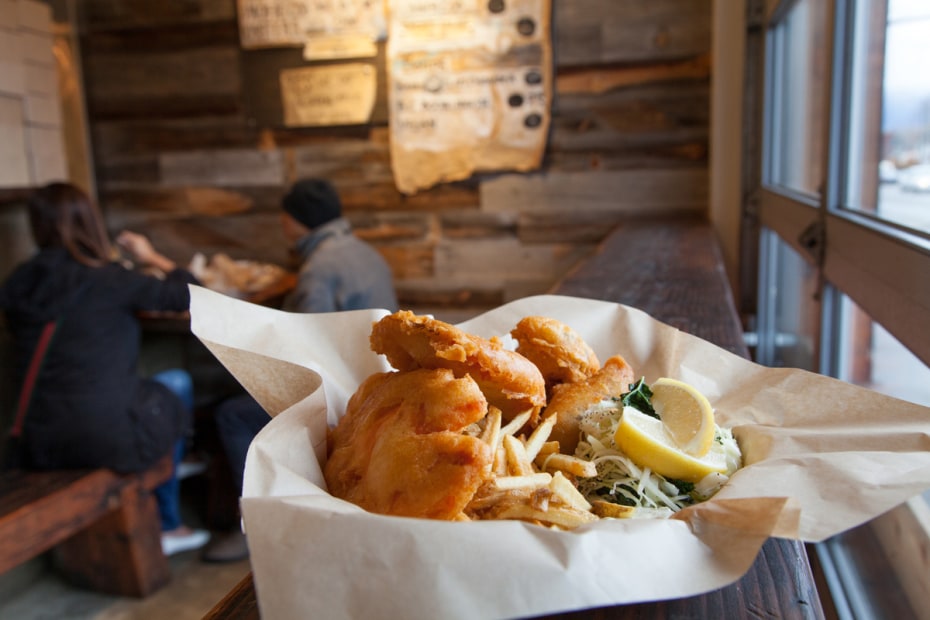 For a golden-fried taste of offshore bounty, queue up at the Fish Counter in Vancouver's Mount Pleasant, a neighborhood celebrated for its eclectic vintage boutiques. Co-owner Robert Clark worked with the aquarium to create the Ocean Wise sustainable seafood certification program, and the menu at his busy market reflects that ethos. Order a glistening plate of beer-battered halibut with a side of chips made from Smith Farms' Kennebec potatoes. And don't skip the creamy house-made tartar sauce flecked with shallots, capers, and tarragon.
For a swankier seafood experience, make your way to Chambar, a 250-seat brasserie near BC Place Stadium. Renowned for its moules frites—a bowl of golden fries accompanying a pot of mussels that burps steamy plumes of white wine and garlic when you lift the lid—Chambar has another claim to fame: Its alumni have gone on to found a plethora of popular eateries, including Bao Bei Chinese Brasserie, L'Abattoir, and Wildebeest.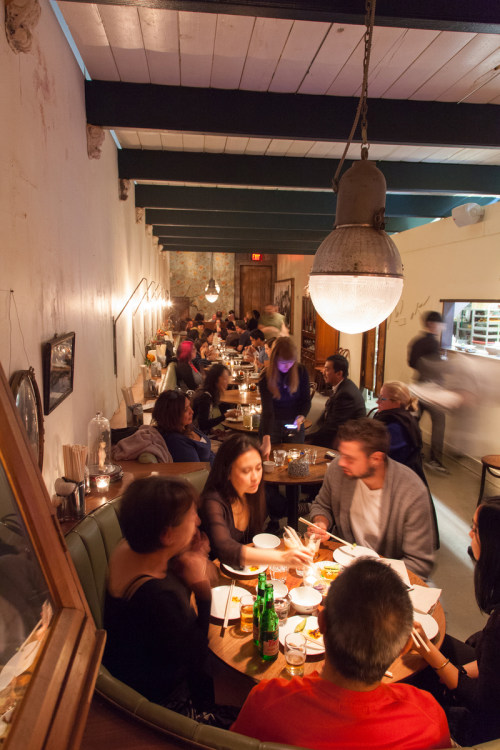 Bao Bei, opened by former Chambar bartender Tannis Ling, has helped revitalize Vancouver's Chinatown. Crowds cluster around the L-shaped bar waiting for a table in the 70-seat restaurant, where the menu includes Asian fusion "schnacks" and petits plats chinois that meld traditional flavors with Northwest ingredients. Bao Bei's beef tartare, for example, combines minced Cache Creek tenderloin with preserved mustard root, ginger, and burned-scallion oil. A pile of starchy taro chips on the side lets you scoop with abandon.
For another taste of Vancouver's innovative smallplates culture, head to hip Gastown, where a statue of pioneer saloon owner John "Gassy Jack" Deighton surveys the lamp-lit street outside L'Abattoir. Though Gassy Jack's Globe Saloon lured in whiskey-swilling sailors during the late 1860s, L'Abattoir caters to a modern crowd of cocktail connoisseurs and lovers of out-of-the-ordinary meats. Panfried veal sweetbreads are served atop crisp toast smeared with eggy sauce gribiche. Bartenders busily stir cocktails—such as the boozy, tangy Wolf in Sheep's Clothing—in crystal vessels before pouring them into delicate antique glassware.
Wildebeest is a fittingly indulgent place to catch a preperformance bite before heading to the nearby Queen Elizabeth Theatre to marvel at Ballet BC's dynamic dancers. Now in its 33rd season, the company presents a diverse selection of Canadian and international works. Program 3, May 9 to 11, includes a world premiere by Canadian choreographer Serge Bennathan that "fuses music and movement into an intricate conversation of poetic depth."
Continue your own festivities with a trip to the Vancouver Art Gallery, a four-story contemporary art museum with a collection of more than 10,000 works. This spring, French Moderns: Monet to Matisse, 1850–1950 presents 60 paintings and sculptures from the Brooklyn Museum's renowned collection.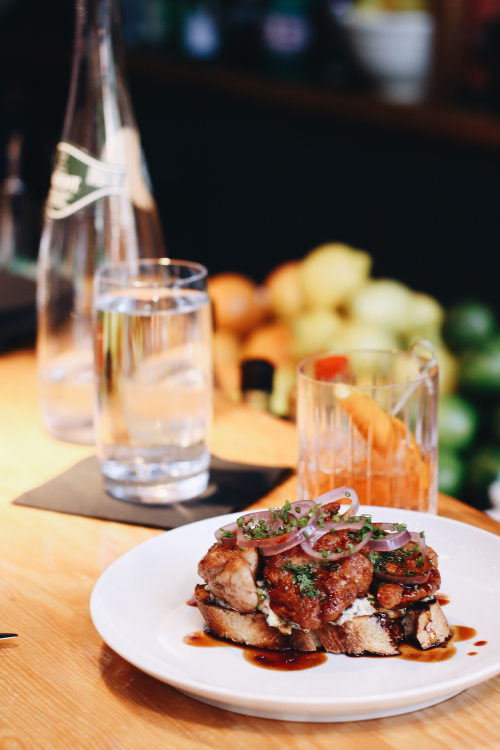 For a more ancient aesthetic, hop the SkyTrain to the Stadium-Chinatown stop and stroll east, past lampposts crowned with snarling dragons. A Beijing tricycle sits in front of a circular doorway that leads to the lush Dr. Sun Yat-Sen Classical Chinese Garden. Adorned with drooping Japanese maples, a winding pathway, and a rippling duck pond, the park offers a reprieve from the city's commotion. Just behind the curling corners of a pagoda, Vancouver's downtown buildings shoot skyward. It's a relaxing spot to sip a latte and nibble a flaky almond croissant from Purebread, a few blocks away. But still it's not the city's most tranquil locale.
That honor goes to Dock Lunch, a soul-food sanctuary back in Mount Pleasant. Situated in the tiny book-strewn living room of chef-owner Elizabeth Bryan's old house, the sweet café serves whatever she decides to cook that day. Sometimes it's crocodile po'boy sandwiches and other times it's Persian baked eggs in a fragrant tomato sauce topped with a dollop of thick labneh yogurt.
If you're lucky, when Bryan stops by to top off your cardamom-laced chicory coffee in a vintage eggshell-blue teacup, she'll also drop off a sample of her gingerbread with lemon pudding, crisp around the edges and topped with a tuft of whipped cream. It's the kind of comfort food that makes you stop midbite and sigh. If your visit to this food-obsessed city hasn't yet left you fully satisfied, this perfect dessert surely will.