The only thing more fun than eating good food? Seeing how it's made—and scoring a free sample or two. You can do just that by visiting these producers, who offer behind-the-scenes tours, guided tastings, and flagship-store exclusives.
Ethel M Chocolates
At the Ethel M Chocolates facility in Henderson, Nevada, you can watch as caramel melts in copper kettles and workers cut sheets of pecan brittle. If the post-tour chocolate sample doesn't completely quell your craving, tasting classes are offered hourly, with a view of the property's three-acre cactus garden.
Harry & David
Harry & David began in 1910 as a pear orchard, and from catwalks above the factory floor, you can still see the famed Royal Riviera pears getting hand-sorted, wrapped in foil, and packed into gift baskets. Elsewhere, you may spot popcorn tumbling with caramel in rotating drums, and bakers pulling fresh fruitcakes from the oven. The Medford, Oregon, factory is busiest late summer through fall, as it prepares to ship millions of holiday gift packages.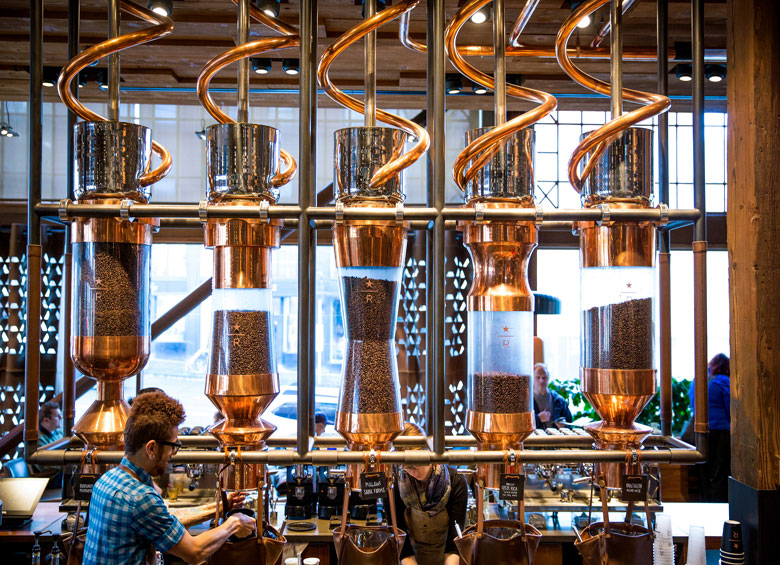 New World Distillery
No fewer than nine botanicals—including sarsaparilla root, cinnamon bark, and dried lime—go into New World Distillery's Oomaw gin. Try to identify each during a tasting and tour at the Eden, Utah, facility. Owners Chris and Ashley Cross lead groups through what looks like a laboratory, past two 2,000-liter fermentation tanks, two stills, and 20 bourbon barrels for aging. Along the way, you'll learn how to read a label and what "proof " means in terms of quality and flavor.
Starbucks Reserve Roastery and Tasting Room
Inside the Starbucks Reserve Roastery and Tasting Room in Seattle, you can watch, listen, and smell as pneumatic tubes shuttle green beans from storage silos to roasters and finally to the manufacturing line or the café bar. Snag a chair in the library to get a bird's eye view of the entire operation—or to peruse any of 200 tomes on java. Then head to the bar for a coffee flight.