The fierce majesty of raptors. The sheer stamina of terns. The aquatic skills of waterfowl. The speed blur of roadrunners. The flashy, angling flights of hummingbirds. All these beautiful bird qualities demand we stop, stare, and listen. Here are the best places across the West to see native and migratory birds.
Nome, Alaska
Best known for hosting the finish line of the 1,049-mile Iditarod Trail Sled Dog Race, the small town of Nome is an under-the-radar destination for a birding adventure of a lifetime. Fly in from Anchorage (no roads lead to Nome) from mid-May to mid-June and get the binoculars ready for North American species such as the bristle-thighed curlew, Lapland longspur, Arctic loon, Aleutian tern, tundra swan, long-tailed duck, red-necked phalarope, and horned puffin.
You also have the chance to spot birds such as bluethroats, Arctic warblers, snow buntings, and wagtails. The estuaries, ponds, beach, and harbor on the Bering Sea are within walking distance of town and are top spots for birding. But you also can strike out onto the 350 miles of road (open mid-May through the end of October) leading into the tundra, mountains, and coastal plains for optimal viewing around the Seward Peninsula. Self-guided exploration outside the town requires careful planning, but you can choose to eliminate the legwork and book a professional tour.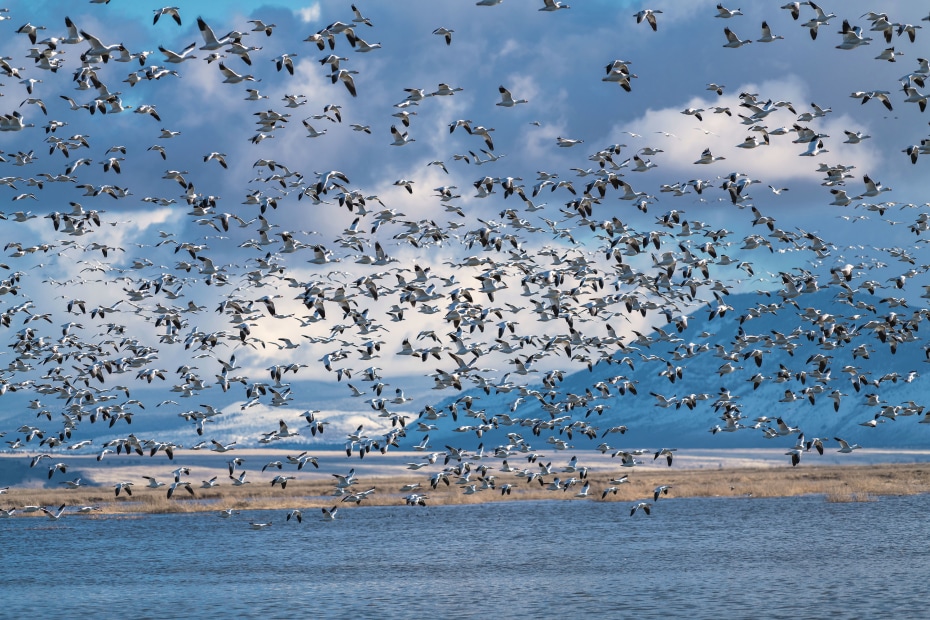 Klamath Basin National Wildlife Refuges Complex, Northern California and Southern Oregon
Six refuges make up this complex known as the "Everglades of the West," including the country's first waterfowl refuge, established in 1908. As the largest wetlands collective west of the Mississippi, it welcomes an estimated 80 percent of waterfowl migrating along the Pacific Flyway, including tundra swans, Least sandpipers, and numerous species of grebes, ducks, and geese.
Search for bald eagles, California quail, yellow-headed blackbirds, and raptors along trails and roads through the complex's variety of habitats, including open water, marshlands, meadows, forests, grasslands, and cliffs. Make a stop at the Refuge Complex Visitor Center in Tulelake, California, to see exhibits and speak with staff about the best hot spots for your visit.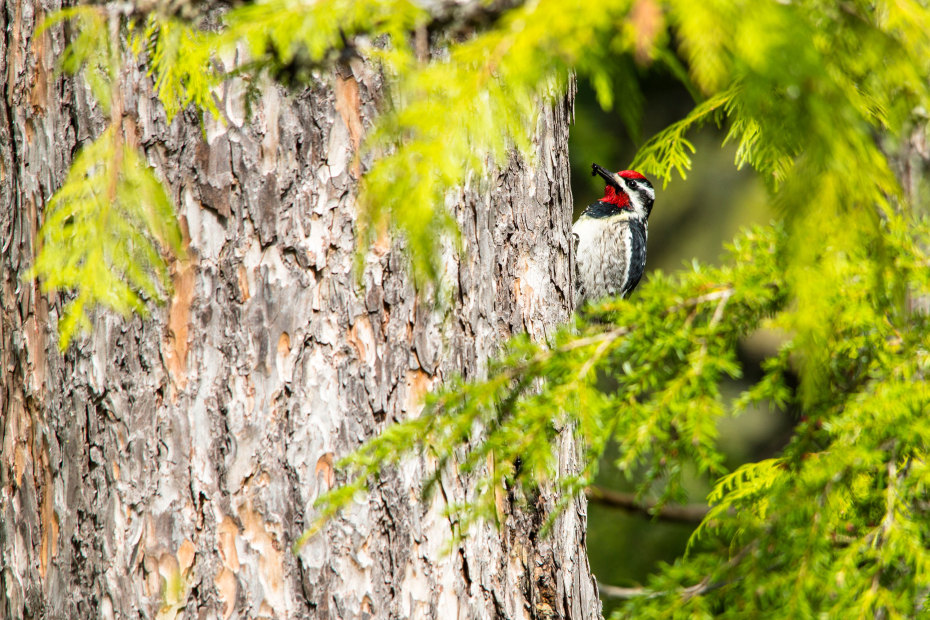 Glacier National Park, Montana
While its glaciers, pristine lakes, expansive valleys, and forests often steal the show, there's so much more at Glacier National Park if you look closely. The park's million acres offer the chance to see more than 270 avian species and their mammalian neighbors (bears, mountain goats, bighorn sheep, moose, and more).
With more than 734 miles of trails, the park is an ideal environment for multi-elevation birding. Search for tundra swans, herons, geese, and Harlequin ducks on the 5.6-mile out-and-back Upper McDonald Creek Trail. The Haystack Butte Trail, 8.2 miles down and back, starts gently before climbing in elevation (turn around early for a more leisurely hike) and delights with Red-naped sapsuckers, Gray-crowned rosy finches, thrushes, four chickadee species, and red crossbills.
Enjoy scenic vantage points and hear about the forces that shaped the park from a knowledgeable guide on a historic Red Bus tour or a free ranger-led program. Just outside the park, learn about the history, traditions, and culture of the ​​Blackfeet Nation—one of the 27 current tribes with direct connections to Yellowstone and Glacier National Parks—while exploring the quieter backcountry of the Badger Two-Medicine Area on a Blackfeet Interpretive Tour. 
Smart Tip: Print or download the park's bird checklist before you go, to locate areas to spot species throughout the park.
Keyhole State Park in Crook County, Wyoming
Grasslands and a large reservoir in the northeastern corner of Wyoming create a hospitable environment for birds and visitors alike at Keyhole State Park, a popular birding destination on the western edge of the Black Hills. While it's within view of the famed Devils Tower, this year-round hot spot remains relatively uncrowded, outside of the flocks of wild turkeys, Western meadowlarks, and thousands of sandhill cranes that visit during their migration.
Rent a boat at the marina to spot American avocets, blue-winged teal, Northern pintail, and six grebe species from the water. For a unique adventure, stay overnight in the park's treehouse and wake up to the sweet songs of mountain bluebirds and American goldfinches from your perch. If the treehouse is booked, you can't go wrong bedding down at one of the 10 campgrounds located along the edges of the bays, or reserving one of the four cozy cabins.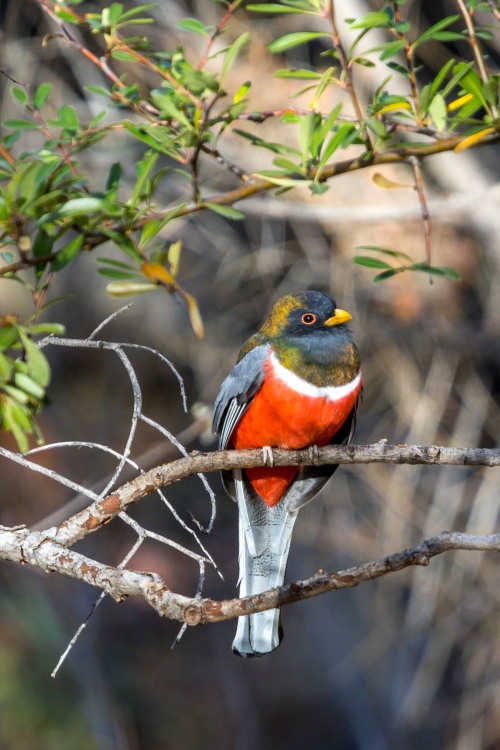 Madera Canyon in Coronado National Forest, Arizona
Grab a field guide and come see why this canyon in the Coronado National Forest is on every birder's bucket list. This geological feature of the Santa Rita Mountains begins with grasslands and washes and climbs through woodlands, bisected by a creek, to 9,456 feet—all teeming with roughly 250 avian species. Sharp-eyed visitors may be able to spot an Elegant trogon, Painted redstart, Zone-tailed hawk, elf owl, 15 hummingbird species, and multiple tanager, flycatcher, and woodpecker species.
Trails of various difficulty levels (including ADA-compliant) meander through the canyon, and there's ample parking at the trailheads. Stop by the Visitor Information Station near the Proctor Parking area to pick up maps and gain insider tips on where to find feeder stations. You can also stay at one of three nearby lodges or camp at the first-come-first-served Bog Springs Campground for the unique experience of birding at night and easy access to the early morning chorus.
Tonaquint Park and Nature Center in St. George, Utah
Spend the day at this hidden nature oasis in the southwestern corner of the state. The 33-acre urban park hosts a whopping 245 species and can be explored via the family-friendly walking paths that meander through shade trees and (on the west side) beside a pond with a bird blind structure. You'll find plenty of benches for resting your legs while you work your binoculars. The area is inviting for beginner birders: The center hosts educational nature programs, and there are interpretive signs throughout explaining the flora and fauna of this special ecosystem.
For a longer walk, take the 3.7-mile round-trip Santa Clara River Trail to Cottonwood Cove Park to scan the water for American white pelicans, American wigeons, and white-faced ibis. Keep an eye out for Abert's towhees, swallows, and 20 warbler species among the shrubs and trees on the riverbank.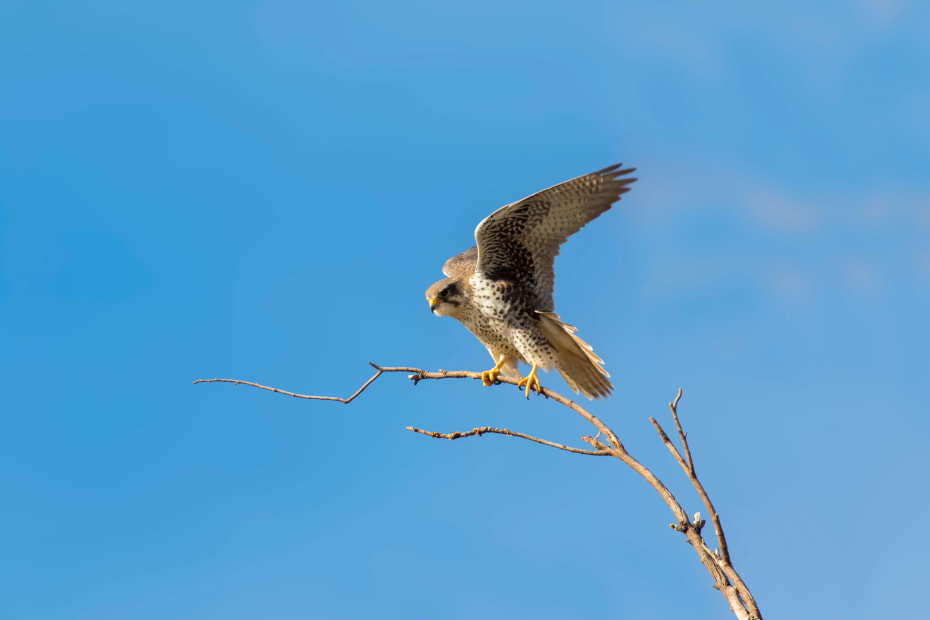 Desert National Wildlife Refuge Near Las Vegas, Nevada
Leave the bright lights of Las Vegas behind and drive 29 miles north to the largest wildlife refuge in the Lower 48. Stretching across 1.6 million acres, this vast environment lies within the Pacific Flyway and has seven different life zones. These elevation-based ecosystems include two designated Important Bird Areas—internationally recognized habitat sites critical for bird conservation. The refuge attracts 312 species including eagles, Greater roadrunners, Woodhouse's scrub jays, Clark's nutcrackers, and many sparrows and warblers, particularly during migration.
Launch a journey into the desert at the Corn Creek Visitor Center, where you can get acquainted with the area through interpretive exhibits and a short film. From here, you can hike five well-maintained trails (three of them ADA accessible). On the 1.3-mile easy Corn Creek Nature Trail loop, watch for lazuli buntings, Phainopepla, black-headed grosbeaks, and orioles.
Smart Tip: For the most up-to-date checklists by fellow birders at local destinations, visit eBird.org. The app and website allow you to pinpoint your exact location, record your sighting, and contribute to citizen science.
Kilauea Point National Wildlife Refuge, Kauaʻi
Reserve a spot to see where one of the largest populations of seabirds in Hawaii comes to nest, including the Laysan albatross, yellow-billed and red-tailed tropicbird, wedge-tailed shearwater, red-footed booby, and Hawaiian goose. Located on 199 acres at the northernmost point of Kauai, this refuge is a conservation success story in the making thanks to the Nihoku Ecosystem Restoration Project, which protects coastal ecosystems and creates safe nesting habitats for endangered ʻUaʻu (Hawaiian petrel) and 'A'o (Newell's shearwater) at the refuge. 
If you can tear yourself away from the breathtaking views of the crashing waves below and Great Frigatebirds and Hawaiian Petrels above, a historic lighthouse and knowledgeable guides await. Kilauea Point also overlooks the Hawaiian Islands Humpback Whale National Marine Sanctuary just offshore, where you can watch for humpies, green sea turtles, and endangered seals. Stop by the Visitor Center Nature Store to learn about the on-site nursery and the sanctuary's work to reestablish native coastal habitats.