The holiday spirit is alive and well in San Francisco, even when December's mostly sunny days would have us believe otherwise. Whether you're a Bay Area native or just visiting, the events and activities below let you experience the city at its most festive. 
Gingerbread House at the Fairmont
Nothing evokes the holidays like the sweet, spicy scent of gingerbread, and the Fairmont's larger-than-life gingerbread house permeates the air from the moment you pass through the hotel's doors. More than 25-feet high and made with over 1,600 pounds of candy and 3,000 pounds of royal icing, the expertly decked Victorian is a marvel of engineering. Find the two-story gingerbread house and accompanying 23-foot-tall Christmas tree in the hotel's lobby, open 24 hours a day through Jan. 1.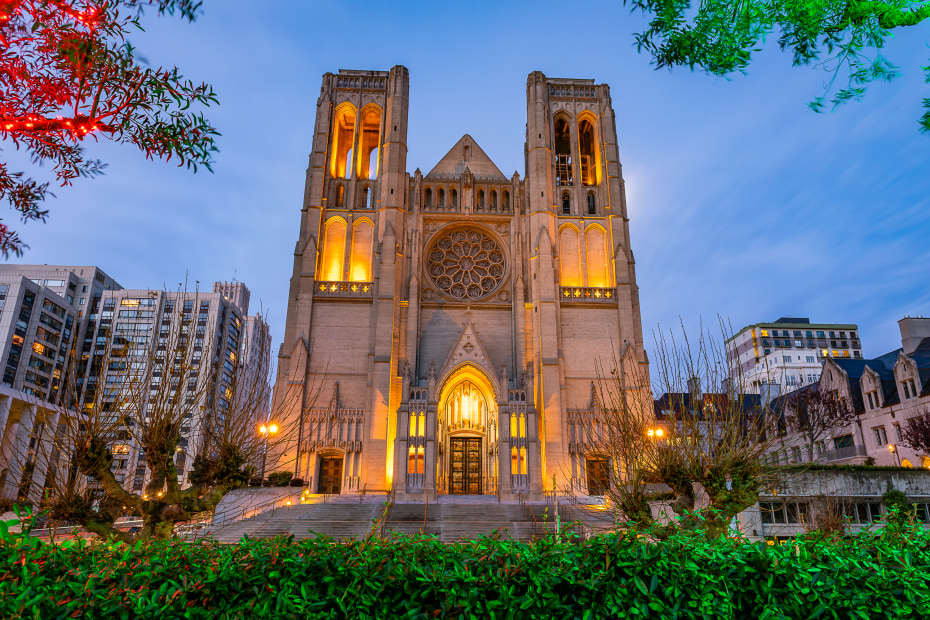 Christmas Events at Grace Cathedral
Grace Cathedral, kitty-corner to the Scarlet Huntington, is a San Francisco destination no matter the time of year. But it's no surprise that the soaring, neo-Gothic church offers more than a few Christmas programs, including the kid-friendly Sing You a Merry Christmas sing-along, Dec. 8, 15, 21, and 22, and Handel's Messiah, Dec. 12–14.
Ice Skating in Union Square or Embarcadero Center
San Francisco's two seasonal, outdoor ice skating centers offer different perks off the rink. At the Embarcadero Center's Holiday Ice Rink in Justin Herman Plaza, open through Jan. 6, the Ferry Building is just a hop, skip, and a jump away. Before you head home, stop inside for gifts and—more importantly—sustenance. After hitting the ice at the Holiday Ice Rink in Union Square, open through Jan. 20, pack in more holiday cheer with family photos in front of the neighboring great Macy's Christmas tree. If you're planning to shop, re-energize at one of these nearby Union Square restaurants.
Macy's Adorable Window Displays
And if you're shopping in Union Square, you'd be a real Grinch to not spend at least a few minutes ogling the puppies and kittens in the windows at Macy's. The annual event raises money for the SF SPCA and promotes adoption of the too-cute-to-resist fur babies on display. The windows are open with adoptable pets until Jan. 1, 2020. 
Bill Graham Menorah Lighting
From Dec. 2 to 9, Union Square also plays host to the lighting of the Bill Graham Memorial Menorah each evening. The December 2 ceremony features crafts for kids, starting at 2 p.m., followed with a musical performance by Jerry's Kosher Deli—a mix of Grateful Dead, reggae, and Jewish music—and the lighting ritual.
Shopping in Hayes Valley or on Valencia Street
Union Square isn't San Francisco's only shopping neighborhood. For unique finds and more local boutiques, visit Hayes Valley near Civic Center or Valencia Street in the Mission. The former is home to an array of clothing and shoe stores and home decor shops such as modern design–focused Minimal. Further afield in the Mission, Valencia Street boasts many funky, cool stores, from Paxton Gate, a collection of curiosities and trinkets inspired by the natural world, to Needles & Pens, an ultra-curated stationary shop.
SF Bazaar at NightLife
The California Academy of Sciences' weekly NightLife gets a holiday reboot when it joins forces with SF Bazaar, a local craft fair. During the Thursday night event on Dec. 13, check out handmade wares from more than 30 makers while getting in on the museum's usual programming fun.
Traditional and Unexpected Holiday Performances
For some, the holiday season isn't complete without a viewing of Tchaikovsky's Nutcracker. For others, only A Christmas Carol will do. In either case, San Francisco has you covered with performances courtesy of the San Francisco Ballet (Dec. 12–29) and A.C.T. (Dec. 6–29), respectively. For something different, try the San Francisco Symphony's A Merry-Achi Christmas (Dec. 9), SFJAZZ's A Charlie Brown Christmas with pianist Adam Schulman (Dec. 21 and 22), or Kung Pao Kosher Comedy (Dec. 24–26), billed as "a Jewish comedy on Christmas in a Chinese restaurant."
Tom and Jerry's Christmas Display
Viewing Christmas lights is a regular holiday pastime. Take things to the next level with a trip to Tom and Jerry's House in Dolores Heights (3650 21st Street). The unofficial winner of all home holiday displays in the city, the Tom and Jerry House, owned by Tom Taylor and Jerry Goldstein, has been delighting kids of all ages since the '80s. With a towering, decorated Norfolk pine tree, piles of oversize presents, and numerous stuffed animals and dolls, the house is gawk-worthy day or night. Catch it before New Year's Day.