Few places in California boast a landscape as enchanting as the area around Paso Robles, a former Mexican rancho and stagecoach stop that has emerged as a winetasting hot spot. By virtue of its reputation and location—halfway between San Francisco and Los Angeles—Paso Robles also makes an enticing, convenient base for a road trip. After you've explored the town, a short drive brings you to the charming coastal community of Cambria and the gleaming, gaudy, singularly spectacular Hearst Castle.
Stop 1: Paso Robles, California
Arriving in Paso by car excites your senses. As U.S. Highway 101 wends its way south, deep into Salinas Valley, forests and farmland overshadow urban development. The air feels increasingly warm and dry. The smell of sea brine and baked eucalyptus mingles with the sweet funk of agriculture. The low-slung city appears, straddling the highway and the banks of the Salinas River, with downtown to the west, suburbs to the east, and olive groves, almond orchards, and vineyards scattered about the edges.
The region's wine appellation, now the largest and fastest growing in California, comprises some 200 wineries and 32,000 acres of vineyards. Yet "Paso," as the locals call it, preserves its unpretentious Western character even as zinfandel, cabernet, and other grapevines proliferate on its hillsides and farm-to-table restaurants infiltrate its core. The town deftly blends past and present into an appealing package along the historic El Camino Real.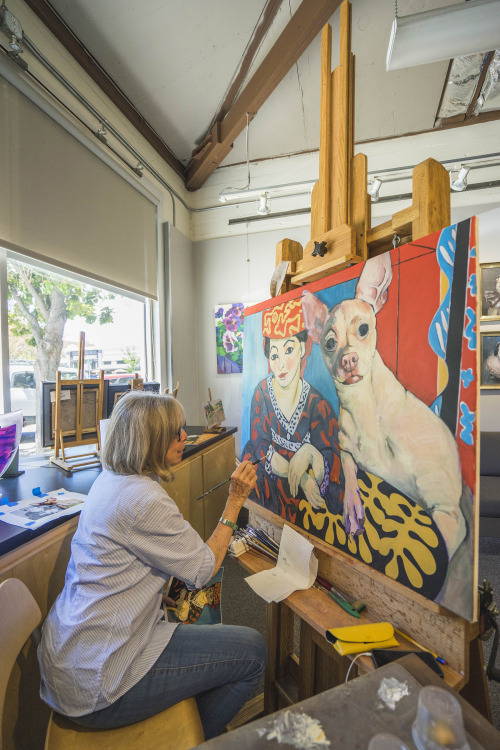 Paso's compact downtown provides ample ways to stretch your legs and while away an afternoon, perhaps after a leisurely brunch of crab Benedict at Thomas Hill Organics. Eclectic boutiques, ambitious galleries, and attractive tasting rooms surround the oak-lined main square, officially known as City Park. One standout is Studios on the Park, a nonprofit art collective housed in a former auto dealership. (Look for the shapely front end of a 1951 Hudson Hornet in the entryway.) Visitors can watch artists at work during its open studio hours. On the first Saturday of the month, the Art After Dark Paso party features live music, local wines, and, often, overflowing crowds.
If you've come to sample the area's acclaimed wines, you can easily do so on foot. More than a dozen cellars, including Asuncion Ridge and Pianetta, run tasting rooms within a few downtown blocks. For something a bit unusual, try Bodegas Paso Robles, which specializes in wines made from Spanish and Portuguese grapes such as albariño, garnacha, and tempranillo. Winery owner Dorothy Schuler focuses on uncommon varieties, such as the rare graciano grape, which grows on less than 40 acres countywide.
Before wine flowed here, the town's major attraction was its mineral hot springs, which were popular with Franciscan missionaries: The padres from nearby Mission San Miguel soaked in the fragrant, therapeutic waters. In the early 20th century, the thermal pools attracted affluent spa-goers. Today you can take a dip in the streams at Franklin Hot Springs, River Oaks Hot Springs Spa, or the Paso Robles Inn. The hotel—rebuilt and remodeled numerous times since stagecoach days—has ties to town cofounder Drury James. Local lore suggests his notorious nephews, the outlaw Jesse James and his brother Frank, plotted to use its subterranean tunnels as an escape route should the need arise. Make your own Old West–style departure at Harris Stage Lines, which offers a peek at various horse-drawn vehicles and short rides in an authentic stagecoach.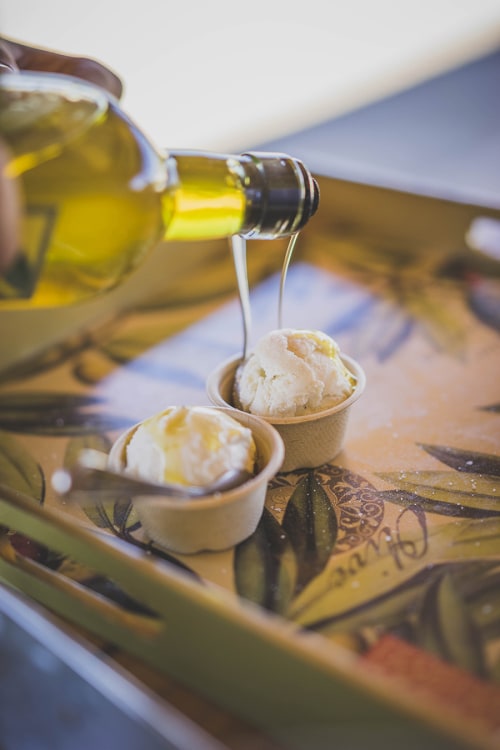 Water and wine aren't the region's only liquid assets: San Luis Obispo County produces some of the best extra virgin olive oils in the state. Kiler Ridge Olive Farm, just outside downtown Paso, specializes in Italian cultivars; its Tuscan oil won a 2015 silver medal from the California Olive Oil Council. At a table overlooking grapevine-carpeted hills, staffers pour the pressed fruits of the farm's labor into tiny plastic cups for tasting. The sharp, grassy, and fragrant oils are available by the bottle or as ingredients in soaps, candles, and balm.
Before hitting the road for Cambria and Hearst Castle, grab a picnic lunch at one of Paso's superb gourmet delis. Di Raimondo's Italian Market sells artisanal cheeses, including regional goodies like Central Coast Creamery's Goat Gouda and uncommon imports such as Vento d'Estate.
Stop 2: Cambria, California
From the southern end of Paso, Highway 46 rolls west, climbing over the Santa Lucia mountain range toward the Pacific Ocean. Nearly two dozen wineries have set up shop on or near the 4.5-mile stretch from South Vine Street to Vineyard Drive. Farther along, turnouts at the road's high points coax drivers to absorb breathtaking views of the coastline. Turn a boulder into a makeshift picnic table and admire the golden bluffs with churning, deep-blue Morro Bay in the background.
Highway 46 ends roughly where the town of Cambria begins. As you head north on Highway 1, the air cools and thickens with moisture. Cambria feels like an established seaside resort: Its main drag contains a surprising number of shops and restaurants for a town of 6,000 residents. Check out Ocean Heir for vintage clothing and accessories, Teresabelle Gallery for handcrafted jewelry, Rich Man Poor Man for antiques, or the Love Story Project to record your romantic tale. When you need sustenance, enjoy a wide slice of sweet-tart olallieberry pie at Linn's Restaurant and Bakery, a local institution.
Cambria's biggest draw, however, is the wooden boardwalk that runs along Moonstone Beach on the opposite side of the Pacific Coast Highway from downtown. While strolling the mostly flat 1.25-mile trail, watch seals bask on rocky outcroppings, seagulls drift overhead, and amateur mineralogists collect stones on the pebbly shore.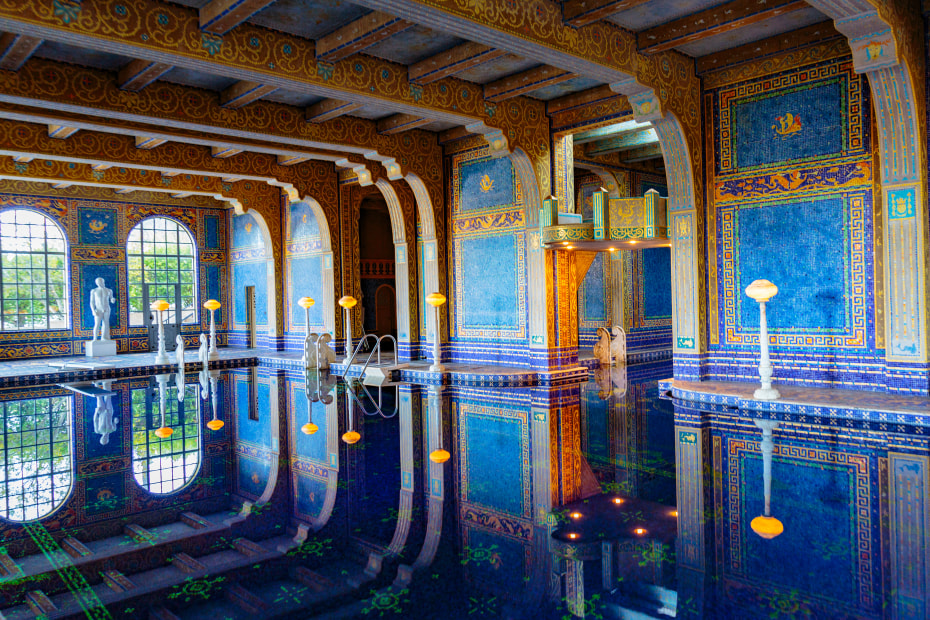 Stop 3: Hearst Castle
Ten miles north of Cambria, near the tiny town of San Simeon, Hearst Castle looms above the frequently fogchoked coastline. The estate built by late newspaper magnate William Randolph Hearst extends along 18 miles of waterfront and covers some 128 square miles. The property has been impeccably preserved as a museum since the 1950s by California's state park system. Free-range beef from its working ranch appears on the menu at Linn's and other eateries in the area.
Tours leave from the visitor center, where a shuttle bus departs regularly for "La Cuesta Encantada" (the Enchanted Hill), as Hearst dubbed it. The short drive traverses a coiling two-lane road and—on a clear day—provides dramatic ocean views as well as glimpses of zebras, sambar deer, Barbary sheep, and other descendants of what was once the world's largest private zoo. The ride alone is worth the price of admission; make reservations online. As you step out of the bus and onto the manicured grounds, the mansion's massive scale and opulence are undeniable.
The park's docents, who possess encyclopedic knowledge of the property's history, recount the theatrics with which Hearst spent his fortune. The land had been in Hearst's family for more than a century when, in 1919, he hired revered San Francisco architect Julia Morgan to design the castle as his vacation home. His tastes—ceilings shipped piece by piece from Europe, religious art dating from the Renaissance—were broad and ostentatious.
The Grand Rooms tour ends at the indoor, mosaic-tiled Roman Pool. Inspired by a 5th-century Italian mausoleum, the room is decorated with marble statues of gods and goddesses and embellished with gleaming glass tiles in blue, orange, and fused gold. It's a striking contrast to casual Cambria and the laid-back cowboy culture of Paso.