Oregon's and Idaho's forests, mountains, and shores have a flavor for everyone who loves the outdoors. Increasingly, parks in both states are dedicating more resources to taking the "everyone" part more seriously, retrofitting their infrastructure to welcome all people, regardless of how they experience the physical world. Now, visitors with a wider range of abilities can take advantage of site improvements and multisensory opportunities at national, state, and local parks. Interested in the salty air of crashing waves or the rough rocks created by an ancient lava flow? What about the cranking turbines of a historic mill? These parks will have you exploring the natural world with ease.
Federal Lands: Forests, Mountains, and Steam Heat
Thanks to the Americans with Disabilities Act, federally managed parks and other natural sites now provide documentation about ADA-qualified facilities such as entrances, pathways, restrooms, and parking on their websites and on the National Park Service (NPS) app. U.S. citizens and permanent residents with allowable disabilities can apply for a free lifetime Access Pass for national parks. Though visitor centers may not open in 2021, rangers are available by phone for accessibility questions to reserve services such as a wheelchair or an ASL interpreter or guide, or to inquire about brochures in Braille and assisted listening options.
Other national parks may be vast and sprawling, but Lewis and Clark National Historical Park in Astoria, Oregon, is easily explored. Home of the 1805–1806 winter camp of explorers Meriwether Lewis and William Clark, the forested park comprises several sites and trail systems near the mouth of the Columbia River. The Fort Clatsop exhibit and interpretive center offer a re-created fort made of log buildings, one of which is accessible by motorized scooters visitors can borrow from the front desk. (Ask the experienced staff the best ways to access the river path and canoe landing.) Volunteers give daily tours during the summer, talks, and demonstrations of period equipment such as muskets as well as hides and furs that provide tactile experiences, as does a raised map at the visitor center entrance. A listening tour, an intriguing "story map" of sounds associated with the site, and other media are available via the website. Call ahead to inquire about living history talks during the holiday break, December 26–January 1.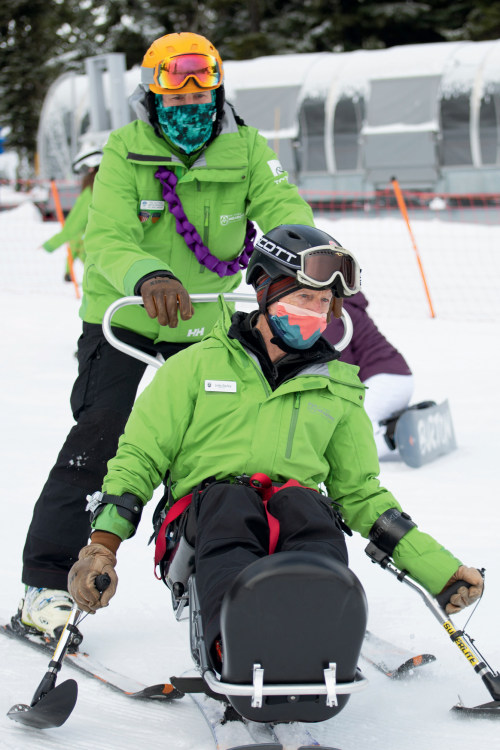 Any time of year is special at Mt. Hood National Forest with the majesty of Oregon's iconic volcanic peak up close and personal. The ski resort Mt. Hood Meadows (which operates under a special permit in the forest) takes special care with its visitors who have special needs. In the summer season until Labor Day (Sept. 6 this year), visitors can enjoy cooler temperatures and views from the accessible deck, or ride the accessible chair lift up and down the mountain to see wildflowers. A ramp at the bottom allows for wheelchair access, but the angle at the top presents challenges for disembarking. Traveling with a service dog? No problem. The dog can be escorted uphill on a truck with advanced notice. With enough snow, winter at the resort starts around Thanksgiving, when it offers adaptive skiing and snowboarding lessons with advanced technology for adults and kids with a range of physical or cognitive disabilities. The facility works with the Special Olympics and schools for the blind, so parents can be confident that specially trained instructors provide the extra love and care needed.
An easy stop on I-15 near Idaho Falls, Hell's Half Acre Lava Field in Blackfoot was created by the same geologic forces in the Snake River Plain that formed Craters of the Moon National Park and Yellowstone, but offers easier access to the otherworldly basalt landscape. Take the rest stop's southbound exit to an accessible, interpretive boardwalk trail right into the lava flow, situated on Bureau of Land Management federal land. Particularly gorgeous when lit up in the yellows and reds of sunset, the boardwalk crosses through the unusual vegetation that survives the harsh conditions.
One of the crown jewels in the National Park system, Yellowstone National Park is also considered one of the best of its type for accessibility features. It provides extensive options in various areas of the nearly 3,500-acre park (1 percent of which is located in Idaho). Its website includes several versions of the official park map for visual- or hearing-impaired explorers. You can also download a dedicated NPS Yellowstone app or purchase a book on accessibility features at several locations. From Idaho, travelers arrive at the West Entrance and can check conditions at the helpful West Yellowstone Visitor Information Center before making the drive to the Old Faithful Visitor Education Center, which offers open-captioned films and interactive exhibits with tactile components. Rent a wheelchair to explore the thermal areas, including spouting geysers and bubbling mud pits. Many of the geyser basins have flat boardwalks for at least part of the route.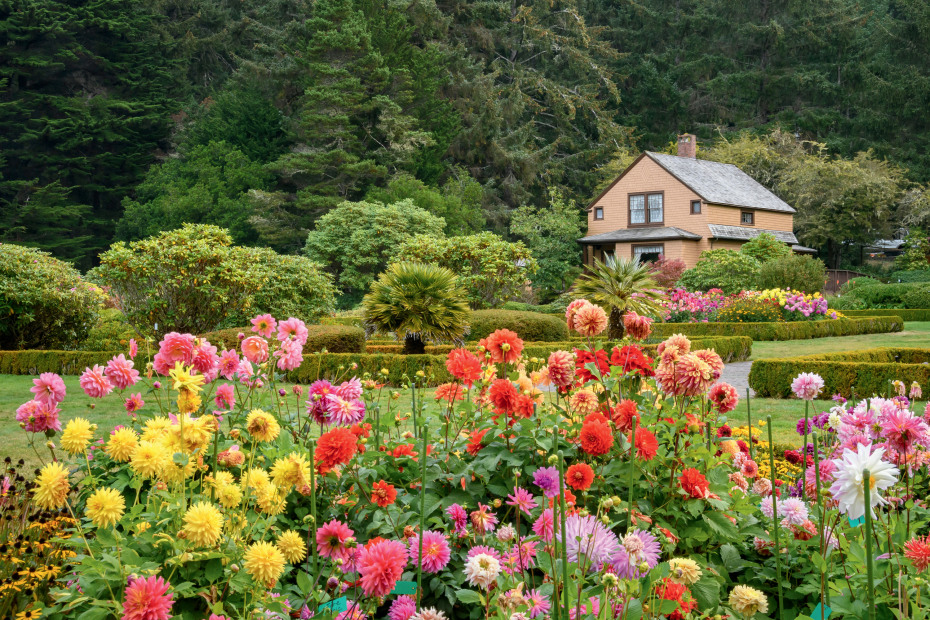 State Parks: Salty Wind, Water Power, and Dunes
In Oregon and Idaho, state parks have taken pains to augment their websites with accessibility information in the past few years. They continually improve documentation, such as photos and videos of access from parking lots, restrooms, and paths, so it's well worth it to investigate possibilities prior to visiting any of the parks in these systems.
Nestled in the windswept sandstone cliffs near Coos Bay, Shore Acres State Park lies on one of the most beautiful capes on the Oregon Coast. One of a trio of parks within a two mile radius that showcase this dramatic southern seascape, Shore Acres also delights with its formal gardens and its massive annual holiday display. Patrons can borrow a wheelchair to traverse the seven acres of grounds for a look at lovely roses and a Japanese-style lily pond in warmer months—but call to check conditions before coming to see holiday lights, as weekend crowds and weather can present challenges. A paverstone path leads to the Observation Building, where photographers thrill to giant winter waves crashing against the rocks. Just down the road, an accessible overlook for Simpson Reef allows visitors to view and hear a robust population of seals and sea lions.
For a unique dive into Oregon's agricultural past, visit Thompson's Mills State Heritage Site in Shedd, Oregon, in the Willamette Valley. Handsome white silos grace the state's last working water-powered historic mill, where free, no-reservations-necessary guided tours allow onlookers to experience its inner workings (Friday to Sunday year round). The accessible first floor features an original millstone and grinding equipment, and a live video feed of the flume and turbines in the basement plays for those who can't negotiate the stairs. Lead Ranger Tom Parsons says the exhibits were inspired by a blind volunteer park host who helped sighted staff understand the mill's multisensory magic. "The building itself has different temperatures, and it tickles different senses," he notes, "like the smell of old wood, and the wind coming off the river water. You'll hear the creaking, groaning, and clattering of machinery. And you can feel the rumble of belts, wheels, and elevators moving." Fall cider pressings are a great time to visit (Sept. 18, Oct. 9, and Oct. 30 this year) for openhouse tours and grain-milling demos.
Feeling spacey? Idaho's Bruneau Dunes State Park, south of Boise, affords a special way to watch the night skies. Although the 470-foot freestanding sand dunes provide mobility challenges, the park's public observatory programs have accessible views of the stars. The 25-inch Newtonian telescope can only be viewed by climbing up steps, but smaller telescopes set up on the quad near the observatory, managed by volunteer astronomers, can bring the constellations to anyone. (On the website, book the observatory for a private astronomer-led group tour and presentation on Fridays and Saturdays in season, until Covid-19 restrictions allow reopening. Charges apply.) During the daylight hours, ADA dock improvements promise great fishing for monster bass and bluegill.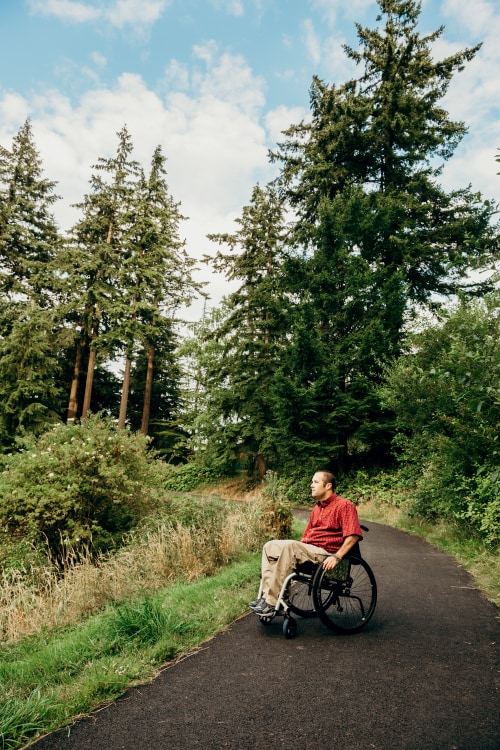 Regional and Local Parks: Winding Trails and River Views
Aptly called a "living museum," Portland's Hoyt Arboretum in Washington Park boasts around 2,300 global plant species along roughly 12 miles of trails. Only two miles west of downtown, there's a MAX Light Rail stop in the park complex, so it makes for an easy outing. Check out the helpful video made by Access Recreation, a Portland advocacy group that developed detailed trail reviews and videos for metro park accessibility, to preview the best routes. Executive Director Anna Goldrich recommends the gentle slopes of the half-mile paved Overlook Trail (with views of Mts. Rainier and St. Helens) and Bristlecone Pine Trail. A database of plants is available on the website for reference. Road-trippers should look for the lovely Dawn redwoods, an ancient species previously thought to be extinct, visible at the end of the Bristlecone Pine Trail near the accessible picnic area.
Considered a model for many old Western rail lines converted into paved trail systems, the Trail of the Coeur d'Alenes stretches from Plummer to Mullan, Idaho, for 73 miles along valleys, river banks, and Chatcolet and Coeur D'Alene lakes. Converted from the Union Pacific rail bed into an asphalt trail in the wilderness of the Idaho panhandle, it was named one of the best trails in the United States by the Rails to Trails Conservancy. Frequent visitors recommend the Plummer area, where motorized wheelchair and adaptive e-bike users enjoy picnics at scenic waysides in rolling farmland; the regulars caution that some areas can be flooded in the rainy season.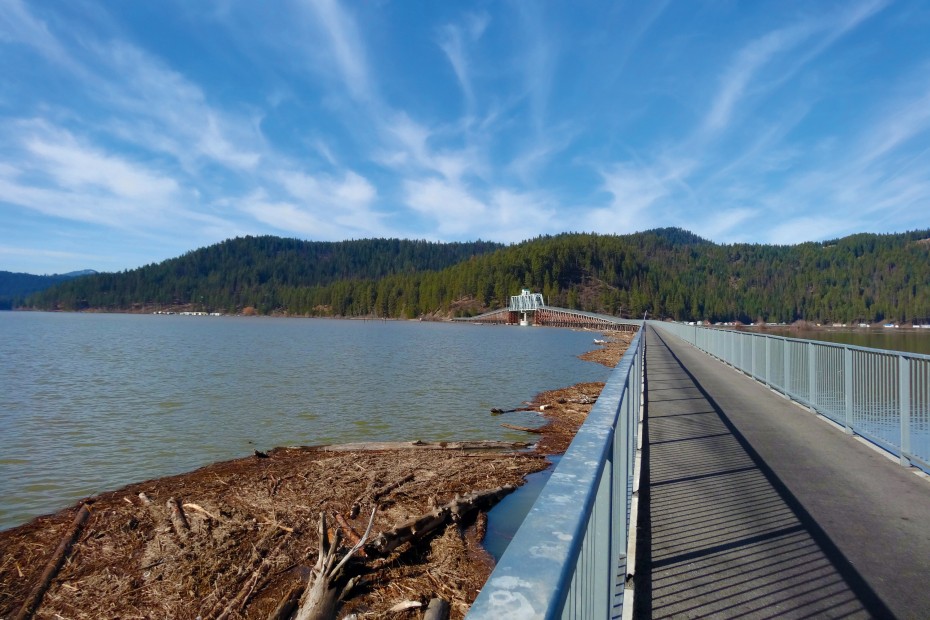 Another great option for a gently graded, paved outing is the Historic Columbia River Highway State Trail near Hood River, Oregon, which passes several waterfalls and offers lots of access points along the original highway skirting the rugged banks of the Columbia River. You'll see many people enjoying the views of the sheer basalt cliffs of the Columbia Gorge in wheelchairs, power-driven mobility devices, and e-bikes. Locals recommend the new section from the Wyeth trailhead as well as the access point at Starvation Creek, with views of a cascading waterfall in the lovely park there.
With so many cities in Oregon and Idaho developed along their expansive rivers, it's perhaps unsurprising that city parks include paved river path systems that are beloved by visitors. The Ruth Bascom Riverbank Path System in Eugene, Oregon, for example, passes through a set of popular wooded parks along the Willamette River that remain shady on warm days. Wheelchair users might particularly enjoy the eye-level summer blooms that line the accessible packed-gravel paths at the Owen Rose Garden. Some 4,500 rose bushes of more than 400 varieties flourish on the 8.5-acre site.
Similarly, Esther Simplot Park, one of several parks in the "Ribbon of Jewels" named after notable local women, can be accessed by the 25-mile Boise Greenbelt path that runs through the heart of the City of Trees. The 55-acre park's hardened gravel paths and boardwalks allow for birdwatching and fishing in a remarkable 23 aquatic acres of ponds and wetlands. Be sure to bring a picnic for a lazy afternoon relaxing out at boardwalk-accessible Friendship Island.