As a physically disabled hiker with a service dog, I know firsthand how difficult it can be to plan an outdoor adventure with access needs that aren't typically addressed in guidebooks. I spend hours scouring reviews, trail descriptions, and researching local history before I ever visit a park.
While no trail can ever be accessible to everyone, these lesser-known spots are inviting for slow walkers, disabled people using mobility devices, and families with small children.
Mica View Trail, Saguaro National Park, Tucson, Arizona
Come to see the iconic saguaro cactus in its full glory, as well as Gila Woodpeckers and Gilded Flickers who make their homes in nest holes within the cacti. If you're eager to hit the trail, head to the Mica View Trail (North) in Saguaro National Park East, which offers views of Tanque Verde Peak and Mica Mountain. The hike begins and ends at a wheelchair accessible picnic area (throughout the park, there's one accessible table at every picnic area and the ground surfaces in all picnic areas are compacted soil and gravel) so you can top off your outing with an al fresco meal or snack.
Trail length: 1.5 miles round trip (0.7 miles each way).
Location elevation: 2,179 feet.
Elevation gain: 40 feet.
Typical width: 4 feet and up.
Typical grade: Flat to gentle slope.
Trail material: Hard packed trail aggregate.
Trailhead location: Park at Mica View Picnic Area.
When to visit: Open year-round. Cactus and wildflower blooms begin in February and March, then in late April the majestic saguaro begins to bloom. By June, the fruits are beginning to ripen.
Special considerations: Drinking water is not available within the park, so bring a quart per person per hour of hiking. Service dogs must be kept on a 6-foot or shorter leash. In the summer months, the temperature climbs above 100 degrees Fahrenheit—park rangers recommend you complete your hike and get back to your vehicle by 10 a.m. Hiking is not recommended on days when the temperature is above 110 degrees. In July, the Sonoran Desert monsoon season begins, and flash floods are a concern.
Arboretum Main Trail, Boyce Thompson Arboretum, Superior, Arizona
Visit the largest and oldest botanical garden in the state where roughly 4,000 species of plants are on display. You'll be met with beautiful wildflowers, succulents, cacti, and other plants from deserts across the globe, as well as interesting geology and local Sonoran Desert vegetation. More than three miles of trails wind through the garden, but the Arboretum Main Trail is the central artery through the park.
Length: 1.5-mile loop.
Location elevation: 2,431 feet.
Elevation gain: 131 feet.
Typical width: 3 ft and above.
Typical grade: Gentle incline (estimated grade of 5 percent or less) with steep sections. The portion of the trail with a gentle slope is the western part of the loop. There is a very steep (over 12 percent) section with switchbacks at 0.4 to 0.9 miles when going clockwise.
Terrain: Sections of paved bridges with railings, smooth packed dirt trail, and gravel/rock surface.
Trailhead location: Visitor center, next to the accessible parking lot.
Also at the arboretum: Wheelchair accessible picnic tables, hummingbird and butterfly garden, rose garden, desert legume garden, and children's garden. Private cart tours are offered for visitors who need help navigating the trail.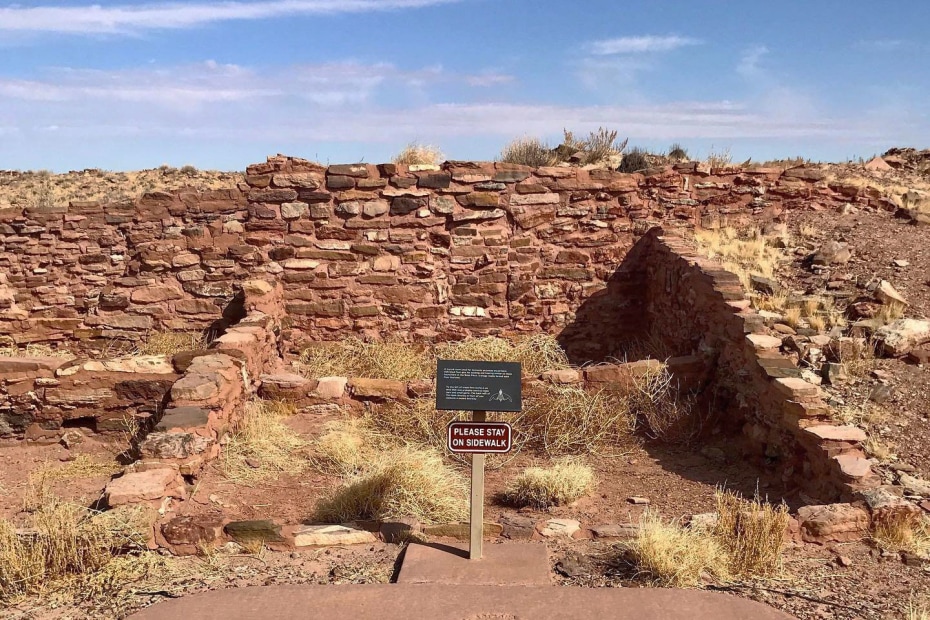 Homolovi II Trail, Homolovi State Park, Winslow, Arizona
Visit the sacred ancestral site of the Hopi Nation, with interpretive signs describing archeological sites that include petroglyphs, daily use artifacts, and major pueblos as well as a visitor center and museum. An incredible 1,200-room pueblo that was lived in from the 1200s to the late 1300s is visible from the Homolovi II Trail, which starts at the parking area near the visitor center.
Length: 1-mile round trip (0.5-mile out-and-back).
Location elevation: 4,900 feet.
Elevation gain: 100 feet.
Typical width: 4 feet and up.
Typical grade: Flat or gentle.
Terrain: Paved.
Also available within the park: Visitor center and museum with accessible bathrooms, picnic areas, and camping.
Reds Meadow Road, Inyo National Forest, California
Take the wheelchair accessible shuttle from the base up the steep and winding road to Minaret Vista, one of the highest drivable viewpoints in the region, then enjoy the picnic area with stunning views of the granite peaks of the Sierra Nevada mountains towering over Reds Meadow Valley. Interpretive signs and viewing tubes teach about the region's geology and help you spot the jagged peaks of the Minarets in the Ritter Range. 
The shuttle system limits the number of private vehicles and helps to preserve the sensitive habitat. It's mandatory to take the shuttle, unless you have a disabled placard or plate for your vehicle or meet one of a few exceptions. Shuttle reservations are strongly encouraged. Eastern Sierra Transit ADA offers paratransit for disabled people who are unable to use the regular fixed-route transit service.
Minaret Vista elevation: 9,265 feet.
When to visit: Reds Meadow Road (Highway 203) is closed in winter due to snow, and typically opens from July 4 through the end of October.
Also available within the national forest: Camping, hiking, fishing, swimming, and tubing.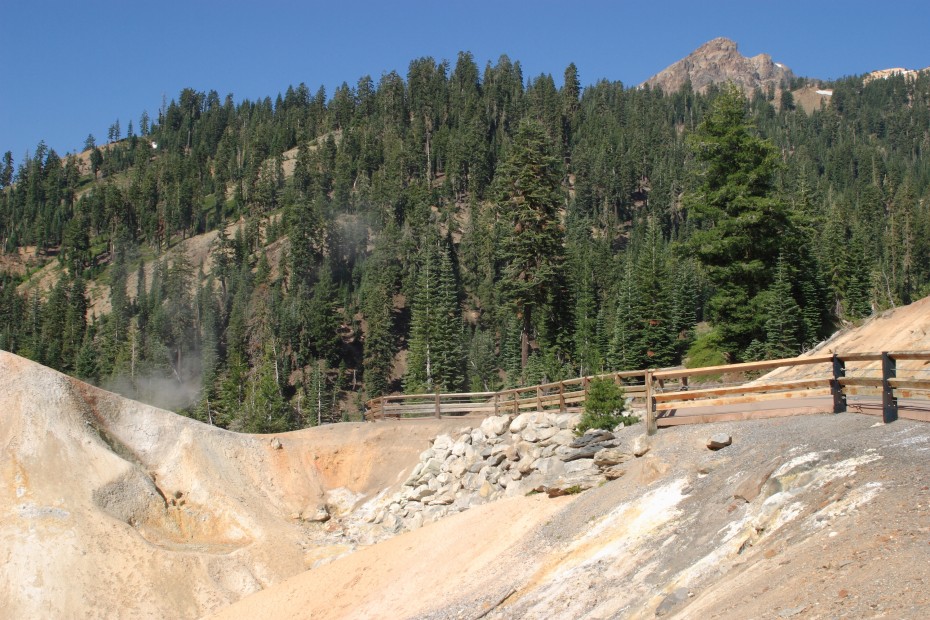 Sulphur Works, Lassen Volcanic National Park, California
Experience the remarkable hydrothermal features of noisy mud pots, boiling acidic pools, and steaming volcanic-gas vents. Learn about the geologic history of the area and the most-recent major eruption in 1915 by driving the 30-mile scenic highway and stopping at the Sulphur Works. Interpretive signs can be viewed from the road, and a sidewalk brings visitors the closest they can get in the park to a stinky, plopping mud pot.
Location elevation: About 7,600 feet.
Typical width: 4 feet.
Typical grade: Moderate incline (about 10 percent for some parts).
Trail material: Paved and boardwalk.
Location: Sulphur Works parking lot.
When to visit: The park is open year-round, but vehicle access is limited in the snow season (beginning in November).
Also available within the park: Stargazing, birdwatching, swimming in lakes, boating, camping, picnic areas, and accessible bathrooms. There is also a wheelchair accessible museum and a visitor center with tactile exhibits that include a relief map of the park and models of the four types of volcanoes. Park brochures are available for download and at the visitor center, with options for text only and image descriptions. Videos with captions and audio descriptions are also available online, as well as audio tours you can download and listen to at any time.
Revelation Trail, Prairie Creek State Park, California
Come hike under some of the world's tallest living trees, the impressive and stately coast redwood, at Prairie Creek State Park, where elk graze in the meadows and vibrant green ferns flow down canyon walls and over the forest floor.
The Revelation Trail includes a split rail fence to help navigation in addition to print and some braille interpretive signs about the aromatic leaves of local fauna you can touch. The peaceful trail is within earshot of the comforting rumble of a nearby creek. To help hikers get a feel for the staggering size of these giant trees, the route includes a fallen redwood to walk alongside and a ramped wood deck that circles a large specimen.
Revelation Trail length: 0.25-mile loop.
Location elevation: 722 feet.
Typical width: 4 feet and above.
Typical grade: 2 percent average with maximum grades up to 8 percent.
Terrain: Firm dirt, aggregate, and wood.
Trailhead location: Park road just past the Prairie Creek Visitor Center or from the Redwood Access Trail.
Also available within the park: Three scenic drives, a 10-mile stretch of beach, wheelchair accessible cabins to rent, visitor center with nature museum, as well as an accessible restroom, camping, picnic areas, and additional wheelchair accessible trails.
Great Basin National Park, White Pine County, Nevada
Nevada's largest national park is blissfully one of the least visited in the country. As an International Dark Sky Park, this is one of the best spots in North America for stargazing. It's also one of the rare places where you can find the gnarled, yet beautiful, Great Basin Bristlecone Pine trees, some of which have been alive for over 4,000 years. To see the park's daytime delights, take the 12-mile Wheeler Peak Scenic Drive up the mountain to the Island Forest Trail, which leads through a high alpine conifer forest to Mather Overlook and includes interpretive signs along the way.
Length: 0.4-mile round trip (0.2-mile out-and-back).
Location elevation: 9,800 feet.
Typical width: 4 feet and above.
Typical grade: Flat.
Terrain: Dirt trail covered with mats or boardwalk.
Trailhead location: Bristlecone Pine Parking Lot at the top of Wheeler Peak Scenic Drive.
Also available within the park: Lehman Caves tours (only the first 30 min of tour is available to wheelchair users, but an excellent virtual tour made from 3D LiDAR scans is available online, including a version with audio descriptions for those who are blind or vision impaired).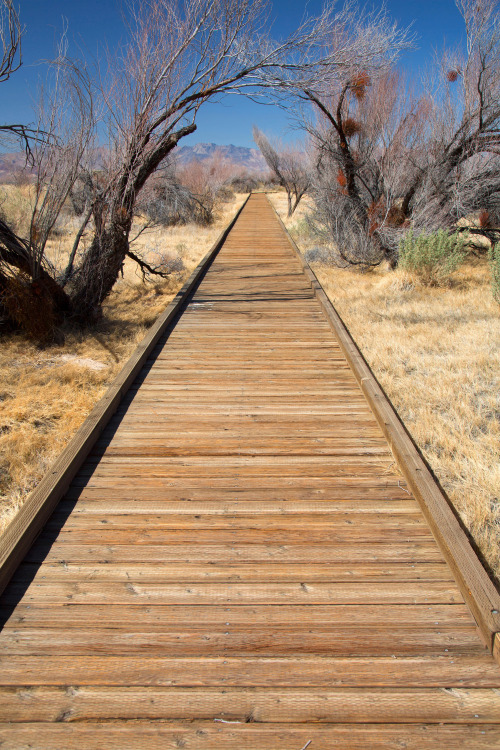 Crystal Boardwalk, Ash Meadows National Wildlife Refuge, Nevada
Visit the largest remaining oasis in the Mojave Desert, which sustains more than 26 plants and animals found nowhere else in the world, and learn about the Southern Paiute and Timbisha Shoshone people who were the first inhabitants of the area. You may see birds on their annual migration, lizards, coyote, bobcat, and desert bighorn, plus unique and endangered fish. The Crystal Boardwalk hike features the enchanting turquoise Crystal Spring where the rare small and playful pupfish live.
Length: 0.9-mile loop.
Location elevation: 3,100 feet.
Typical trail width: 4 feet and above.
Typical trail grade: Gentle.
Terrain: Wooden boardwalk.
Trailhead location: Visitor center.
When to visit: Spring and fall are the best times to visit because of the weather. The gravel and washboard dirt roads don't require four-wheel drive most of the year (just patience and slow speeds), but be sure to call ahead for road conditions and closures during rainy weather.
Also available within the reserve: Accessible bathrooms and parking can be found at the visitor center, Longstreet Cabin, and Point of Rocks. There are two more wheelchair accessible boardwalks with picnic areas and benches in the reserve.