The national parks of the West are some of our greatest treasures, and their beauty is breathtaking. What better way to experience their natural offerings than setting up camp within the most iconic of them. Whether it's awakening to the remarkable sight of Yosemite's granite Half Dome or falling asleep to the peaceful sounds of Great Basin's Baker Creek, here are seven of the best national park campgrounds to spend a night…or a week.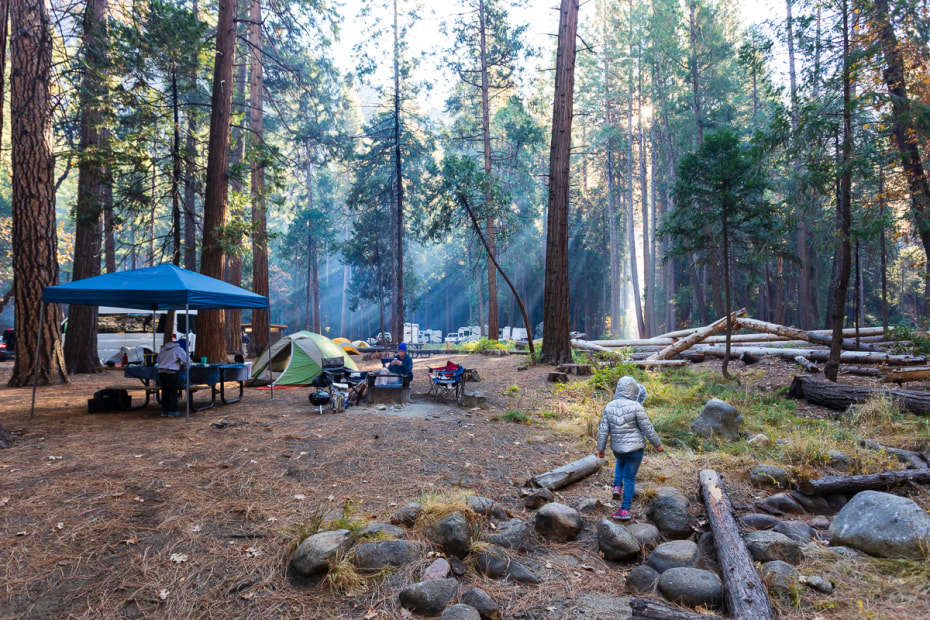 Upper Pines Campground, Yosemite National Park, California 
With a total of 238 campsites—32 of which are only for RVs and five that are specifically for tents—Upper Pines Campground is the largest of Yosemite Valley's three reservation campgrounds. It's also the best, thanks to its prime views of some of the park's most iconic features, including El Capitan and Half Dome. Located at 4,000 feet in elevation along the park's free shuttle route, the campground offers easy access to popular trailheads, such as Cathedral Beach and the mile-long loop trail to Lower Yosemite Falls, and to Curry Village, where you'll find shops stocked with groceries and camping supplies. 
Ideal for families and first-timers alike, Upper Pines is one of only four Yosemite campgrounds open year-round. There are no electric hookups or showers, but flush toilets operate year-round and drinking water is available. All sites are $36/night, and you can book them up to five months in advance, beginning on the 15th of each month. Campsite #104 is roomier than most, though for something more private, try campsite #41. 
Many Glacier Campground, Glacier National Park, Montana 
The Many Glacier Campground occupies a prime spot within the park's Many Glacier Valley, a place of pristine lakes, mountain peaks, and loads of hiking trails. Its 109 sites are split between reservation only and first-come, first-served, with sites 88 through 102 being generator-free (and thus, quieter). The campground is just steps away from Swiftcurrent Motor Inn, where you'll find a camping supply store and a restaurant serving up some of the best post-hike pizzas imaginable. There are also ranger-led talks and evening programs throughout summer, as well as restrooms with flush toilets and sinks. 
It's only about a mile or so walk to the historic Many Glacier Hotel, one of the park's iconic Great Northern Railway properties and a great place to cozy up by the central fireplace. 
Many Glacier Valley is known for wildlife, which often includes bighorn sheep, moose, and even grizzly bears (remember to store your food properly), as well as legendary hikes, such as the 11.2 mile out-and-back Grinnell Glacier Trail and the 9.3 mile round-trip trek to Iceberg Lake with its ultra-blue waters. Each of these are easily accessible from the campground. 
A fee-based hiker's shuttle is available for access to trailheads further afield, and it operates for the bulk of the campground's season (June 10 through September 4). Campsites cost $23/night.
Madison Campground, Yellowstone National Park, Wyoming 
Situated 6,800 feet in elevation about halfway between Norris, Yellowstone's hottest geyser basin, and Old Faithful, Madison Campground is all about location. Its 278 sites are easily accessible via the park's West Yellowstone entrance and are close to the Madison River, a fly-fishing hub in the fall. Wildflowers fill the area during early summer, and bison and elk are frequent visitors to the campground.
Madison's campsites are a range of sunny to shady, though they're assigned at check-in (meaning you can't pre-select). These include 62 tent-only sites and three group sites. There are clean bathrooms with flush-toilets, but no showers or electrical hookups within the grounds.
The campground is open seasonally, from early May to mid-October. Overnight fees range from $10/night for hike-in/bicyclists to $33/night for a regular campsite, as well as group sites from $165/night (for up to 19 people) to $475/night (for up to 60 people). 
North Rim Campground, Grand Canyon National Park, Arizona 
While most visitors to Grand Canyon National Park flock to its South Rim, the canyon's more rugged and remote North Rim remains a lesser-known gem. Perched at an elevation of 8,200 feet, the North Rim Campground provides an ideal launch pad for hiking the challenging North Kaibab Trail and the much-shorter Bridle Trail. Tucked among towering trees, the 87 sites offer more privacy than most, and the sunrise views from nearby Grand Canyon Lodge are simply spectacular. When here, keep an eye out for endemic Kaibab squirrels, identifiable by their tufted ears and fluffy white tails. 
Although the North Rim campground is open to RVers, tent campers, and group campers seasonally, anyone who secures a backcountry permit in advance is free to ski or snowshoe in and pitch a tent during the off-season. However, water, restrooms with coin-operated hot showers, and a small general store are only open to guests mid-May through mid-October. 
Site fees range from $6/night for hikers/bicyclists, $18/night for up to six people, and $50/night for groups of up to 25 people.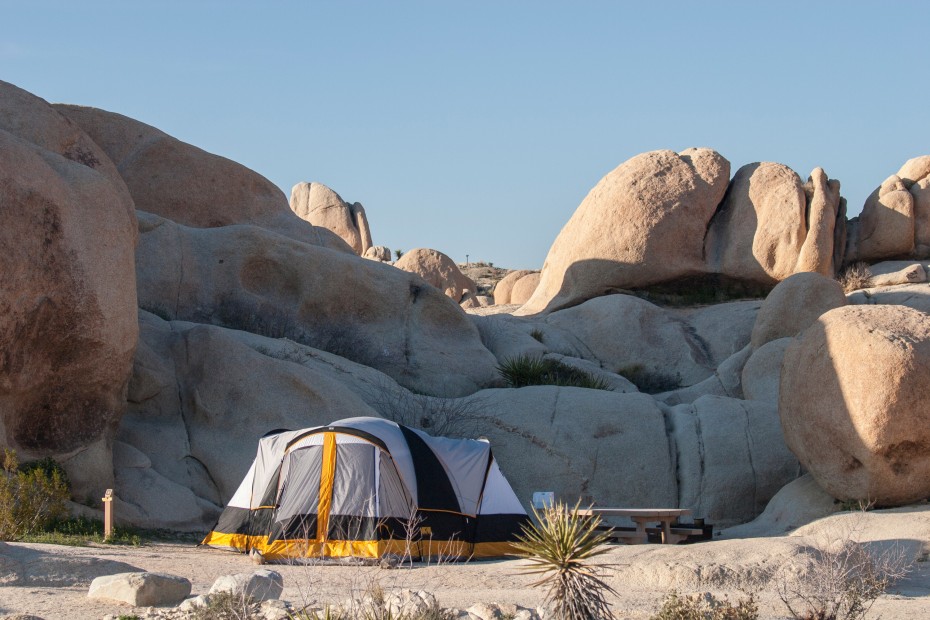 Jumbo Rocks Campground, Joshua Tree National Park, California 
With its central location and dark starry skies, Jumbo Rocks Campground offers one of Joshua Tree's best overnighting locales. Its 124 sites provide incredible views of the park's iconic rock formations and is the starting point for the Skull Rock trail, a 1.7 mile nature trail that winds among spring wildflowers and Mojave yucca toward the aptly named granite boulder. Trailheads to the peak of 5,456-foot-tall Ryan Mountain and Pine City, a 4-mile out-and-back trail that meanders among stands of juniper and pinyon trees, are also located nearby. The campground is open year-round and reservations are required, though in the hotter months you'll often find same-day sites available. There are vault toilets on site, but no showers. And make sure you bring your own water—there is none on site!
Campsites run $20/night and can fit up to three tents, though parking is limited. If possible, stick to one vehicle per group. 
Baker Creek Campground, Great Basin National Park, Nevada 
At just 37 campsites, Baker Creek Campground is compact, quiet, and shaded by trees. Here, you can fall asleep to the sounds of nature, including the burbles of the nearby namesake. 
Each site offers ample space to spread out and take in the alpine surrounds, which include occasional visits by deer and wild turkey. The campground sits at an elevation of 7,530 feet, and is close to the main park entrance as well as Lehman Caves visitor center, where you can purchase tickets for ranger-led tours of the park's stalagmite- and stalactite-filled marble rock caves. There are also several nearby trailheads, including one for the popular Bristlecone Pine Glacier Trail, a 4.5-mile out-and-back trek that leads toward a grove of the park's ancient, rare, and wind-shaped bristlecone pine trees before continuing on for a view of Nevada's only glacier. 
Baker Creek campground is generally open May through October (weather dependent) and is entirely first-come, first-served. Seasonal vault toilets are available, but showers and potable water (BYO) are not. Sites run $20/night.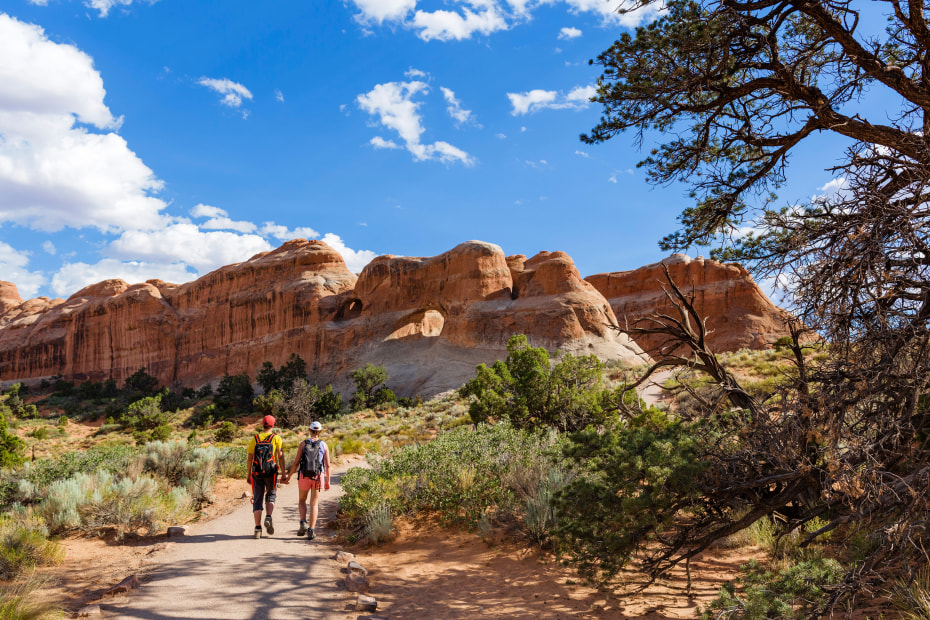 Devils Garden, Arches National Park, Utah 
As the only campground in Arches National Park, Devils Garden campsites are undoubtedly a hot commodity. Luckily, they're much easier to come by during winter months, when the year-round campground is first-come, first-served. Whatever season you visit, the views here are spectacular. That's because Devils Garden is situated right in the middle of the park's natural arches, spires, and narrow rock walls known as "fins." Add to this amazing flora such as prickly pear cacti and desert flowers, and you've got yourself one heck of a setting. Both the sunrises and the sunsets are equally phenomenal, especially when the light hits just right and the park's sandstone formations alter between vibrant shades of reds, pinks, and oranges. 
Located 18 miles north of the park's entrance at an elevation of 5,200 feet, Devils Garden features 51 sites for both RVs and tents, including two group sites, as well as flush toilets and drinking water. The campground is reservation-only March through October. Sites run $25/night, $75/night for a group of up to 16, and $250/night for a group of up to 55.