Popular campgrounds can fill up in seconds, especially during the spring and summer seasons. For the best selection and most sought-after sites, it pays to plan ahead and book early. From national parks to coastal bluffs, here are some of the West's top campgrounds and tips on when and how to secure them. 
Upper Pines Campground, Yosemite National Park, California 
With 238 sites split among tent and RV campers, Yosemite's year-round Upper Pines Campground is the largest of Yosemite Valley's three reservation campgrounds. It's also one of the park's most coveted places to bed down, due in part to its close proximity to the restaurants of Curry Village, as well as its breathtaking views of the park's most prominent granite icons, El Capitan and Half Dome. Reservations for campsites can be made at recreation.gov, and open for the entire month five months in advance, at 7 a.m. PT on the 15th of each month. So, if you're hoping to score a site for say, July 21, set your alarm for the morning of March 15.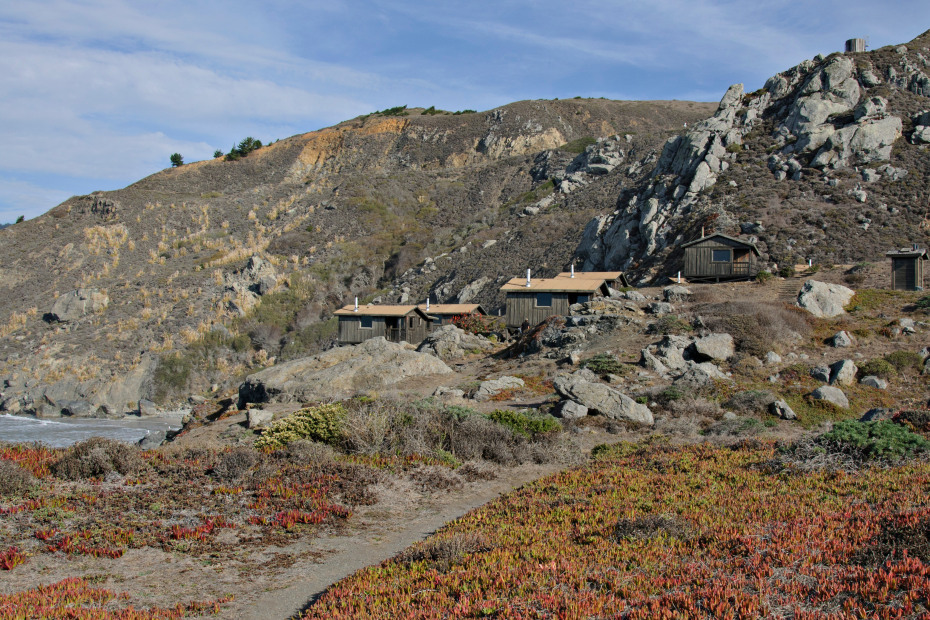 Steep Ravine Cabins and Campsites, Mt. Tamalpais State Park, California
Located north of the Golden Gate Bridge and just south of Stinson Beach, Steep Ravine cabins and campsites are popular for their solitude and privacy. Not only do the 9 rustic cabins provide incredible coastal views, but they also offer access to 2,571-foot-tall Mt. Tam and its surrounds, brimming with redwood groves and trails for hiking and mountain biking. Both the cabins and seven primitive campsites stand atop a bluff overlooking a small private cove. Though exposed to the elements, the campsites are large and well-spaced, making them nearly as popular as the cabins. They can sell out within minutes, so it's best to reserve your spot through Reserve California beginning at 8 a.m. PT, six months in advance to the day of your planned arrival. 
Eagle Point Campground, Lake Tahoe, California
Perched at 6,250-feet on the south side of Emerald Bay, Eagle Point Campground is a perennial favorite among campers. Some love it for its access to the bay's stunning blue-green waters—ideal for activities such as kayaking and paddle boarding—while others enjoy the close proximity to attractions such as Vikingsholm mansion, one of the country's best examples of Scandinavian architecture, and South Lake Tahoe, only 12 miles south. With nearby D.L. Bliss State Park and its campground closed for the 2023 season due to construction, Eagle Point's mix of 97 tent-only and RV spots will be even more popular this summer. Reservations are recommended from mid-June through mid-September. For the best selection, book up to six months in advance of your desired arrival date through Reserve California.
Madison Campground, Yellowstone National Park, Wyoming 
America's first national park is home to 12 drive-up campgrounds, most of which require advanced reservations. Of the dozen, Madison Campground is often one of the quickest to fill, both for its central location (it's 16 miles north of Yellowstone's Upper Geyser Basin, which includes Old Faithful, and 14 miles east from West Yellowstone) and its beauty. Open from early May through mid-October, the 276-site campground bursts with wildflowers in early summer, and attracts the park's resident bison as well. Book early through Yellowstone National Park Lodges—online reservations open at midnight MT on the fifth of each month, up to 13 months in advance. For example, on May 5, 2023, you can reserve your spot for June 2024.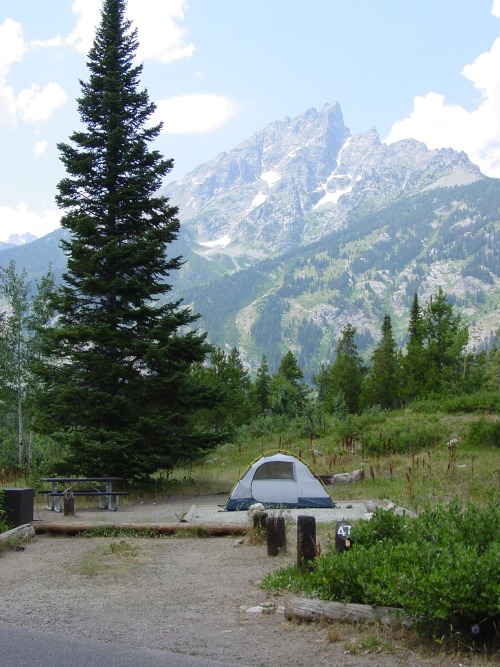 Jenny Lake Campground, Grand Teton National Park, Wyoming
Situated along the Grand Teton National Park bike path, Jenny Lake Campground is a haven for seasonal tent campers. Its 61 tent-only sites span a forested glacial moraine at the base of the Teton Mountain range, providing excellent opportunities for boating, hiking, and wildlife viewing, often including moose and grizzlies. The campground is just a quick walk from Jenny Lake's east shore, where you'll find the Jenny Lake trailhead and fantastic views of 12,330-foot-tall Teewinot Mountain. For the best selection, book your reservations starting at 8 a.m. MT, six months in advance of your arrival day. Bookings are available at recreation.gov, and the campground is open early May through late September. 
Many Glacier Campground, Glacier National Park, Montana
Tucked away on the park's eastern side in the spectacular Many Glacier Valley, the 110-site Many Glacier Campground offers easy access to pristine lakes, alpine meadows, and an incredible array of hiking trails, including the 9.7-mile out-and-back trek to Iceberg Lake. Bighorn sheep and black bear frequent the area, while nightly ranger programs entertain and enrich the experience. The campground's sites vary between tent-only and RV camping, and they are a mix of walk-in and reservation only. The latter are available for booking through recreation.gov beginning at 8 a.m. MT, up to six months in advance of your intended arrival date. The campground is typically open mid-June through mid-September.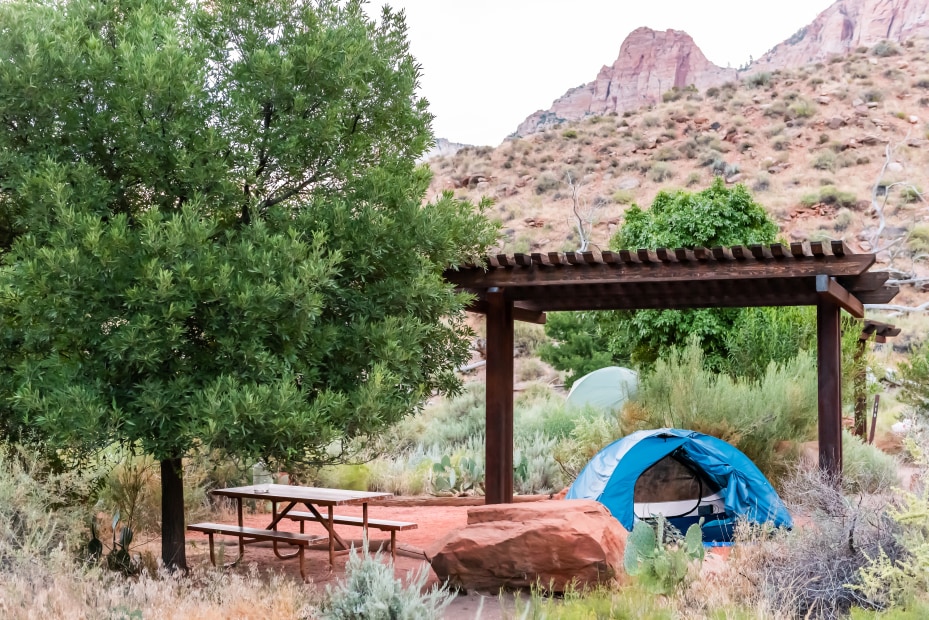 Watchman Campground, Springdale, Utah
Just a quarter-mile from Zion National Park's south entrance and alongside Zion Canyon Visitor Center, Watchman Campground is ideally located for accessing some of the park's classic hiking trails, including the iconic Angels Landing (reachable via a park shuttle from the visitor center, permit required for the hike). The bulk of its 176 sites—mixed between RV and tent only—are available year-round, with reservations required. For the top-tier selection, secure your site up to six months in advance (beginning daily at 8 a.m. MT) at recreation.gov. 
Boulder Beach Campground, Boulder City, Nevada 
A short drive to both Las Vegas and the Hoover Dam, Boulder Beach's prime location is undoubtedly a major selling point, but the campground also happens to be quite bucolic. Its 154 sites (both RV and tent campers are welcome) occupy a bluff overlooking the blue waters of Lake Mead. The area is ideal for water sports like kayaking and wakeboarding. Flora including cottonwood trees and oleanders give the sites some added privacy, and families are especially drawn to the campground's hot showers and laundry facilities. Most sites are open for reservations on a six-month rolling basis, from 7 a.m. PT daily at reservation.gov. 
Cave Springs Campground, Sedona, Arizona
Set within the shaded upper reaches of Oak Creek Canyon, a spectacular river gorge that's reminiscent of a smaller Grand Canyon, Cave Springs Campground is an ideal jumping off point for Sedona's iconic red rock cliffs and attractions like Slide Rock State Park, beloved for its natural waterslide. There are 84 sites for RVers and/or tent campers in total, about 16 of which sit right on the banks of Oak Creek. Score one of them by planning early: sites are available for reservation typically from mid-May through October and reservations can be made up to six months (beginning each day at 7 a.m. PT) in advance at recreation.gov.