From impressive travertine formations inside a cave to an 80-foot natural red-rock waterslide, Arizona's state parks have much to see and do. Of the 34 natural playgrounds across the state, we've narrowed it down to the nine that should top your list for a day trip or an extended stay.
Cattail Cove State Park
Dig your toes into the white sand beaches of Cattail Cove State Park, set on the shores of Lake Havasu. The park is just 16 miles south of Lake Havasu City, but it's lesser known and therefore less crowded than Lake Havasu State Park up the road. Even better, it has the same amenities, including boat-in and RV campsites, as the popular park. Explore the trails on land for unobstructed views of the Colorado River, Parker Dam, and California. You can also fish for striped bass or crappies, swim in the cerulean-blue waters, paddle into quiet coves, or stay for the pink-and-orange sunsets.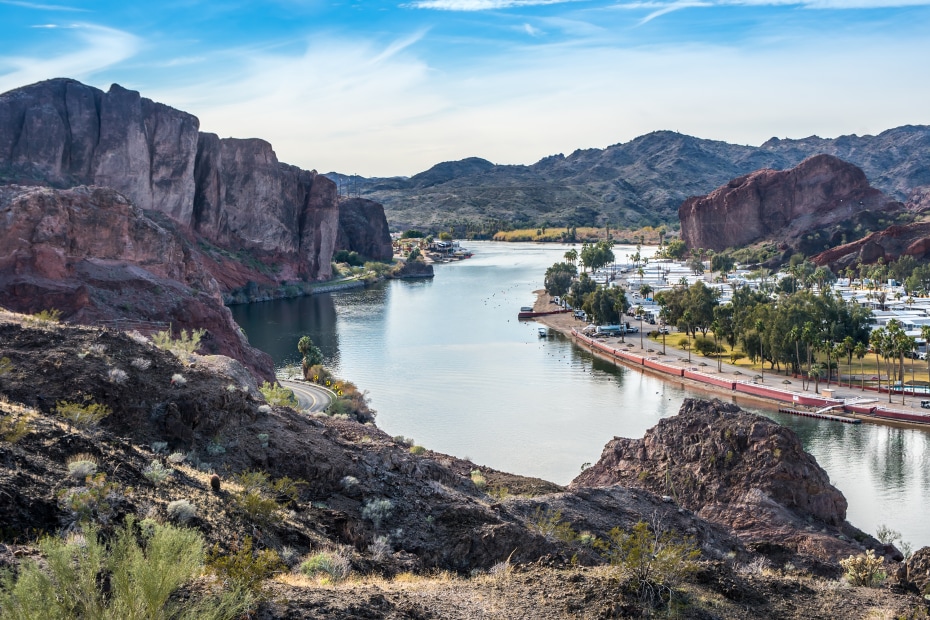 Buckskin Mountain State Park
A fin of rugged, peachy rock jutting out of aquamarine waters defines the landscape of Buckskin Mountain State Park, located along the 18-mile Parker strip between the Parker and Headgate dams on the Colorado River. Mountains line the river on the Arizona and California sides, which can be seen while boating, camping, swimming, or hiking. The sophisticated trail network lends close views of wildflowers in the spring and changing colors in fall. Lamb Springs Trail (2.3 miles one way) connects to nearby River Island State Park.
Kartchner Caverns State Park
Go caving near Tucson at Kartchner Caverns, home to one of the world's longest straw stalactites. These limestone formations have been growing for more than 200,000 years and were discovered in 1974 and kept secret until 1988, when the area was designated as a state park. Visitors can stand in awe of the stalactites that have been growing for tens of thousands of years in the Throne Room or Big Room (reservations are recommended for cave tours). Above ground, take a walk through the Hummingbird Garden with a backdrop of the Whetstone mountains before refueling with a snack or sandwich at the Bat Cave Café outside the garden. Stick around past nightfall to experience the celestial wonders the designated International Dark Sky Park has to offer.
Catalina State Park
Because of the wonderful display of bird species, the Audubon Society designated this park near Tucson an Important Birding Area. Among the giant saguaros and desert habitat, spot rufous-winged sparrows, yellow-billed cuckoos, and Bell's vireo and varied buntings. Other wonders include the Romero Ruin, a Hohokam pueblo and ball court occupied between 550 and 1450 AD. Enjoy the park and the nearby Santa Catalina Mountains by foot, horseback, or bike. For an overnight stay, choose from 120 campsites.
Yuma Territorial Prison State Historic Park
Sometimes described as the desert version of Alcatraz, this former prison in Yuma opened in 1876 and shuttered in 1909. It is Arizona's third historic park, and it has preserved the original cellblocks, guard tower, entrance gate, library room, and the solitary confinement "dark" cell. Interpretive panels throughout the site help orient and educate visitors, and a 3,600-square-foot museum displays historic artifacts and an informational video presentation. Most years, the park hosts a variety of living reenactments.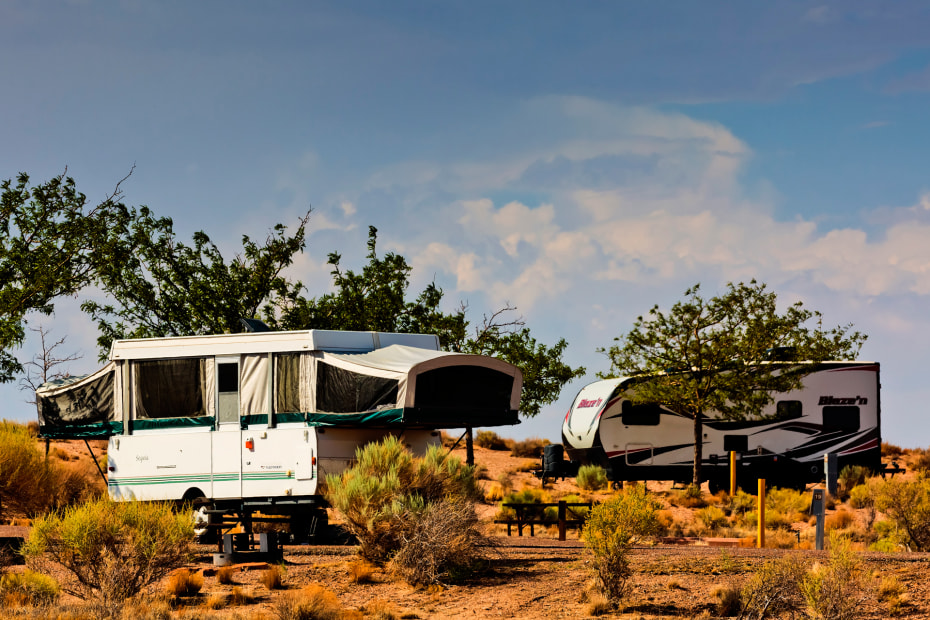 Homolovi State Park
Combine adventure with education at this underrated park located in Winslow, just east of Flagstaff. Homolovi in Hopi means "Place of the Little Hills," and archeologists have uncovered numerous cultural sites and artifacts throughout the area. The park serves as a center for research of the Hopi people's migration from the 1200s to 1300s, and the museum, five hiking trails, and camping sites for RVs and tents are open to the public year-round. The park's observatory also hosts solar and star parties for daytime or nighttime viewing.
Lost Dutchman State Park
Just east of Phoenix, this 320-acre park named after a long lost gold mine has some of the best views of the fiery-red Superstition Mountains. Get to know the park better by meandering down your choice of six trails that range from easy to moderate, including a short walk through the Native Plant Trail lined with cholla, prickly pear, and ocotillo, a large shrub that can resemble a cactus with its long cane-like spiny stems that can grow up to 20 feet tall from a short trunk. Or participate in a guided moonlit hike or other programs led by rangers. No matter how short your trek, remember to always bring water because the Sonoran Desert is hot and dry most of the year.
Smart Tip: Arizona has a Junior Ranger program for kids ages 6 to 12. As a family, complete activities and take the pledge to protect and preserve these areas.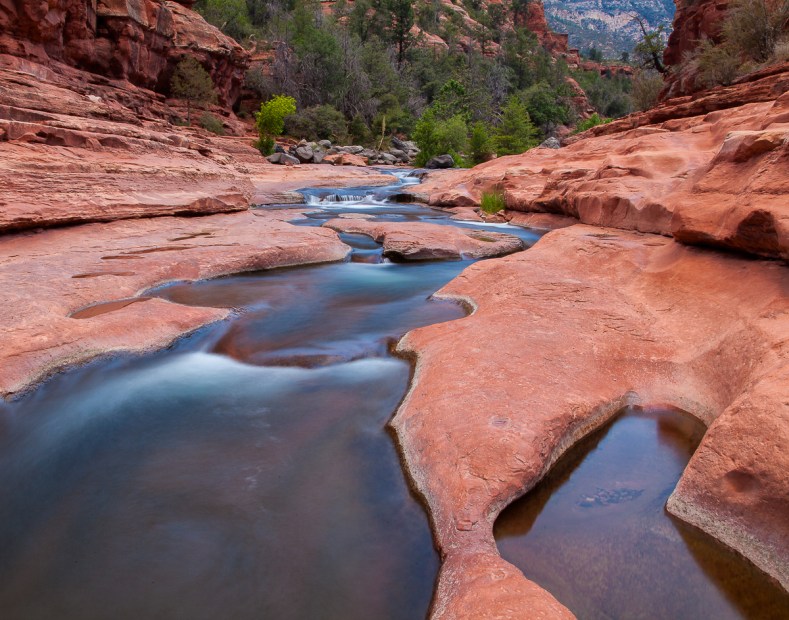 Slide Rock State Park
This water park is unlike any other. Located north of Sedona, it features the 80-foot-long Slide Rock covered in slick algae and with a 7 percent decline from top to bottom that creates a natural water slide in Oak Creek. Pack your water shoes, reef-safe sunscreen and UPF clothing, towels, and swimsuit to make the most of this natural playground. The site also has a historic orchard that produces apples each fall. Visit on a weekday if you can because this park gets crowded fast, especially during the warmer months.
Tonto Natural Bridge State Park
In order to see the magnificent bridge carved by nature, you'll have to walk down your choice of four trails in Pine Creek Canyon. But the effort is worth it: Tonto is believed to be the world's largest travertine bridge. It stands 183-feet above Pine Creek, and its tunnel is 393 feet long, formed by precipitation, sediment deposits, and erosion. Venture beneath the bridge for a spectacular view on the Gowan Trail or take the 300-feet-long Waterfall Trail to a waterfall cave.