It's all too easy to overlook fantastic state park campgrounds in favor of national parks or private spots, but in doing so you'll miss out on some great finds. From just outside of Anchorage to Oahu's North Shore, the West is home to incredible state park campsites that are not only great places to lay your head, but also to serve as stellar bases for exploring. Ready to be wowed? Here are eight state park campgrounds more-than-worthy of an overnight stay.
Salt Point State Park's Gerstle Cove Campground, Northern California
Some of California's most coveted campsites are coastal, including the 30 drive-in spaces at Salt Point State Park's Gerstle Cove Campground in Sonoma County. Not only can you drift off to sleep to the sound of the waves while perched upon coastal bluffs, you can hike or horseback ride on the park's 20-plus miles of trails or climb up the park's rocky promontories.
One of Salt Point's most scenic trails, the 3.8-mile Pygmy Forest loop, brings trekkers face-to-face with stands of cypress, pine, and even redwood trees that are no taller than a few feet. Here, the trees' growth is stunted by inhospitable acidic soil that lacks nutrients and is so compacted that the trees' roots can't reach deep enough to thrive.
While here, explore one of the first underwater protected areas in the state, Gerstle Cove Marine Reserve, where divers often take to the easily accessible waters to investigate a thriving kelp forest where lingcod and abalone reside.
Gerstle Cove is the smaller and more scenic of the park's two main campgrounds, offering a mix of tent-only and RV sites that are both shaded by pine trees and perched in a grassy meadow, with restrooms and drinking water nearby. Sites run $35/night and can be reserved up to six months in advance. The campground is open year-round.
Cathedral Gorge State Park Campground, Nevada
Wake to the early-morning chirping of robins and flycatchers in a well-shaded campground surrounded by stunning soft bentonite clay formations that were created by a series of ancient volcanic eruptions. Starting your day in this spectacular geologic preserve, located in a narrow valley in southeastern Nevada, is reason enough for a stay, but the campground also provides a wonderful reprieve from the summer heat. Each of its 24 sites has access to restrooms and drinking water, as well as its own ramada (a type of covered-roof structure) to protect against the sun. Another bonus: incredible night skies. 
The park is home to a handful of hiking trails that wind alongside buff-colored cliffs, skirt ridgelines, and encounter impressive spires. For an early morning trek (before high temperatures sets in), the three-mile Juniper Draw Trail offers a chance for quiet contemplation, crossing over several sandy washes and among wide expanses of yucca, sage, and juniper. 
Camping is $15/night for Nevada residents, $20/night for non-residents, with an extra $10/night fee for utility hook-ups. Although these year-round sites are currently first come, first served, Nevada state parks are in the process of moving to a reservation-only system. Check if reservations are required before you go
Lost Dutchman State Park Campground, Arizona 
Nestled at the base of Arizona's Superstition Mountains—just east of the Phoenix metropolitan area—Lost Dutchman State Park Campground is the perfect hub for hiking among a desert landscape of saguaro cacti and prickly pear year-round. Nearly half of its 138 sites come equipped with electricity for tent camping and RVs, while the remainder are rustic, non-hookup spaces. 
Although the bulk of the sites sit close together, most campers are up and out exploring early. The park itself hosts full-moon hikes, guided bird walks, and live music, depending on the day, while the nearby Superstition Mountain Lost Dutchman Museum provides background on the surrounding area—including info on the legendary tale of the Lost Dutchman gold mine. 
Desert cottontail, greater roadrunners, and slow-moving gila monsters are par for the course in these parts, and they are often easy to spot on treks like the Treasure Loop, a 2.4 mile round-trip hike along the mountains' west base. 
Reservations for the sites ($15/night) can be made year-round, though first-come, first served sites are also available.
Dead Horse State Park's Wingate Campground, Utah 
Situated at the end of a long, skinny mesa extending outward from Canyonlands National Park, Dead Horse State Park serves up unbeatable views of Utah's canyon country. You'll see pinnacles and buttes carved by the Colorado River rising up like otherworldly figures, and deep chasms that change color with the light.
While many flock here for the vistas, others are drawn by the possibility of spending a few nights in an International Dark Sky Park. Opened in 2018, Wingate Campground is the larger (and more coveted) of the park's two campgrounds, and boasts a mesa-top setting and ample spacing between each of the 31 sites for privacy. Electrical hookups are the norm, save for the 11 hike-in sites that are tent-only. 
For a workout leading to breathtaking views, hike the West Rim Trail down and back, which is roughly 7 miles round trip if you start at Dead Horse Point Overlook. Small rock piles known as cairns mark the trail, the park's longest, as it winds past overlooks that practically mandate you to stop and take it all in.
The campground is open year-round (though hike-in sites are closed December through March 1), and sites run $50/night for electrical hookups, $40/night for hike-ins. Sites are available to reserve on a four-month rolling basis. 
Big Arm State Park Campground, Montana
Tucked among stands of ponderosa pines and juniper trees, with many of its sites situated right along the water, Montana's Big Arm State Park campground is an ideal place for cooling down during summer's dog days. Each of the 41 campsites are laid out in three loops with plenty of shade, and while the nearby road adds some noise, the access to activities like swimming, water-skiing, trout fishing, and even scuba diving is unbeatable. What's more, the campground hosts a trio of heated and furnished yurts for an "elevated" camping experience. 
The park itself is located on the southwest shore of Flathead Lake, the largest natural freshwater lake in the West, and provides stellar views of the Mission Mountains. It's also a launch point for Flathead Lake's Wild Horse Island, a 2,164-acre expanse accessible only via boat, where bald eagles, bighorn sheep, and a handful of wild horses reside.
The campground is open April through October, with water, showers, and flush toilets available mid-May through mid-September. Campsite fees range from $4 to $34/ night, depending on season and available amenities. You can reserve a site up to six months in advance.
Boysen State Park's Upper Wind River Campground, Wyoming 
One of nearly a dozen campgrounds at Wyoming's largest state park, Boysen's Upper Wind Campground is a favorite for its perch in a riverside canyon below the earth-fill Boysen Dam. The grounds feel like a desert oasis, situated at the south end of the Owl Creek Mountains and along the northern edge of the park itself. With 50 sites for both tent campers and RVs, nights can be noisy, but close proximity to the park's 19,000-acre Boysen Reservoir makes up for it. 
Spend your days waterskiing on the lake, swimming at nearby Brannon Campground's designated swim beach, or fishing for rainbow trout, walleye, and perch. There's also plenty of area wildlife to spot, from pronghorn to bighorn sheep.
Reservations are required for campsites May 1 through September 30 ($4/night for Wyoming residents, $8/night for non-residents), though the campground is open year-round. Bookings can be made up to 120 days in advance for Wyomingites, 113 days in advance for everyone else.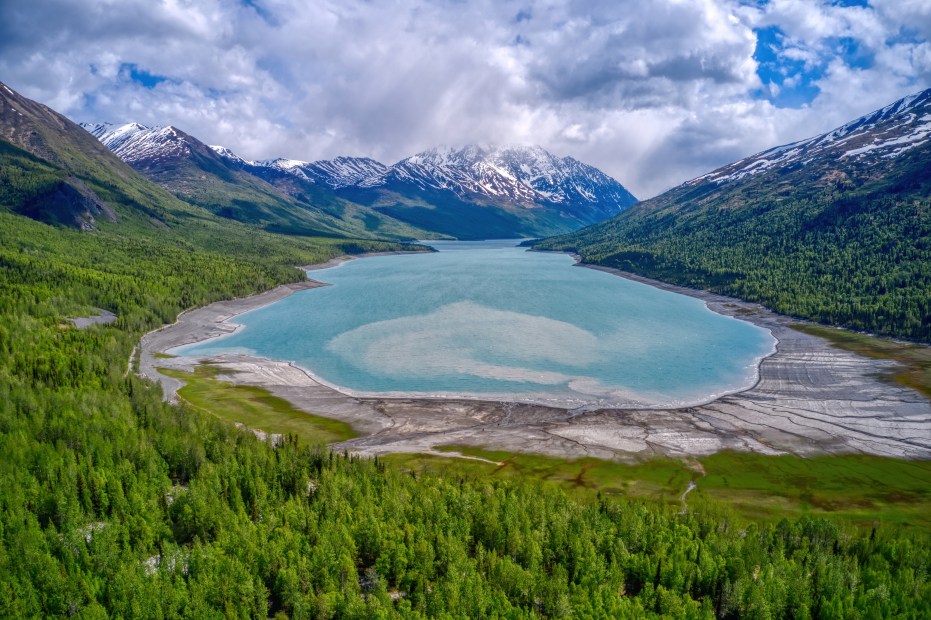 Chugach State Park's Eklutna Lake Campground, Alaska 
Thirty-seven miles east of Anchorage, Chugach State Park is home to hundreds of miles of hiking and biking trails, loads of wildlife—including moose, bear, and ptarmigan—and the spectacular seven-mile-long Eklutna Lake, an "inland sea" fed by snowmelt and glacial streams. It's also where you'll find the Eklutna Lake Campground, with 50 tent and RV sites—all situated around a quiet loop—that are ideal for taking advantage of all that this mountain wilderness valley has to offer. 
Lifetime Adventures in the park rents out canoes and kayaks for paddling the Eklutna's pristine waters, while the strenuous 2.5-mile Twin Peaks Trail switchbacks through cottonwood, birch, and spruce tree forest for a breathtaking view of the lake below.
Campsites are first-come, first served, and run $20/night, with a $5 fee for parking. They're typically available mid-May through mid-September. Pit toilets and water are also provided.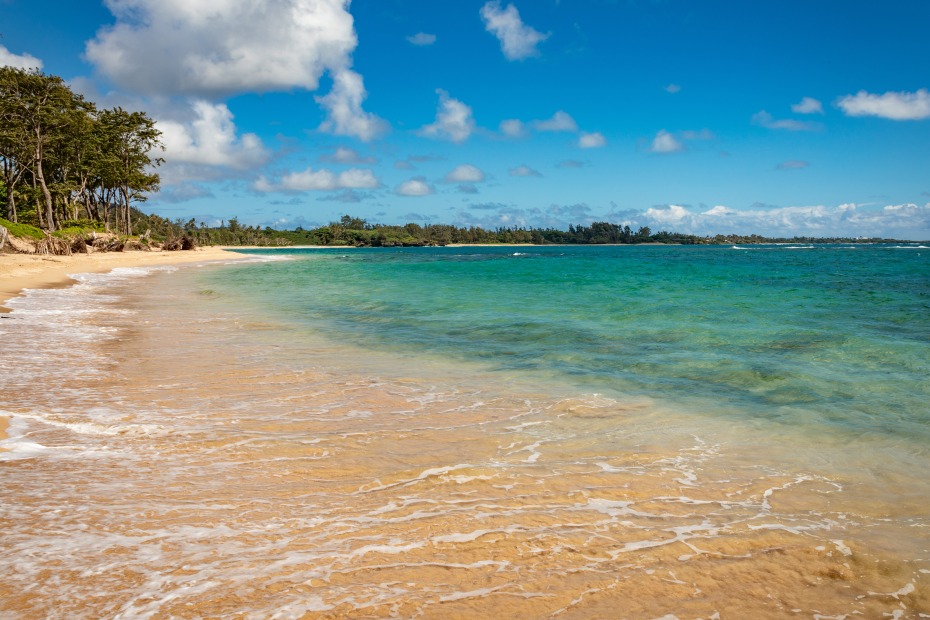 Mālaekahana State Recreation Area, Oahu 
Spend your days paddleboarding, bodysurfing, and fishing for char along Oahu's North Shore, then bed down in one of 37 permit-only campsites overlooking the sea at Mālaekahana State Recreation Area (not to be confused with the similarly named Mālaekahana Beach Campground, located a bit further north). Only open Fridays through Wednesdays, these quiet and secluded sites provide access to a long golden sand beach, ocean breezes, and large shady trees that provide ample protection from the island's afternoon showers and hot sun. Goat Island, which is home to nesting seabirds such as wedge-tailed shearwaters and ʻopaeʻula lies right offshore. 
Campsites run $20/night for Hawaii residents, $30/night for non-residents, and include access to both bathrooms and indoor and outdoor showers.