Come springtime, if it isn't raining in the West, the snow at higher altitudes is melting rapidly. The much-needed moisture revives trickling waterfalls into gushing cascades. For those seeking the soothing sound of water, enlivening spray of mist, and dazzling sight of a plunge, head out for an easy hike to these picturesque waterfalls across the West.
McCloud Falls in Shasta-Trinity National Forest, Northern California
On the McCloud River in Shasta-Trinity National Forest, three waterfalls spill through the canyon made of basalt lava rock and volcanic mudflow. To see them all by foot, hike 4 miles round trip along the mostly flat McCloud River Falls Trail from Lower to Middle to Upper Falls. The stretch between Lower Falls and Fowlers Campground is paved for wheelchairs and strollers, and all three falls have paved lots with ADA access to the scenic overlooks. 
Fossil Creek Waterfall in Coconino National Forest, Arizona
Plummeting 25 feet into a deep pool, Fossil Creek Falls is a refreshing treat at the turnaround point of a mellow 2-mile round trip hike. The water is a temperate 70 degrees, but swimming and cliff diving near the falls is discouraged due to the swiftly moving water and travertine underwater ledges (don't worry, there are plenty of swimming holes downstream). From April 1 through October 1, a printed permit from recreation.gov is required to park at the trailhead.
Kings Canyon Waterfall in Carson City, Nevada
The 25-foot Kings Canyon Waterfall near Carson City run year-round, but are at their peak in the spring. The falls is only 0.3 easy miles from the Kings Canyon Trailhead, which splits off into different routes for longer day hikes featuring smaller cascades if you'd like to go further. You'll hear the falls before you see them.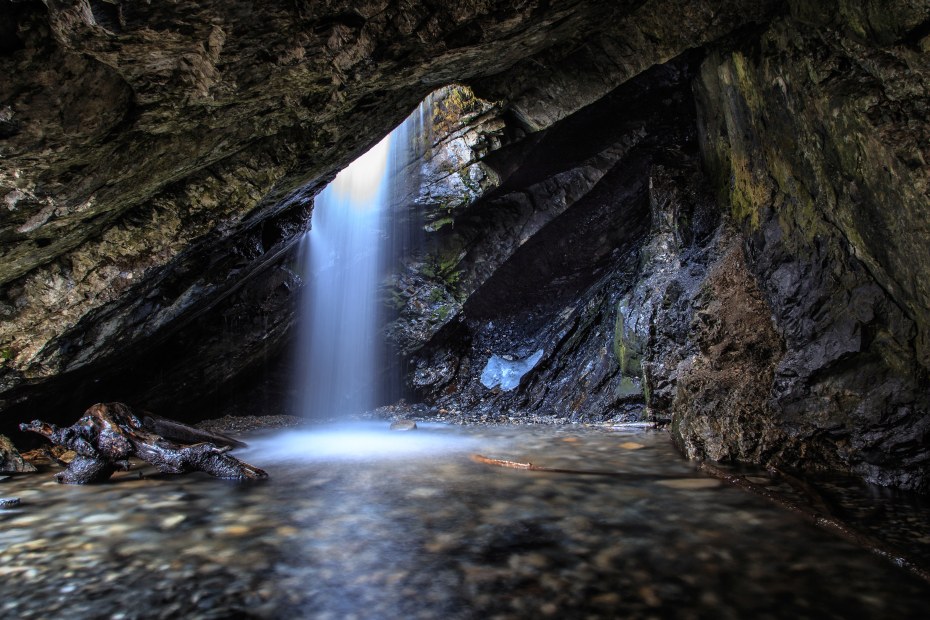 Donut Falls in Salt Lake City, Utah
While most waterfalls tumble over rocks, Donut Falls is unique in that Big Cottonwood Creek plunges through a hole in the mountainside. Located less than 45 minutes from downtown Salt Lake City, this waterfall is popular for its proximity and accessibility. The family-friendly hike is 3.3 miles round-trip and runoff is strongest in spring. Dogs are not allowed and the parking lot is rather small, so it's best to start your day early.
Porcupine Falls in Bighorn National Forest, Wyoming
Because most visitors head to Yellowstone or the Tetons for their grand features, the 250-foot Porcupine Falls in Bighorn National Forest is much less crowded. About 35 miles east of Lovell, the trailhead is located off the Medicine Wheel Scenic Passage Byway at the end of Forest System Road 146. A half-mile series of well-maintained switchbacks descend to the base of the falls, where you can wade or dip your toes, but be forewarned that the water is frigid, even in summer.
Kootenai Falls in Lincoln County, Montana
The largest undamned waterfall in the state, Kootenai Falls is located in between Libby and Troy on the Kootenay River. This sacred site to the Kootenai tribe is also accessible to nature lovers who will appreciate its cultural significance and beauty. A flat 0.8-mile round trip trail leads to the banks, and you can also get an overhead view of the falls by crossing a suspension bridge. It's best to visit in late spring once the snow has melted through fall. The water isn't the only thing to see here: Keep your eyes peeled for ospreys hunting along the banks while you walk.
Winner Creek Gorge in Girdwood, Alaska
One hour south of Anchorage, Winner Creek's striking teal waters rush between sheer cliffs in the Girdwood Valley. On the 3-mile round trip Winner Creek Trail, hike through a misty rainforest to a narrow wooden bridge where you can peer at the falls in the dramatic slot. The flat and firm trail starts at the tram base at Alyeska Resort and ends at the Glacier Creek crossing, where you'll need to turn around at the now inoperable hand tram that used to take visitors across the water. To avoid snowy conditions, plan your visit for May or June.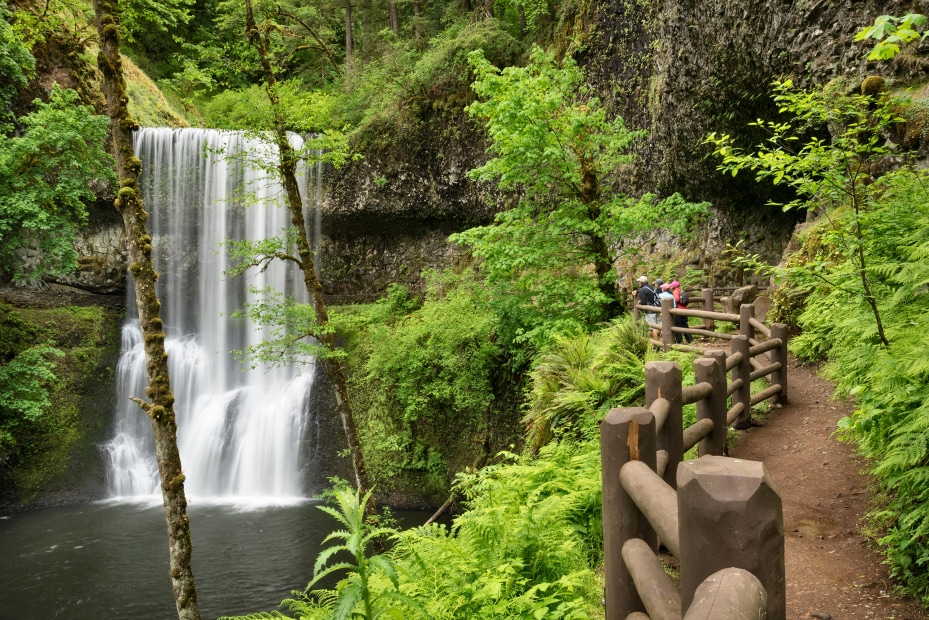 Trail of Ten Falls in Silver Falls State Park, Oregon
Known as having one of the West's wettest climates, it's no wonder waterfalls flow freely across Oregon. In Silver Falls State Park southeast of Silverton, hikers can see multiple falls in one day on the Trail of Ten Falls. This lush 8.7-mile loop is a designated National Recreation Trail, and with plenty of trailheads and overlooks, the longer route can be split into sections for shorter hikes. Each waterfall is special in its own way and peak flow is usually winter through spring.
Palouse Falls in Palouse Falls State Park Heritage Site, Washington
Named Washington's state waterfall in 2014, Palouse Falls is one of the last active waterfalls on the Ice Age flood paths. It was carved more than 13,000 years ago and drops 200 feet over a basin of columnar basalt before eventually connecting to the Snake River. This is one of the shorter hikes on the list, but well worth the visit. Take the 0.1-mile ADA-accessible paved path and look for signs that delve into the area's history and geology. Visitors can also check out an overlook for prime bird watching and waterfall viewing. Parking is limited, which means it's best to visit on weekdays or early in the morning on weekends to avoid long lines at the entrance. Looking to spend more time in the area? Head to nearby Lyons Ferry State Park (open April 1 through Oct. 31) for a swim, picnic, or history lesson.
Jump Creek Falls in Owyhee County, Idaho
On a warm spring day, cool off at Jump Creek Falls located an hour west of Boise. This 60-foot waterfall flows over rough rock walls from the Sand Basin above, and water birch and red osier dogwood trees complete the lush riparian environment. The easy half-mile round trip hike makes it a popular destination for families from March through October, and picnic spots mean you can set up for a whole day of fun. Dogs on leash are also welcome.