Best Bites and Drinks at Alameda Point, California
Alameda Point offers big city eats, drinks, and an exciting history for passers-by and lucky locals.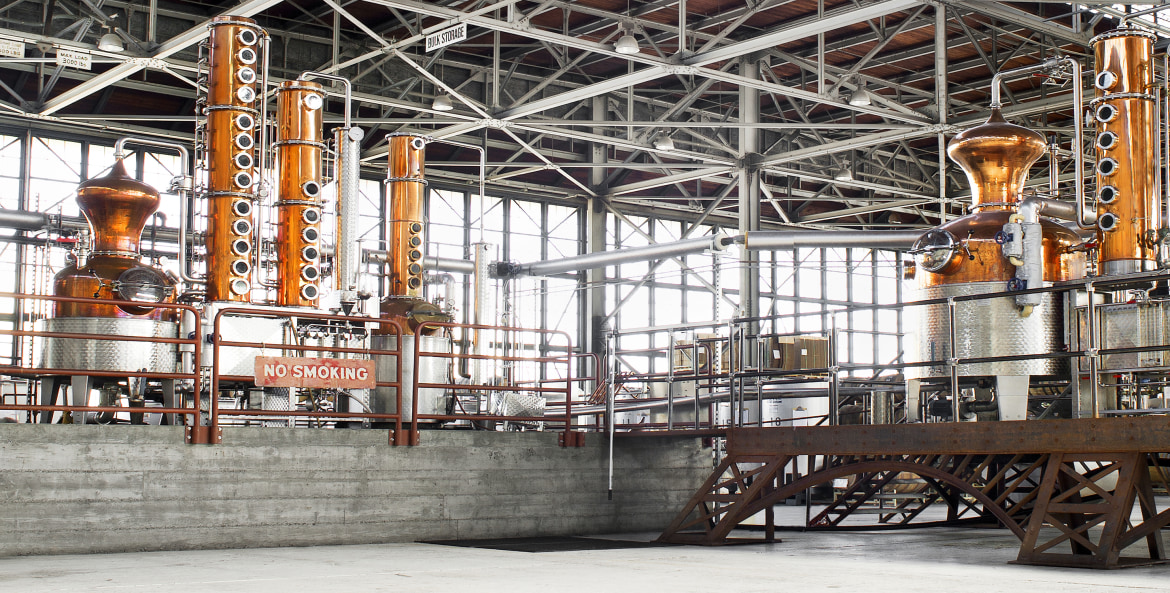 It's funny how infrequently some San Franciscans (like myself) make their way over to the East Bay. It's unfortunate, too, because of gems like Spirits Alley. Along northern Alameda's Monarch Street, the city's former Naval Air Station, now called Alameda Point, has transformed into a hub of distilleries, wine-tasting rooms, and other welcoming venues. The Spirits Alley moniker serves a dual purpose: both evoking the ghosts of the area's WWII past and celebrating its penchant for boozy beverages.
A quick 20-minute ferry ride from Gate E at San Francisco's Ferry Building Marketplace, Alameda has an entirely different feel from the bustle of the city—especially on a Saturday morning, when you're leaving behind the crowded farmers market to arrive at a quiet stretch of waterfront parking.
Once at the Alameda terminal, Spirits Alley is a flat and easy five-minute bike ride past a baseball field and small skate park. While it's easy to bring your own bike on the ferry or rent one in the city, Alameda also just launched a six-month pilot bike-share program in October. Bikes are situated around town, and they're easy to find using the LimeBike app; bikes cost $1 per half hour, with discounts for students.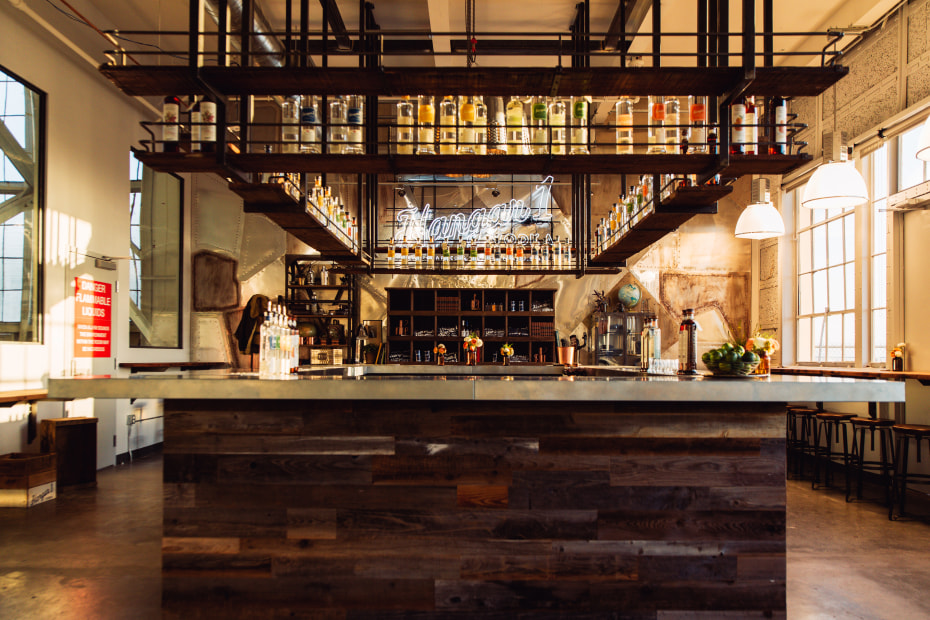 Distilleries on Display
My first stop: St. George Spirits. The small-batch distillery, Spirit Alley's oldest venue, opened in 2004 in a long-retired repair and refit station for Navy fighter planes. There are signs of the building's past everywhere, literally, as pointed out by my tour guide Chris Huning—a devoted St. George customer who's turned his passion into a side job. One sign, with the slogan "Pride Through Professionalism," still adorns the hangar's back wall.
Entering St. George through its visitors' door in back—beneath a sign that reads "Emotional Support Begins Here"—Huning and I pass through the distillery's tasting room to the production space. It's filled with stainless steel distillation tanks, hundreds of barrels, and a seemingly endless display of ripe Bartlett pears stored in open cardboard crates, their crisp, sweet fragrance permeating the building. St. George uses the pears for its flagship spirit Pear Eau de Vie, an un-aged brandy that's also one of the distillery's most popular offerings.
Each hour-long tour includes a tasting of six pours from the distillery's 15 offerings, so I ask Huning for some favorites. His suggestions include the Terroir Gin. "It smells like hiking in the woods," Huning tells me, and it's true. The spirit's three key botanicals—Douglas fir, coastal sage, and bay leaves—work together perfectly to create an earthy aroma and flavor.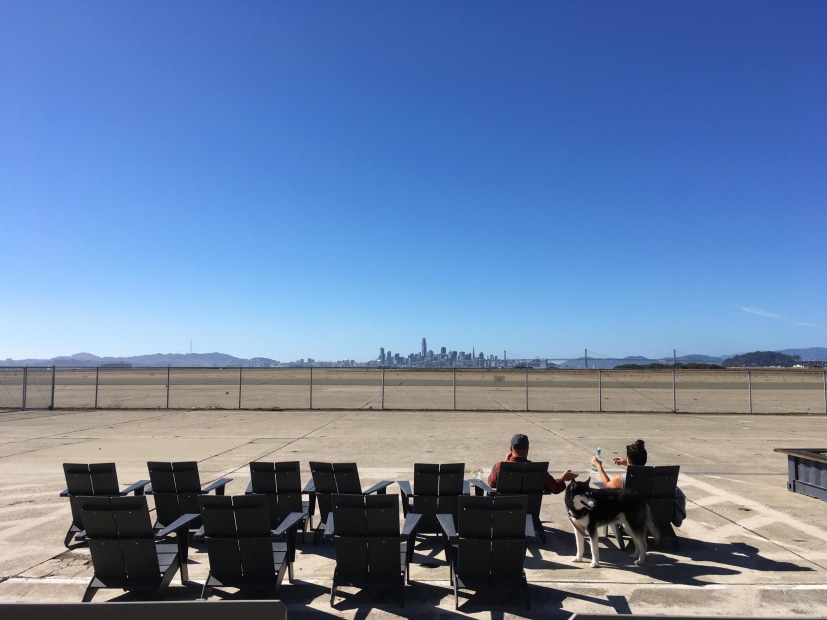 Just next door to St. George is Hangar 1, a vodka craft distillery that opened to the public in December 2014. Hangar 1's stylish tasting room beckons with a steel-topped bar and pressed tin back wall. Unlike St. George, the distillery has an on-site bottle shop. There's also an outdoor cocktail bar with bay views that serves up drinks like the Salty Pepper Dog ($12), a greyhound made with the house pink peppercorn–infused vodka.
During Hangar 1's tour, we delve into some of the distillery's most intriguing vodkas. These include the Buddha's Hand Citron, made with the fragrant Asian citrus known for its fingerlike sections; and the Mandarin Blossom Vodka, infused with mandarin flowers, rather than the fruit.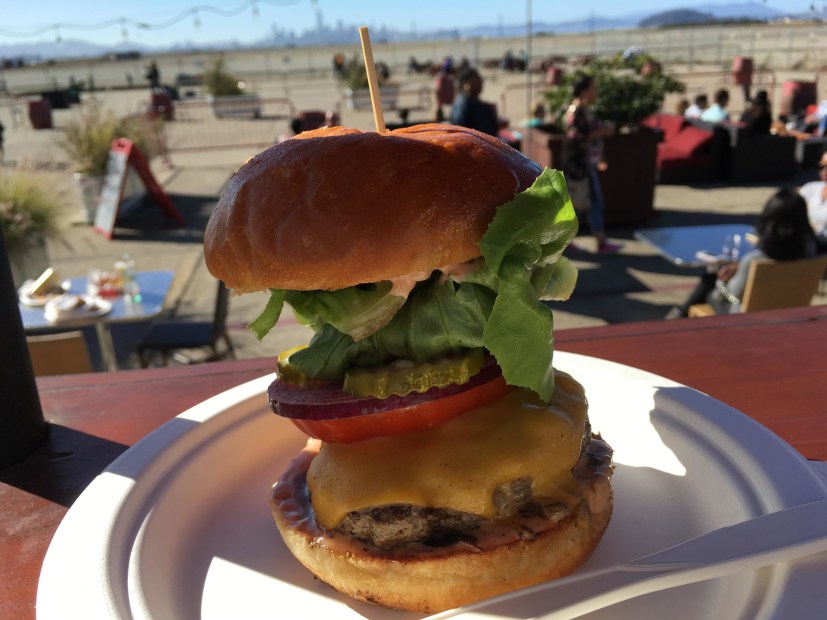 Lunch With a View
After the tasting, I walk five minutes west to Scolari's at the Point, an outdoor lunch window on the same property as Rock Wall Wine Company. Lining up behind others sipping glasses of the winery's pinot noir and sparkling rosé, I await my turn and learn that some dishes—like the spicy chicken California burrito—sell out early on Saturdays. I opt instead for the classic cheeseburger, splurging an extra $2 for grass-fed beef, then grab a table looking out toward San Francisco. Nearby, couples and groups of friends share pizzas while perched upon painted wicker couches scattered along the former airstrip.
Post lunch, I meander across the street to pet-friendly Building 43 Winery, where groups munch on candied bacon caramel corn and two thirty-somethings play a game of cornhole. The tasting room, which serves wine made from small-batch varietals, was once an Explosive Ordinance Disposal locker. After I scope out the space, furnished with plush chairs, ottoman-style tables, and retro war-era prints, I double back to Faction Brewing. The lively indoor/outdoor space has approximately 20 house beers on tap. Offerings include Moon Germs, a gluten-free oat ale, and Brixton, a West Coast version of an English-style pale. There's also a rotating array of food vendors, such as the gourmet GrilledCheezGuy.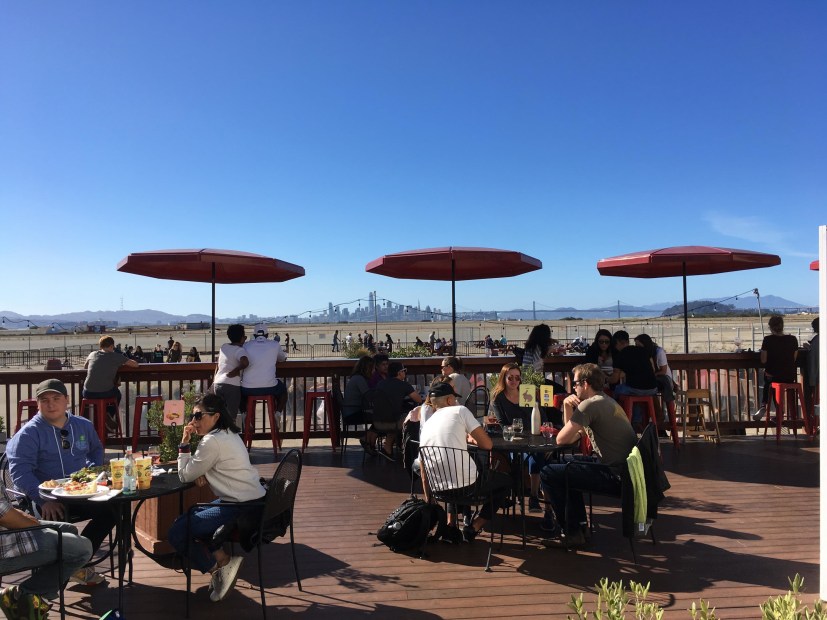 A Toast to History
With so much to experience along Spirits Alley, it's easy to miss another northern Alameda highlight: the USS Hornet Sea, Air, and Space Museum, recently named an affiliate of the Smithsonian Institution. Less than a 10-minute bike ride from Monarch Street via West Tower Avenue and Ferry Point—and one that will be made even more pleasant with the opening of Almanac Brewery & Barrelhouse later this year—the decommissioned U.S. Navy aircraft carrier features a 15-seat flight simulation ride, an exhibit about the Apollo splashdown, and guided engine room tours. The museum opens at 10 a.m. on weekends, and Spirits Alley doesn't get going until noon—distillery tours start around 1 p.m.—so I suggest taking in the museum first.
I set back for the ferry around 4:15 p.m., passing the restored A-4 Skyhawk aircraft monument at Alameda Point's "Main Gate" as I walk. A giant container ship passes slowly, but otherwise, the air all around me is still. Had I not already had plans, I would have stayed longer. The spirits of Alameda had definitely worked their spell on me.