Local guide Mark Lyon, the author of Haunted Nevada City and Grass Valley, was leading one of his popular walking tours when two participants mentioned seeing a ghost at Nevada City's National Exchange Hotel. Lyon's ears perked up—the specter had been spotted in the hotel's Presidential Suite, a room long rumored to be full of paranormal activity. They had been walking by the room's door, which contained a large glass panel covered by a curtain, when they saw a hand pull back the curtain. 
"A woman appeared dressed in Victorian clothing with a high collar and she had a stern, spooky look about her," Lyon retells the story. "I was about to say to them," he continues, "'People dress up in costumes in Nevada City all the time,' but before I could, they said they clearly saw her dematerialize before their eyes into nothing."
Stories like these are common in these parts, Lyon says. "Nevada City and Grass Valley might be the most haunted towns in all of California, if not the entire American West. Why are they so haunted? Perhaps it has something to do with their long, turbulent, and sometimes violent histories."
Lyon has spent the past two decades collecting ghost stories about Nevada City, Grass Valley, and surrounding boom towns, which fuel his walking tours and multiple books. He's seen some paranormal activity himself, but most of his stories come from his sources' firsthand or written accounts. Many of the ghostly characters in his books have been seen by multiple independent parties.
Whether you're interested in the fascinating history of the California Gold Rush or communing with otherworldly spirits (or both), take a drive up Highway 49 to stop by all the haunts in Grass Valley and Nevada City.
Grass Valley
Holbrooke Hotel
The site of the Holbrooke Hotel has been the heart of Grass Valley since 1852. First founded as the Golden Gate Saloon, a watering hole for gold seekers, gamblers, cowboys, and madames, the saloon added a hotel in back by the next year. In 1879, it became the Holbrooke, named after its owner, D.P. Holbrooke. 
The Holbrooke has hosted Mark Twain (room 2), infamous outlaw Black Bart (room 9), and four U.S. presidents—Grover Cleveland, James Garfield, Ulysses S. Grant, and Benjamin Harrison. Unusual occurrences have been documented in rooms 2, 5, 9, 11, 14, 15, 16, 17, and 18 per Lyon's book, but room 15 appears in many accounts.
Anthony Jones, former general manager of the Holbooke as well as the National Exchange Hotel (they share the same owner), previously hosted the Haunted by History tours offered every Halloween at each hotel. Jones calls himself "a skeptic" but admits that he experienced an unexplainable feeling in room 15. "When I walked in, it was a very odd sensation. Like when you put your hands over your ears, that cupping and muffling of sound, that happened instantly. I turned to my colleague and said, 'Did you sense the sound closing up?' She did," says Jones, adding that the next day, a housekeeper had her cleaning interrupted by the room's door continually opening by itself; security footage confirmed that no one was around. 
You don't need to stay at the Holbrooke to experience paranormal activity. Grab a bite at the Golden Gate Saloon, where smoke-like clouds have been seen clustered around the ceiling and the wine glasses will start to violently shake on their own. At the hotel's cellar bar, the Iron Door, patrons have reported seeing and hearing a female spirit in the women's bathroom. Reputed to have been a brothel and a speakeasy, the Iron Door also used to serve as the town's morgue during the winter when the ground was too frozen over to dig graves, says Jones.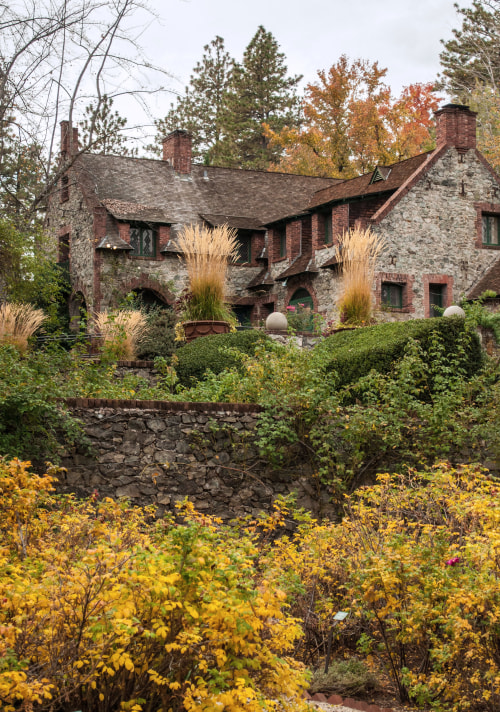 Empire Mine State Historic Park
Many men plunged into the dark depths of the Empire Mine—with vertical drops more than 1,000 feet below the surface—and wondered if they'd make it out alive. Some of that energy remains today at the Empire Mine State Historic Park, where you can tour the estate, gardens, mine yard, and even the entrance to an actual shaft. Lyon's book details cases when visitors have heard miners' voices and the sound of equipment rumbling in the long-defunct mines, with one witness recounting a scene of three ghostly laborers talking together about how terrified they were to go back into the mines.
Ghosts have been known to mill about Bourn Cottage, the summer home of former mine owner William Bourn Jr. According to Lyon, docents have reported "feeling a ghostly presence in the house," hearing creaking floorboards, and feeling cold drafts out of nowhere and with no explanation.
St. Joseph's Cultural Center 
A former convent and the site of Northern California's only orphanage when it opened in 1866, the St. Joseph's Cultural Center—formerly Mount Saint Mary's Academy—is rumored to be haunted by a few former residents. The dangerous mine conditions of the time left many children without parents, and within the first year of the orphanage opening, 70 kids were living there. By the late 1890s, it was housing over 400 orphans and 60 nuns who cared for them. 
Today, the carefully preserved property features the Grass Valley Museum, St. Joseph's Chapel Hall, 13 artists' studios, and a historic rose garden. Docents, artists, and visitors have all witnessed a ghostly little girl roaming around, per Lyon. Sometimes she appears to them, looking to be five or six, with long hair and dressed in a white nightgown. Other times, they only hear her sobs echo through the brick buildings. She's been seen so frequently that an artist who rented one of the studios painted her portrait. A nun in an old-fashioned habit has also been reported to haunt the halls.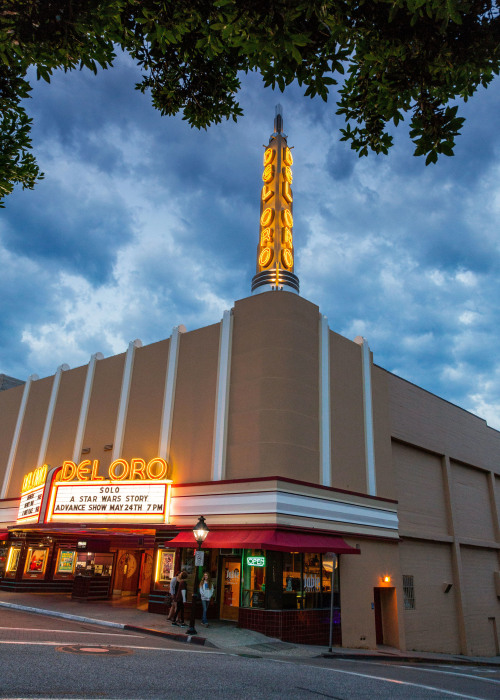 Del Oro Theatre
The art deco neon spire of Del Oro has been a beacon in downtown Grass Valley since the theater opened its doors in 1942. The triplex movie theater retains some of its original charm after a major renovation in the 1970s, including an ornate ceiling mural, a phone booth, and art deco light fixtures. Debatably charming: its numerous ghosts. 
Some of the most commonly seen specters include a woman dressed in red, a young girl and boy who run down the halls, a man wearing an old-fashioned hat and heavy overcoat, and a woman dressed in white, believed to have fallen or been pushed from the fire escape. 
After documenting these ghosts for years, Lyon had his own run-in during two of his walking tours leading up to Halloween. He was standing with his group outside, in front of the ticket booth, when handfuls of popcorn mysteriously rained from the sky, seemingly from the roof. A few days later, Lyon led another walking tour to the same spot when a stream of tiny, torn-up concession napkins gently fell on them like snow. "Two members of our group stated they had clearly seen a little girl standing at the edge of the roof laughing as the bits of paper floated down upon us," Lyon recounts, adding that he confirmed with the theater's manager that the door to the roof was locked and it was not a practical joke.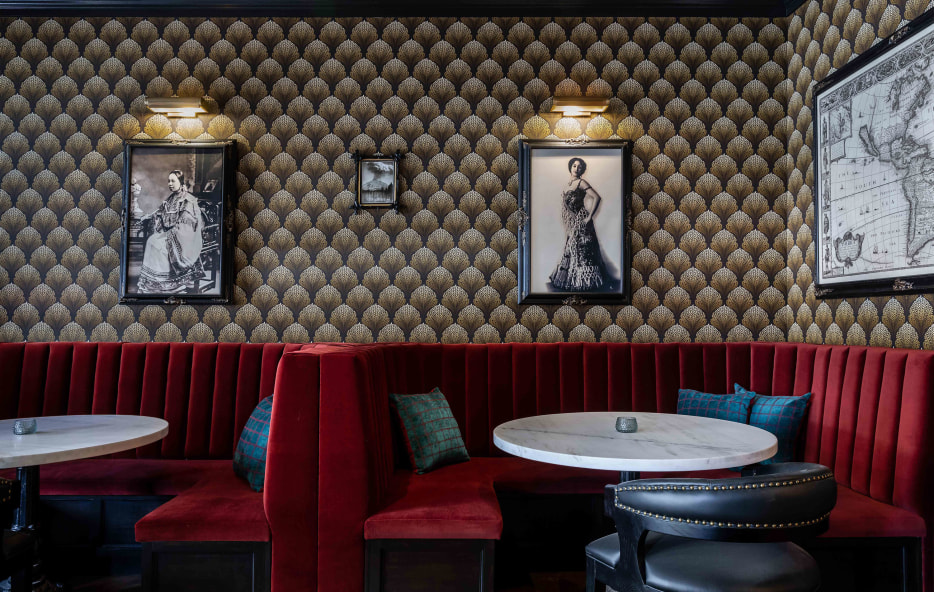 Nevada City
The National Exchange Hotel
When the National Exchange Hotel opened in 1856, Nevada City was already the largest and richest mining town in California. The palatial brick hotel, built in the classical revival style, hosted mine owners, businessmen, and even U.S. President Herbert Hoover. It's believed that the first discussions that led to the formation of the Pacific Gas and Electric Company took place in 1898 in room 314. 
The entrepreneurs who met that fateful night might be return guests. One evening, a woman staying in room 314, awoke to find "men attired in late nineteenth-century clothing consulting maps, conversing in an enthusiastic manner, and smoking cigars," Lyon recounts in his book. 
One ghost so infamous she has a name—Elizabeth—is rumored to have died of mumps in room 411, according to Lyon. Dressed in Victorian attire, Elizabeth has been seen bouncing a ball, jumping rope, and riding her tricycle up and down the halls. She's been reported throughout the hotel and at the hotel restaurant, Lola, where she gave a couple a fright when she dived under their table chasing her ball.
The aforementioned Presidential Suite—now rooms 208 and 209 after an extensive renovation completed in 2021—had seen many frightened hotel guests pack up their belongings in the middle of the night and flee, per Lyon.
Other "delightful unregistered guests," says Lyon, include a dapper Victorian-era gentleman and the "White Lady," who has been observed floating down hallways and inside guest rooms wearing a long Victorian dress with a yellow sash, her hair in an old-fashioned updo, reeking of cheap perfume.
Nevada Theatre
"Just about every old theater has ghost stories," says Lyon, but that's extra true of the Nevada Theatre, which is California's oldest existing theater building. Opened in 1865, its stage has been graced by Mark Twain and Jack London, and today the theater serves as a center of the arts community with year-round live performances and film screenings.
Ghosts have frequently been mistaken for actors, says Lyon. Recently, there was a man dressed like an 1800s cowboy who didn't cause any heads to turn until he floated through a row of theater seats. An elderly couple dressed in Victorian attire have been seen sitting among the audience, and a Victorian woman was once caught backstage borrowing a prop in the middle of a performance. A ghostly woman has been known to relax in the chairs on the landing leading up to the balcony and a thirtysomething, dark-haired, bearded Victorian gentleman in a black frock coat has been spotted standing near the front of the balcony.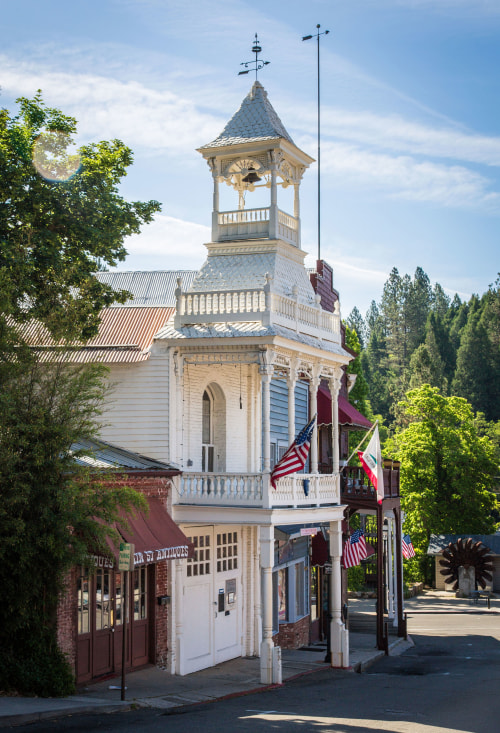 Firehouse No. 1 Museum
One of the most striking buildings in Nevada City might also be its most haunted. Firehouse No. 1's white gingerbread Victorian architecture and large bell tower attracts tourists as a photo opp and place to learn about history (it houses the Nevada County Historical Society museum), but many don't know what lies beneath its beautiful façade.
"If you count ghosts per square foot, that's probably the most haunted place in the entire world," says Lyon. "There are just so many ghosts alleged to haunt that site, it's unbelievable."
Completed in 1861, the firehouse functioned as such for 80 years before turning into a museum in 1947. Docents and visitors have reported a large cast of ghostly characters haunting the museum, to the point that retired museum director Tony Smeaton told Lyon that paranormal activity was "everyday normalcy."
Keep an eye out for a heavyset woman with "Mercurochrome red hair" dressed in Victorian garb, who has been spied from the street standing in the second-floor window and seen playing the museum's vintage organ, rumored to be from one of Nevada City's many bordellos, according to Lyon. There's also "a pleasant little old lady" who sits in an antique cane rocking chair, a woman in Victorian clothes who likes to rifle through the museum's cabinets, and a young boy with blond hair who smells of Bay Rum cologne and talcum powder.
Friar Tuck's Restaurant & Bar
A relative newcomer to downtown Nevada City at a mere 50 years old, Friar Tuck's Restaurant & Bar can't seem to get rid of the ghost they call "Murph." The specter loves to cause mischief around the restaurant and kitchen, sending napkins and silverware flying off a table, shattering a plate into bits out of nowhere, blowing out candles, and filling the space with disembodied voices, Lyon writes.
When a fire destroyed the restaurant in 2002, then-owner Greg Cook told the Union that he thought Murph had perished in the ashes. Lyon had his doubts.
"One night I was talking with a party of diners at the new Friar Tuck's, and, upon my mentioning Murph, we heard a nearby server scream, followed by the unmistakable sound of crockery smashing violently into each other," Lyon recounts. "'Something tore the dishes out of my hands,' the server exclaimed. I asked, 'Then Murph is back?' 'Yes,' she quickly affirmed, 'That happens a lot around here!'"