The Pacific Coast Highway, officially named State Route 1, winds from Leggett to Dana Point, California. But the stretch from Monterey County to San Luis Obispo County's Morro Bay is one of the most scenic, with stunning vistas, lovely seaside hamlets, and incredible whale watching opportunities (just look for the Whale Trail interpretive signs along the roadside). Whether it's chowing down on fresh seafood, kayaking among playful sea otters, or touring the opulent rooms of an American castle, this section of Highway 1 packs a lot into a short distance. 
Trip Overview
Total distance: 57 miles from Ragged Point, the southern gateway of Big Sur, to the city of San Luis Obispo. 
Estimated drive time: About an hour and 15 minutes if you drive straight through—though there's plenty to see and do along the way, as well as campgrounds if you'd like to bed down for a night or two. 
When to go: Spring and autumn are the best times to avoid summer crowds, and these seasons offer some of the most pleasant weather. However, fires are an increasing risk during fall, so check the local fire risk before going. The Central Coast's rainy season typically begins in late October and runs through winter. Skies start clearing up by April, but expect some rainy days through May.
Drive tip: Traffic on this stretch of Highway 1 can be heavy, especially around Hearst Castle. Driving earlier in the day and/or on a weekday is best and, despite all the beauty, keep your eyes on the road. If you do want to savor the view, use one of the turn-outs—though for safety, stick to those on your side of the road. 
Fill up your tank in Big Sur—there is only one gas station in the 40 miles of highway down to Cambria. The AAA Mobile app is a great source for finding gas stations and comparing prices, so be sure and download it beforehand, as well as a GPS map that you can save to your phone to use offline. Cell service along Highway 1 is unreliable at best, so plan ahead.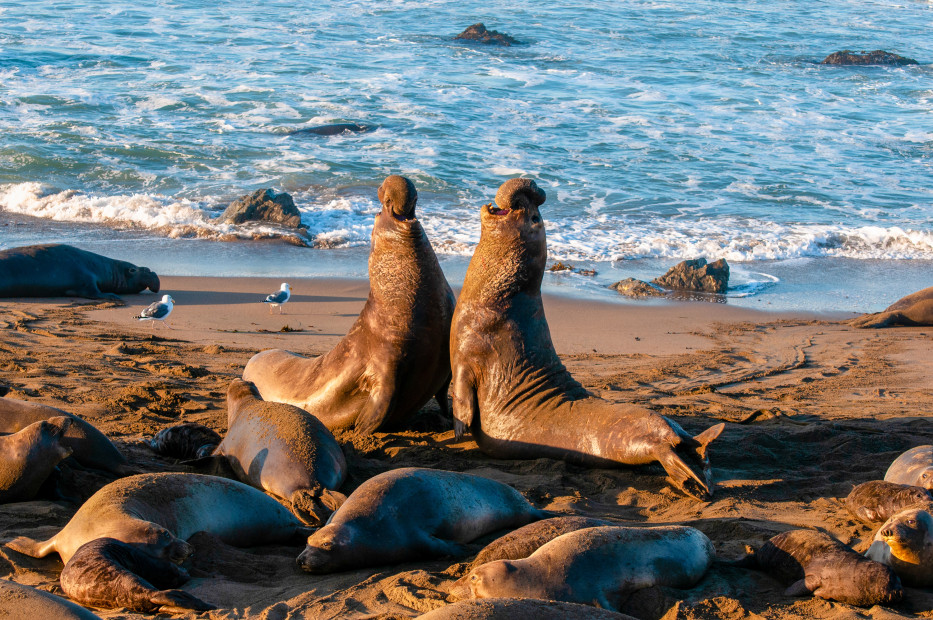 Things to do Along Highway 1, from Big Sur to San Luis Obispo 
Piedras Blancas Rookery 
About 10 miles south of Big Sur's southernmost point, Piedras Blancas is one of the most accessible elephant seal rookeries on the planet. Although they spend the majority of their lives at sea, these earless seals prefer sandy beaches for mating, birthing, and molting. Nearly 25,000 of them make use of the Piedras Blancas coastline annually. 
The best time to visit is December through May. Birthing and breeding typically take place in January and February. In September and October, the bulk of adult elephant seals head back into the water, with the males returning in December to fight for mating rights. 
The free rookery features an accessible boardwalk and several observation platforms for safe viewing, and it is an easy 3.2 mile round-trip hike to the Piedras Blancas Light Station, a 70-foot-tall brick lighthouse constructed in 1875 and automated a century later. It still acts as a beacon for incoming ships, and it is open for guided tours throughout the year. Reserve your spot in advance.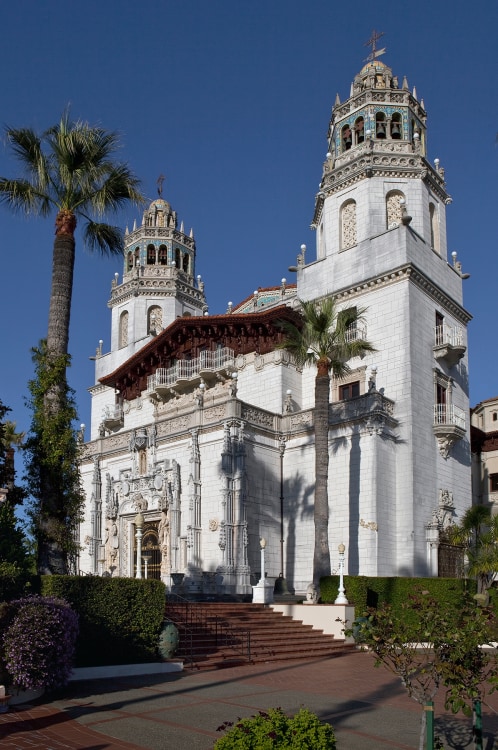 Hearst Castle 
One of the most popular stops along Highway 1, the opulent estate of publishing tycoon William Randolph Hearst overlooks the village of San Simeon. Architect Julia Morgan designed the hilltop castle in the early-to-mid 20th century. During its fabled heyday, this property played host to everyone from British Prime Minister Winston Churchill to movie stars such as Cary Grant. 
After a two-year closure, the Hearst Castle reopened in May 2022, just in time for Morgan's 150th birthday anniversary. To celebrate, the castle added a new two-hour Julia Morgan tour, which includes rarely seen areas of the property that showcase her extraordinary work. First-timers should also check out the Grand Rooms tour, which highlights the extraordinary social rooms of Hearst's 115-room main house, Casa Grande. The property is also home to numerous guest houses, two pools, and an incredible art collection, including Italian Neoclassical sculptor Antonio Canova's marble Venus Italica, displayed in the castle's Assembly Room. The surrounding landscape was also once one of the world's largest private zoos. Today you can still see zebras, left to roam freely following the zoo's slow dismantling in the mid-20th century, grazing along Highway 1's hillside pastures. 
San Simeon
Tiny Old San Simeon is home to a fishing pier that provides sunset vistas and overlooks William R. Hearst Memorial State Beach, which was once used as a port for receiving Hearst's vast collection of antiquities. Stop to sunbathe on its white sand beach, or bring your own kayak or stand-up paddleboard and take advantage of Simeon Cove's calm waters. The beach's north end is brimming with tide pools full of sea stars, barnacles, and turban snails.
Cambria
This charming seaside village offers a mix of antique stores, art galleries, and boutique shops like STASH Local Goods, which is filled with locally made souvenirs such as milk-chocolate-covered gummy bears and Cambria key charms.
Just a mile north of downtown is Covell's Clydesdales, a private 2,000 acre ranch that's home to roughly 100 free-roaming Clydesdale horses. Ride on horseback through open pastures and pine forest, or opt for a property tour aboard the ranch's open-air trailer, with the Clydesdales meandering nearby. 
Central Coast Outdoors runs guided half- and full-day bicycling excursions along the Pacific Coast, and the mostly level ride offers fabulous views. For beachcombing, don't miss Moonstone Beach, where smooth, wave-worn rocks and sea-glass come in a variety of colors. The boardwalk in town is a perfect perch for whale spotting. 
Estero Bluffs State Park
Along with coastal salt marshes, low bluffs, and more than four miles of coastline, Estero Bluffs State Park is home to tidepools brimming with colorful sea anemones, urchins, and snails. Local seaweed purveyor Marley Family Seaweeds leads private foraging tours for edible marine algae within the park.
Cayucos
With its historic pier and a downtown filled with antique stores and boutique surf shops, Cayucos is a favorite place to kick back and take it easy. The town sports a sort-of Old Western charm, and when locals aren't dining on pub pretzels or salmon caesar salads at one of the locally owned restaurants and bars, they're heading to Cayucos State Beach in the center of town to picnic and surf, often with their leashed dogs in tow. To let your pup run free, head to Toro Creek Dog Beach, which starts at the south end of Cayucos (between the northern and southern sections of Morro Strand State Beach) and extends straight into Morro Bay.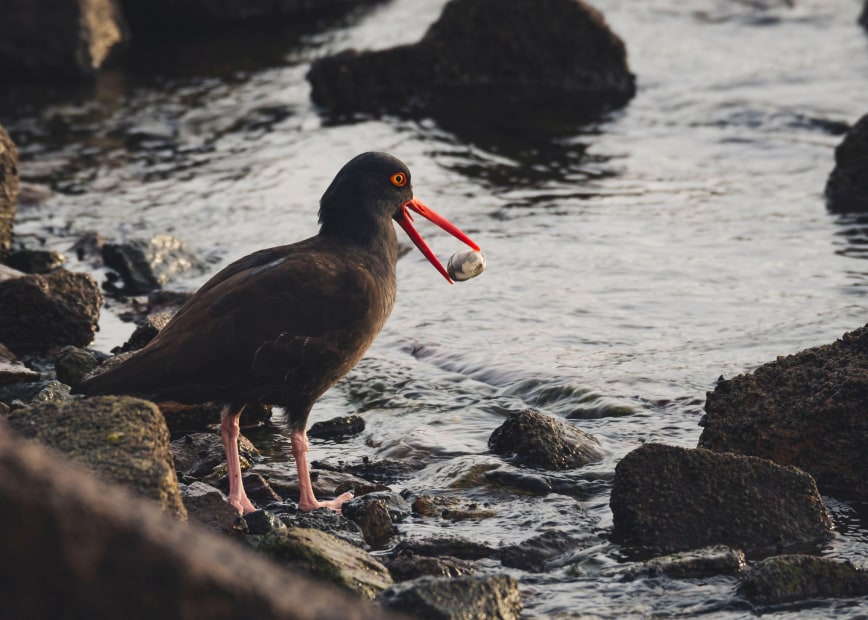 Morro Bay
Just six miles south of Cayucos sits Morro Bay, a larger fishing community known for its seafood and nature. Explore Morro Bay National Estuary, where an 800-acre wetland filled with salt marshes and mudflats is home to southern sea otters, graceful bat rays, and a couple of oyster farms. Rent a kayak or canoe from A Kayak Shack and meander along the estuary's back bay channels, keeping an eye out for local wildlife as you go. Windsurfers and kite flyers head to Morro Strand State Beach, and it's also a great stop for an afternoon picnic or barbecue. The waters closest to Morro Rock, an ancient landmark that's one of nine extinct volcanic remnants between Morro Bay and San Luis Obispo, are a popular surfing spot. 
San Luis Obispo
Tucked away at the foothills of Santa Lucia Mountains, San Luis Obispo ("SLO" for short) is an easy-going college town filled with craft breweries and attractions ranging from kitschy to historic. Mission San Luis Obispo de Tolosa, part of the larger California Mission Trail, is in the center of town and offers guided early afternoon tours of the adobe structure daily. A short walk away is Bubblegum Alley, a 70-foot-long stretch adorned with an estimated two-million pieces of chewed gum, and it's not SLO's only showy attraction. There's also the Madonna Inn, a quirky hotel that sits on more than 1,000 acres and features 110 uniquely themed rooms and suites along with a spa, bakery, and multiple restaurants.
Where to Eat along Highway 1, Between Big Sur and San Luis Obispo 
Linn's Restaurant, Cambria 
What began as a family stand specializing in olallieberries, a blackberry-raspberry hybrid, more than 40 years ago has grown into a destination all its own. Linn's menu features comfort food favorites, such as seafood pot pie and farm-style fried chicken, and more elevated dishes, such as a mustard-pistachio encrusted rack of lamb. Of course, olallieberries abound, whether in a refreshing fruit-filled lemonade or bursting from a slice of olallieberry pie. 
Robin's Restaurant, Cambria
Tucked inside a historic adobe building along Cambria's Burton Drive, Robin's has been serving handcrafted global cuisine with local ingredients since 1985. Cozy up by the indoor fireplace or linger on the enclosed patio with dishes ranging from skewers of tandoori chicken to butternut squash enchiladas.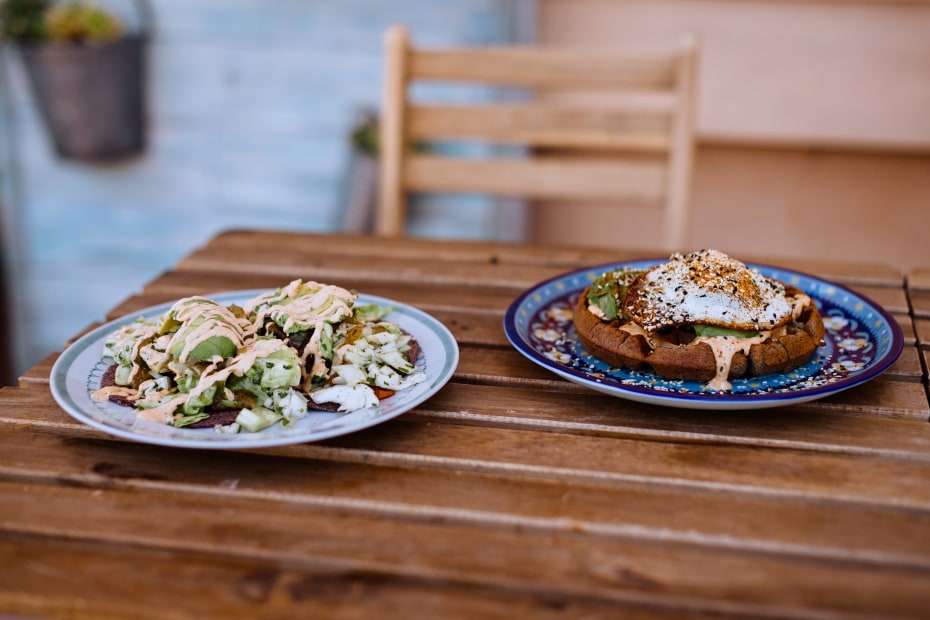 The Hidden Kitchen, Cayucos 
Cayucos's go-to breakfast and lunch place specializes in organic and gluten-free fare, and has a patio that offers terrific ocean views. Along with a bevy of superfood smoothies, this fast-casual spot is known for its sweet blue corn waffles and a selection of sweet and savory dishes that run the gamut from crispy carnitas and green salsa tacos to dulce de leche-filled churros. A second location in Cambria is open on weekends. 
The Great American Fish Company, Morro Bay 
Located along Morro Bay's bustling Embarcadero waterfront, the Great American Fish Company boasts an enormous selection of fresh seafood, including raw oysters, halibut, and Alaskan king crab legs. There's also a section of the menu devoted to mesquite-grilled surf and turf. It's the kind of casual place that the whole family can enjoy.
The Creamery Marketplace, San Luis Obispo 
SLO's open-air public market occupies what was once a creamery. The early 20th century structure has since been renovated and refurbished to house a mix of artisan shops, bars, and eateries, including the sushi bar and Japanese restaurant, Goshi; wood-fired pizzas at Bear & the Wren; and Mistura's farm-to-table Peruvian cuisine. There are places for sipping on small-batch coffee, and you can't go wrong at Joliene Bakery, though their kanelbullar (Swedish cinnamon buns) are especially stellar.
Keep Driving
Whether you are starting from the south or the north, it's easy to extend your Highway 1 road trip.