A photograph in the tiny Rogue River Museum in Gold Beach, Oregon, shows a horse-drawn wagon traversing a deeply flooded beach. Waves splash as high as the horses' bellies, while the man at the reins sits, serene and resolute. As the picture's simple caption puts it, 1920s coastal highway travel was difficult. Pioneers' rough wagon paths eventually gave way to proper asphalt roads, although foggy winds and ocean spray can hint at the hardships southern Oregon travelers faced a century ago. Highway 101—dubbed the Pacific Coast Scenic Byway—meanders south through coastal forests and past remote, pristine beaches to the California border. Along the way, it winds by mill towns, fishing villages, gold rush encampments, and many more delights that invite you to pull off the road and explore.
Start: Oregon's Bay Area
The bustling town of Coos Bay—the traditional gateway to Oregon's south coast—actually lies inland, as does equally lively North Bend. Hugging the bay, the road here treats travelers to views of a vast bulk cargo terminal, the busiest log-exporting harbor in the world from just after World War II through the 1970s. Mountains of tawny wood chips and softwood logs dwarf the ships and barges that workers fill and send off to ports as far away as Japan.
Coastal commerce, from the Coos tribes' salt-marsh fishing to the gold rush lumber boom, comes to life in interpretive panels on the 1,200-foot Coos Bay Boardwalk, across the highway from a visitor center. It was Coos Bay where lumber baron Asa Meade Simpson in the 1850s capitalized on state-of-the-art ships and a deepwater harbor—the largest between Seattle and San Francisco—to build a shipping empire.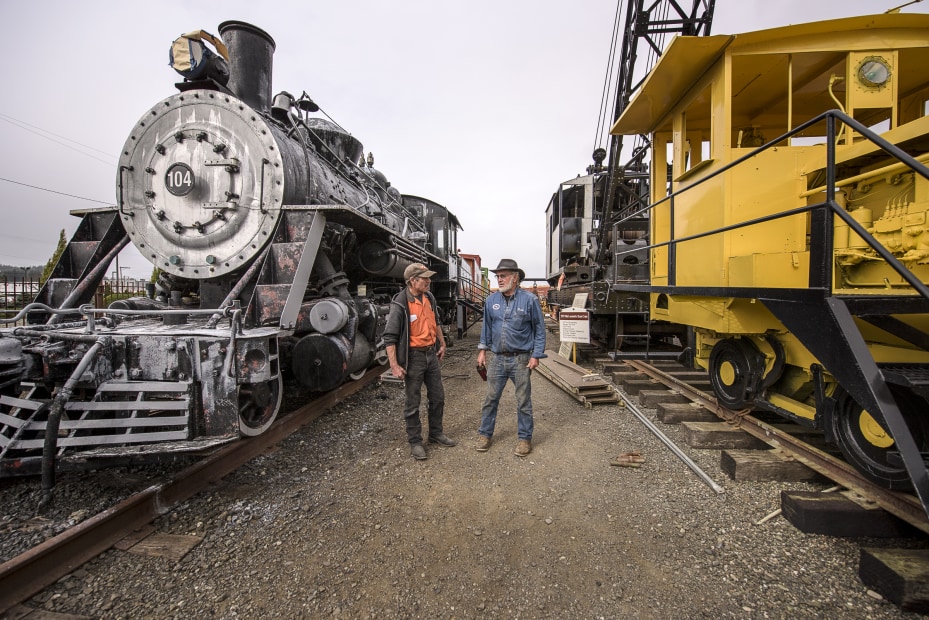 History buffs like to linger at two nearby sites: the new Coos History Museum and Maritime Collection, which holds intricate tribal baskets and a cedar dugout canoe, and the Oregon Coast Historical Railway Display Area & Museum, where restored trains include a coal-black 1922 Baldwin steam locomotive. Adventurous visitors can take in the entire scene from the air on a soaring ride at Stan's Seaplanes, launched from a dock fronting the boardwalk.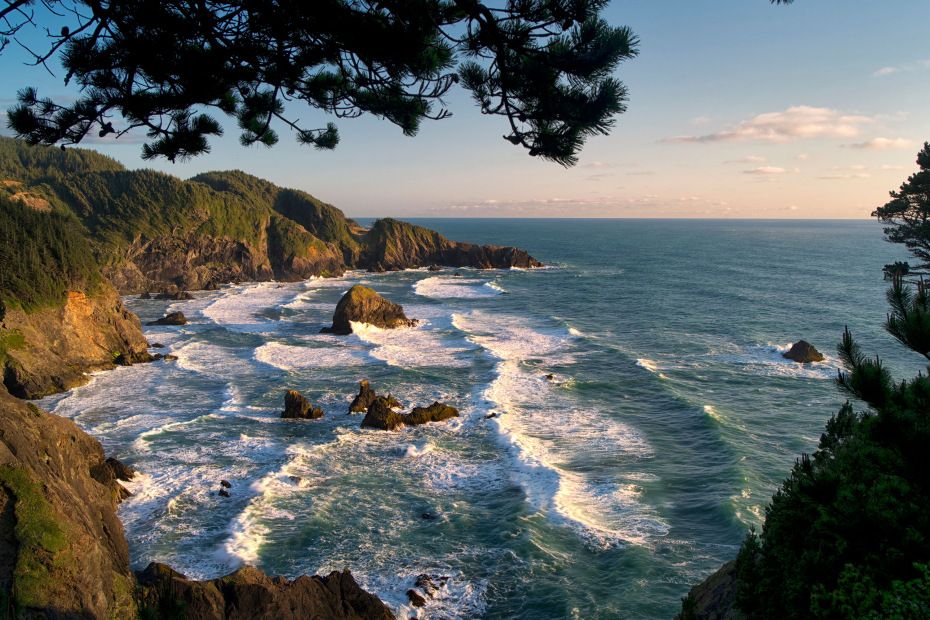 Tiny Charleston, a harbor town astir with oyster harvesting and hauling, lies on the south bank of the Coos River estuary at the end of a 15-minute detour off Highway 101. Why take this particular side trip? To gaze over the bluffs at Cape Arago State Park, one of the wildest overlooks on the entire Oregon Coast. Even during gale-force winds, the barking and whinnying of California sea lions can be heard from the Simpson Reef overlook. Groups of the sleek creatures, joined by Steller's sea lions and sometimes elephant seals, splash in the churning waves and congregate on the rocks of Shell Island, a chunk of the Oregon Islands National Wildlife Refuge, which comprises more than 1,800 islands, rocks, and reefs.
The landscape nearby holds some surprises. Shore Acres State Park—once the estate of Louis J. Simpson, the son and heir of shipping king Asa Meade Simpson—reveals a tamed slice of this rugged coast: eight acres of formal shrub and flower beds and a Japanese garden, complete with lily pond. Grand rhododendrons bloom in the park in May; roses put on a show in June.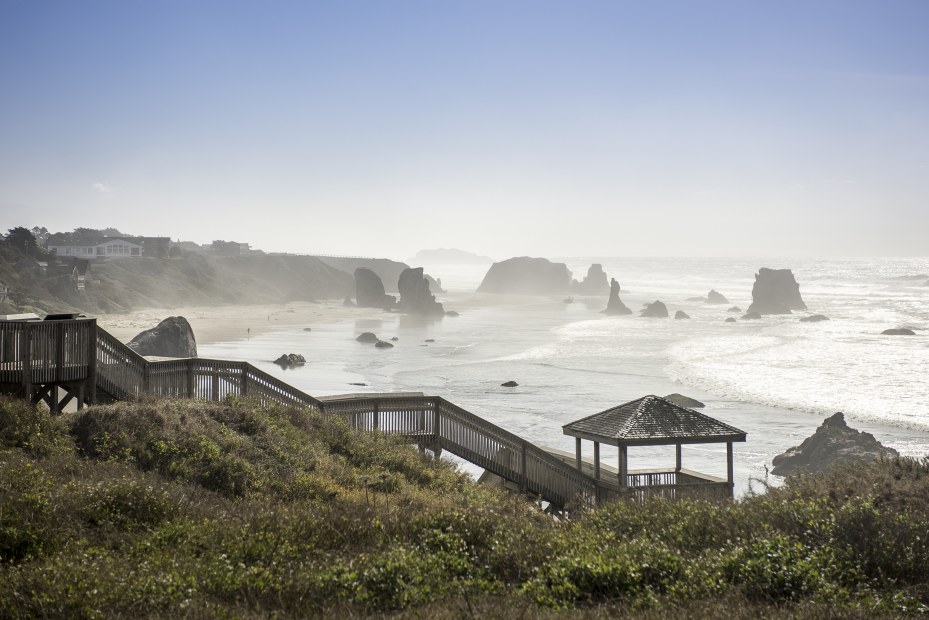 Next Stop: Shorebirds and Art
More predictable vegetation—including dense firs and broad pastures—lines the highway as it winds south toward salty Bandon-by-the-Sea. At the Coquille Point headlands, migrant shorebirds, among them common murres and three kinds of cormorants, delight observers who pause at viewpoints along a paved path. Just offshore stands a playground of towering sea stacks, remnants of coastal cliffs, now home to colonies of resilient barnacles and bright patches of emerald seaweed.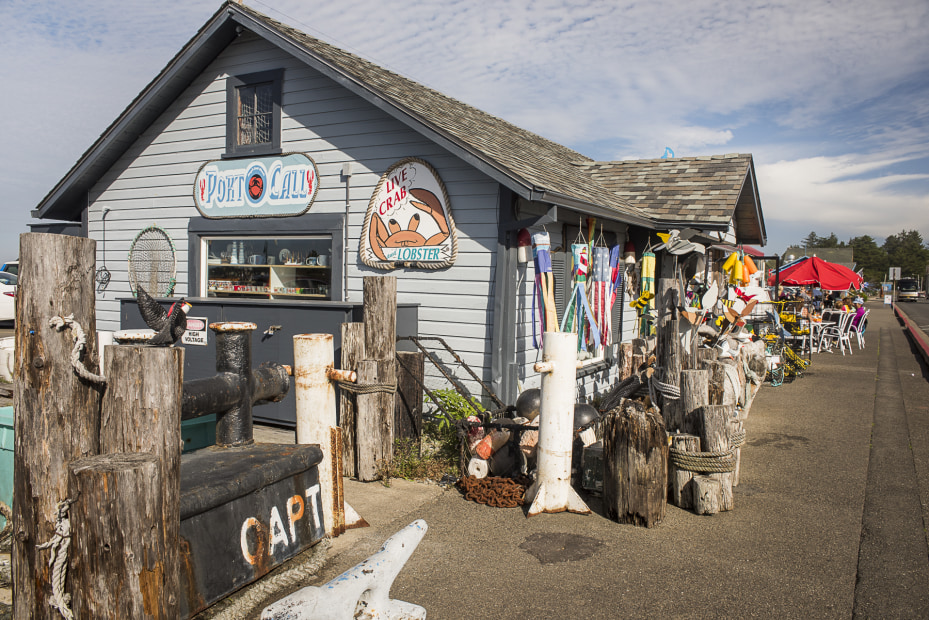 Brisk walks in the sea breezes prime beachcombers for the tasty fare at Tony's Crab Shack, a seafood hut that skips the usual deep-fried options in favor of Dungeness crab melts, smoked salmon pasta Alfredo, and steamed clams with butter-herb sauce. Stop next door at Port O' Call to rent clamming or crabbing gear: Tony's will cook and serve you your freshly caught crab.
Eat up, but know there's much more here than seafood. At the Washed Ashore Project's art museum, whimsical giant sea creatures sculpted from marine trash make a serious point about threats to the oceans. Across the harbor from town, at the end of popular Bullards Beach, picture-perfect Coquille River Lighthouse features tours of the fog room starting in mid-May. And south of town, Misty Meadows Jams sells sweet treats made from rare fruit gathered in nearby forests—salal berries and wild red huckleberries— not to mention syrup from Bandon cranberries. In June and July, you can spot the cranberry bushes' reddish blossoms in bogs along the highway.
South to Sweet Surprises
More than 50 miles of rolling farmland and rugged coastline lie between the sportfishing havens of Bandon and Gold Beach. Sly signs marking tiny Langlois declare it world famous—and who's to say it's not? After kiteboarding on Floras Lake near Boice Cope Park, famished athletes often stop at the Langlois Market for both scrumptious hot dogs slathered with homemade sweet-hot mustard and the day's town gossip.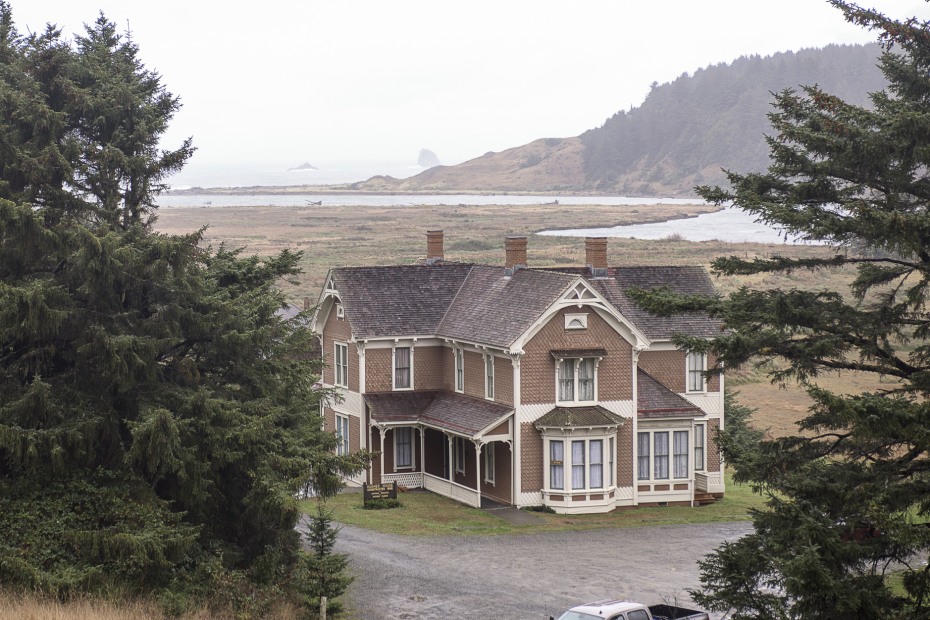 Blustery Cape Blanco, Oregon's westernmost point, boasts two rugged beaches between popular salmonfishing rivers, the Elk and the Sixes. Groomed trails for walking and horse riding are some of the many amenities at Cape Blanco State Park, home to the state's oldest continually operating lighthouse; the multifaceted Fresnel lens cast its first beams in 1870. The six-mile drive from Highway 101 to the end of the cape offers sweeping vistas of the remote terrain, little changed since the 19th century. The Patrick Hughes House, a restored Victorian-style mansion overlooking the Sixes River, presents a glimpse of pioneer life on this former dairy ranch. The mansion and lighthouse welcome visitors for guided tours every day except Tuesday from April through October.
The busy marina at Port Orford is a great place to stretch your legs. If your appetite is whetted by the fish haul, enjoy a salmon sandwich at Crazy Norwegian's Fish & Chips. For a more outdoorsy option, hunt for colorful agates along the beach sand at Tseriadun State Recreation Site, or take a forest stroll around the headlands near the Port Orford Lifeboat Station. The station, a collection of five buildings, houses a free museum—with a restored lifeboat—celebrating deathdefying rescues by the Coast Guard crews stationed here from 1934 to 1970.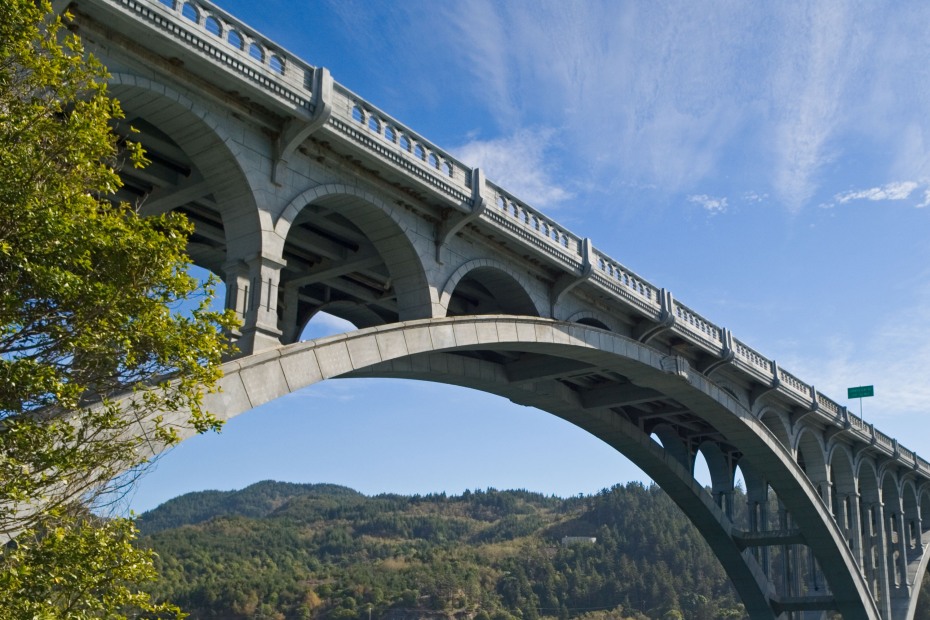 A Break for Boats and Books
Famed authors Zane Grey and Jack London enjoyed casting into the waters at the mouth of the powerful Rogue River near Gold Beach, an area still known for premier sportfishing yearround, mostly for salmon and steelhead trout. In early pioneer years, when local roads were unreliable, boats hauled mail upriver to prospectors panning for the same gold that flecked the nearby beach, giving the settlement its name. Now visitors can take the same route with Jerry's Rogue Jets—a roaring, splashing good time—stopping at one of several lodges for a dinner of barbecued salmon or fried chicken. For a glimpse of ancient Oregon, sign up for the company's 104- mile Wilderness Whitewater trip to the foot of Blossom Bar Rapids, a generally impassable cataract in an area accessible only to boaters, rafters, and bold hikers.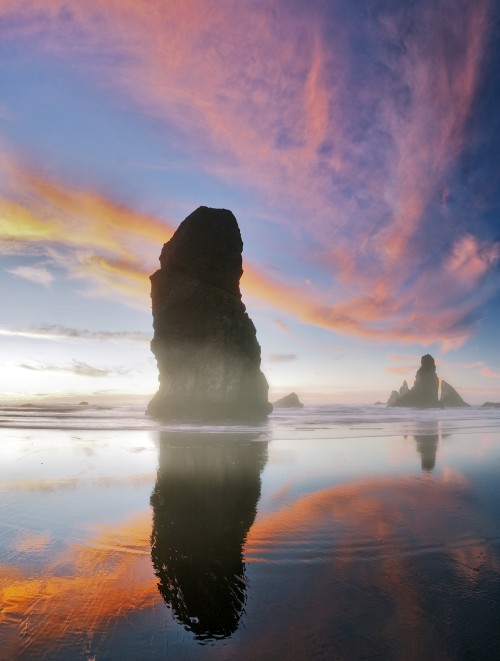 For those hungry after fishing or boating, the Barnacle Bistro turns out casual contemporary fare including a couscous and chicken salad and an albacore tuna melt. Gold Beach Books, with its 75,000 new and used volumes and Wi-Fi–enabled coffeehouse, makes a congenial outpost on a lazy day. The shop maintains a superb section of local guidebooks and features a rich rare-volumes room upstairs where you might find, among other treasures, first editions of Rudyard Kipling's Jungle Books—dated 1894 and 1895—on sale for $2,950.
En route to Brookings, 30 minutes south near the California border, you'll hit the Samuel H. Boardman State Scenic Corridor, a 12-mile stretch of Highway 101 so dramatic it warrants special signage. The highway serves up viewpoint after viewpoint—Arch Rock, Whaleshead, Cape Ferrelo—revealing clutches of craggy sea stacks and tiny cove beaches festooned with tangled driftwood. Lone Ranch, the corridor's southernmost turnout, has picnic tables overlooking a compact beach and rocky outcrops pocked with irresistible tide pools. 
Residents of Brookings like to say that they live in a "banana belt," a zone where air temperatures remain moderate year-round. The mild climate is just right for Easter lilies, which are farmed in plots along the highway. It likewise favors native azaleas, shrubs with fragrant pink-purple blossoms celebrated each Memorial Day weekend in 33-acre Azalea Park; some of the showy plants are more than 200 years old.
Visitors are often surprised to learn that redwood trees grow nearby, unaware that the giant conifers range into southern Oregon from their main habitat in coastal California. The Redwood Nature Trail, on national forest land near Alfred A. Loeb State Park, winds through the country's northernmost redwood grove.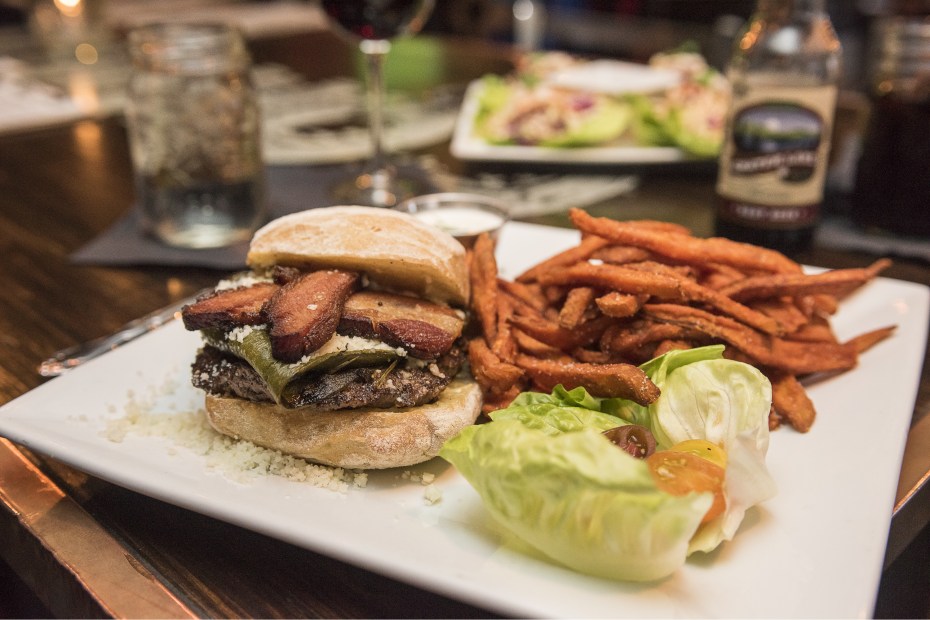 Come evening, hungry travelers join locals for generous burgers, regional brews, and live music at the cheerful Oxenfre Public House on the main drag in the center of town. Others head down the street to Cielito Lindo, a tiny onetime gas station known for its authentic Mexican street food: chicken and beef quesadillas, carnitas tacos, and on Fridays and Saturdays steaming bowls of pozole. Wherever you turn in for the night, ignore that pear brandy tucked in the car. Back home, it will make a lovely reminder of the pleasures of this road.