California's Highway 1: Carmel-By-The-Sea to the Heart of Big Sur
When we asked our readers to tell us about their favorite road trips, no drive earned more kudos than California's Highway 1. The very best stretch, according to many, is a 40-mile leg through forested coastal mountains that is famed for sightings of condors, whales, and sea lions. "Emerging south from Carmel," writes Nancy Lingo, "the winding road offers stunning views and passes over the gorgeous 1932 Bixby Bridge while the Santa Lucia Range spills into the wave-ruffled Pacific Ocean." Half an hour south of the town of Big Sur, a waterfall flows right onto the beach at Julia Pfeiffer Burns State Park. Just how beautiful is this area? According to Lingo, "Time and human suffering seem not to exist."
California's Coleman Valley Road: Occidental to the Pacific
With its lacy Victorian porch railings and strawberry-topped waffles, Occidental, California's Howard Station Cafe would launch any trip right. A visit to the café feels like "taking a step back into history," Ryan Terschuren says. Starting in this sweet Sonoma County town of just over 1,000 people—yet with two historic churches and two Italian restaurants—the 10-mile jewel of a road branches off the Bohemian Highway. It first snakes through rich redwood scenery, then goes onto the bright ocean. The zigzagging drive takes about 45 minutes despite its relatively short distance. Terschuren writes, "The forested landscape is dotted with vistas of meadows and ocean cliffs that stretch as far as the eye can see."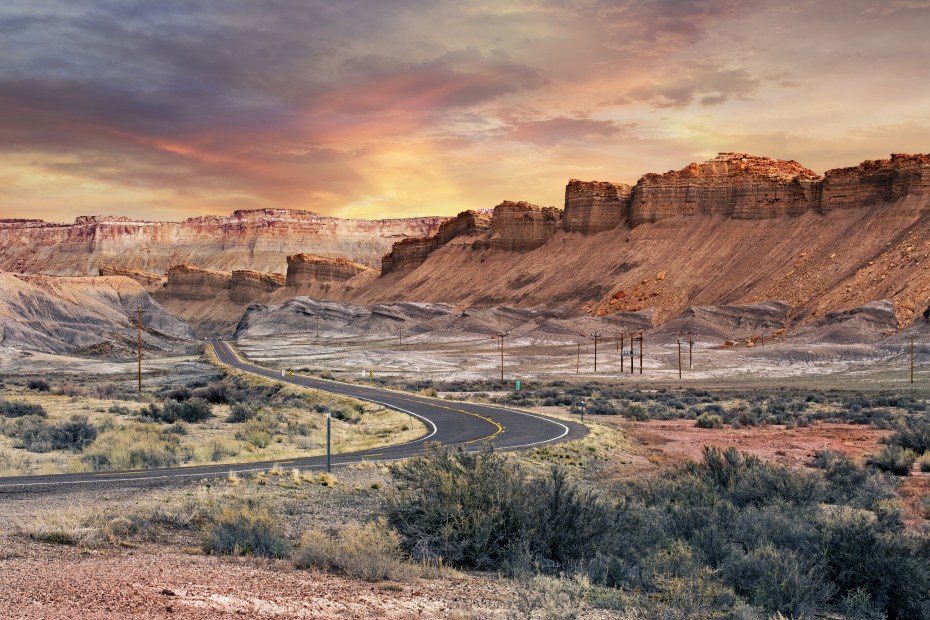 Utah's Scenic Byway 12: Panguitch to Torrey
The word spectacular comes up again and again in readers' accounts of the curving 107-mile route through striped cliffs and teetering rock formations running from Bryce Canyon National Park to the tip of Capitol Reef National Park. "Exquisite views, color changes, terrain variations, and nearby state and national parks make this a scenic drive that should be on everyone's bucket list," Richard Bennett says. Lisa Ladd adds, "This journey never fails to take my breath away. Calf Creek Falls is a favorite stop—a family-friendly six-mile round trip hike to a 126-foot waterfall."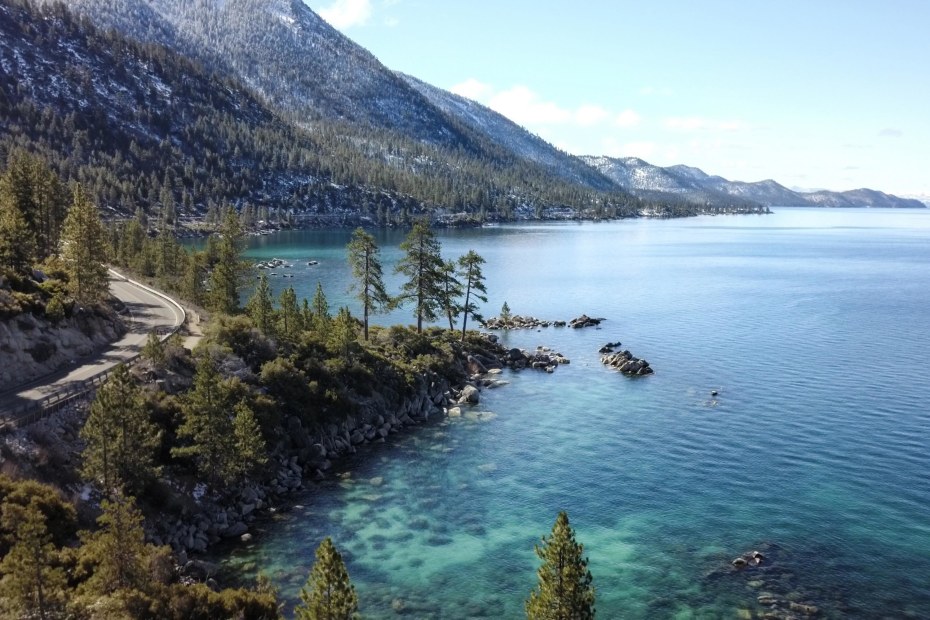 California and Nevada's Lake Tahoe Loop: Incline Village, Nevada, to Tahoe City, California
Blue as a baby's eyes, Lake Tahoe draws summer visitors to its mountain-rimmed towns. You could probably drive the clock-wise loop along Routes 28, 50, and 89 in an hour and a half, but why would you want to? You might miss the "incredible views overlooking the entire lake," Len Trout says. First jog a few miles north of Incline Village to the Mount Rose Highway Scenic Overlook, where plaques describe lakeside points of interest, such as the 10,881-foot Freels Peak and Vikingsholm, a 1929 castle-like manor. Round the loop at Emerald Bay and head back up north to Tahoe City, where, Trout suggests, you might "bring a loaf of bread to feed the fish at Fanny Bridge."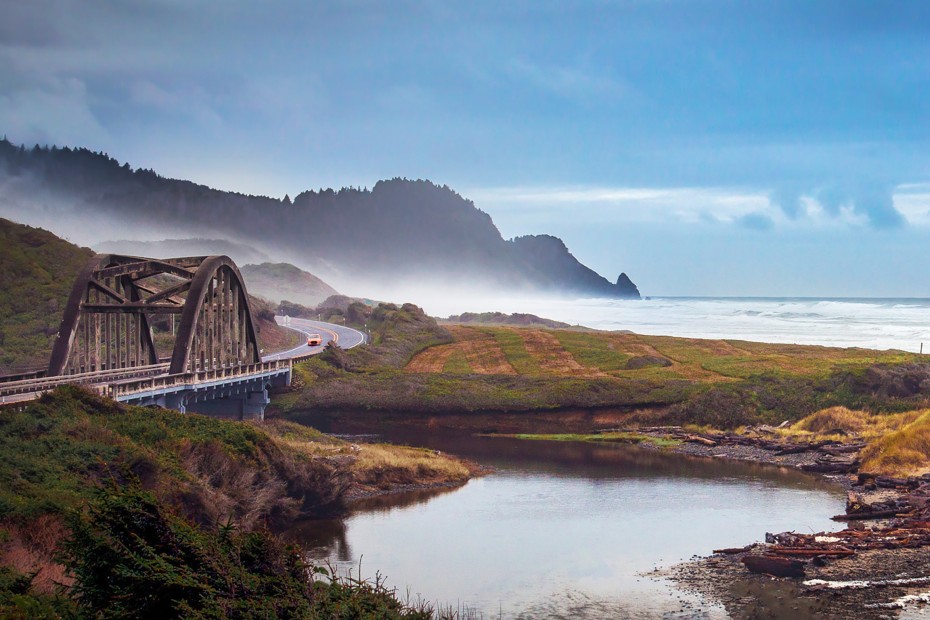 Oregon's Highway 101: Brookings to Astoria
Long swaths of pristine sand. Elaborate bridges. Looming rocks silhouetted against the ocean and sky. Over and over, the highlights of this 338-mile coastal marvel appear on readers' lists. "More than just a scenic drive," Lawrence Pratt writes, "Highway 101 along the Oregon coast is a feast for the eyes and the spirit. Take two days or two weeks to experience it, but the longer you linger, the better." Among Pratt's favorite spots is the majestic Heceta Head Lighthouse, a working beacon and a bed-and-breakfast, situated about halfway between the state's southern border and its northern tip.
Oregon's Route 35: Hood River to Government Camp
Just 40 miles but packed with beauty, Route 35 dazzles with its biggest draw, a snow-topped volcano that dominates the state's northern skyline. "Driving south," Ethan Ris says, "you get awe-inspiring views of Mount Hood rising above the road," not to mention forested wilderness, numerous trickling creeks, and both the Hood and White Rivers. At the peak's base, humbler (yet juicier) pleasures await. Starting in late August, "Kiyokawa Family Orchards in Parkdale, a 108-year-old farm, offers dozens of flavorful apple varieties," Ris writes. And don't miss peaches and cherries in summer.
Idaho and Montana's Highways 12 and 93: Orofino to Salmon, Idaho
From the outdoorsy town of Orofino, Idaho, Highway 12's two lanes split the Nez Perce–Clearwater National Forests and cross the Lolo Pass into Montana. Rich Allen particularly enjoys the drive on a motorcycle, because the almost 300-mile route features "77 miles of curves and only one sign at the top of that stretch and one at the bottom letting you know that fact." Route 93 heads back along the Bitterroot Mountains and across the Continental Divide into Idaho. Further along, he suggests calling in on "one of the best B&Bs in the West," the 100 Acre Wood Lodge in North Fork, where you might stop to relax overnight.
The West's Highway 395: Hesperia, California, to Laurier, Washington
For a more ambitious road trip, try Highway 395, which begins in the Mojave Desert in Southern California, dips into Nevada near Carson City, and ends 1,300 miles later at the Canadian border in Washington. The epic journey has "something for everyone," Marilyn Endlich says. In California alone you can visit "Death Valley, the lowest point in North America, and Mount Whitney, the tallest summit in the lower 48, plus the World War II internment camp at Manzanar, and Mono and Mammoth Lakes." In Oregon, the highway passes Lake Abert, skims the 1.7-million-acre Malheur National Forest, and drops into Pendleton, famous for its fall rodeo.