The skies are blue over downtown San Francisco, and the converted school bus is covered in kaleidoscopic swirls. As I step on board, I'm greeted by a tour guide who says her name is Serene Rain. In her peacock-pattern skirt and tinted heart-shaped glasses, she certainly looks the part.
Serene points me to a seat among nine other riders. As the bus rumbles to life, screens drop over the windows, psychedelic images dance across them, and a dreamy anthem begins to play over the sound system. "If you're going to San Francisco…"
Our guide sings along and hands out flowers, which she has not forgotten to wear in her long hair. "Come along," she invites us, "on a transformative journey."
We're already tripping (in the old-fashioned sense), rolling through the city in the Magic Bus, on a quest to reconnect with the Summer of Love.
Over 50 years have passed since the summer of 1967, when thousands of young people swept into San Francisco's Haight-Ashbury district, riding a euphoric counter-cultural wave. That bygone season looms as large in the San Francisco saga as the Gold Rush. The Summer of Love is still memorialized—and commercialized—in any number of destinations where the city's present makes room for its past. We're visiting many of them on the Magic Bus.
"How did the children of the '50s become hippies?" a recorded voice on the bus intones. From our starting point in Union Square, we have inched through Chinatown and into North Beach, the historically Italian neighborhood where the Beat generation took root in the 1950s. With their brash nonconformism, the beatniks were the spiritual forebears of the hippies. Many of their North Beach haunts still welcome those seeking an escape from convention.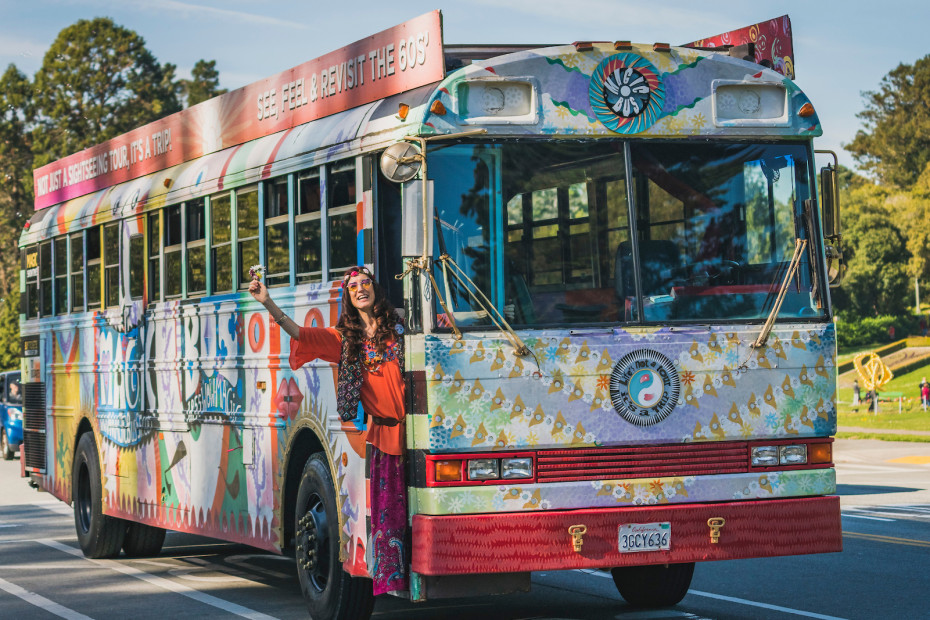 Those include Vesuvio Cafe, the time-capsule saloon where On the Road author Jack Kerouac did much of his drinking, and Tosca Cafe, another throwback watering hole that today complements its cocktails with a smartly updated menu of Cal-Italian cuisine. At City Lights Bookstore, cofounded by famed Beat poet Lawrence Ferlinghetti, shelves brim with idiosyncratically organized works from classic to modern: You can pick up a '60s-era paperback from the pedagogies of resistance rack or a Harry Potter novel. 
Resistance to stifling orthodoxy was just one of the things that drew the throngs to San Francisco that summer. They gravitated toward the Haight-Ashbury district because of its cheap rents. That's easy to forget today as the Magic Bus makes its way up Haight Street, where one-bedroom apartments routinely fetch more than $3,000 a month. 
If real estate in San Francisco has gone stratospheric because of the tech boom, at least there's some symmetry to it. The West Coast's tech industry itself has roots in hippie culture. The rebellious streak that's woven into Silicon Valley's ethos owes a debt to the '60s. A key difference: Disruption pays better now. 
As for the Haight-Ashbury itself, not everything has changed. The neighborhood has a then-and-now allure, along with a sometimes gritty edge.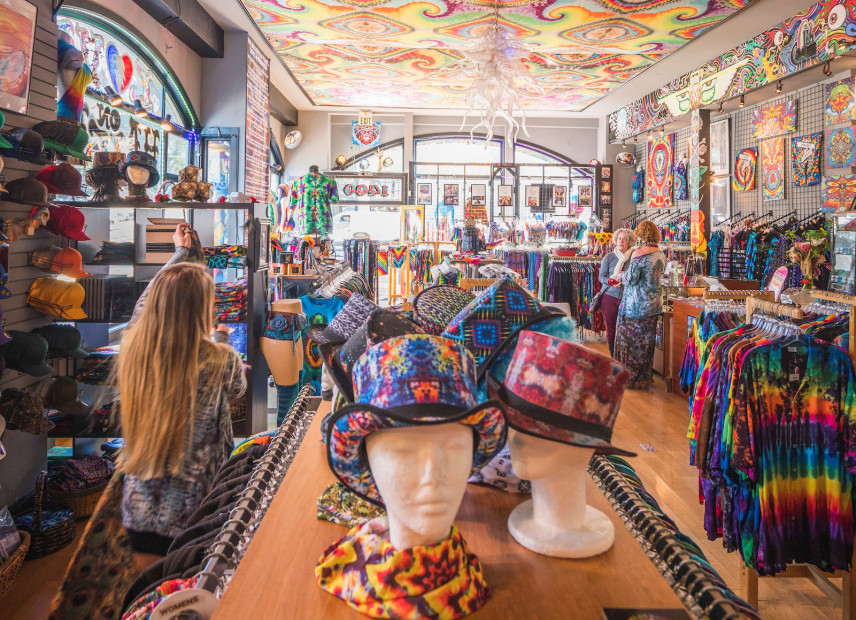 A few Haight Street establishments have survived since the Summer of Love. Mendel's started life as a paint and flooring store; now it's an eclectic fabric shop. The Red Victorian has evolved from hotel to crash pad to bed-and-breakfast. The Aub Zam Zam bar still serves some of the best martinis in town. 
Other, more recent arrivals carry on the '60s spirit. At Love on Haight, a boutique specializing in handmade tie-dyes and other flower-child ephemera, a warning hangs at the door: if you come in, you may get glittered. This is not an idle threat. When I enter, an employee sprinkles me with sparkles, like a fairy scattering pixie dust. 
Still other spots acknowledge the neighborhood's heritage without hewing slavishly to it. Magnolia Brewing is named after an erstwhile burlesque dancer who ran a bakery in the Haight back in the '60s. But it's a first-rate tavern that makes its own sausages and brews its own craft beers.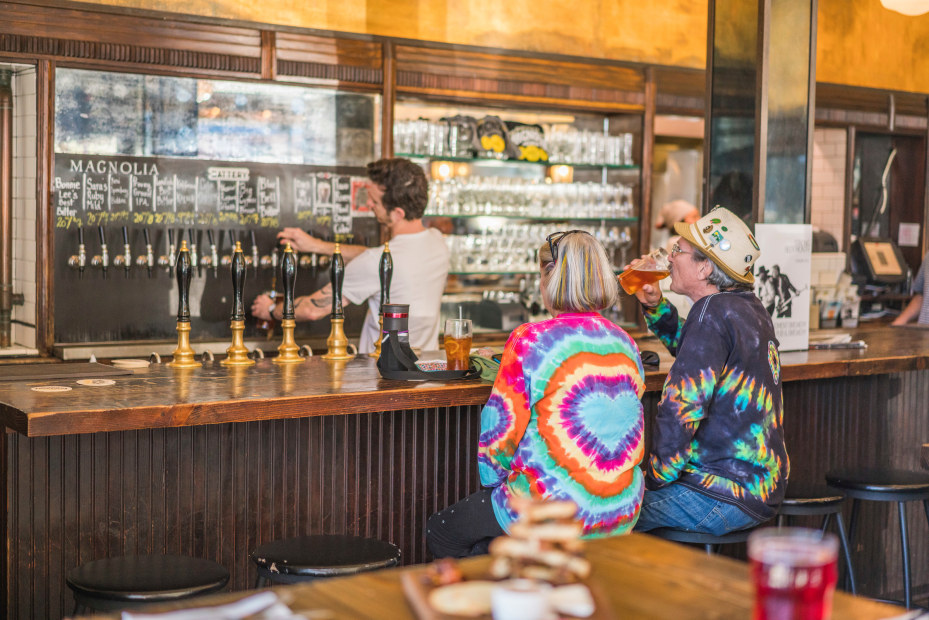 As the Magic Bus rolls through the neighborhood's namesake intersection, I glance up at its iconic crisscrossed street signs. They're elevated above the standard street-sign height now, to deter scofflaws from stealing them. 
A couple of blocks away, in front of the beautiful brown Victorian at 710 Ashbury Street, people actually leave things behind: The private home doubles as a public shrine, its steps strewn with flowers and incense, the tree in front carved with hearts and heartfelt tributes to "Jerry." That would be Jerry Garcia of the Grateful Dead, who lived here with several bandmates, mingling in the neighborhood with the likes of Janis Joplin, Jimi Hendrix, and Grace Slick. 
During the late '60s, those and other stars rocked the Fillmore, the fabled San Francisco venue that remains at the forefront of the city's music scene to this day. But many of the Summer of Love's most emblematic shows were free ones that these same performers staged outdoors in the Haight or in nearby Golden Gate Park.
More than three miles long and about a half mile wide, the park preserves many of its hippie-era trappings. Stroll its footpaths, fields, and glades, and you're treated to a montage of Summer of Love–like scenes—folksy characters strumming guitars in the shade of cypress trees and abundant Hacky Sack circles—along with the occasional pungent herbal aroma.
Major names in music still perform in the park, but now they're at annual concert events like Outside Lands—which draws headliners ranging from Paul McCartney to Metallica—and Hardly Strictly Bluegrass, a beloved free festival that, as its name implies, does not restrict itself to string bands.
San Franciscans still like to hang out in the park, but in recent years Mission Dolores Park, over in the youthful Mission District, has emerged as the new favorite. On sunny weekends, it is known for drawing up to 10,000 people, a good number of them enjoying music on their smartphones. It's a '60s-style hangout, updated for the modern age.
In Golden Gate Park, time blurs too. About two hours into our tour, the Magic Bus makes a pit stop there. "Take your shoes off," Serene Rain says as we get out. "Feel the earth beneath your feet."
I do feel some floral power, but it's emanating from the nearby Conservatory of Flowers, a grand, glass-and-wood Victorian greenhouse containing 1,700 different species of plants. I poke my head inside and am treated to a wonderland of sights and scents—orchids, water lilies, hibiscuses, and palms, an intoxicating burst of blooms and perfumes.
The conservatory looks much as it did back when the hippies were hanging out there. Other marquee attractions in the park have undergone major renovations.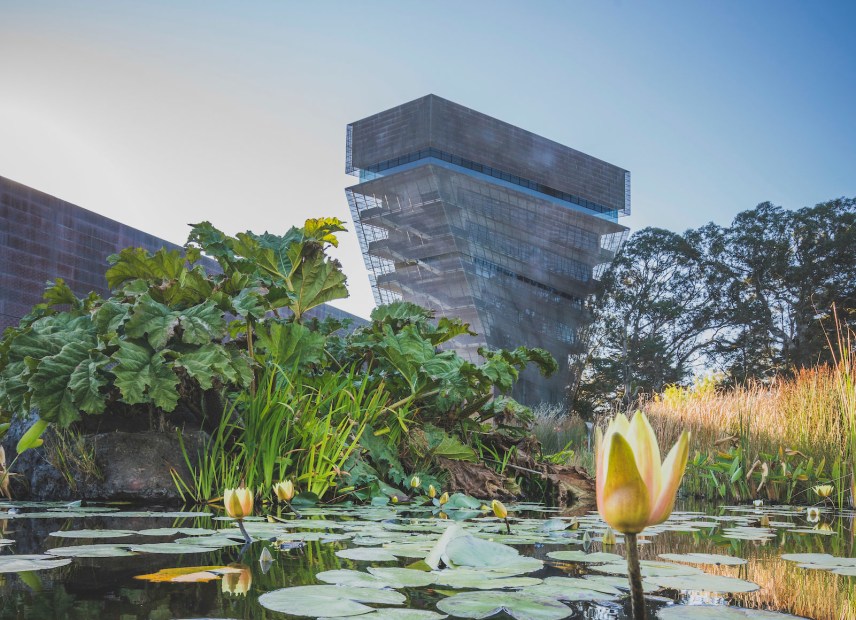 The de Young Museum, for example, was completely redone in 2005. Its world-class collection is now housed in a stunning copper-clad building; a dramatic tower rises on one flank, providing panoramic views.
Across a plaza stands the California Academy of Sciences, another park institution that has undergone a recent overhaul. A vibrant celebration of the natural world, its aquarium, planetarium, and butterfly-filled rain forest share a soaring, light-filled space capped by an undulating rooftop garden.
There's much more to the park, enough to occupy a summer of exploration, but this is just a quick stop on a single tour. As we pile back on board and head downtown, I think about the old hippie saying: "You're either on the bus or off it." I'll be off the Magic Bus soon. But that's the beautiful thing about the city where, despite all the changes of the past 50 years, the Summer of Love still endures: There's always a chance to get back on.