On Cinco de Mayo, we love to eat tacos, but why limit ourselves? With so many terrific tacos to be had in the West, any day and every day is the right time to sink your teeth into one.
Tacolicious, San Francisco Bay
That the tacos at Tacolicious are, well, delicious is a given. But you can also expect substantial portions. Double-tortillas are piled with a generous, 3-ounce serving of meat, which means you can easily take the bottom tortilla, spoon half the filling into it, and create two tacos on the spot if you're so inclined. The guajillo-braised beef is redolent of cinnamon, the pastrami with caraway-cabbage slaw is just plain fun, and the mushroom "carnitas'' are so savory you won't miss the meat. Don't forget to ask for the off-menu orange sauce, an unusual creamy, spicy blended salsa originated by San Jose's La Victoria taqueria. Homegrown in San Francisco, Tacolicious now numbers six locations in the Bay Area. A new outpost in Manhattan Beach marks its first foray into Southern California.  
Revolu Modern Taqueria + Bar, Peoria, Arizona
Growing up in San Diego near the Mexican border, Chef Jeremiah Gracia's obsession with Mexican street food began in childhood, when he and his grandparents would go grocery shopping in Tijuana, stopping to refuel with tacos along the way. Fast-forward to 2017, when he and his wife, Deeana, opened Revolu Modern Taqueria + Bar in Peoria to serve a reinterpretation of the favorites he grew up on. Named in honor of a popular street in Tijuana, and decorated with colorful Day of the Dead murals, Revolu offers a range of traditional and contemporary tacos with fillings such as house-made chorizo with crisp potatoes and lobster with chile-lime aioli. Beyond the tacos, don't miss the Piggy In A Poncho, an Applewood bacon–wrapped hot dog smothered with cotija cheese.
Taqueria 27, Salt Lake City
Tacos push the envelope at Taqueria 27 in Salt Lake City. Husband and wife owners Todd and Kristin Gardiner illustrate deliciously how a tortilla can be the perfect edible vessel for just about anything, from traditional chile citrus–marinated carnitas with charred tomato salsa and carne asada with chimichurri and pickled cactus to the more daring duck confit with crispy cracklins and crispy leek strings. Or branch out with the unorthodox grilled pears and roasted beets with gorgonzola. That same creative philosophy is even applied to the guacamole, which can be enjoyed in traditional form or topped with fresh strawberries, habañero, gorgonzola, and balsamic-agave syrup.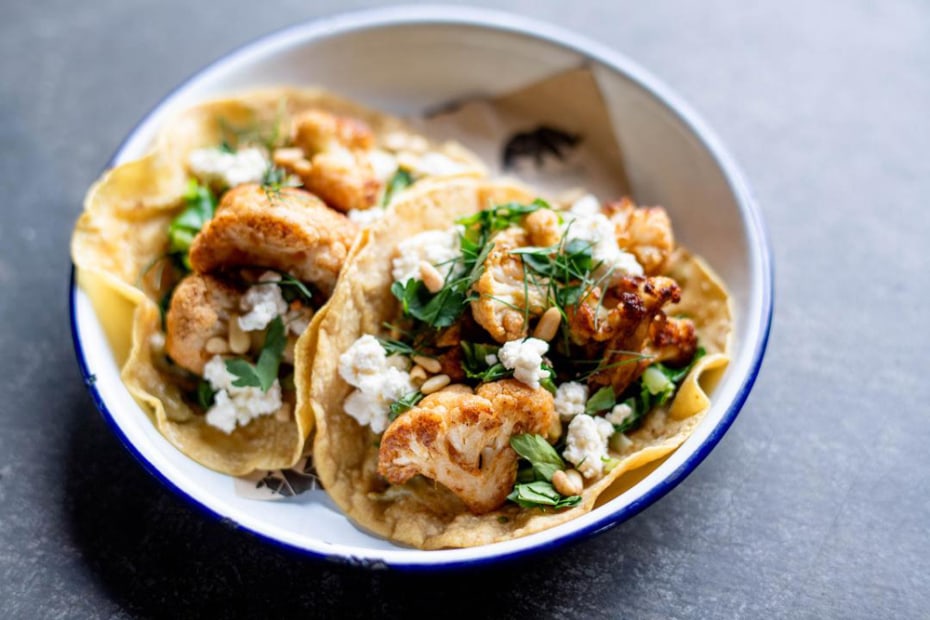 Handline, Sebastopol, California
You know the tacos at Handline are special when you walk in the door and see the tortillas being pressed by hand. But the exceptions don't stop there. Much of the produce used at the Sebastopol restaurant is grown on a nearby 2-acre farm owned by Handline's proprietors Lowell Sheldon and Natalie Goble. The tacos come two to an order and are a thing of beauty. The El Coronado features beer-battered rockfish expertly fried and finished with chipotle aioli and avocado, and the Ex Pat is stuffed with cauliflower, golden raisin and caper sauce, house-made queso fresco, toasted pine nuts, and a shower of fresh herbs. The former Foster's Freeze—which sports a breezy modern vibe in its new incarnation—still offers soft-serve, only now it's organic Straus Family Creamery in vanilla, chocolate, or a swirled combo. After the last bite of taco, it definitely hits the spot.
Calle 75 Tacos, Boise
It's obvious that Calle 75 Tacos takes its tortillas seriously when it has an entire page on its website diagramming the process it follows to take organic heirloom corn, soak it in alkaline solution, steep the mixture, and then pulverize it in a stone grinder to produce the white and blue corn tortillas made fresh daily. It takes equal care with the fillings, especially at its downtown Boise location, which is larger than its original one in Meridian and done up with striking black and white accents. The Al Pastor Del Trompo—achiote-marinated pork piled onto a vertical spit with smoked bacon and fresh pineapple like Middle Eastern shawarma—is a must. It's carved to order and tucked into one of those amazing tortillas. Also consider the Pulpo Y Chorizo, a taco enfolding citrus-poached octopus, house-made chorizo, and peanut-arbol salsa, or the Harvest, a vegetarian's delight with roasted butternut and acorn squash, sautéed kale, pico de gallo, coriander crema, and crunchy sunflower seeds.
Conchinito Taqueria, Spokane, Washington
Just look for the prominent, artsy pig head–logo sign to find Conchinito Taqueria in downtown Spokane. This sunny spot boasts street tacos elevated with primo local ingredients. Chef-Owner Travis Dickson uses his fine-dining skills to turn out sensational, accessible food. Everything is made in-house, from the corn tortillas to the chicharrones to the salsas. Tacos get filled with lamb barbacoa and roasted winter squash, Snake River Farms pork loin al pastor with pineapple adobo, and masa-fried calamari with citrus salsa. Order at the counter before finding a seat at a table decorated with a cheery little pot of succulents, where you can sip on craft cocktails or seasonal aqua frescas, such as the divine plum-lemongrass in summer, while you nosh.
Tacos & Beer, Las Vegas
At Tacos & Beer, the name says it all. This lively joint features 20 draught beers and a wide range of tacos along with a requisite over-the-top Vegas décor featuring church fresco–like art, only instead of crosses, you'll find strategically placed tacos and brewskis. Among the filling options for the former are slow-roasted beef barbacoa, shrimp sautéed with guajillo chili and crowned with cilantro-lime slaw, and slow-cooked beef tongue with pickled red onions, as well as three vegan choices including jackfruit "carnitas'' seasoned with chipotle and tamari.