Sonoma County, like many of its finest wines, gets better with age. More attractions! Amazing restaurants! New bars! Top-notch outdoor adventures! The county continues to evolve as a world-class destination, appealing to people from all over the Bay Area and all over the world.
Not all the coolest diversions in Sonoma County are well known. Some, in fact, fly so low under the radar that even locals don't know what's there. Contributing writer (and 16-year Healdsburg resident) Matt Villano recently hunted down 23 of the best-kept secrets in the county and told us why harvest season is the best time to experience them. Here, in no particular order, is what he found.
Things to Do
There are farmers' markets, and then there's the Tuesday Night Market on the plaza in downtown Sonoma. This weekly celebration of local growers and makers has a festival-like atmosphere that includes live music, dancing, and other forms of revelry. In addition to farmers hawking their produce, the market features vendors selling artisan goods and sweets including freshly baked cookies. Bring a bottle of wine and make this your destination for a light harvest dinner.
Old is new again at North Bay Letterpress Arts, a Sebastopol studio dedicated to the conservation of old-school printing methods. The studio has nine different printing presses, all restored to function the way they did hundreds of years ago. The organization hosts several one-day workshops throughout the year in which guests can get hands-on experience with typesetting and learn how to print cards, posters, or small notebooks to take home. Workshops usually last four or five hours.
Relax and rejuvenate in a pool of mineral water at Morton's Warm Springs Resort, a beloved family-friendly destination alongside Sonoma Creek in the Valley of the Moon. The springs, in operation since 1946, reopened this summer after extensive site improvements. Today it offers three pools (including one kiddie pool), a picnic area, and an on-site café that serves farm-to-table organic food. Reservations are required, and it's recommended to reserve two to three days in advance for weekends.
Stargazing needs a pitch-black sky, and the heavens above Sugarloaf Ridge State Park in Kenwood are about as dark as they come. That's why the Robert Ferguson Observatory is such a big deal. With several powerful telescopes, the observatory is the largest in the Northern California completely dedicated to public viewing. See for yourself by attending one of the regular stargazing classes, most of them led by docents and local astronomers.
The game is on at the Rewind Arcade, an upscale yet retro arcade at the Barlow in Sebastopol. The neon-happy spot opened this summer with dozens of throwback arcade games, up to 15 vintage pinball machines, and two giant TV screens for Super Smash Bros. tournaments. Guests over 21 get bracelets for the self-service wall of local and imported beers and ciders on draught. On weekends, Rewind is open until midnight, bringing legitimate nightlife to this otherwise sleepy corner of the county. 
It's hard not to have a memorable night at the Rio Nido Roadhouse in the Russian River Valley. The restaurant cranks out upscale comfort food, the bar pours stiff drinks, and the pool is open late for night swimming. On weekends in the fall, the roadhouse also hosts live bands in on the patio, creating a mini-music-festival vibe. Most nights, dancing breaks out spontaneously on the patio.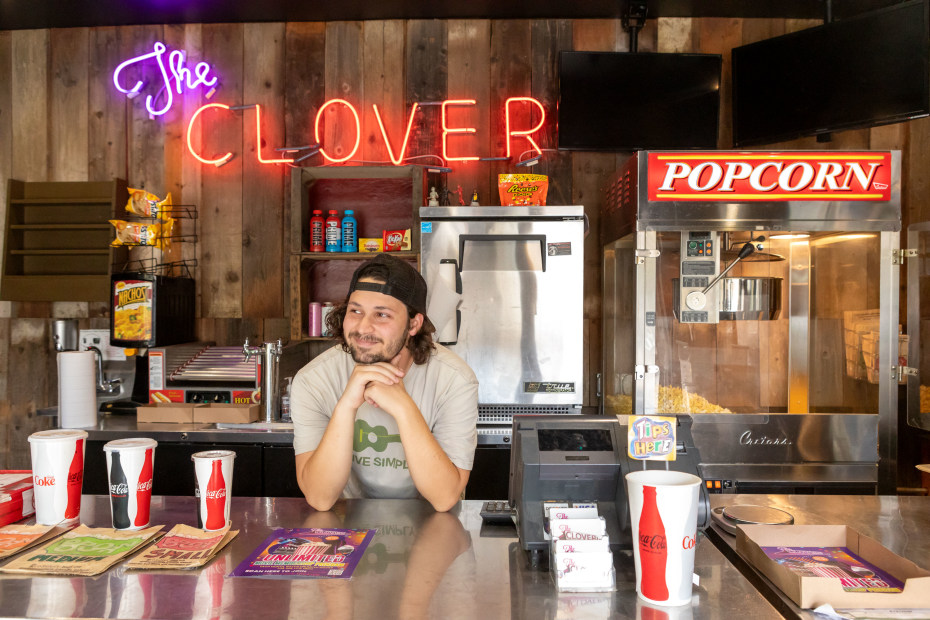 Movies are just better in old-school movie theaters. Naturally, then, seeing a movie at the circa-1950 Clover Theater in Cloverdale is special. Screening rooms are relatively small. Concessions come from an antique counter. The co-owner, Ryan Hecht, might be the person who takes your ticket. Perhaps the best part of the Clover experience is the price: The theater gets first-run films, and the matinee is $7, while evening shows are $11. That kind of value gets two thumbs up.
Fundemonium, which occupies the corner of a strip mall in Rohnert Park, is way more than your average toy store; the shop boasts tracks and rock courses for radio-controlled cars and supports a robust community of slot car enthusiasts. While many bring their own cars, anyone can go in and rent one to test-drive for a while. If you go on a Thursday night, you also might be lucky enough to catch the weekly game of Warhammer.
Things to See
Harvest time means Halloween, and Halloween tends to mean eeriness. Few Sonoma County hauntings compare to Blind Scream Haunted House in Santa Rosa, where ghouls and goblins are played by live actors. As you progress through the haunted house, creeps and crazies come out of the shadows to scare you, or howl in your ear. Even the most stoic adventurers will have a hard time keeping their screams and shrieks inside.
Yes, they serve coffee and delicious food at Brew Coffee and Beer House, a coffee shop with locations in Santa Rosa and Forestville, but the LGBTQ haven is better known for its open-mic nights. Local singer-songwriters turn out in droves every week on Tuesdays in Santa Rosa; shows are all ages and go until every musician has played at least one song. The Forestville location recently added trivia on Friday nights.
Buff bodies go flying on the third Friday of every other month at Phoenix Pro Wrestling (PPW), a family-friendly wrestling show in Petaluma's iconic Phoenix Theater. The spectacle draws male and female entertainers from all over Northern California; for two to three hours, they open cans of whoop on each other, just like in WWE Monday Night Raw. PPW events are produced by Jim Aguis and Josh Drake, Petaluma kids who have loved wrestling since the 1980s.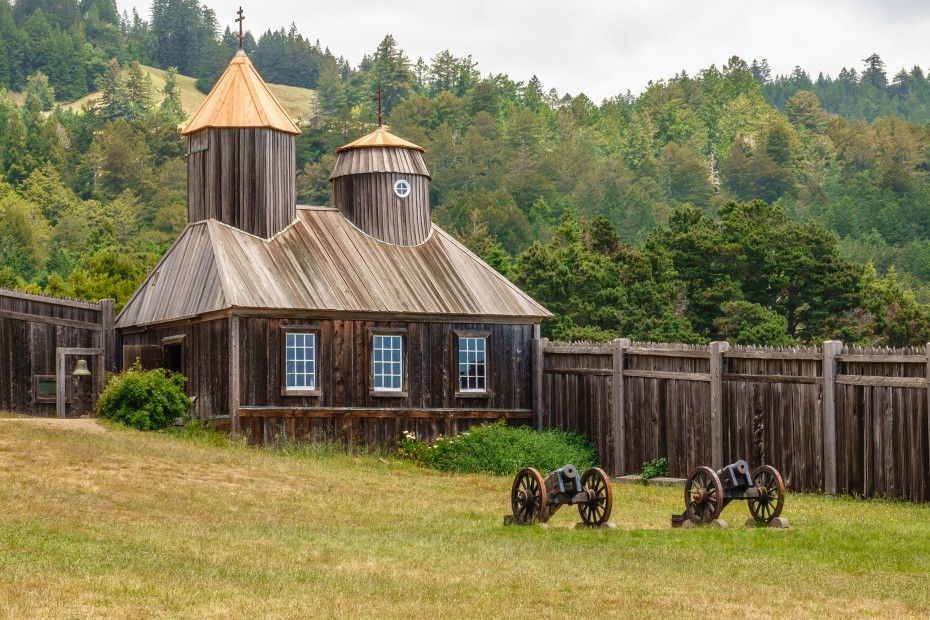 The last thing you expect to see out on the rugged and remote Sonoma County coast is a Russian Orthodox chapel. But this chapel is one of the main attractions at Fort Ross State Historic Park. Fort Ross was a settlement of the Russian-American Company from 1812 to 1841. Before that—and afterward—the spot has been of cultural importance to the Kashia Pomo people. On-site museums and docents who share oral histories are a great way to learn more.
In addition to being home to Sonoma County's only three-Michelin-starred restaurant (SingleThread), Healdsburg also holds North America's only museum dedicated to hand fans. The Hand Fan Museum, on the street level of Hotel Healdsburg, has upwards of 2,500 fans in its collection, though it usually displays no more than 50 or 60 at a time. The museum is the brainchild of Pam Sher, whose family owns the hotel. She has been collecting fans for more than 50 years.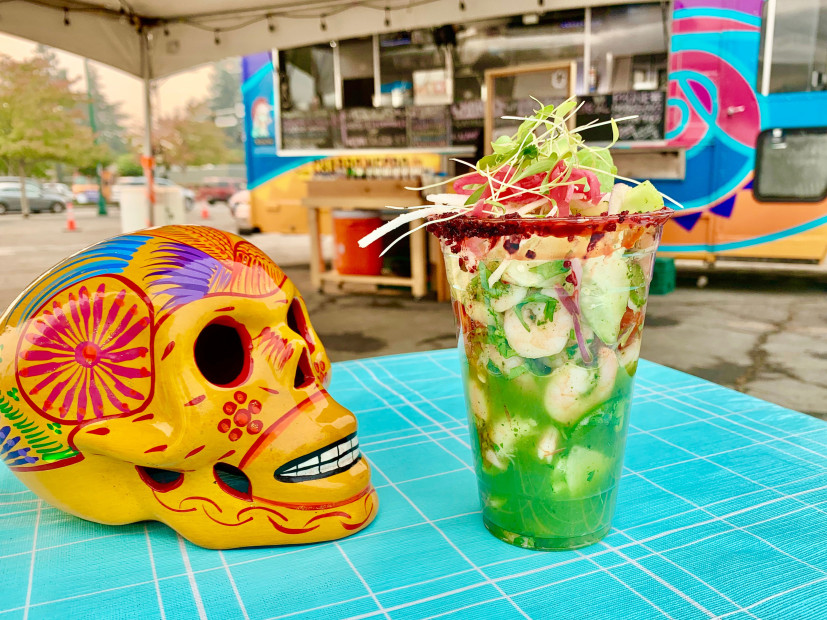 Places to Eat and Drink
Take your stomach to Mexico (without ever leaving Santa Rosa) with a visit to the Roseland neighborhood, just southwest of Railroad Square. Start the food journey at Mitote Food Park, where you can sample birria tacos, fresh shrimp ceviche, churro sandwiches, and other delicious dishes from a series of food trucks. For dessert, cross Sebastopol Avenue and head for Frozen Art, where the Alcázar family from Tocumbo, Mexico, hand-make rotating flavors such as chongos, mamey, and horchata fresh daily.
In Sonoma, fancy food is on full display at Epicurean Connection, a commercial kitchen in the warehouse district that hosts cooking classes and runs a small shop for cheese and other tasty items. The business is owned by Sheana Davis and Ben Sessions, the former of whom recently coauthored a book about compound butters with her daughter, Karina. Davis is also plugged into the local Tibetan community and regularly sells homemade momos, dumplings of the Himalayas.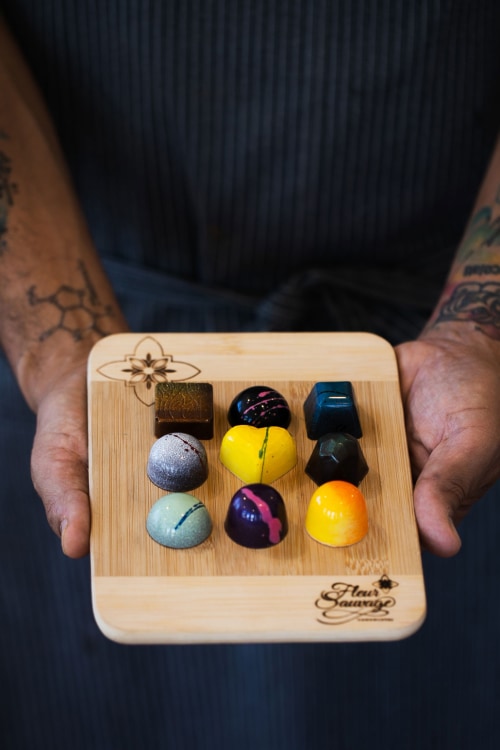 Chocolates are the stars of the show at Fleur Sauvage Chocolates, a modest sweet shop just one block off the Town Green in Windsor. Chef Robert "Buttercup" Nieto crafts dozens of different varieties of bonbons, including such favorites as whiskey caramel. Since the place opened in December 2021, Nieto has added cakes and other desserts to his repertoire, and at a sit-down tea and sweets experience throughout the week, he offers tastings of these delights. 
One of the most memorable pop-up dinners in Sonoma County is the monthly Farm-to-Table Dinner at Kendall-Jackson in Fulton. This event, held at long tables set at Kendall-Jackson's Wine Estate & Gardens north of Santa Rosa, features produce-driven menus every month, paired perfectly with KJ wines (of course). The dinner on October 7 features guest chef Kim Alter and American wagyu and Kurobuta pork from Snake River Farms in Idaho.
Consider Petaluma's newest watering hole a portal that transports guests to the tropics. Named Kapu, the joint specializes in drinks such as mai tais and jungle bird, as well as South Pacific-inspired food such as poke nachos and adobo fried rice. The space was designed by Bamboo Ben, the country's foremost designer of bars that embrace tropical escapism. If you're planning to go on a weekend, make reservations, as the line can get long.
Healdsburg lost a gem of an Italian restaurant when Campo Fina closed in 2022. Thankfully, Molti Amici, the restaurant to take its place, is equally spectacular, but in different ways. The new eatery is also Italian, serving wood-fired pizzas and a giant raviolo oozing with egg and cheese. It has brought back bocce, too. Molti Amici is the brainchild of SingleThread alum Jonny Barr, who tapped Sean McGaughey and Melissa Yanc (both of Quail & Condor Bakery and Troubadour) as co-executive chefs.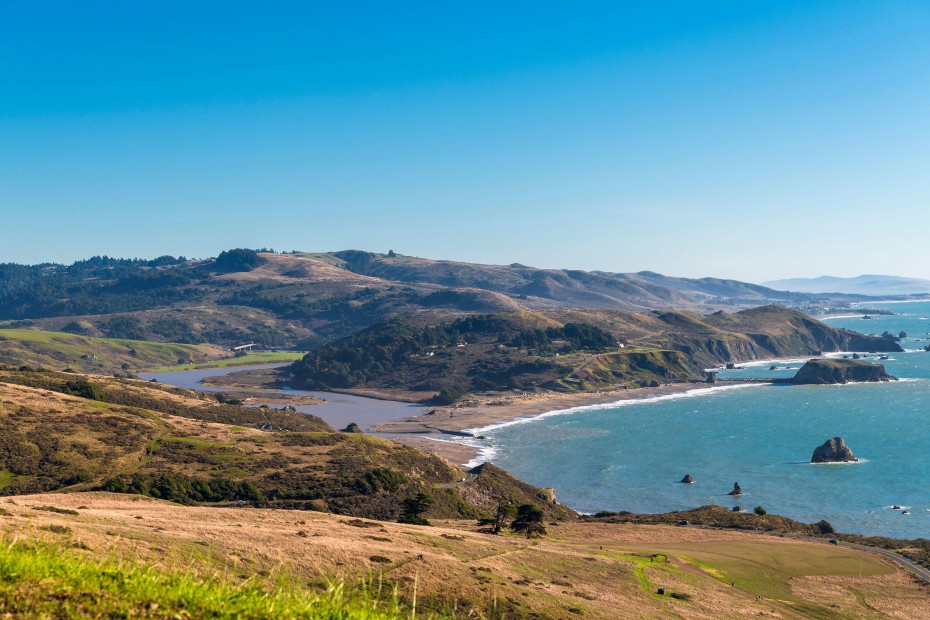 Outdoor Adventures
The climb to the top of Pole Mountain is significant on the Sea to Sky trail at Jenner Headlands Preserve, an expansive park outside Jenner on the Sonoma County coast. On a clear day, the reward for those aching hamstrings (and the 7.5 miles up): a mind-bending view of the Pacific Ocean to the west. Give space to any wayward cows about halfway up the hike; the trail goes right through working ranchland. And you know the saying "Where there are cows, there are cow pies," so beware of those, too.
Beach experiences don't get much better than Pinnacle Gulch in Bodega Bay. This secret beach is at the bottom end of a 1.2-mile hiking trail that starts near a small parking lot in a residential neighborhood just south of Bodega Bay Harbor. Once you hit the sand, look out for sea stars, chitons, mussels, and hermit crabs lurking in tide pools during low tide. In fall, the beach is also a great place for spotting whales and seals frolicking in the surf.
Paddling the Russian River is one of the most legendary experiences a visitor to Sonoma County (or a local, for that matter) can pursue. On self-guided tours with Russian River Adventures in Healdsburg, guests put in just south of the Memorial Beach dam and get picked up just beyond Wohler Bridge in Windsor before heading back. In between, the ride is slow and steady with the current—the perfect way to spend a hot summer day. 
The Grove of Old Trees is exactly what it sounds like: a stand of healthy, old-growth Coast Redwoods outside of Occidental, protected forever from development. The park, owned by LandPaths, has existed for more than 20 years, and has become a quiet (and almost mystical) place to hike and reflect. Tree caves enhance the experience for visitors of all ages. Just be mindful of the approach—access to the park is a narrow one-lane road, and there are only a few parking spots at the trailhead.