If it is possible to distill all of California's exuberance into a single perfect scene, a sunny Saturday in Monterey is it. At the heart of the city, behind storied Cannery Row, serious cyclists zip down the Monterey Bay Coastal Recreation Trail on $1,000 bikes, while out-of-breath parents chug along in canvas-topped rent-a-surreys, wishing their kids could provide a little more pedal power. At nearby San Carlos Beach Park, picnickers gaze out at the glistening bay, where speckled harbor seals bob in the waves, a wet-suited human tries to master stand-up paddleboarding, and farther out, a tour boat searches for gray whales, which it will likely find.
This is a big year for Monterey. Two hundred fifty summers ago, explorer Gaspar de Portolá arrived here, planted the Spanish flag in the sand, and founded the bayside settlement. It would become Alta California's most important city, a thriving port and provincial capital. Then the Gold Rush led fortune seekers elsewhere. In the many decades since, Monterey has risen and fallen and risen again, drawing American adventurers, Japanese fishermen, Sicilian cannery workers, and international tourists.
Monterey reveres the past but isn't stuck there. The city preserves its historic buildings and also fosters innovation as a world-class center for marine science. Downtown, timeless gardens intermingle with trendy brewpubs. On the waterfront, restaurants and retailers cleverly reclaim former fish-processing facilities. All in all, Monterey is so quintessentially Californian that it has served as a backdrop for innumerable Hollywood films and TV shows, including HBO's hit series Big Little Lies.
The city's whole scene, old-timey and modern, is best explored on foot. Two easy walks will help you get the most out of a weekend visit: The first route traverses downtown, highlighting Monterey's rich collection of surviving adobes and its revived main thoroughfare, Alvarado Street; the second runs along the waterfront, leading you to must-see attractions such as Cannery Row, the aquarium, and the wharf. Treat yourself to scenic rest stops and tasty quick bites along the way.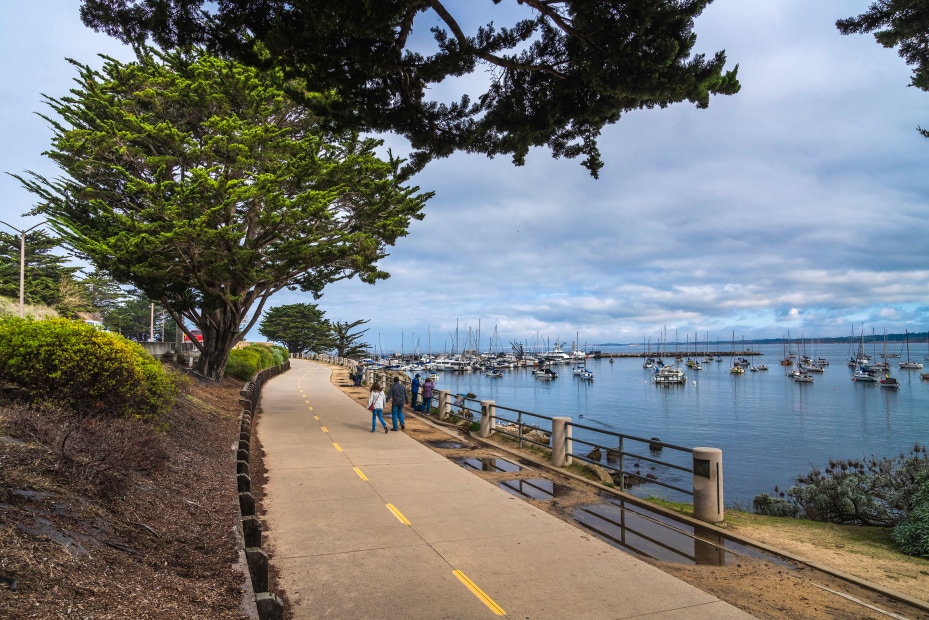 Day 1: Downtown and Alvarado Street
The ideal place to start delving into local history is the Cooper-Molera Adobe, at Munras Avenue and Pearl Street. The newly renovated site, managed by the National Trust for Historic Preservation, provides an evocative glimpse into Old California. "From Mexican rule to statehood, so much of California history is represented here," says Meg Clovis, Cooper-Molera's codirector of partnerships and interpretation.
The complex—reopened in 2018 after a two-year, $6.5 million restoration—centers on the two-story adobe built by trading ship captain John Cooper, who arrived in 1823 and married Encarnación Vallejo, a member of a prominent Mexican family. The couple's former home now functions as a first-rate museum featuring exhibits on 19th-century life in Monterey as well as period furnishings, including a venerable Steinway piano. Next door, inside a reincarnated general store, Alta Bakery and Café serves forceful coffees, flaky pastries, and melty pizzas.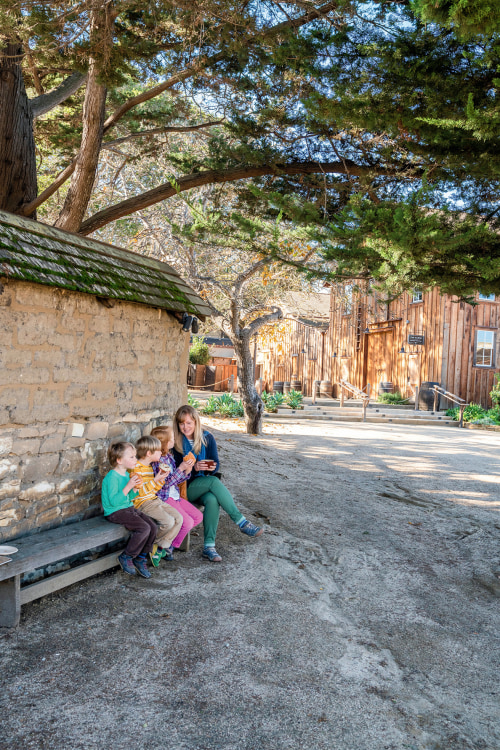 Cooper-Molera is among some two dozen such landmarks downtown. "It's been said that Monterey has the largest concentration of historic adobes outside of Santa Fe, [New Mexico]," notes Nicollette Eason Trottier of the Monterey State Historic Park Association. (Free cell phone tours let you access details about prominent buildings while you stroll; call (831) 718-9123 or (831) 998-9458 and follow the prompts.) Trottier personally is fond of the former French Hotel, located a block east, at Pearl and Houston Streets. The demure digs housed novelist Robert Louis Stevenson in 1879 while he convinced Fanny Osbourne to be his wife. These days, the site—known as the Stevenson House, open Saturdays from April through October—displays his manuscripts, first editions, and other memorabilia. After your visit, you could track down a copy of Across the Plains to read his essay "The Old Pacific Capital."
Another standout is Larkin House, located two blocks west of Cooper-Molera, at Jefferson Street and Calle Principal. Built in 1835 by pioneer Thomas Larkin, the house rarely opens to the public, but its exterior design—two stories, wraparound porches, hip roof—offers a textbook example of Monterey colonial architecture that Trottier says set the style for much of the town.
Around the corner, Colton Hall stands as an exception, a grand public building constructed of local white shale in the federal style. This is where the State of California got its start. In 1849, delegates gathered here to write the constitution that helped secure statehood the following year. The museum upstairs commemorates the occasion by displaying a copy of the momentous document and desks messy with papers and quill pens.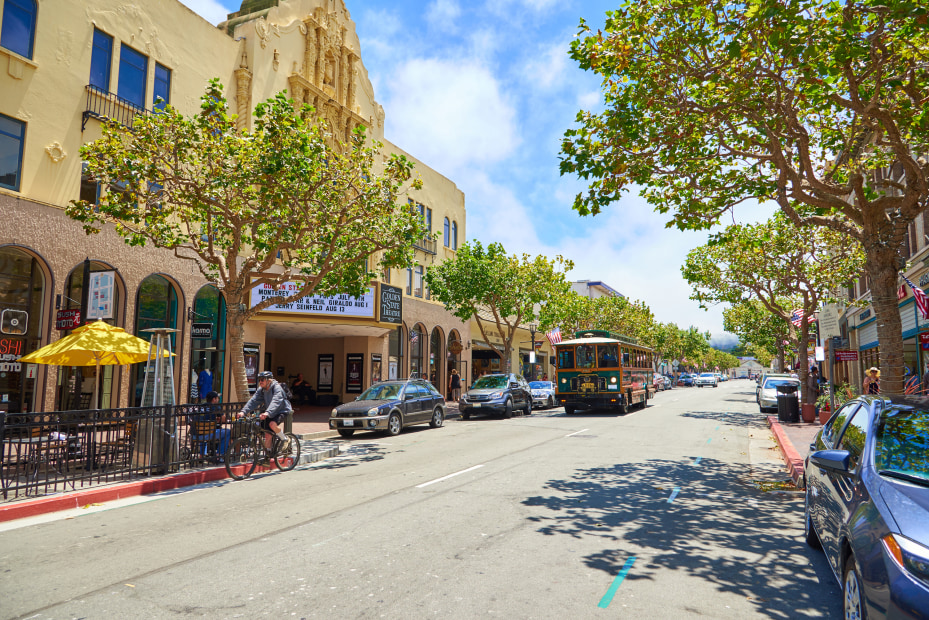 Ready for a beverage or a quick bite? Alvarado Street has you covered. Not long ago, Monterey's main drag came across as sleepy, maybe even a little forlorn, but the current vibe is busy and happy. The three blocks between Pearl Street and Del Monte Avenue hold an array of homespun and chic shops, anchored by the Golden State Theatre, a 1920s movie palace that today—100 years later—hosts live entertainment. Alvarado Street Brewery pleases craft beer enthusiasts with its Monterey lager, especially when paired with the kitchen's spicy jerk chicken sandwich. Across the street, Revival Ice Cream scoops locally sourced flavors such as the knockout Bee's Knees, a creamy organic custard laden with crunchy honeycomb candy.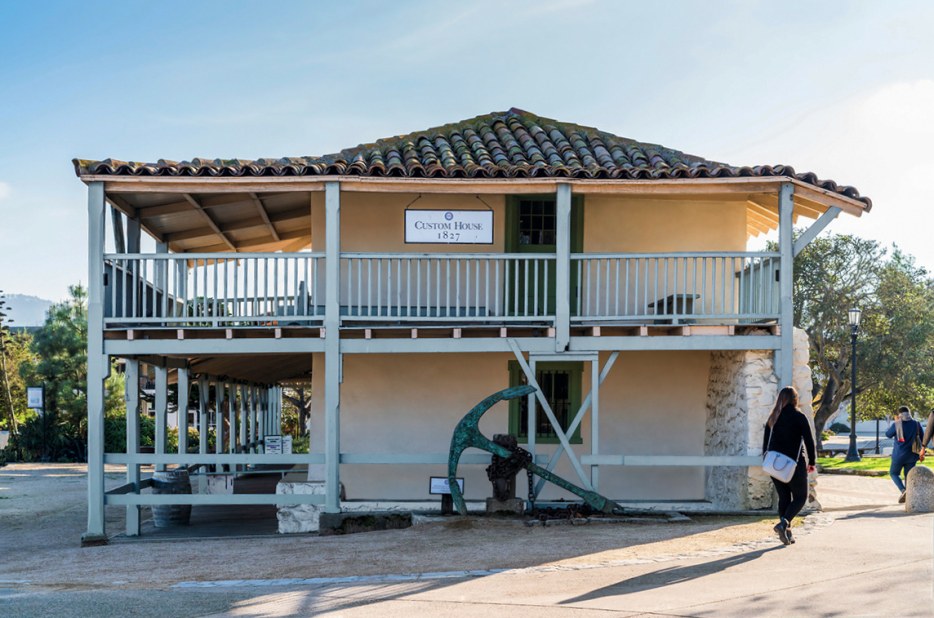 Alvarado Street ends at Custom House Plaza, where you'll encounter two more notable adobes turned into engaging museums. Pacific House, built in 1847, dedicates its second floor to the Monterey Museum of the American Indian. Displays focus on the basketry, weaving, and pottery of the Hupa, Pomo, and other Northern California peoples. The Custom House, built in the 1820s, remains the oldest government building in California. Its exhibits detail the cattle and hide trade that enriched Monterey during Mexican rule. Across the plaza, you can take in the Monterey History and Art Association's collection of sculptures, lithographs, and other creations by Salvador Dalí. Having fled Spain during its civil war, the mustachioed surrealist lived and worked on the Monterey Peninsula in the 1940s.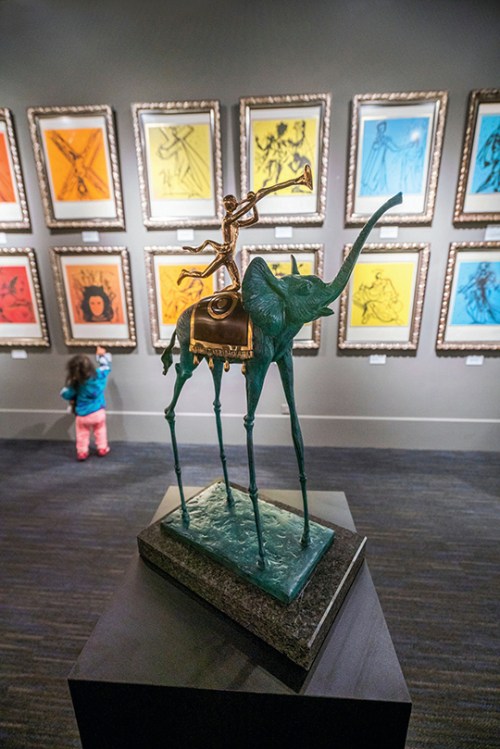 Behind Pacific House, at Olivier and Scott Streets, the Joseph Boston Store takes you back to a short-lived commercial enterprise. Boston opened the store in 1850 but gave it up just 12 years later, succumbing to the challenges of frontier Monterey. His loss. Now operated by the Historic Garden League of Monterey, the store packs nicely curated gift items, many of them with an 1850s theme, as well as garden books and regionally produced foods, including the store's own chardonnay-artichoke salsa and jams from the popular Happy Girl Kitchen.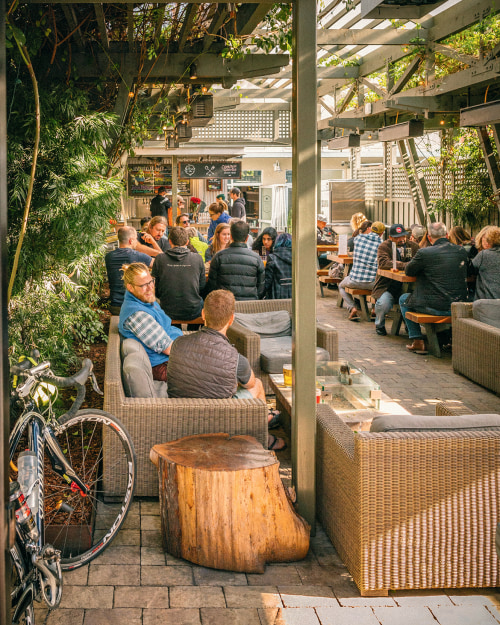 Day 2: The Waterfront and Cannery Row
Less than a mile north of Custom House Plaza, you'll encounter San Carlos Beach Park at the foot of Cannery Row. The park, which delivers sweeping views of the bay, will host part of the city's 250th birthday extravaganza on June 3. Festivities on deck include the production of a historical play and the unveiling of a 15-foot-tall ceramic-tile abalone, a sculpture befitting a city with so many ties to the ocean.
Although Monterey thrived under Spanish and Mexican rule, it declined during the Gold Rush era, outshone by boomtowns such as San Francisco and Sacramento. When prosperity returned in subsequent years, it came from the sea. Salmon, abalone, and sardines were pulled by the billions from the cold waters of Monterey Bay and canned along the waterfront. For the laborers, many of whom had immigrated from Japan, Italy, and elsewhere, cannery life was backbreakingly hard.
But it was colorful too, as the writings of John Steinbeck suggest. Steinbeck memorialized his wild waterfront youth in Cannery Row, the 1945 novel that made the raffish row famous. (He later won the Nobel Prize for Literature.) The author and his marine biologist pal, Ed "Doc" Ricketts, are captured in bronze at Steinbeck Plaza near Prescott Avenue. Call (831) 646-5640 for an appointment to visit Pacific Biological Laboratories, the nearby lab where Ricketts wrote the classic textbook Between Pacific Tides.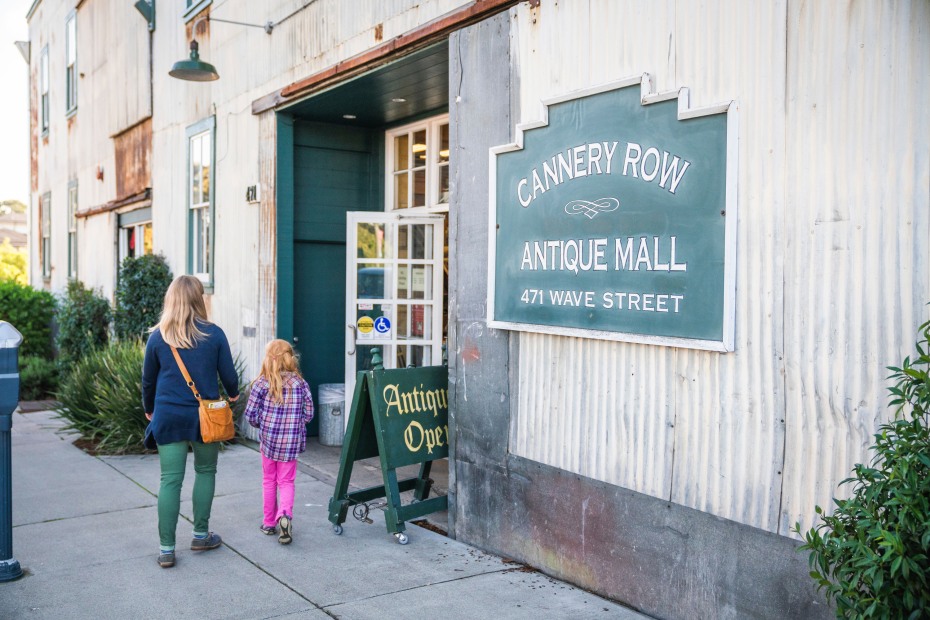 From Steinbeck Plaza, wander north among the old canneries now occupied by shops and restaurants. Pop into ZFolio Gallery for ethereal Czech art glass or Fine Art Turkish Grand Bazaar for sumptuous rugs and hand-painted ceramics. Treasure hunters may want to scoot up the hill to Cannery Row Antique Mall, at Wave Street and McClellan Avenue. Midcentury modern furniture, carved wooden seagulls, Steinbeck first editions—they're all here, somewhere, among the wares of 100 different dealers. The 1927 warehouse, one of the least altered structures still standing on Cannery Row, merits a peek on its own.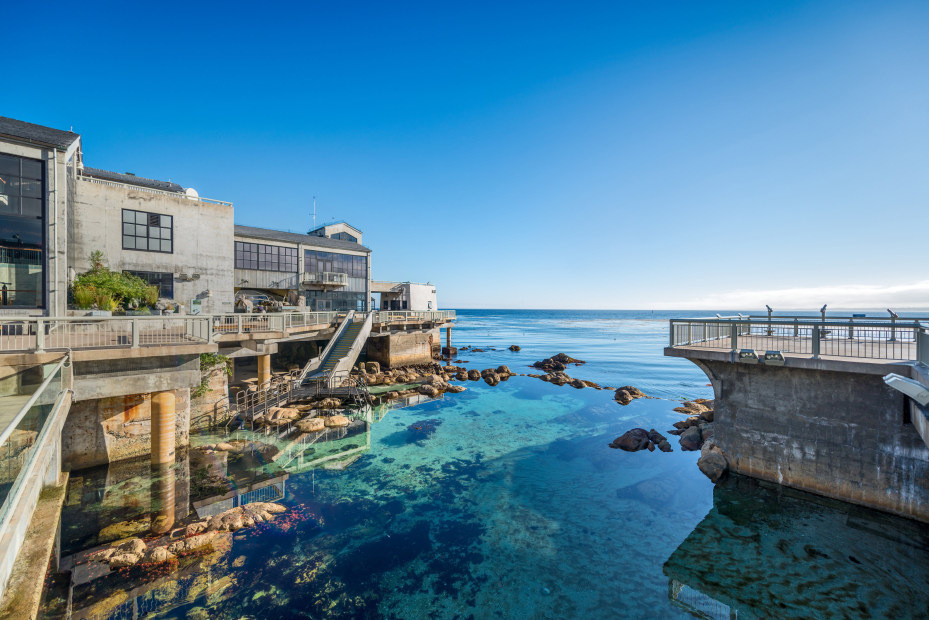 The canneries' heyday ended after overfishing and industrial pollution left the bay filthy and dead. Citizen activism and new state and federal environmental protections led to its cleanup in the 1970s, enabling a habitat once again hospitable to marine life. In 1984, the entity that defines the area today, the Monterey Bay Aquarium, welcomed its first visitors. Through its sustainable-seafood program and allied research institute, the aquarium has helped establish Monterey as a global leader in marine science. The institute's many achievements include the discovery of deep-sea organisms: To date, its experts have identified more than 200 previously unknown marine species.
Research aside, the aquarium knows how to entertain the masses. It effectively immerses visitors of all ages in the bay's utterly strange and fascinating underwater realm. You can stand before a kelp forest and eye leopard sharks as they glide through the sinuous, waving fronds, or get hypnotized by translucent, hallucinatory jellyfish. Or pet a stingray. Does terra firma even exist? Not while you're here.
Smart Tip: Some 2 million people visit the Monterey Bay Aquarium each year. To beat the crowds, arrive early and get a hand stamp, which allows you to leave during the crush and return in late afternoon when it's quieter. Or sign up for one of the small-group tours, such as Feed the Fish and Behind-the-Scenes.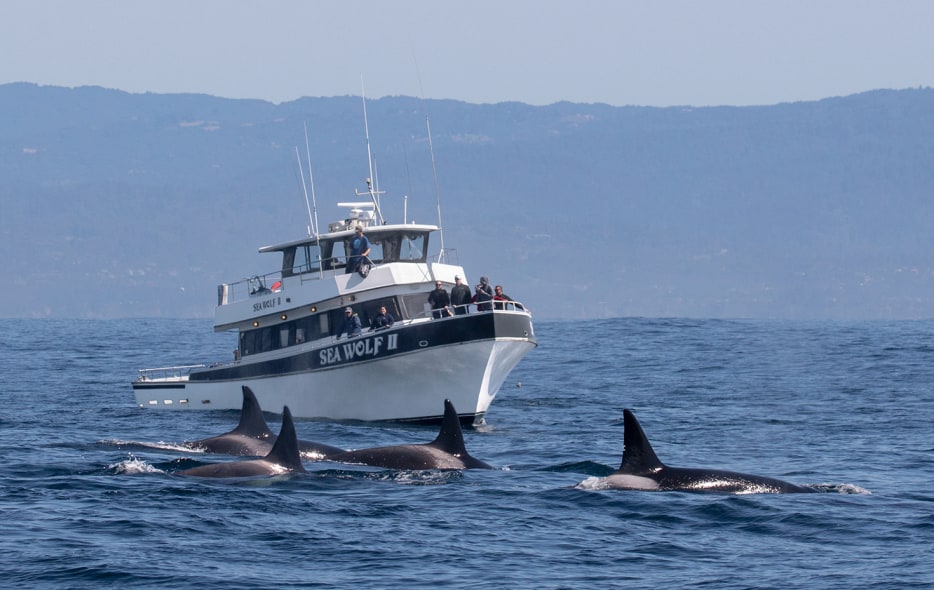 To get out on that water you've been admiring, head to Old Fisherman's Wharf by way of Custom House Plaza. (A free trolley stops outside the aquarium every 10 to 15 minutes on weekends from 10 a.m. to 7 p.m.) Migrating species pass through Monterey Bay year-round: Gray whales surface from January to March, followed by orcas, humpbacks, and blues from April to December. Monterey Bay Whale Watch runs expert tours that last three to 12 hours. Prefer to paddle a few boat lengths from cormorants, brown pelicans, and harbor seals? Sign up for a Monterey Bay Kayaks excursion.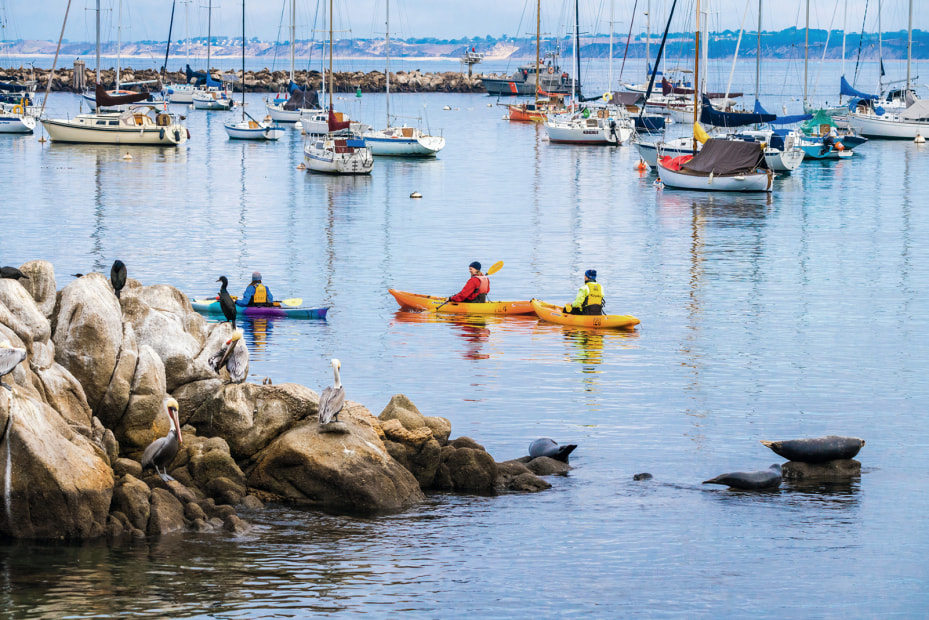 The waterfront also won't let you down when it comes to refreshment. Strolling the pier at Old Fisherman's Wharf, Big Little Lies fans may spy Paluca Trattoria and wonder, "Isn't that Blue Blues Cafe?" It is, sort of. The show's producers liked the atmosphere here so much they re-created it on a Hollywood sound stage. You don't need to be a Lies follower to snack on the trattoria's bruschetta—traditional, wild prawn, or smoked salmon—and savor unobstructed views of the harbor. Nearby, next to the Municipal Wharf, Dust Bowl Brewing Co. revives a 1915 railroad depot. Grab a Hops of Wrath, its flagship IPA, to salute Steinbeck.
Back on Cannery Row, newcomer Pearl Hour on Lighthouse Avenue seduces craft cocktail lovers with concoctions such as the smoky yet floral Pearlescent (mescal, gin, dry vermouth, bergamot liqueur, and yarrow tincture). The Fish Hopper pulls in crowds with creamy clam chowder based on a 70-year-old family recipe and crispy panko-coated Pacific sand dabs. A Taste of Monterey Wine Market and Bistro lets you sip wines from Hahn, Scheid, and more than 80 other county vintners—and pair them with flatbread pizzas. Raise your chardonnay or pinot noir, gaze out at the water, and toast your exuberantly perfect Monterey days.