In this small, gentle throwback to the days when the Sierra Nevada was a destination for those seeking a quiet escape in the scenic mountain wilderness, the focus remains on year-round, outdoor fun—everything from schussing down snowy slopes to hiking and biking through meadows and splashing around crystal-clear lakes.
Sitting midway between Lake Tahoe and Yosemite as the crow flies, Bear Valley (elevation 7,030 feet) is often easier to reach than other Sierra destinations during the winter. It's on Highway 4, which climbs from Angels Camp, and remains unplowed—beginning just beyond Bear Valley's downhill ski area—from roughly November through Memorial Day. There's no crossing icy mountain passes or battling congestion on Interstate 80 or U.S. 50 to get here.
Bear Valley was a child of the 1960s and something of that mellow era remains in its walkable village, a collection of low-rise houses and condos centered on a wood-shingled lodge offering simple guest rooms, a few shops, and three restaurants. Time has not entirely stood still here, with restaurant renovations, new condos over the years, and the recent addition of a summer glamping option with tents featuring queen beds, a wood-burning stove, solar-powered electricity, and breathtaking views over the rugged Mokelumne Wilderness. But the heart of the community remains the Cathedral Lounge, the lodge's four-story, timbered lobby with a granite-boulder hearth where folks gather for a rousing game of cards or a spot of live music after having spent the day outdoors.
Here's a winter-summer breakdown of Bear Valley's outdoor pleasures.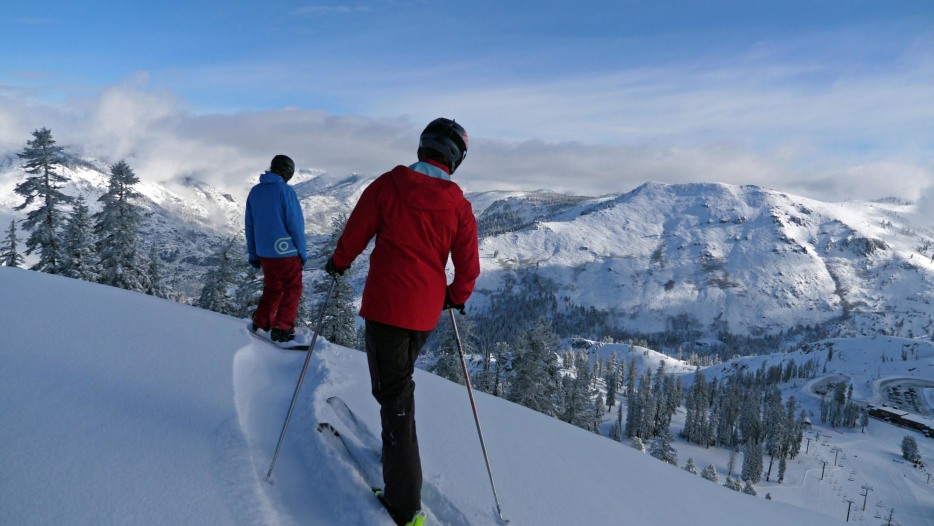 Bear Valley in Winter
The downhill ski area has a reputation for short lift lines and reasonable prices—as low as $79 for an all-day adult lift ticket (during the '18-'19 season), which at many other resorts runs north of $100. It lies about three miles east of the village on National Forest Land, with a free shuttle connecting the two. Skiers and boarders will find beginner and intermediate terrain parks and 1,680 skiable acres with a 1,900 vertical drop. More than 75 runs (25% beginner, 40% intermediate, and 35% advanced) are accessed by 10 lifts, including a new high-speed six-pack chair lift and a high-speed quad lift. Natural snowfall is augmented by a snow-making system recently enhanced with automated equipment. In an unusual twist, it's an "upside down" mountain, with the more difficult runs lower than the easier ones.
Looking for some wintery solitude or simply a break from the slopes? At the Nordic area, Bear Valley Adventure Co., you can cross-country ski or snowshoe on 38 groomed trails crisscrossing 3,000 acres, or go farther afield on surrounding U.S. Forest Service trails. You'll also find a trailside cafe and huts, plus a groomed sledding and tubing area.
Winter fun continues into early spring. In most years, the downhill area still has enough snow for skiing and boarding in March and April. And given its elevation of 7,000–7,800 feet, the cross-country area usually stays open longer than any other Nordic center in the Sierra, closing around mid-April.
Bear Valley in Summer
By the end of May or early June, Highway 4 reopens beyond Bear Valley, the Nordic center morphs into Bear Valley Adventure Company for the summer season, and it's time to break out the hiking boots, bikes, kayaks, canoes, and gear for fishing and camping.
A pleasant hike-or-bike trail leads several miles to the Lake Alpine Lodge, where you can rent watercraft, take a chilly dip, and enjoy lunch on the deck of a seasonal restaurant overlooking a bewitching, deep-blue oval of water; the resort also rents cabins for overnight stays. Backpackers can roam and camp for days without encountering another soul in the nearby Mokelumne and Carson-Iceberg wilderness areas. Mountain bike enthusiasts flock to the region's trails, especially around fall's Fat Tire Festival.
Summer's biggest event is the Bear Valley Music Festival, which recently celebrated its 50th anniversary. The three-week concert series starts the second-to-last Friday in July and draws classical, pop, jazz, and country acts to a huge tent that serves as a concert hall with an orchestra-sized stage. Past headliners have included Roseanne Cash, Dave Mason, and Grammy-winning jazz violinist Mads Tolling.
Late summer brings sunny days, chilly nights, and fewer visitors. You can continue to kayak, canoe, cycle, and hike well into October, with a seasonal bonus: Fall colors are often spectacular.