The story of how the West was won over to a distinctive architectural style starts at Frank Lloyd Wright's Hollyhock House, which sits on a hill in a park in East Hollywood, Los Angeles. In terms its Hollywood neighbors would understand, the home he created for oil heiress Aline Barnsdall between 1919 and 1921 is a prequel, introducing some key characters and storylines.
Breaking away from the popular European-influenced beaux arts and Spanish colonial styles of the time, Wright drew inspiration from the Mayan pyramids, evident in the home's inclined upper walls and colonnades, and the statues in Central American temples, evoked in abstract figures carved on the exterior and interior walls.
Working on the building were two young Austrian men putting war-torn Europe behind them, Richard Neutra and Rudolph Schindler, apprentice architects who would go on to produce key mid-century modern buildings, responding, in part, to Wright's work.
The house plays with elementary shapes, featuring circular rooms, elongated corridors, and a lack of symmetry throughout—all rejections of the boxiness, the regularity, the rectangularity of the past. "It feels both prehistoric and futuristic," says Sam Lubell, author of the Mid-Century Modern Architecture Travel Guide, and that's true of much of Wright's Western work; the uncanny feeling is one reason so many of his buildings have been used as settings for science-fiction and horror films.
The ideas and aesthetics rooted here (in part) would go on to influence many important modern buildings on the West Coast, and you can view quite a few of them by car. This road trip, along an architecturally fertile crescent, takes design lovers through Arizona, California, and Nevada.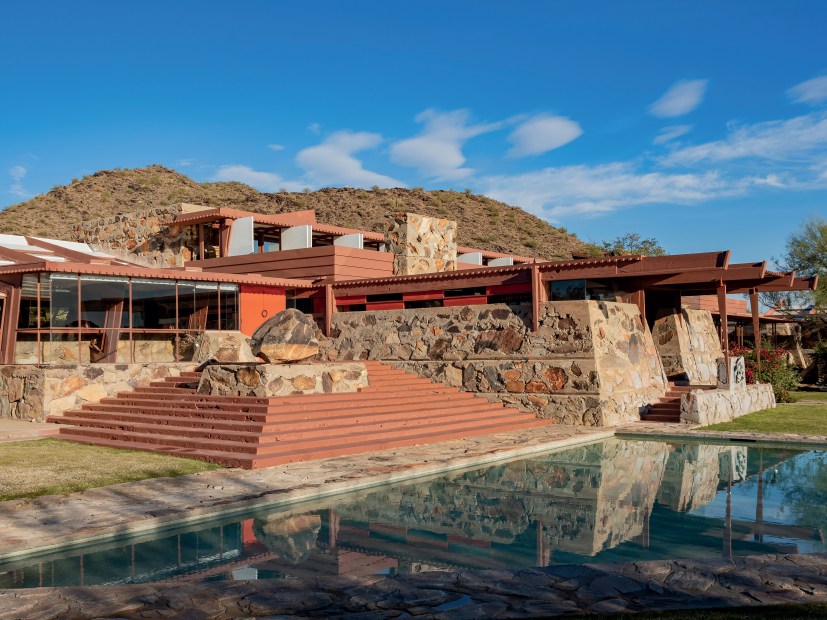 Arizona
Built less than 20 years after Hollyhock, Wright's winter home, Taliesin West, borrows, literally, from its site halfway up a mountain in Scottsdale, Arizona. The trainee architects who studied here took yellow, pink, and brown desert rocks from the site and combined them with concrete for walls. Again, there's the ancient-modern feel. There's also outside-the-box shape-play, with triangular courtyards and a jagged roofline mimicking the mountain ridge above. 
Wright pupil Paolo Soleri took this permission to embody a dream in another ancient-meets-modern complex, Arcosanti, roughly an hour north of Phoenix. An effort to live light on the land, Arcosanti is a dense village, built up around a communal space cupped by huge stenciled-concrete arches—a modern, ecological take on an Italian hill town. 
Wright's son Lloyd helped his friend, the drugstore heiress and sculptor Marguerite Brunswig Staude, in the early stages of planning another architectural wonder, the Chapel of the Holy Cross in Sedona. Jutting from a massive cleft in the pink rocks that characterize the region is a red stone chapel, built around a 250-foot-tall structural cross, all carefully designed by the San Francisco firm of Anshen + Allen, responsible for many great buildings around the West.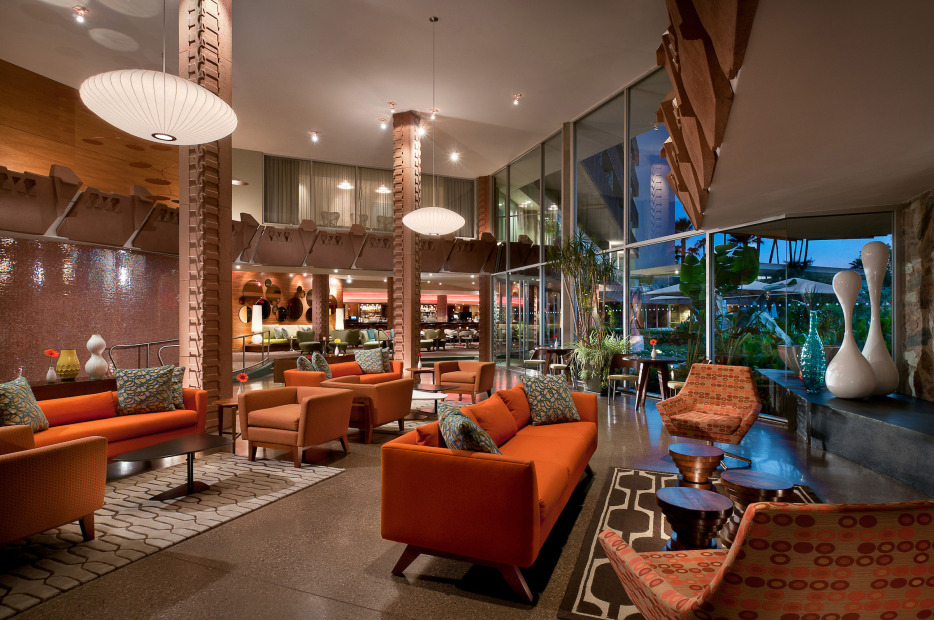 Phoenix has such a glut of fine, often playful modernist buildings that the city inevitably became a backdrop to a fast-paced scavenger hunt for the architectural tourist. The crescent-shaped Chase Bank (at 44th Street and Camelback Road) with the concrete mushroom-like shade structures—check; the old Revlon Factory (turned indoor marijuana farm) with its streamlined, lipstick-red columns—check; 300 Bowl (Bowlero Christown), a bowling alley with a massive, upswept triangular roofline—also check. (The 300 Bowl building is a prime example of Googie modernism, which used new building technologies to create futuristic, three-dimensional shapes.) 
A high-design respite after such a rushed day is the Hotel Valley Ho, a mid-century modern landmark in its own right. Leave time for concierge Ace Bailey's Magical History Tour, in which she discusses the hotel's design and its 1960s heyday as a hideaway for reclusive Hollywood stars and Rat Pack singers.
Where to Stay
Hotel Valley Ho, Phoenix: A louche Rat-Pack hangout way back when, the hotel was recently given a solid, sensitive refresh.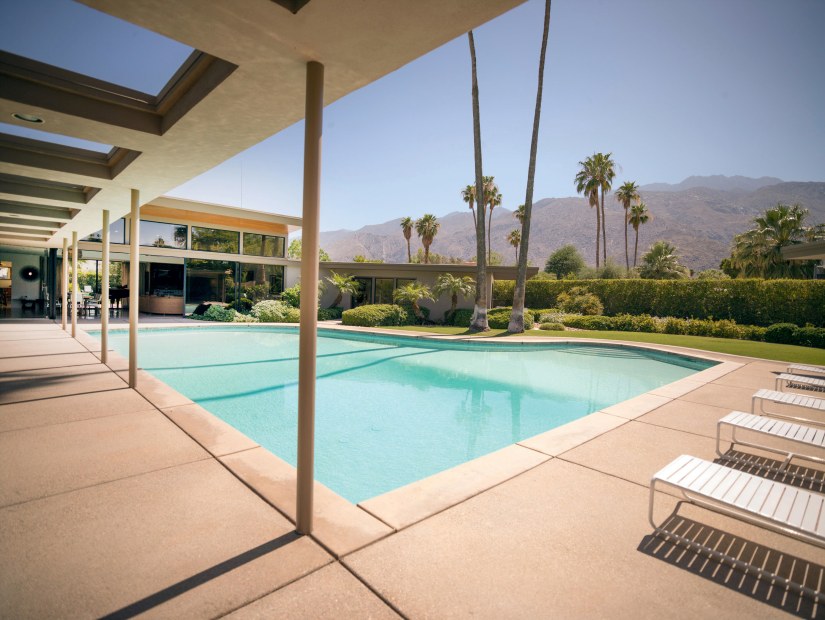 Southern California
Across the Sonoran desert, in Palm Springs, California, Wright got a comeuppance. When department-store magnate Edgar J. Kaufmann went to choose an architect for his Palm Springs home, he overlooked Wright—he wasn't a fan of Taliesin West—and hired one of his former apprentices, Richard Neutra. A severe essay in glass and steel, with louvered aluminum shutters to block the sun, the Kaufmann Desert House is "a machine in the garden," in Neutra's words. In the book Palm Springs Modern, by Adèle Cygelman, scholar Beth Harris described it as "zen-like, not like the 'martini modernism' that sprang up here five years later." 
Lovers of martini modernism should seek out the Frank Sinatra House (with its pool shaped like a grand piano), built for the singer by E. Stewart Williams, or the swank pad where Elvis and Priscilla Presley honeymooned, the House of Tomorrow, with its look of a just-landed airplane. There are Googie pieces here, too—the Palm Springs Visitor Center, a former gas station sheltered under a big triangular canopy, and the old Coachella Valley Savings and Loan (now a Chase) on the main drag, Palm Canyon Drive, with its frontage of inverted parabolas. 
Head via the San Gorgonio Pass to San Diego to check out the extraordinary First United Methodist Church, a parabola-shaped, massive midcentury cathedral made of white concrete and steel. Then head to one of modernism's own high temples, the Salk Institute, the research center that Louis Kahn built for Jonas Salk, the man who developed a vaccine for polio. The brutalist-style center features two banks of white concrete structures verging toward the Pacific, between them a narrow canal of water reflecting the sky. The building is impressive online, its fearful symmetry featured in many architecture coffee-table books, but being here is something more, much more.
Drive up the coast toward Los Angeles, but make one stop along the way. South of the city, in Rancho Palos Verdes, on a hill overlooking the Pacific, is the son Lloyd Wright's masterwork. Built for the nature-loving Swedenborgian Church, the Wayfarers Chapel has a clear glass ceiling highlighting a canopy of outdoor forest, the elegant curves of the wood tracery seeming somehow out of a J.R.R. Tolkien tale. 
Proceed to Los Angeles to see many more glass houses. Don't miss Neutra's masterpiece, the Neutra VDL Studio & Residences, and the Schindler House by fellow Wright apprentice Rudolph M. Schindler, both open to the public. Another Wright disciple, John Lautner, created a house shaped like an eye, the Garcia House (named for his client) perched on a steep incline just below storied Mulholland Drive.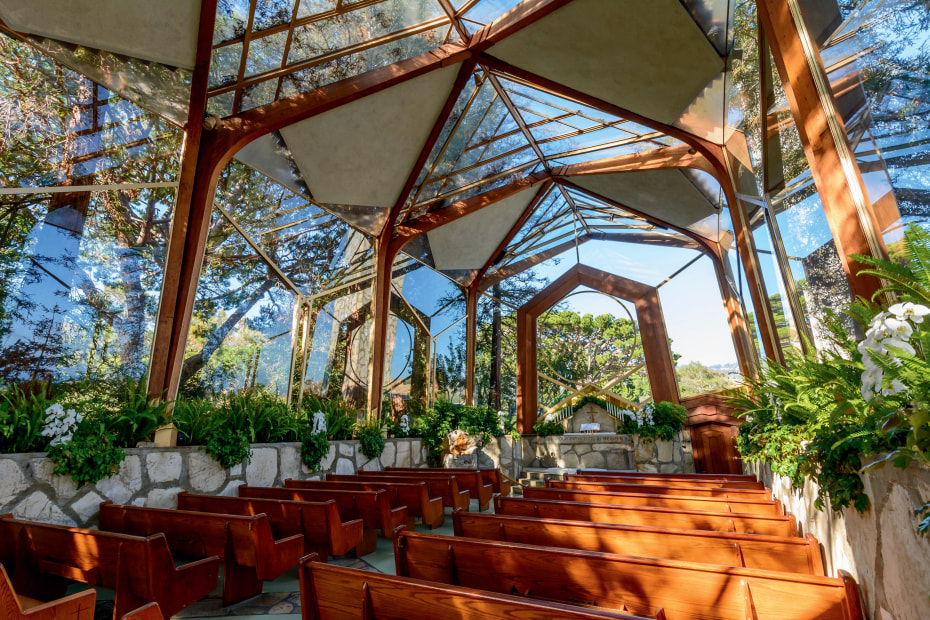 Farther up the coast, Santa Barbara provides a breather from modernism's high solemnity. Just reopened to the public after nearly 70 years of lying vacant is another structure built for an heiress, Bellosguardo, a U-shaped stone and plaster mansion inspired by 18th-century French architecture. The more than 23-acre grounds offer a nearly 360-degree view of the Pacific ocean.
Move on northward to San Luis Obispo, where the archi-tourist can head to California Polytechnic State University and take a scenic hike to what students dubbed the Architecture Graveyard. There, generations of future architects have built follies, many deploying modernist-beloved shapes—parabolic arches, geodesic domes, a floating triangle—with others trying out more original concepts. The trail starts at Poly Canyon Road.
Where to Stay
The Kimpton Rowan, Palm Springs: This stylish downtown hotel's rooftop has cabanas and a pool right out of a David Hockney painting.
The Lafayette Hotel and Swim Club, San Diego: An extraordinary, $31-million renovation has turned this 1946 hotel into something out of a Wes Anderson film, with retro diner, magazine kiosk, bowling alley, and Tiki-accented bar within.
The Kimpton Everly, Los Angeles: Enjoy epic views over West Hollywood and a vast, high-design lobby where fashionable guests take meetings and sip coffees and cocktails.
The Hideaway, Santa Barbara: A small property made luxuriously Zen in a recent renovation, the Hideaway is not far from the hopping Funk Zone neighborhood.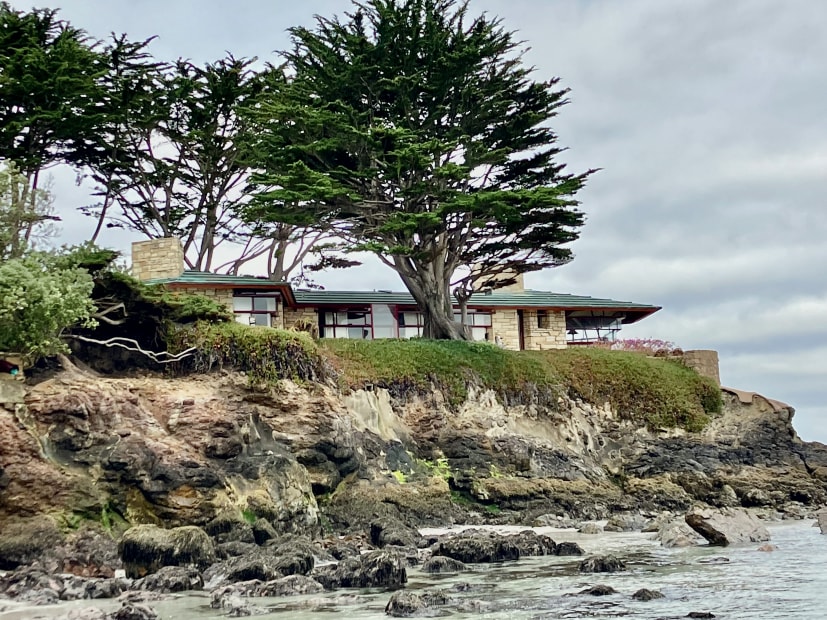 Central California
Head still farther north to Carmel-By-The-Sea, where ocean views unfold along Scenic Road, and you can't miss Wright's only oceanfront home, Walker House. It's essentially a transplant of one of his ultra-horizontal prairie homes, small and spare, and it recently sold for a cool $22 million. Continuing up the coast, partway through the storied 17-Mile Drive is the one-off Shell House in Pebble Beach, by Wright protégé Mark Mills, which sits like an open scallop on the coast, its arched windows giving directly onto the sea.
One-off houses cost, though. Many modernists wanted to build for the middle class, not just artistically inclined heiresses and department store tycoons, but most of their signature works were bespoke, constructed without much regard for expense. 
Enter Joseph Eichler, a New York butter-and-egg-company executive turned developer who also sought escape out West. Inspired by his brief residency in a Wright home, Eichler teamed up with Anshen + Allen, the San Francisco firm that helped design that cliff-top chapel in Sedona, and A. Quincy Jones, an architect well known for his modernist work in Palm Springs. Together, they created affordable, unpretentious glass houses. Few had garages, most only carports—a word invented by Wright—and they were usually unified by a central inner courtyard, the grounds as carefully planned as the interiors.
Snapped up in the post-war period, Eichlers have since become fetish objects. Famous clusters of them dot the San Francisco Peninsula and Marin County, but there's also one well-preserved, lesser-known grouping inland, in Sacramento—in the South Land Park neighborhood, specifically on South Land Park Drive, Fordham Way, and Oakridge Way.
Where to Stay
Geneseo Inn, Paso Robles: Shipping containers were ingeniously converted into stylish, mid-vineyard suites.
Tally Ho Inn, Carmel-by-the-Sea: An early 20th century, beautifully decorated cottage that was expanded into a mansion in the 1945 by Hugh Comstock, the man behind the seaside town's distinctive fairy-tale cottages. It was turned into a boutique hotel in the 1950s, and has been meticulously perserved by all owners since.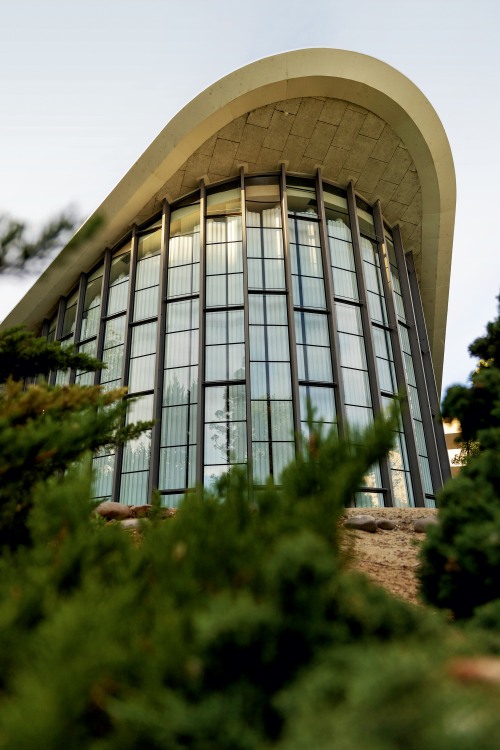 Nevada
Over the Sierra Nevada, at last, to Reno, you come to the parabola-shaped Fleischmann Planetarium and Science Center. When it went up in 1963, Raymond Hellman's building was the first with the ability to simulate both day and night inside, mimicking thunderstorms and rainbows, all while doing a planetarium's core function of projecting the heavens on a dome within. It was, in short, a man-made marvel, a piece of can-do Americana and gee-whiz optimism.
This, perhaps, explains the enduring appeal of modernism—it speaks of what was, for many, a hopeful moment. As Jonas Salk said, in words embedded in stone at the Salk Institute: "Hope lies in dreams… and in the courage of those who dare to make dreams into reality."
Where to Stay
Hyatt House Sacramento Midtown, Sacramento, California: A recent renovation of this circa-1928, Moorish-Byzantine-style Masonic Lodge has well appointed rooms and a spectacular bar and dining room.