Thanks to an increasing number of municipalities, hotels, and national and state parks offering EV chargers, travelers can plug-in and enjoy a meal, hike, or overnight all in one stop. Here are six exceptional charging stations that won't leave you itching to get back on the road.
Carmel-by-the-Sea, California
As Highway 1 winds along California's central coast, it serves up spectacular waterfront vistas that have made the route a road trip icon. See the scenery at a slower pace in Carmel-by-the-Sea. The quaint town is an ideal pitstop with EV charging stations and a walkable, one-square-mile village of boutiques, galleries, and restaurants set in charming, storybook buildings. Plug in to one of Carmel Plaza Garage's six Tesla chargers or the Sunset Center's seven J-plugs, and head to Stationæry, an intimate eatery with seasonal dishes such as Dungeness crab cake sandwiches served in a picturesque courtyard. Afterward, stroll down Ocean Avenue to the white-powder sands and turquoise waves of Carmel Beach.
Death Valley National Park, California and Nevada
Straddling the California-Nevada border, this vast national park—the largest in the contiguous United States—encompasses more scenery than its morbid moniker might imply. After marveling at the golden canyons of Zabriskie Point and otherworldly salt rock landscape of Devil's Golf Course, recharge at the nearby Ranch at Death Valley with free, solar-powered J-plug chargers, numerous eateries, and an 18-hole golf course. On the Nevada side, the former mining town of Beatty features 11 chargers (eight Tesla Superchargers, two J-plugs, and a CCS and CHAdeMO) within walking distance of Happy Burro Chili & Beer, where the Claskey family dishes up Angus beef chili in a historic, memorabilia-filled saloon. On the town's outskirts, explore Rhyolite, a gold mining ghost town that boasts an eccentric miner's home built from 50,000 medicine and whiskey bottles. The adjacent Goldwell Open Air Museum features the 12 shrouded figures of artist Albert Szukalski's "The Last Supper."
Hendy Woods State Park, California
Situated between Sonoma's Wine Country and the Mendocino Coast, the Anderson Valley delights with sweeping scenery of vineyards, apple orchards, and coastal redwoods. You'll find the latter at Hendy Woods State Park where two free J-plug chargers at the visitor center allow EV travelers to recharge amongst the giants. From there, it's a short walk to the half-mile Discovery Trail, which meanders under the 1,000-year-old skyscraping redwoods of Big Hendy Grove. Venture further via the Hermit Hut Trail, and you'll spot the downed redwood that once served as a makeshift domicile for a forest-dwelling recluse. Near the park's entrance, the Philo Apple Farm's honor system stand brims with seasonal fruit, hand-crafted apple cider, and homemade jams.
Point Reyes National Seashore, California
Visitors to this serene, seaside preserve in west Marin County will find three complimentary J-plug chargers and a bevvy of activities at the Bear Valley Visitor Center. Peruse wildlife and natural history exhibits before trekking one of the many trails just outside. The Woodpecker Trail packs a lot of scenery, from a forested creek to wildflower-filled meadows, in .7-miles. Grab lunch from nearby Inverness Park Market—the West Marin Reuben is a local fave with house-cured pastrami, Point Reyes Toma cheese, and Brickmaiden sourdough rye—and enjoy at the center's picnic area set under a canopy of California bay laurels.
Grand Canyon National Park, Arizona
While charging stations at the North Rim and in the gateway town of Tusayan are also worth a stop, the J-1772 and Tesla chargers in the heart of Grand Canyon Village at the South Rim offer opportunities to rest or dive into the park. From here you can ride the free shuttle bus (masks required) along the rim and sightsee at Mather Point, Pipe Creek Vista, and Yaki Point. Or stretch your legs on the moderate, 3-mile round trip hike into the canyon on Bright Angel Trail to 1.5-Mile Resthouse. For a more leisurely adventure, walk the halls of the Hopi House, or pull up a chair near the fire pit on the patio of Yavapai Tavern and dig into an artisan pizza or a specialty burger, such as the elk burger with tomato bacon jam and melted pepper Jack, cheddar, and smoked gouda.
Virginia City, Nevada
Located roughly 35 miles southeast of Reno in Nevada's Virginia Range, this former Gold Rush boomtown offers Old West charm and modern delights. Plug in at Storey County Courthouse (two Tesla chargers, one J-plug charger) or Gold Hill Hotel (1 Tesla charger), the oldest operating hotel in the state, before wandering the town's wooden sidewalks lined with 19th-century facades. Delve into the mine shaft hidden within The Ponderosa Saloon, join a thrilling ghost tour of the Old Washoe House, and discover an 1870s classroom at Fourth Ward School, the last multi-storied wooden schoolhouse in the nation. The town is famed for its abundance of historic saloons, but for heartier fare, try a Monte Cristo waffle sandwich at The Roasting House, or the fried chicken platter at Cafe del Rio, a Tex-Mex spot housed in a former 1873 grocery store.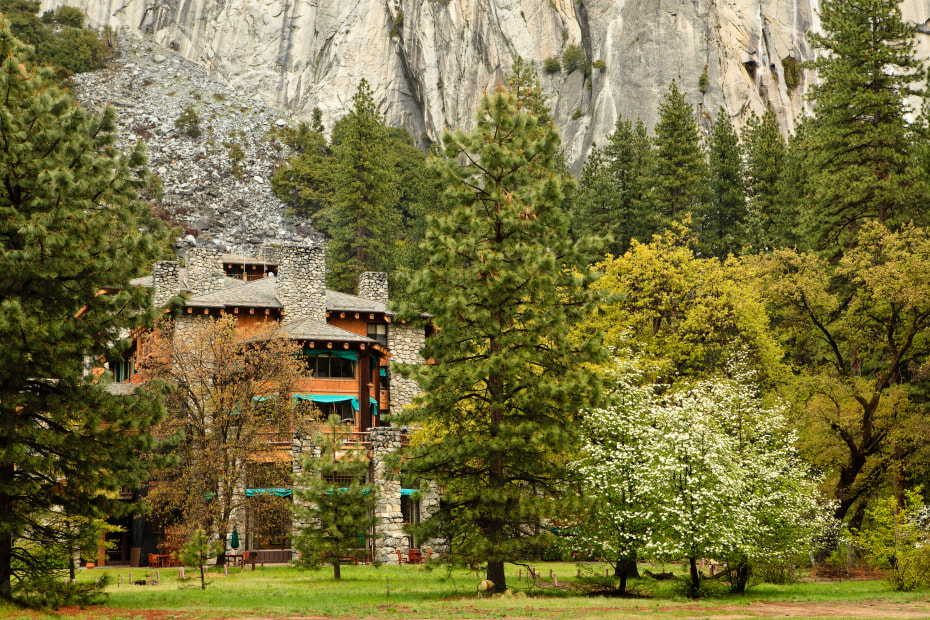 Yosemite National Park, California
The Sierra Nevada stunner is a beneficiary of the National Park Service's effort to install EV charging stations throughout parks and their immediate surroundings. The most notable within Yosemite Valley are the J1772 (J-plug) and Tesla chargers at the Ahwahnee Hotel, whose grand, chandelier-lit Dining Room restaurant transcends the usual roadside eatery. Request the Queen's Table, which sports views of the valley and Upper Yosemite Falls when it runs in the spring. One mile from the park's Big Oak Flat entrance, the Rush Creek Lodge features three EV chargers (CHAdeMO, CCS, J-plug) and a spa. In addition to the usual body treatments, the 5,000-square-foot facility offers day pass access to amenities such as warming waterfall coves, a Himalayan salt rock sauna, and an indoor-outdoor lounge with heated chaises made of river rocks.
Mammoth Hot Springs, Yellowstone National Park, Wyoming
It's hard to resist the call of a hot spring on a long drive, even if you can't soak in it. Plug into a Level 2 charger in front of Haynes Photo Shop before exploring the white and orange travertine terraces of Mammoth Hot Springs in Yellowstone. Amble down the Lower Terrace Boardwalk and stand transfixed as the geothermally heated spring water rises from fractures and cascades down otherworldly mineral-coated steps and pools. If you're itching to see more, chargers at Old Faithful and Canyon Village allow you to spend the day exploring the park.