Mountain biking, which has been growing steadily in the United States for the past decade, saw a recent surge of interest and participation as more people looked for ways to get active outside. That has translated to more and better riding venues nationwide, says David Wiens, executive director of the International Mountain Bike Association (IMBA), a cycling advocacy group. "New trail development, which was already on the rise, really ramped up because of that new demand." There's never been a better time to plan a trip with your bike as more and more destinations are catering to enthusiasts of two-wheeled recreation. From winter getaways to warmer-weather locals to mountain towns with off-season ski lifts and easy trail access, these seven destinations offer something for the novice and expert alike.  
Anchorage, Alaska
Given Alaska's reputation for oversize drama (creaking glaciers, megafauna such as grizzlies and musk oxen, and mountains that make continental U.S. ranges look like gentle foothills), you wouldn't be blamed for expecting the state's mountain biking assets to be writ large. In fact, you don't even have to leave the state's capital city to take in some great trails. Set on a spit of verdant land overlooking Cook Inlet, Kincaid Park offers a dense, 20-mile network of singletrack, ranging from approachable modern flow trails to technical old-school technical routes. At the heart of the park is Bolling Alley, a short circuit that encapsulates the location's wooded soul in just over three miles, with no major climbs and lots of whoops and rollers. Many trails here are groomed for riding in the snowier months, too, so pack along (or rent) a fat tire bike if you're visiting in winter. And don't confuse the park's urban proximity for tameness: A full-time bell is mandatory as you're just as likely to run into moose and bear on these trails as you are other cyclists.
Back in town, there are plenty of accommodations, but Base Camp Anchorage Hostel is run by knowledgeable locals who rent bikes, provide gear storage while you're out, and will point you in the right direction for local hikes, tours, and bigger adventures beyond the city. Likewise, Speedway Cycles is a full-service shop renowned for impeccable wrenching, encyclopedic knowledge of the area, and a wide range of bikes, including the homegrown fat bike brand, Corvus Cycles. Both establishments—and pretty much any local—will likely leave you with the same advice: Kincaid is great, but there's an even bigger Alaska to explore just outside city limits. Alyeska Bike Park is only 40 miles southeast along the water, and some of the state's wildest adventure rides (think: Resurrection Pass) are less than two hours away on the Kenai Peninsula.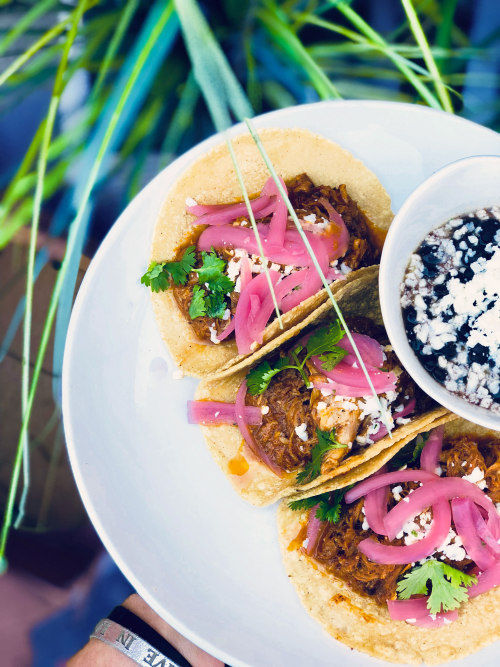 Tucson, Arizona
From November through April, cycling enthusiasts—including many pro racers and teams—flock to Tucson for its crisp and dry conditions, ample sunshine, and extensive riding infrastructure. Ground zero for mountain biking is Tucson Mountain Park, 20,000 wide-open acres of Sonoran Desert playground just a few miles west of downtown. Some 62 miles of non-motorized bike trails slither amidst a forest of saguaros beneath an imposing, basalt skyline that recalls the region's volcanic past.
The easiest access from town is at Richard Genser Trailhead, which provides ample parking and the perfect jumping-off point for the Starr Pass Main Loop, a premier 9.3-mile tour. It's mostly intermediate riding on singletrack that ranges from smooth and flowy to rock-strewn and picky. A few steep uphills will keep you challenged (and are easily walkable if need be), but the lack of extended climbing makes this a great loop for a range of abilities. A web of trails spokes off from this loop, offering ample room for exploration. Most are intermediate level, though the Explorer Trail, which grinds up the northeast flank of Cat Mountain, will keep even expert riders engaged. There's plenty more great mountain biking around, too, including Sweetwater Preserve just a few miles north, Catalina State Park, and some stretches of the border-to-border Arizona Trail from Mount Lemmon southeast toward the town of Patagonia. Though e-bikes aren't allowed in many of these areas, Fantasy Island, a whimsical, user-built, roller-coaster trail ride through prickly pear and cholla forests on the southeast side of town, offers some of the most approachable riding around, including for electric bikes.
Only 10 minutes from the Richard Genser Trailhead, the Mercado San Augustin district offers every amenity a biker needs, from a morning pick-me-up at Presta Coffee Roasters to technical assistance at Transit Cycles. Post-ride, refuel with street tacos at Seis Kitchen. Travelers looking for local accommodations and dark night skies should stay at Cat Mountain Lodge or the JTH Tucson, both of which nestle up to Saguaro National Park.
Santa Cruz, California
Despite some of the grippiest dirt in the country, mountain bike venues in Northern California have something of a contentious reputation due to frequent user conflicts and trail closures. But in the Pacific Coast range south of the San Francisco Bay Area, the Santa Cruz Mountains Trail Stewardship has bucked that story with a range of sustainably conceived and built trails. Arguably the finest are just south of Los Gatos in the Soquel Demonstration State Forest, known to riders as the Demo. This 71,000-acre spread, including old-growth coast redwoods, is intensively managed by Cal Fire for sustainable timbering, watersheds, research, education, and—yes—recreation.
Editor's Note: Soquel Demonstration State Forest is currently designated a federal disaster area due to damage from all the winter storms. Most roads leading to Soquel are subject to closure. Check road status before heading to the area. 
Roughly 30 miles of trail traverse the ridges of the Demo—and connections into the neighboring Forest of Nisene Marks State Park offer 30 more. The crown jewel of Soquel, drawing riders from around the country and the world, is the underwhelmingly named Flow Trail. This purpose-built trail takes in 3.4 miles and 1,300 feet of descent on manicured rollers and bermed corners that ride like biking's equivalent of slot-car racing. It's 20 to 30 minutes of downhill giggles and jumps, the latter of which are all rollable for those who prefer to keep their tires on the ground. It's not as short as it sounds, however, as the climb up dirt roads (Aptos Creek) and singletrack (Ridge Trail) takes most people around an hour, and the return to the parking area (Corral Road) is another 30 minutes. But the riding is so good that few visitors can skip the short climb up Sulphur Springs Road for a second lap. 
Santa Cruz, home of the eponymous bike brand, is just 45 minutes down the road and replete with bike shops; Spokesman Bicycles gets the locals' nod for best selection and service. You can almost always find a cyclist or two swilling a Foggy IPA or Dry Hopped Belgian Pale Ale and filling up on food-truck fare at Humble Sea Brewing Company.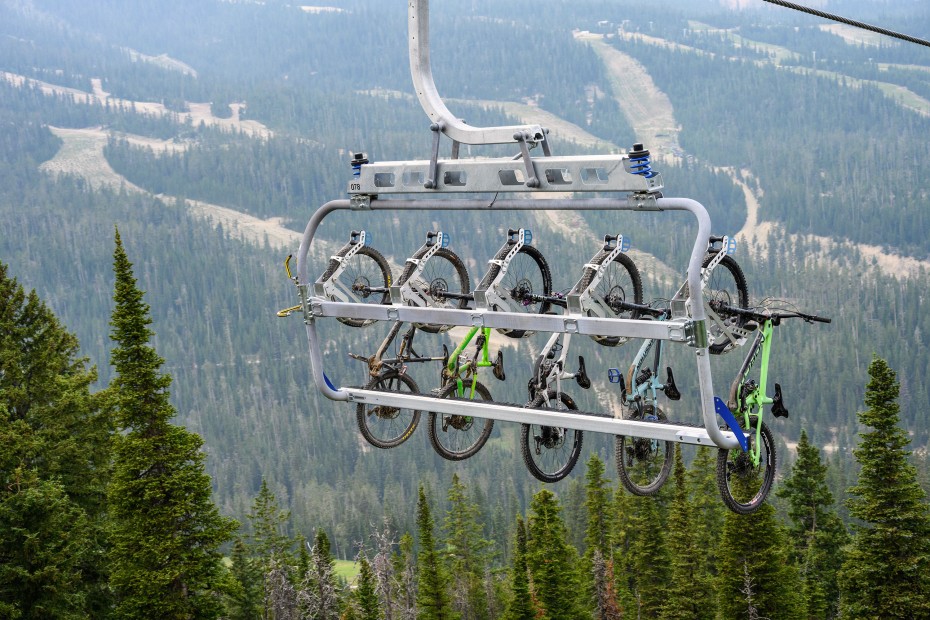 Big Sky, Montana
In a state full of muscly peaks and empty backcountry, recommending a ski hill for mountain biking might seem questionable, but the joy of Big Sky is that not only does it pack all the family-friendly, lift-serve trail access of the resort, but it also has plenty of ungroomed, big-mountain rides in the surrounding national forest.
Mountain to Meadows, the area's signature ride, bridges the gap between the two, starting with a mile of gentle climbing on resort singletrack before crossing the property boundary for the six-mile descent back to town. Occasionally called "one of the best intermediate trails on the planet," this is a purpose-built, machine-constructed descent that drops 1,500 feet through montane pine forests and sparkling alpine meadows. There are sinuous S-curves, gently bermed corners, laugh-out-loud rollers, and pretty much endless flow all the way to the valley floor. The biggest dilemma will be whether you have enough energy to take a second lap. Although with lifts running from 10 a.m. to 5 p.m. daily and 50 miles of lift-serve trails, you'll still be able to ride, even if your legs are shredded. And just like the ski resort, it offers all manner of trails, from totally intermediate cruiser blue runs (Rabbit Run and Easy Rider) to absolutely terrifying double blacks (Revenge). 
Big Sky is a full-service location, home to the bike pro shop Different Spokes. The resort has a handful of uphill-only trails for those who prefer to earn their downhill turns. However, if you plan to ride the lift-serve terrain exclusively, consider renting a downhill bike (and full-face helmet), with beefier suspension and more stable geometry for the higher speeds that are possible on groomed trails. For a midday snack—soup, sandwich, small-batch beer—the Hungry Moose Market & Deli is a Big Sky institution with locations at both Mountain Outpost and Town Center. Après bike, fortify with buffalo cauliflower, shredded beef sliders, and craft cocktails at Westward Social.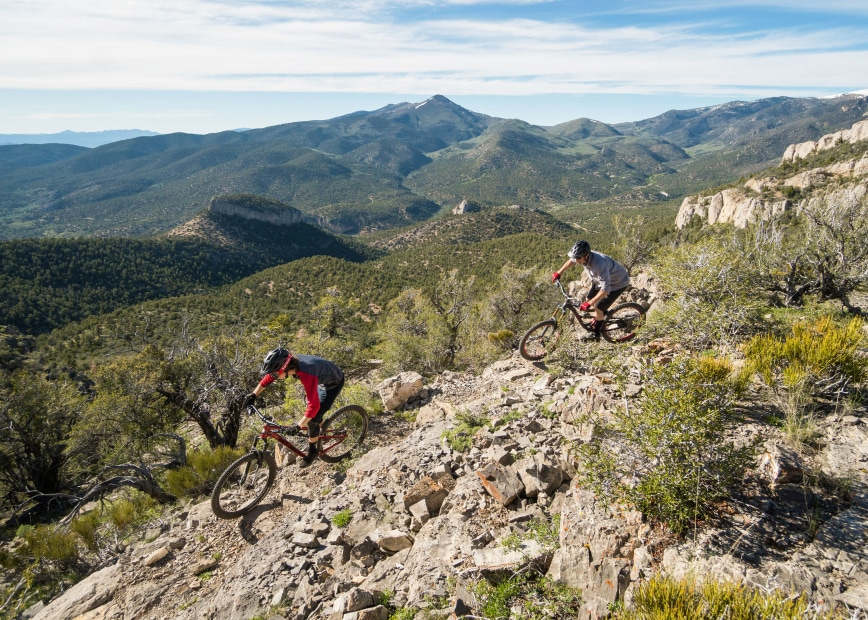 Ely, Nevada
Despite a legacy of mountain biking, and a claim to the longest-running enduro race in the country, Ely isn't a household name in the riding world. At least not yet. But after falling into obscurity following the demise of its mining industry, this sleepy town of just 4,000 residents set about reinventing itself as a riding center a few years ago. 
Perched in the scrubby, scruffy Egan Range of central eastern Nevada, the town is optimally placed for traveling riders, at a crossroads equidistant from Reno, Las Vegas, and Salt Lake City. And since the town sits at 6,400 feet, with surrounding mountains a mile or more higher, it's also one of the few places in Nevada that's rideable in summer. Though still in development, the area already has more than 50 miles of trails, with 50 more planned. The most approachable ones are 20 minutes southeast of town at Cave Lake State Park, where the 11-mile Tour de Cave Lake makes for a scenic, cross-country-style circumambulation through bristlecone and ponderosa forests. The riding from town is no less dramatic, though the trails are scratchier and rougher, best-suited to riders with at least intermediate skills. Or you can bring e-bikes, which are welcome on all local trails. 
There's no dedicated bike shop in Ely yet, but Sportsworld is a full-service outdoors store with a well-stocked cycling department. And because the town is actively courting cyclists, most businesses are bike friendly, including the quirky, cozy Taproot coffeehouse and the down-to-earth Jailhouse Motel, which bills itself as e-bike friendly.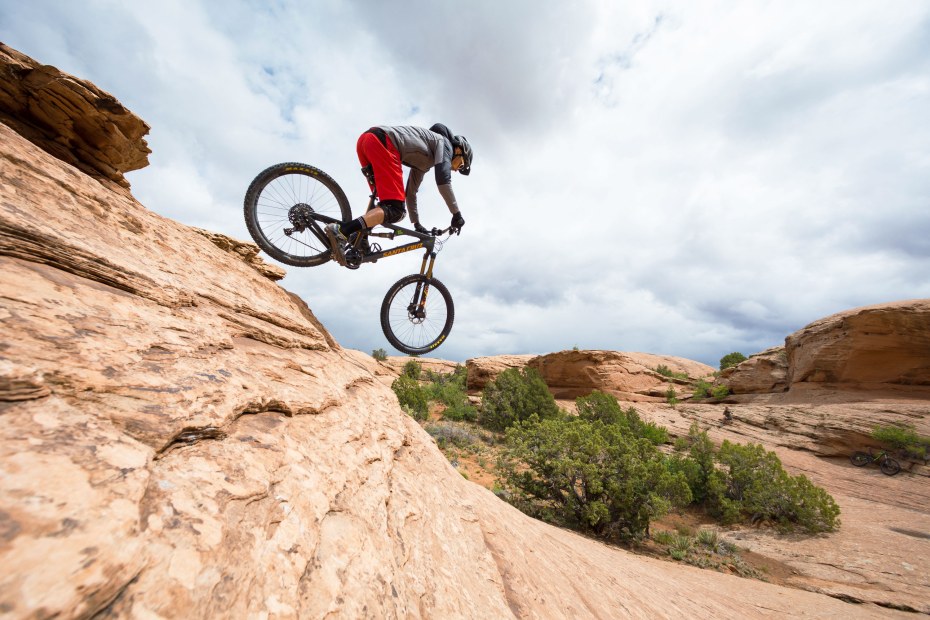 Moab, Utah
There's good reason that no place tops more "best of" lists for mountain biking in the United States than Moab. Not only has the remote town in eastern Utah dedicated itself to the sport since mountain bikes were first manufactured back in the early 1980s, but the riding here—across shields of sandstone and through desert sand so red it has more than once served as the set for movies about Mars—is singular. Case in point the Slickrock Trail, which has been called the most famous mountain bike ride in the world, a time-tested 12-mile affair that dodges and dips over ribs and rolls of sandstone like melted candle wax.
While Moab was once considered primarily a domain for advanced riders, the Moab Trails Alliance has made a huge effort over the past decade to build trails for mountain bikers of all levels. The Navajo Rocks area, 20 minutes northwest of town on the road that climbs up to Canyonlands National Park, has a range of narrow singletrack that traverses everything from bowls of sandstone to brushy arroyo bottoms, appropriate for riders of all abilities. The 17.5-mile Navajo Rocks Loop, which accounts for the majority of the riding here, might sound like a lot of riding, but with no sustained climbs, mostly buttery surfaces, and a bailout option at halfway, it's a perfect spot to spend an afternoon. Moab is also a great bet for e-bikes, as many of the old-school rides, such as Flat Pass and Gemini Bridges, are open to motor traffic. 
You can't ride a block in downtown Moab without running into a bike shop, and two of the originals, Rim Cyclery and Poison Spider Bicycles, have been patching tires, kitting out riders, and renting bikes for decades. While you're there, don't miss the grass-fed burgers and thick shakes at Milt's Stop & Eat, which has been serving bikers since 1954.
Cheyenne, Wyoming
Only a few miles off Interstate 80, one of the busiest east-west corridors in the nation, Curt Gowdy State Park is a gem hidden in plain view: a high-desert sanctuary that thousands of travelers pass every single day without so much as a glance. Yet it's home to some of the finest cross-country mountain biking in Wyoming. With exposed, pre-Cambrian granite domes and fingers on the western end of the park, and rolling grasslands to the east, it's a feast of styles for eyes and legs. 
The park has some 50 miles of trail to explore, enough for a long weekend visit or an extended stay. The best sampling can be had on the 25-mile Curt Gowdy IMBA Epic, a rough figure eight that ducks and wends along a collection of trails across the length of the park. The Canyons Trail, the toughest stretch linking Granite Springs Reservoir to Crystal Lake Reservoir, features short steep climbs, tight switchbacks, and a few quick sections of hike-a-bike—but it can easily be nixed from the ride by detouring on Cliffhanger (which also features some steep sections) and shortening the overall loop. That's the joy of Curt Gowdy: There are so many trails and linkups, all attainable for even moderately skilled riders, that it's possible to simply get lost in this wonderland of piñon and sage. It's also one of the few places in the region where e-bikes are allowed on all trails.
Curt Gowdy is equidistant from Cheyenne and Laramie, both of which have plenty of hotels. But the best bet is to stay at the park, which offers 159 tent sites, 178 electric RV sites, and four basic but cozy cabins. The locally sourced prime steaks and craft beers (several brewed from Wyoming grown hops) at Altitude Chophouse are perfect for topping off a good ride. And Pedal House, also in Laramie, offers a well-appointed selection of gear while capturing the local spirit.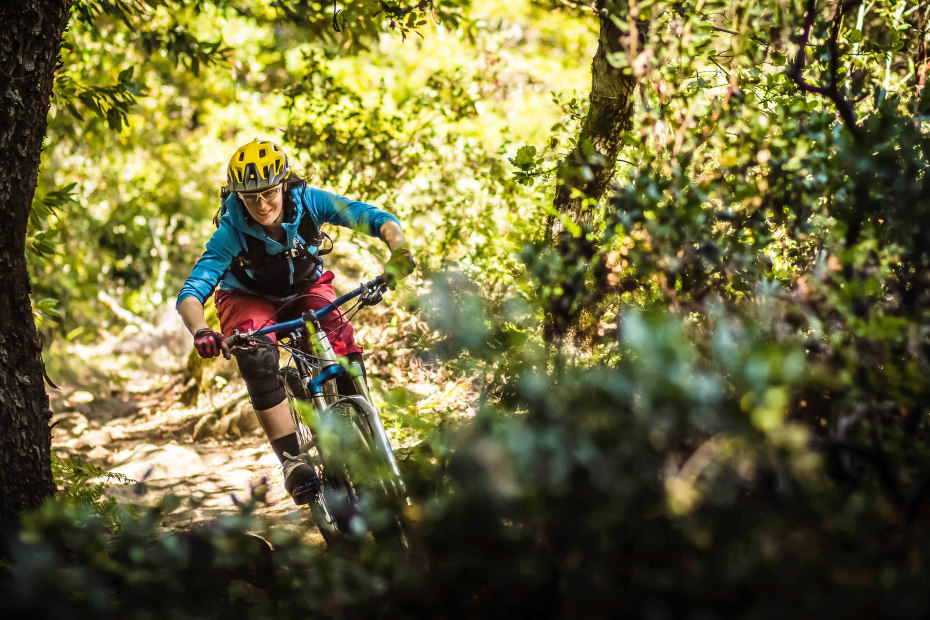 Mountain Biking Safety Basics
Laws may not mandate it, but you should strap on a high-quality, well-fitted helmet every time you ride, even if it's just down the block to grab some groceries. Head trauma is the number one cause of serious injury in cyclists, and wearing a helmet could reduce the risk by as much as 85 percent.
Always do an equipment safety check before riding, especially if renting a bike: Confirm there is adequate air in the tires, ensure the brakes work, and check that both front and rear axles are fully tightened.
Crashes, even minor ones, can lead to scuffs, bruises, or worse. To preempt injury, opt for a set of comfortable, lightweight, breathable elbow and knee pads.
Know the right-of-way rules on trails: Cyclists always yield to both pedestrians and equestrians. Additionally, downhill riders should give way to those going up. If you're ever in doubt, pull over and let others pass.
Front and rear blinker lights for bikes have been shown to reduce vehicular collisions by between 30 and 50 percent. You won't need them for trails, but if your route necessitates a short passage on a road, having micro lights strapped onto your bike could save your life.