Savvy travelers don't have to pay to play in Arizona's saguaro forests, sienna-hued mountains, and buzzing cityscapes. This guide will steer you to world-class museums, expert-led walks, and artsy adventures that don't cost a dime.
Phoenix
Home to the country's largest collection of urban protected areas, the Valley of the Sun stretches across mountainous desert parks like an enormous playground. Maricopa County Parks and Recreation offers a bounty of budget friendly, ranger-led outings. Prowl like a nocturnal animal on a night hike in White Tank Mountain Regional Park, keeping your eyes peeled for ringtails, owls, and scorpions that glow neon green in black light. Get answers to your burning questions about Sonoran Desert flora and fauna on a Desert 101 walk in Cave Creek Regional Park. Or boost biodiversity by helping uproot invasive species in Spur Cross Ranch Conservation Area.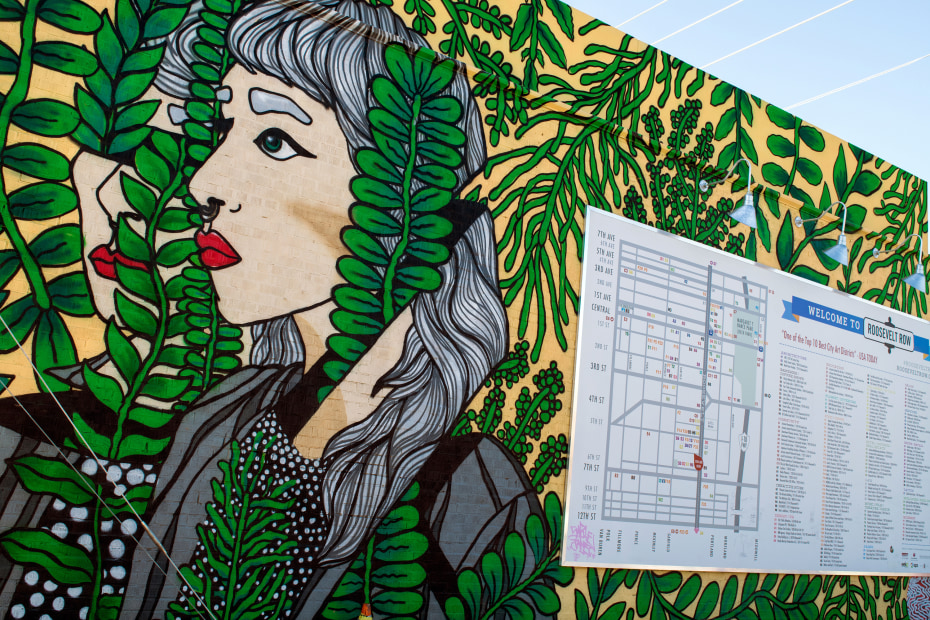 For a classic, cost-free Phoenix activity, soak up the carnivalesque atmosphere of First Fridays. Crowds stroll through downtown's mural-decked Roosevelt Row, perusing paintings and sculptures in 70-plus art spaces. First Fridays also feature the auditory arts: Head to the Nash for free jazz, and follow the sounds of fiddles and pennywhistles to the Irish Cultural Center for rollicking traditional music. A calmer experience awaits at nearby FOUND:RE Phoenix Hotel, which offers free flow yoga every Sunday.
With some strategic planning, you can explore Phoenix's top cultural attractions gratis. Get inspired by the Asian art and imaginative fashion exhibits at the Phoenix Art Museum. Admission is free from 3 p.m. to close every Wednesday and on First Fridays. Also on First Friday evenings, kiddos can get creative and literally climb the walls at no cost in the Children's Museum of Phoenix. Contemplate American Indian art and cultural exhibits told from an Indigenous perspective at the Heard Museum. Entry is free on First Fridays (except in March) and on third Saturdays from June through August. Finally, bask in the beauty of blooming cactuses and bizarre arid plants at the Desert Botanical Garden, free on the second Tuesday of each month.
Scottsdale 
In the northeast corner of the Valley, the McDowell Sonoran Preserve undulates across 30,580 acres of saguaro-striped mountains. Skilled guides lead free beginner- and intermediate-friendly mountain biking clinics where you can amp up your confidence on gentle paths or twisty technical trails. Experts also lead hikes on topics such as Arizona history, medicinal plants, and nature as therapy. 
In town, the Scottsdale Museum of Contemporary Art (SMOCA) offers complimentary entry to its thought-provoking exhibits on the second Saturday of each month and every Thursday. Pair a Thursday evening visit with ArtWalk, when culture lovers pop into galleries in the Scottsdale Arts District to chat with artists and listen to live music. On Sundays from April 30 to May 28, families picnic and dance to motown, disco, or R&B bands during McCormick-Stillman Railroad Park's free concerts.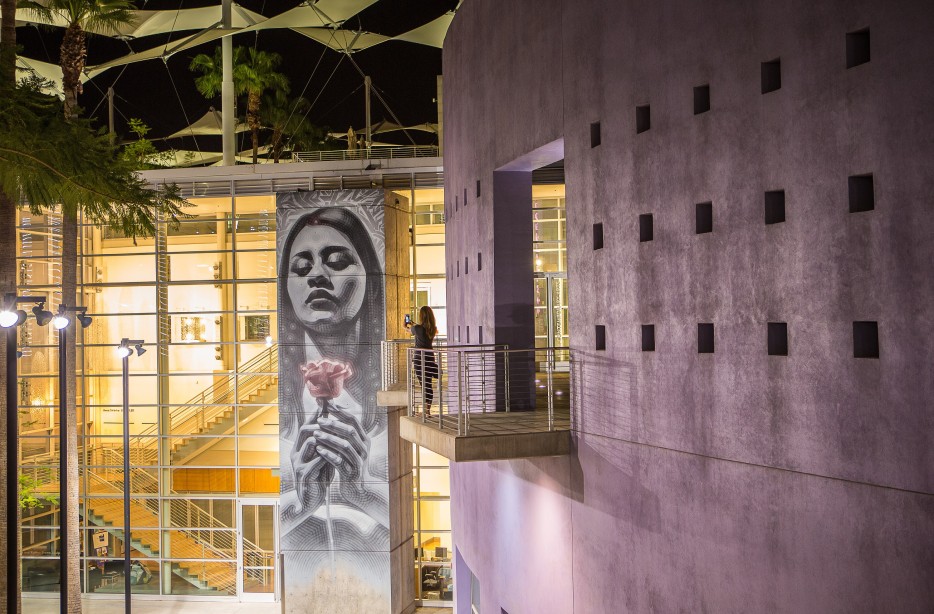 Mesa
It seems like Mesa is always hosting a family friendly festival, and at many events, you can leave your wallet in your pocket. Every Saturday during Mesa Feastival, adults can jive to live music while the bambinos frolic in the splash pad and playground after noshing on grub from food trucks at Pioneer Park. At 2nd Friday Night Out, historic downtown Mesa's galleries and shops stay open late, costumed kids play contests and games, and live music reverberates along Main Street. On Thursdays in spring and fall, Mesa Arts Center throws a free Out to Lunch concert series in the shade outside. While you're there, step inside (admission is always complimentary) and delve into the upcoming exhibits on nature-themed woodcut prints, contemporary crafts, and more.
Tucson
In the Old Pueblo, you don't have to spend a pretty penny to have experiences that make your spirit soar. At San Xavier del Bac Mission, marvel at statuary and frescoes so stunningly ornate the church is known as the Sistine Chapel of North America. Get a hawk's-eye view of Tucson on Tumamoc Hill while learning about the landmark's 2,500-year history from the free Tumamoc Tour app. 
At the always-gratis Center for Creative Photography this year, visitors can see Tucson's barrios through the lens of Chicanx photographer Louis Carlos Bernal, plus photographic slices of Linda McCartney's life with husband Paul. And on the first Thursday of each month, the Tucson Museum of Art opens its doors for free, adding entertainment and gallery activities to its Western and Colonial Latin American art.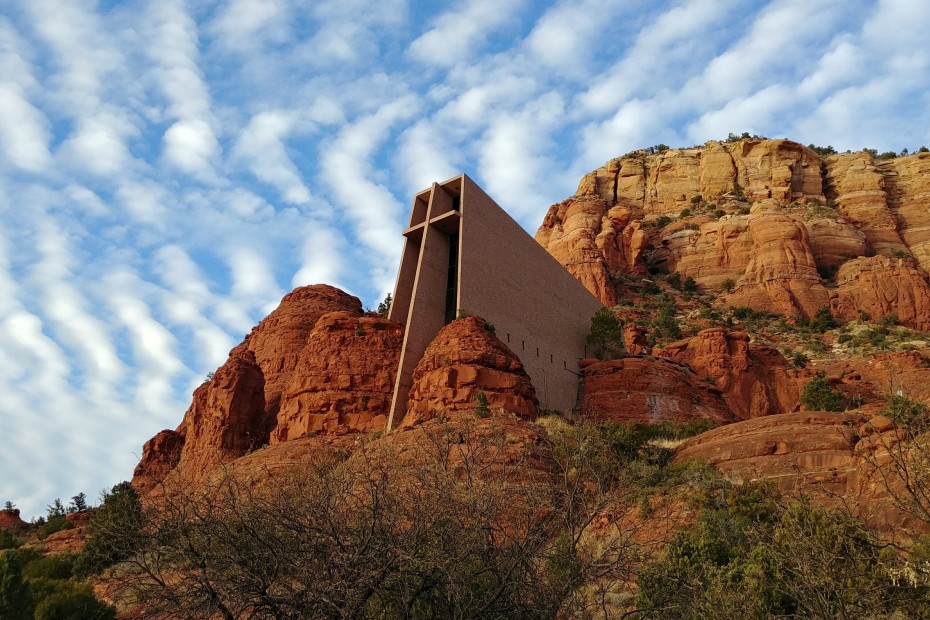 Sedona
According to local lore, this red rock Shangri-La is permeated with vortexes—energy hotspots where visitors can channel healing, inspiration, and insight. Hike and watch the sunset flame across the mountains at Airport Mesa vortex, and visit the Chapel of the Holy Cross, perched atop another vortex. Designed in 1932 by Marguerite Brunswig Staude, a disciple of Frank Lloyd Wright, the minimalist church's sky-high windows overlook sensational views of vermilion mountains. Maintain your meditative mood at Amitabha Stupa and Peace Park, a spiritual destination for all faiths featuring Buddhist shrines and a Native American medicine wheel, backdropped by classic Sedona scenery.
On First Fridays, gallery-hop and indulge in free refreshments at some of Sedona's 80-ish arts venues showcasing Western painters, photographers, glass-blowers, and more. Many First Friday receptions take place in Tlaquepaque, an alfresco Mexican-style arts and crafts center that frequently hosts free flamenco performances and nature education presentations.
Flagstaff
This alpine town is all about outdoor fun and budget-friendly community bonding. Every Saturday evening in summer, families gather in Heritage Square, tuck into sleeping bags and popcorn, and watch free, kid-approved movies. On Wednesday evenings in summer, local bands play free concerts in Peaks View County Park while families picnic, hula hoop, and get their faces painted.
Self-guided walking tours abound in Flag, which features a 56-mile Flagstaff Urban Trail System. Download a map and pound the pavement past historic buildings, meadowy riparian areas, and pine forests. In Flagstaff's Southside Historic District, get your kicks by walking the original Route 66 alignment. Dial 928-218-2926 to hear the Walk This Talk audio tour and learn why highway officials abandoned the initial Mother Road track through town. You can also download a public art walking or biking tour map to discover more than 40 murals and installations.