Check off 10 classic pleasures, from lounging on a houseboat to braving a ride on a roller coaster.
1. Take a dip in a swimming hole.
A trip to a swimming hole typically means following vague word-of-mouth directions for a hike on a blazing-hot day. Is it really worth making the sweaty trek? Will the directions pan out? The answer to both is almost invariably yes. Unlike a pool or a beach, a swimming hole feels like a special secret, even when it's not. A series of waterfalls on the McCloud River, southeast of California's Mount Shasta, spill into three pretty, inviting pools. For a family-friendly splash (easy and swimsuited), stick to the base of gentle Lower Falls. Editor's note: There is a large bolder in the pool below Lower McCloud Falls. It's resting just a few feet below the surface, where it's hard to see. Always exercise caution while swimming, diving, or jumping at the falls.
A 3.5-mile desert hike outside Sedona, Arizona, takes you to a welcome and unexpected oasis: the Crack at Wet Beaver Creek, a pool surrounded by steep orange rock walls. Sunbathe on the sandstone or plunge into the cool water.
The name Firehole River might lead you to believe that its wide, popular swimming hole—in Yellowstone National Park, just off Highway 191 in northwestern Wyoming—is warm. It's not. On a hot day, of course, that's a plus.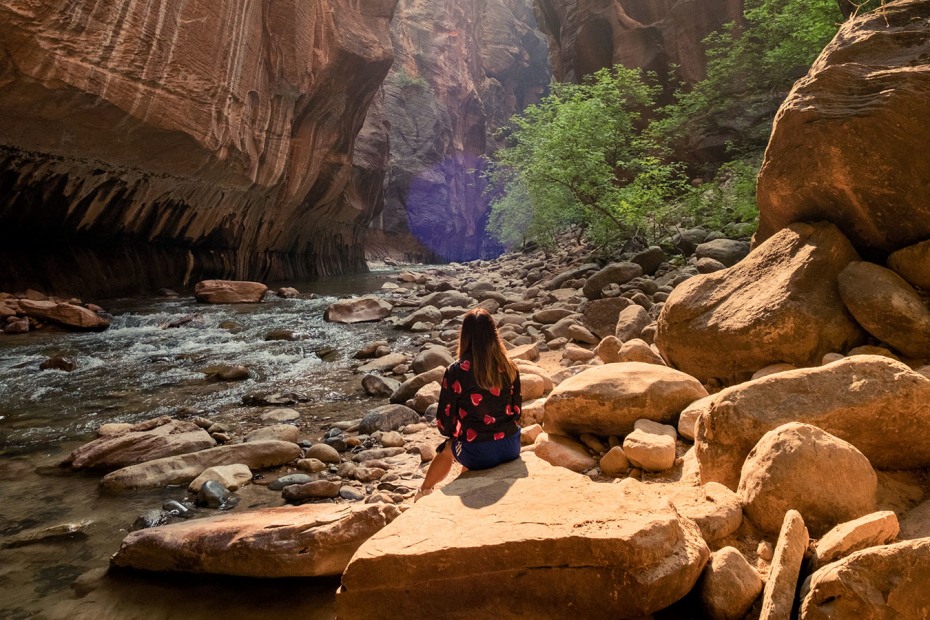 2. Visit a national park.
Since the dawn of the automobile age, touring U.S. national parks has been the quintessential family summer vacation—parents in the front seat fiddling with the map (or GPS) and kids in the back behaving like angels. More than 300 million visitors take a trip to one or more of the country's 63 national parks each year, from Alaska's Denali to Oregon's Crater Lake. They camp, raft, swim, hike, bird-watch, and summit peaks, but also stroll, sightsee, and buy tchotchkes. Think of almost anything travelers like to do, and there's opportunity for it at a national park. Even the easiest hikes at southwestern Utah's Zion, such as the mile-long Canyon Overlook trail, offer great views of the park's standout feature: its dramatic sandstone cliffs. For bigger thrills, head to Zion's Narrows for an upstream wade through the Virgin River with 1,000-foot walls rising above you on either side.
At California's Sequoia & Kings Canyon you can visit stout General Sherman, the world's largest tree, and gaze upward as you wander the surrounding groves. Or tackle Mount Whitney, the highest point in the contiguous United States.
At Yellowstone, the country's first national park, you'll find 10,000 hydrothermal features and 500 geysers, the world's biggest log hotel (the Old Faithful Inn), and local huckleberry ice cream.
The colorful, sculptural rock formations throughout Petrified Forest in eastern Arizona are one reason to visit. The Ancestral Puebloan people's uses for that rock, such as building the eight-room Agate House more than 900 years ago, are another.
3. Watch a movie in your car.
In an era when people increasingly stream movies alone at home, a communal night at the drive-in can feel like an old-fashioned party, an iconic pleasure most of us have experienced only secondhand, depicted on a small screen. At several outdoor theaters, including the West Wind in Las Vegas, you can wear your pajamas, bring your own snacks, and set up folding chairs under the stars—or snuggle in the backseat.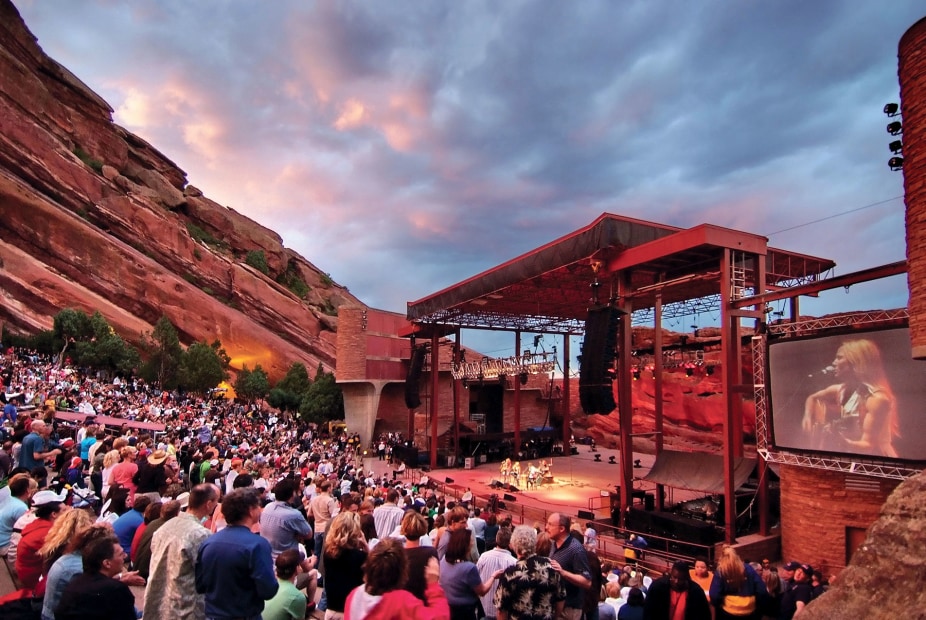 4. Listen to music outdoors.
Whether you're catching a bring-your-own-blanket bluegrass show in the park or Joseph and the Amazing Technicolor Dreamcoat at a high-desert amphitheater, outdoor music can be one of the finest joys of summer. That pleasure comes not just from song, but also from the sky, the sun, the stars, and the freedom of having no walls—not to mention the celebratory atmosphere. At Red Rocks Park and Amphitheatre just outside Denver, two sandstone monoliths, each higher than Niagara Falls, frame the striking 9,500-seat venue. They create superb acoustics for acts such as the Avett Brothers and Halsey. Bonus: Before or after the show, visit the on-site Colorado Music Hall of Fame.
Outside Lands in San Francisco's Golden Gate Park (Aug. 5–7 this year) draws headliners such as SZA, Green Day, and Post Malone over three days that can feel like a raucous garden party. The food—from wood-fired pizza to artisanal ice cream—is also outstanding.
Spend the morning chilling in an inner tube on the Jefferson River southwest of Three Forks, Montana, because from midafternoon until the wee hours you'll be dancing to '70s and '80s throwback acts such as Don Felder (formally of the Eagles) and modern rock such as Daughtry at Rockin' the Rivers (Aug. 11–13).
The pink cliffs at Tuacahn Center for the Arts, in southern Utah, dazzle as brilliantly as its summertime Broadway revivals. This year's musicals include Disney and Cameron Mackintosh's Mary Poppins and Wonderland.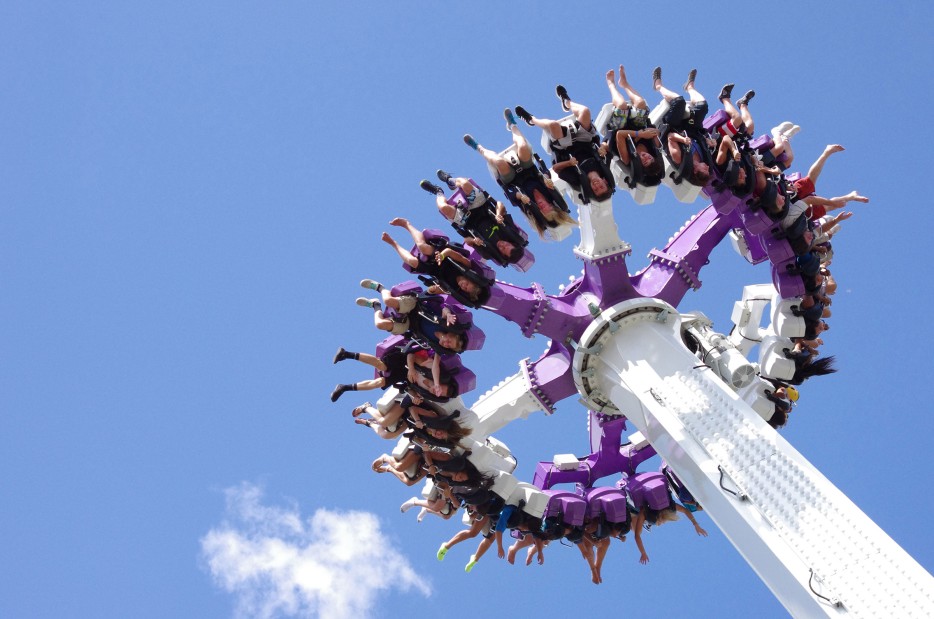 5. Go for an amusement park thrill.
Hold off eating cotton candy until after you ride Cannibal. The coaster at Utah's Lagoon, just north of Salt Lake City, features the steepest plunge in the United States.
At retro-cool Oaks Park in Portland, built in 1905, the year-old Adrenaline Peak competes with delightfully quaint attractions such as go-karts and mini golf.
If the Big Apple Coaster at Las Vegas's New York–New York doesn't seem scary enough, you can ride while wearing virtual reality goggles. What you see won't match what you feel in the pit of your stomach.
Disneyland's Star Wars: Galaxy's Edge attraction lets visitors walk through a simulated planet Batuu and pilot the Millennium Falcon.
Only hard-core thrill seekers should try the SpinCycle at Silverwood near Coeur d'Alene, Idaho.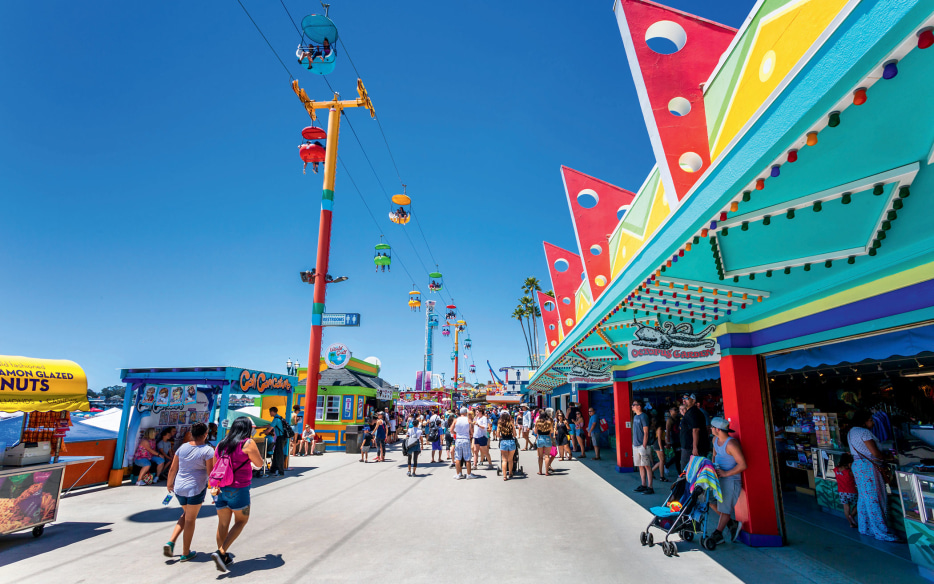 6. Stroll a beach boardwalk.
Since 1870, when the first beach boardwalk went up in Atlantic City, New Jersey, folks have flocked to these festive seaside esplanades for fresh salt air, carnival rides, arcade games, and nutritious delicacies such as corn dogs and deep-fried Twinkies. On the boardwalk (and, as the Drifters sang, under it) you'll be having some fun. At Northern California's classic Santa Cruz Beach Boardwalk, opened in 1907, you can watch sea lions lounging on the pier, stock up on saltwater taffy, play laser tag, and enjoy (or avoid) a whirl on the 95-year-old wooden coaster, the Giant Dipper.
Palm trees line the Strand, a busy beachside thoroughfare leading from the Santa Monica Pier to Venice, California (home of bodybuilder hangout Muscle Beach). The path makes for a people-watcher's dream—and you can walk its entire 2.7 miles in about an hour.
Seattle's waterfront, due to be expanded and thoroughly revamped by 2024, encompasses the aquarium (irresistibly cute otters), the 175-foot Great Wheel (spectacular city views), and the Edgewater Hotel (tasty truffle fries at happy hour).
Among the sweet, sparkling highlights of the quarter-mile Historic Bayfront in Newport, Oregon, are views of the art deco Yaquina Bay Bridge, restaurants serving freshly caught Dungeness crab, and nautical murals that form part of the Oregon Coast Public Art Trail, a work in progress.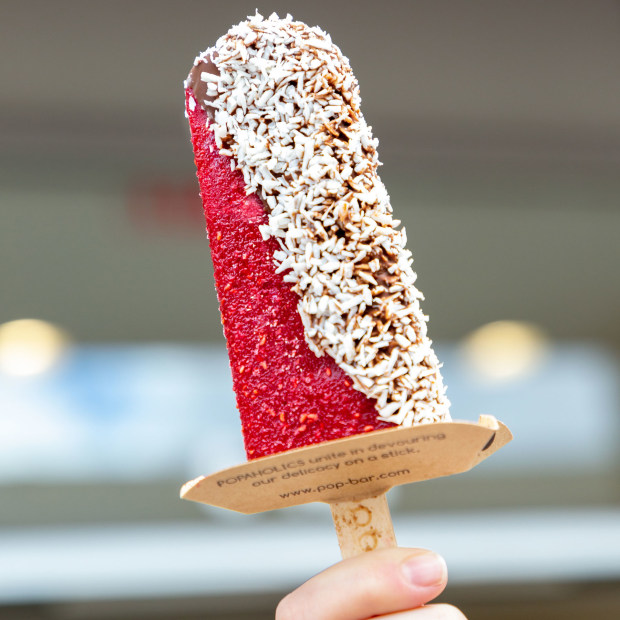 7. Try a cool new flavor.
Taste ice cream terroir at Boise's Stil. The Idaho Wilderness flavor is made from local lavender, honey, and berries (huckle, blue, black).
Like its Portland original, Salt & Straw's San Francisco outpost lets hometown ingredients shine, as in Sightglass cold brew in coffee-and-caramelized-cashew ice cream.
Most flavors rotate at Cool Moon in Portland, but not the kulfi. Based on an Indian dessert flavored with pistachio, cardamom, and rose water, this treat is wildly popular.
At international Popbar, with shops in California, gelato and sorbet arrive on a stick. Try the raspberry PopSorbetto dipped in chocolate—rich and refreshing.
8. Enjoy a state fair.
State fairs evolved as a way to showcase a given region's farm bounty, from its sturdiest heifers to the finest in local peach preserves, with carnival rides, food stalls, and concerts to keep people entertained between poultry expos and livestock auctions. No two state fairs are quite the same, just as no two communities are quite the same. Consider Washington's Evergreen State Fair (Aug. 25-30, Sept. 1-5 this year) in the city of Monroe. You can take in duck races, Aztec Indian dance performances, and lumberjack skill demos, as well as the Purple Cow float. Made of blackberry ice cream, blackberry syrup, and 7 Up, it has been staining T-shirts since 1960.
A curious draw at the Great Utah State Fair (Sept. 8–18) in Salt Lake City: life-size cows, each sculpted from almost half a ton of butter and displayed in a brisk, 40-degree room.
The Alaska State Fair (Aug. 19– Sept. 5) in Palmer includes a vegetable weigh-off in which, thanks to upwards of 16 hours of daylight during growing season, the winning pumpkins regularly tip the scales at over 1,000 pounds.
At the Eastern Idaho State Fair (Sept. 2-10) in Blackfoot, see a quilt show or arm-wrestling championship, and eat your fill of roasted Mexican Crazy Corn.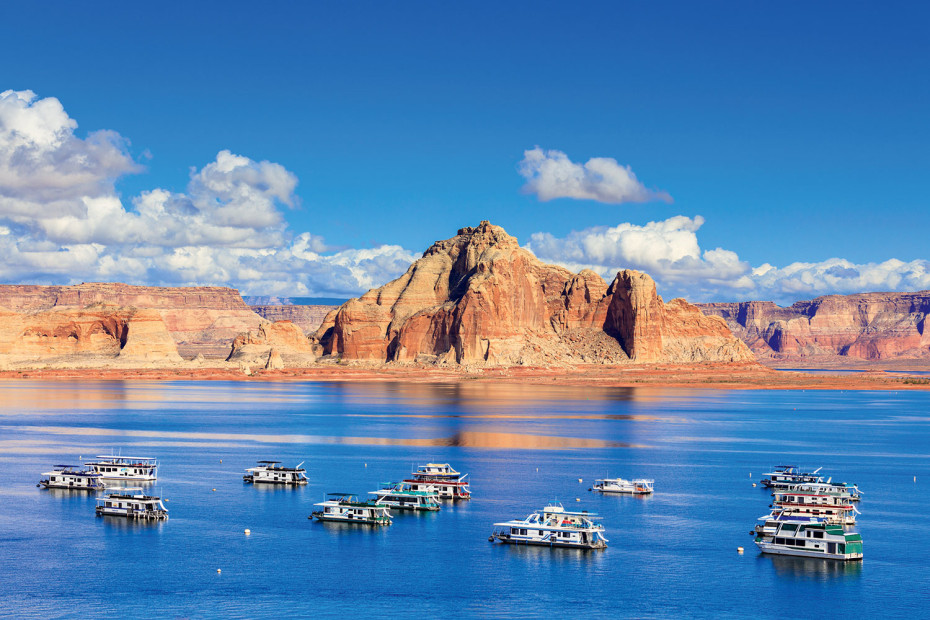 9. Lounge on a lake.
No matter how close you're staying to a lake, you're not technically staying on the lake, unless you're on a houseboat. There's nothing else like it. The water is always right there, all around you, and the obligations of the nonliquid world seem very far away. Lake Powell, a reservoir on the Utah-Arizona border, makes a nearly perfect spot for such a retreat, its clear water full of bass and walleye, and its 2,000 miles of peach-colored sandstone shoreline yours to explore—or simply to float past.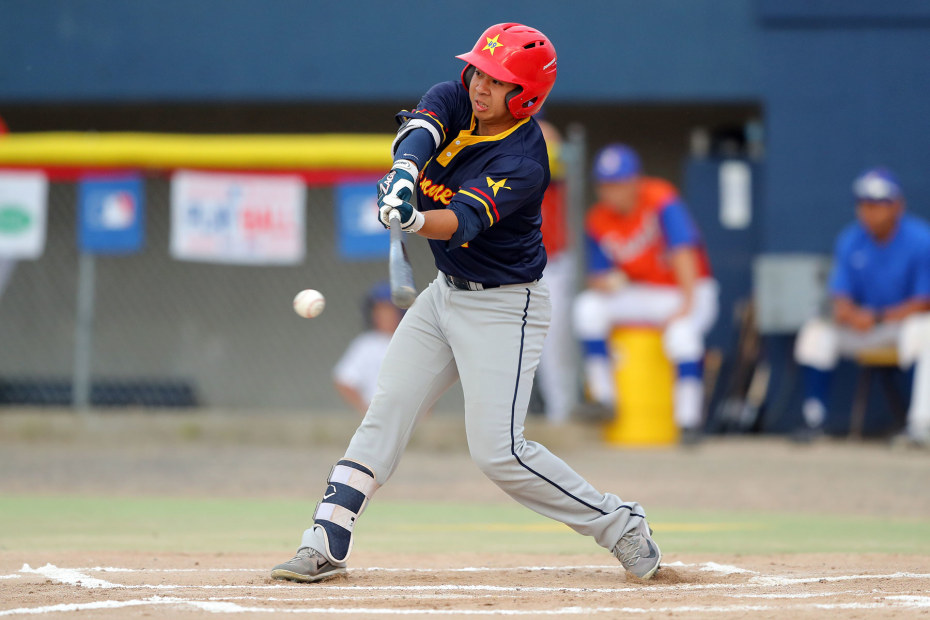 10. Catch a game.
The crack of a bat, the smell of freshcut grass—time spent at the ballpark is a cherished summer ritual. And for the Midnight Sun game in Fairbanks, Alaska, you don't have to play hooky. It never gets dark on June 21 here, so the first pitch is thrown at 10:30 p.m.