There's something magical about long-distance train travel: the rollicking cars, the slow-going scenery, the sense that it really is about the journey. And it's wonderful when the destination is just as enticing. Across the West, railways offer plenty of opportunities to get out and explore. Here are eight of our favorites, from a rustic town high in California's Sierra Nevada mountains to an Arizona stop still intricately tied to the legendary Santa Fe Super Chief—the country's last-ever all-Pullman sleeping car train.
Talkeetna, Alaska 
Once a center for early 20th-century gold mining and a district headquarters for the Alaska Railroad, Talkeetna remains a year-round rail stop. Today, this small village is better known as the gateway to Denali National Park. The Aurora Winter Train connects the two on weekends—mid-September through mid-May—though there's plenty to do in Talkeetna without ever leaving town. 
Shop for Made-in-Alaska birch votive candles and ManlyMan soap at Once in a Blue Moose, grab coffee and snacks at Nagley's General Store (a mainstay for over a century), or browse artworks such as handwoven basketry and mixed-media originals at the Dancing Leaf Gallery, all located along Talkeetna's two-block Main Street. 
Of course, in Alaska, nature is always front and center. Take in panoramic views of the Alaska Range, which includes 20,310-foot-tall Denali—North America's highest peak—from Talkeetna Riverfront Park, or hike through lush old-growth forest and along a historic railroad bridge. Talkeetna River Guides offers two-hour natural history float trips along the Talkeetna River, stopping to view bear tracks, bald eagle nests, and wandering moose whenever possible.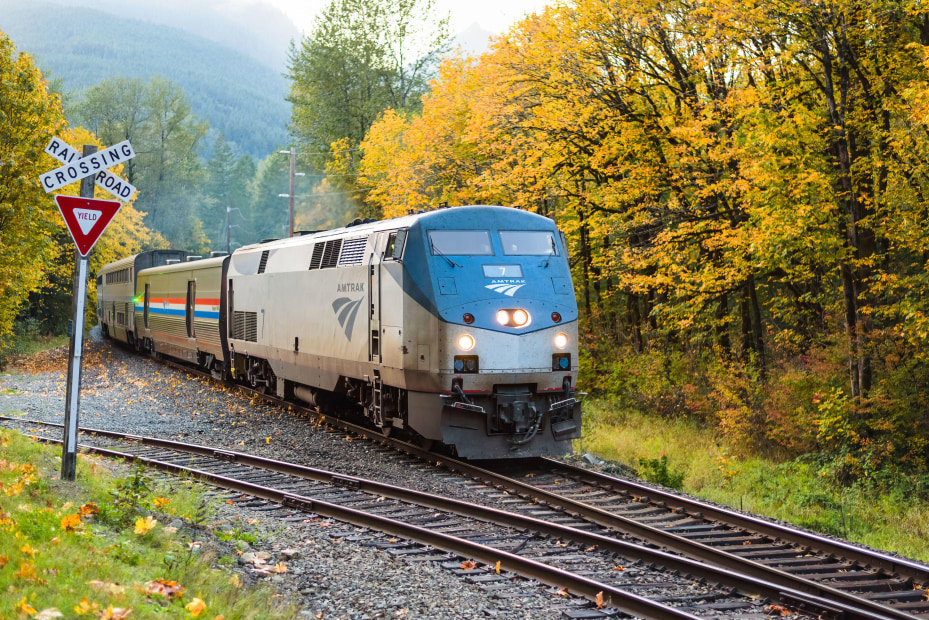 Spokane, Washington 
Eastern Washington's largest city is a stop on Amtrak's Empire Builder line from Portland or Seattle to Chicago, and has garnered buzz in recent years thanks to perks such as a growing food scene and its overall walkability. Spokane's 100-acre Riverfront Park, originally created from a defunct rail yard for the environment-themed Expo '74 World's Fair, has become the heart of the city. It's a hub of attractions and activities, from renting pedal karts for a ride along the park's portion of the Centennial Trail to soaring above Spokane Falls in one of Numerica SkyRide's enclosed gondola cabins.
For a true taste of the city, Wander Spokane offers three-hour guided, food-themed walking tours, which start at the park's giant red wagon—the world's largest Radio Flyer wagon. Though stops differ daily, popular samplings include Cochinito Taqueria's mouthwatering lamb merguez tacos, Wanderlust Delicato's charcuterie plates, and chocolate-dipped peanut candies from Bruttles. 
The city's oldest neighborhood, Browne's Addition, is home to the Northwest Museum of Arts and Culture, where you can meander among regional American Indian artifacts and works by 19th- and 20th-century local artists. Later, wander through the stunningly manicured gardens of 90-acre Manito Park in the South Hill community, or savor pints of Purple Egyptian Barley while munching on sweet loaves at the Grain Shed, a brewery-bakery in the artsy South Perry District that makes its breads using grains left over from the brewing process.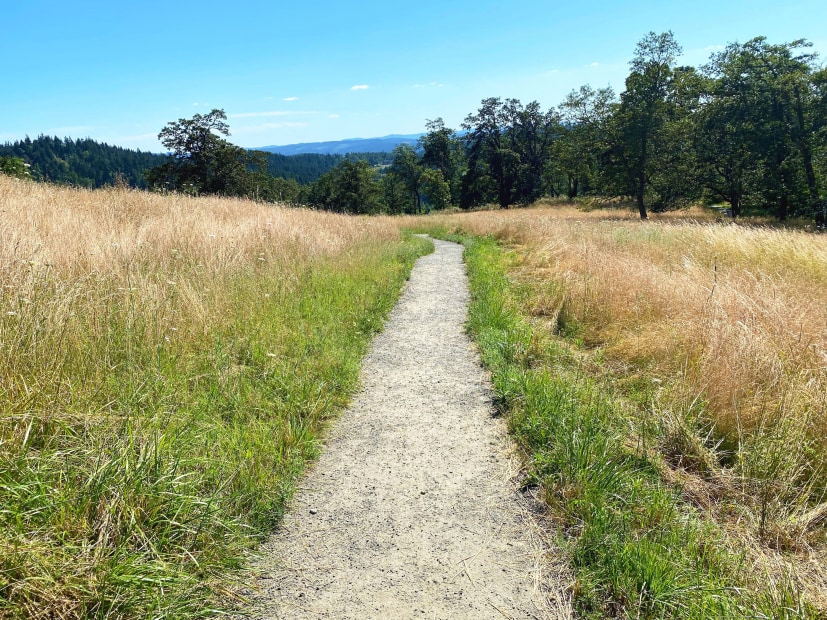 Eugene, Oregon 
Amtrak connects this university town to points from Los Angeles to Vancouver, B.C., and it's a worthy stop on both the Coast Starlight and the Amtrak Cascades lines. Tucked within the south Willamette Valley, a land of wild forests and small-batch vineyards, Eugene is a hub of great food and outdoor adventure. Try Eugene's 5th Street Public Market for lattes, Thai noodles, and stores such as Made in Oregon, chock-full of Beaver State favorites like Pendleton blankets and Tillamook cheese. A few blocks south is the new Broadway Streatery, a section of Broadway that features expanded sidewalk seating for spots such as Davis Restaurant, which dishes out shareable small plates of pork sliders and garlic chili wings, and First National Taphouse, serving up craft beer alongside giant pretzels. 
Eugene's outdoor Saturday Market, open through November, has been the shopping spot for true artisan finds (think embroidered landscape art and made-to-order topographic prints) since the early 1970s. To view extraordinary artworks, check out the Jordan Schnitzer Museum of Art, with a 13,000-piece collection ranging from South Indian Hindu bronzes to Mexican silver jewelry. 
Hiking, bicycling, and basking in nature are some of Eugene's strongpoints. The city's Ridgeline Trail system offers 12-plus miles of pathways that wind through rare upland prairies and Douglas fir forests, connecting a series of parklands and natural areas. They include Hendricks Park, with its world-renowned rhododendron garden, and 2,058-foot-tall Spencer Butte, providing stellar panoramic city views from its summit.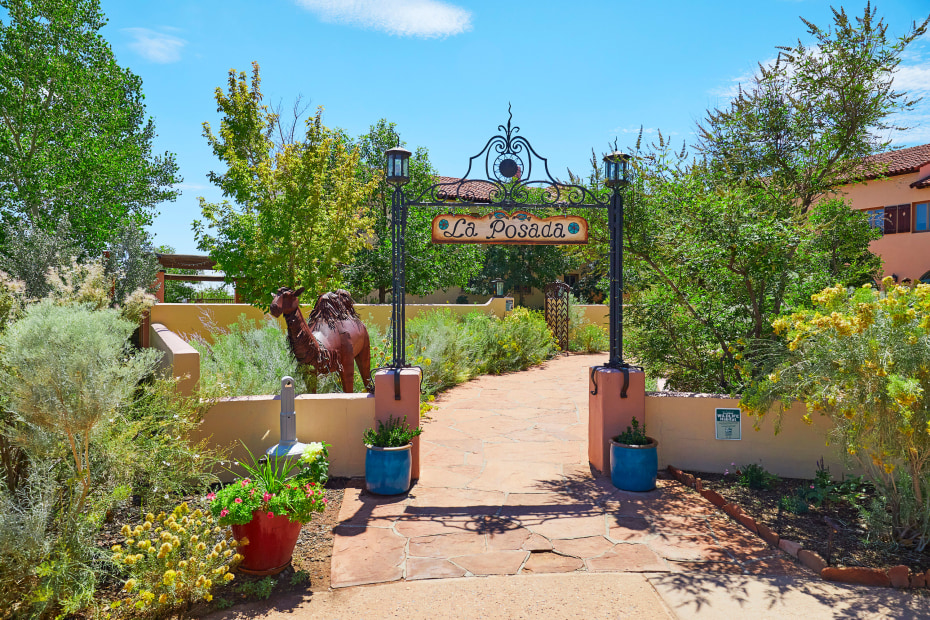 Winslow, Arizona 
Accessible via Amtrak's Southwest Chief line, Winslow was once a stop along the Super Chief—the flagship line of the legendary Santa Fe Railway. It has also been a popular stop for motorists traveling Route 66, the famed Mother Road that runs straight through town. Today, visitors flock to Winslow to experience what's become a focal point of transport history, as well as pop culture: Standin' On the Corner Park gets both its name and its reputation from the 1972 hit song Take It Easy, by the rock band the Eagles. 
Winslow is home to one of the last remaining Harvey House hotels—properties built along Western US railways in the late 19th and early 20th centuries to cater to the increasing number of passengers. Opened in 1930 and now a National Historic Landmark, hacienda-style La Posada spreads over eight acres with expansive gardens, guest rooms sporting handmade Ponderosa pine beds and handwoven Zapotec rugs, and a Southwestern-style eatery, the Turquoise Room, modeled after the Super Chief's "finest dining on wheels."
The town's Old Trails Museum is the perfect place to delve into more of the hotel's history, as well as that of the Harvey Girls, an all-women workforce that ran the Fred Harvey Company's lodgings and restaurants. It's also home to exhibits highlighting Route 66 and the local Hopi, Laguna, and Navajo peoples.
Quench your thirst with one of 20 local craft beers at Winslow's RelicRoad Brewing Company, or fill your belly with patty melts and breakfast burritos on the casual outdoor patio of Flatbed Ford Café & Bakery. 
Just north of town you come to 4,500-acre Homolovi State Park, home to more than 300 archaeological sites, including four major 14th century pueblos. The half-mile Tsu'vö Loop Trail highlights petroglyphs of the Hopi's ancient ancestors, as well as former milling stone areas. Keep an eye out for burros in Homolovi as you go.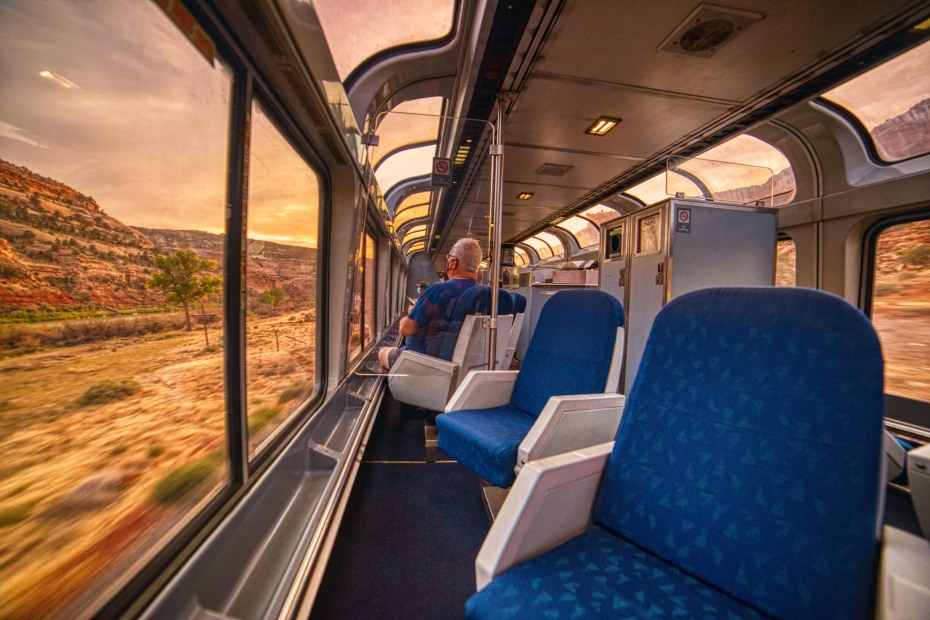 Grand Junction, Colorado
Located just over the border from Utah, where Colorado's alpine landscape gives way to the desert West, Grand Junction is a mix of rising mesas, sheer-walled canyons, and meandering rivers. In fact, it's the confluence of the Colorado and Gunnison Rivers that gives Grand Junction—a stop along Amtrak's California Zephyr line—its name. This is Colorado wine country, home to dozens of vineyards, with tasting rooms serving up sips of cabernet franc and chardonnay plus views of remarkable red rock cliffs in the distance. It's also a hotbed of sites for outdoor adventures, from the nearby Grand Mesa—the world's largest flat-top mountain—to the Colorado National Monument, a landscape of deep canyons, rising monoliths, and mouth-gaping panoramic views that's as impressive as Utah's nearby national parks, but much less crowded. The monument's 1.2-mile roundtrip Devils Kitchen trail winds upward among desert sage, pinyon pines, and prickly pear cactus toward a grotto of upright boulders.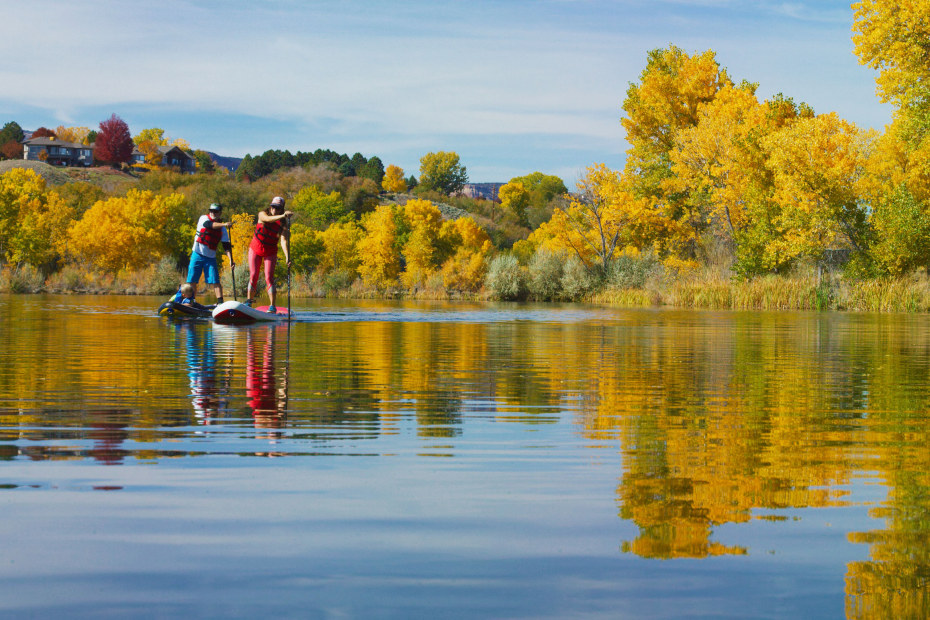 Grand Junction Adventures offers hot tips on the best spots for outdoor exploring, and hosts guided half-day expeditions—both single and multisport—from all-level mountain biking along the Lunch Loop trail system to morning hikes paired with afternoon stand-up paddleboarding. 
Downtown Grand Junction is a walkable stretch of tree-lined streets, outdoor sculptures, and shops stocked with vinyl records and organic herbal teas. It's also home to a burgeoning food scene, thanks in large part to James Beard semifinalist (and competitive snowboarder) Josh Niernberg. He helms both the fast-casual Taco Party—where skateboard art goes hand in hand with yellowtail tempura and hot fried chicken tacos—and Bin 707 Foodbar, a finer-dining establishment with dishes designed straight from the region's rotating bounty: sweet corn hushpuppies, blue corn grits, and bison ribeye. For a diverse menu of meat-centric fare contrasted with plant-based specialities, don't miss 626 on Rood.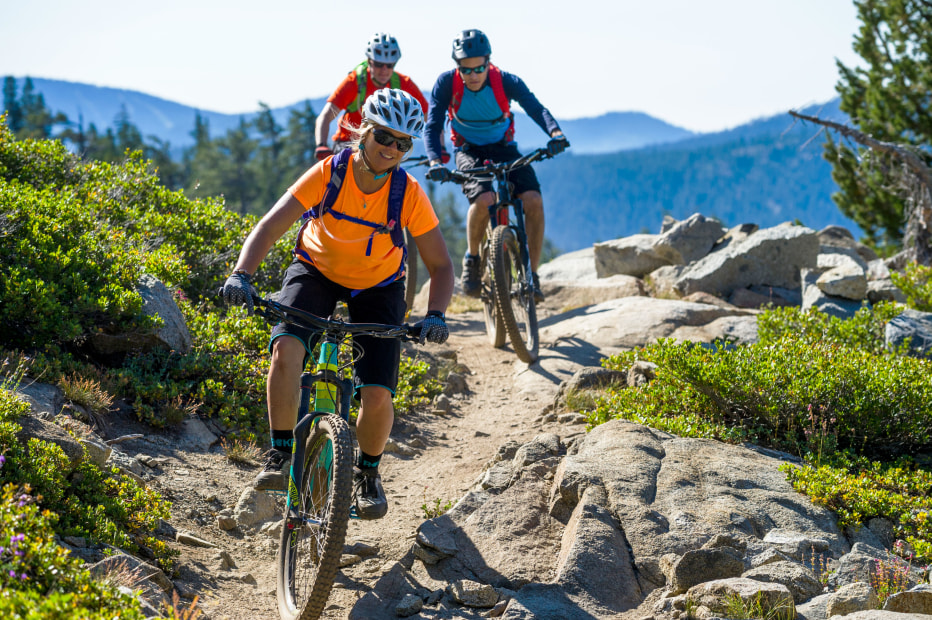 Truckee, California 
A late 19th-century railroad town tucked into the Sierra Nevada mountains northwest of Lake Tahoe, Truckee is easily reachable on Amtrak's California Zephyr. In many ways it's the heart of Tahoe National Forest, surrounded by 800,000 acres of pine, cedar, and fir forest and filled with low-slung Western-style storefronts stocked with everything from handmade cufflinks to chili pepper olive oil. 
Bike Truckee rents pedal-assisted electric bikes, perfect for a ride around nearby Donner Lake. Located just west of the city, this sizable body of water is named for the legendary migrant family trapped here by heavy snows in the winter of 1846. On the lake's east side, the Emigrant Trail Museum in Donner Memorial State Park pays homage to their story. The park is also home to several short hiking trails, including an interpretive path that leads to the Pioneer Monument, dedicated to the hundreds of migrants that passed through the area. 
Downtown Truckee has its own varied history, as seen at the Old Jail Museum, a 19th-century jailhouse that may have once housed such notorious criminals as Machine Gun Kelly, but now features local industry artifacts including early skiing equipment and ice-harvesting tools. There's also the Truckee Railroad Museum, which holds artifacts and dioramas related to railway history, beginning with the First Transcontinental Railroad.
Truckee's eateries run the gamut from Italian to sushi, with Truckee Tavern & Grill a popular spot for burgers, steaks, and small plates. Live music is easy to catch most weeks at downtown venues such as Moody's Bistro, Bar & Beats, which hosts an eclectic mix of music, from jazz to Americana.
Provo, Utah 
Nature abounds in Provo, Utah's fourth-largest city and a stop on Amtrak's California Zephyr line. In the city between the Wasatch Mountains and the fresh waters of Utah Lake, hiking, kiteboarding, and rock climbing are all par for the course. Provo is also a cultural center, home to Brigham Young University (BYU) and its incredible array of museums, from the Museum of Paleontology to the BYU Museum of Art. 
Downtown is known for its colorful outdoor wall murals, a wealth of historic 19th-century brick structures, and restaurants including the casual Guru's Cafe, serving up Southwest chipotle wraps and curry quesadillas with an occasional side of live tunes; and K's JapaneseKitchen, a family-run Japanese eatery focusing on donburi—traditional rice bowl dishes flavored with ingredients such as poke and ginger pork. 
Nine miles northeast of Provo is 607-foot-tall, multitiered Bridal Veil Falls. For up-close viewing, rent a bicycle at one of several downtown cycling shops and embark for a ride along the Provo River Parkway Trail. This 15-mile multiuse pathway connects Utah Lake to Vivian Park, situated on the edge of Provo Canyon, passing the falls en route.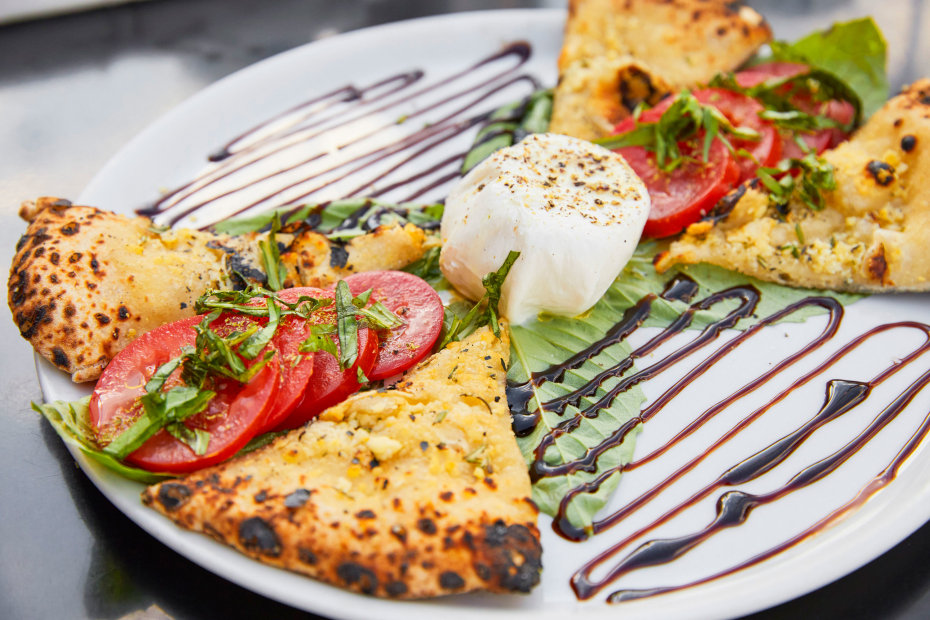 Flagstaff, Arizona
Nestled near the base of northern Arizona's San Francisco Peaks, Flagstaff owes much of its early growth to train travel, beginning with the Atlantic and Pacific Railroad in the late 19th century. Today Flagstaff is a stop along Amtrak's Southwest Chief route, and its historic station—which doubles as the visitor center—stands along Route 66, once another popular way for visitors to reach town.
Autumn offers plenty to entice visitors to this region, whether it's hiking among the cottonwood, oak, and aspen trees as their leaves turn dazzling hues of orange, red, and yellow, or joining the polka-dancing festivities at the annual Flagstaff Oktoberfest (held October 1 this year) at downtown's Wheeler Park. There are ample year-round attractions as well, from climbing up cable ladders, crossing wobbly bridges, and zip-lining among towering ponderosa pines at the Flagstaff Extreme Adventure Course to gazing upon the night stars at Lowell Observatory. It's home to four public telescopes, including the same 13-inch Lawrence Lowell telescope used to discover Pluto. 
Just east of town is Walnut Canyon National Monument, 3,588 square miles of dense woodlands, deep ravines, and ancient cliff dwellings of the area's Sinagua people. The steep, mile-long Island Trail loop provides access to 25 of them, along with possible sightings of local wildlife, including cottontail rabbits and coyotes. 
Flagstaff's food scene is flourishing these days. Enjoy global wines and artisan cheeses at Brix, all-day buckwheat pancakes and chilaquiles at MartAnne's Breakfast Palace, or Pizzicletta's wood-fired pizzas topped with goodies like bacon, roasted mushrooms, and spicy sun-dried tomatoes.